---
Ahjumawi Lava Springs
Saturday 3 September-Monday 5 September, 2016
The Conflict
The lovely view from the boat ramp on the far side of the lake.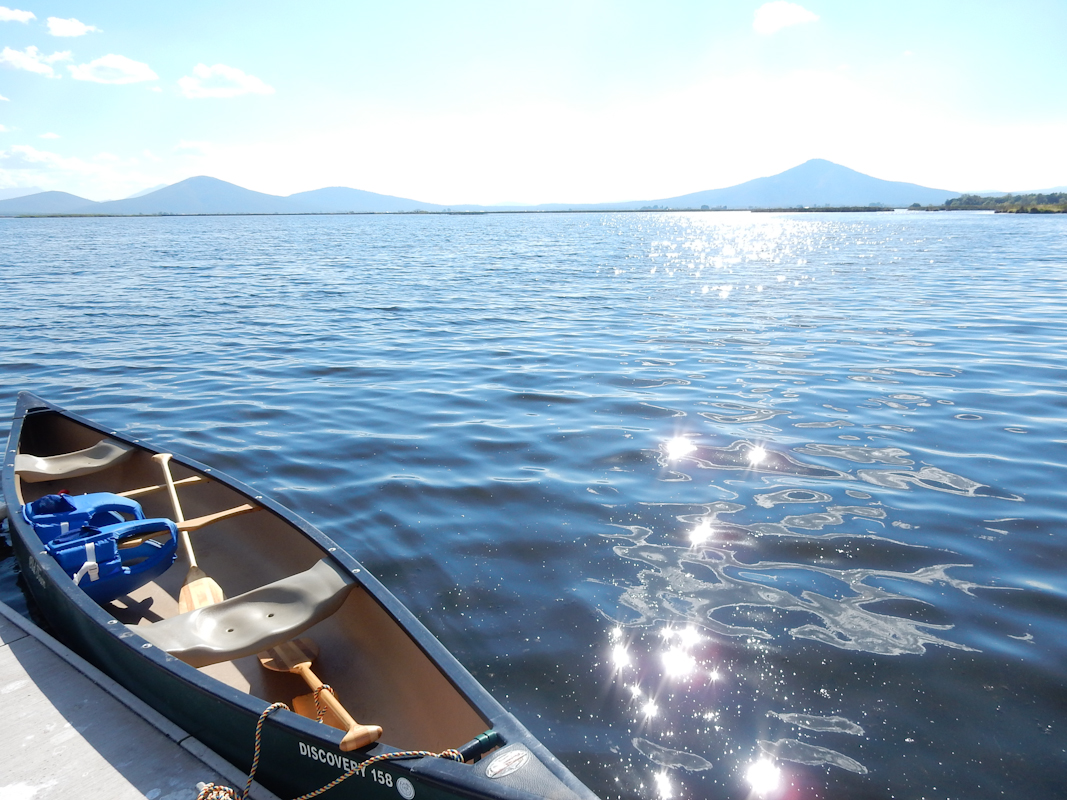 Eric took a picture of a frog in the water at the Rat Farm.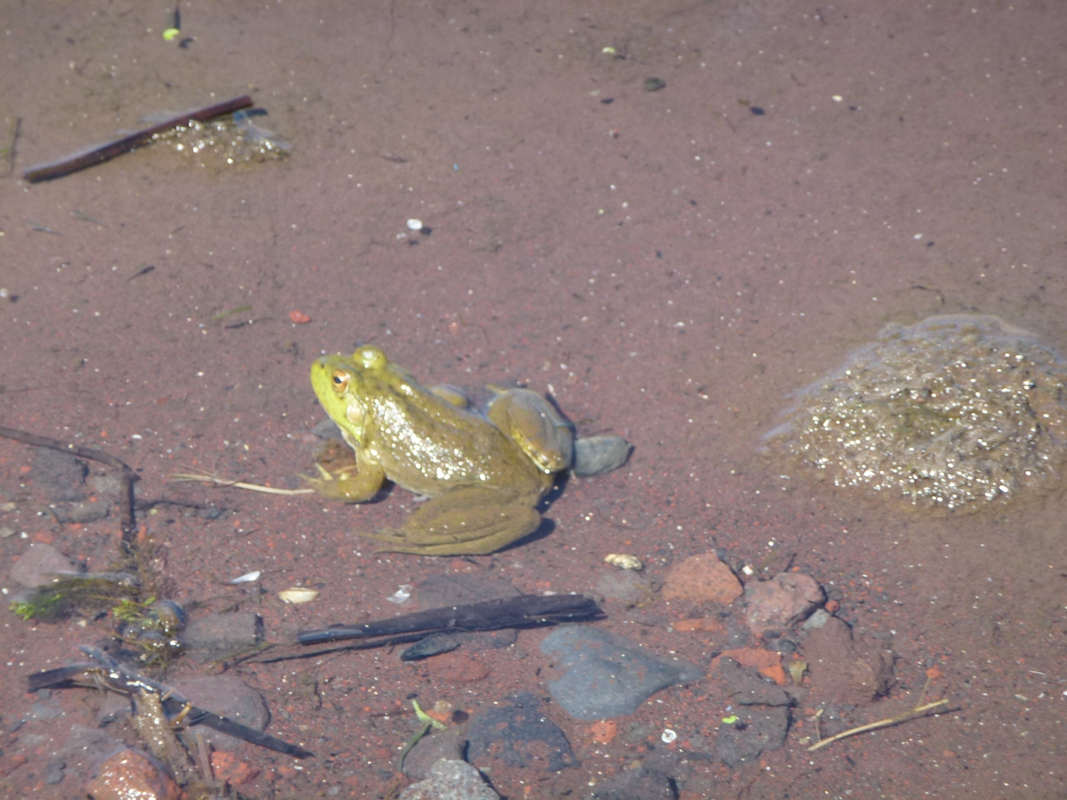 Eric had programmed the coordinates for the Crystal Springs campground into the GPS, and now we were headed for Horr Pond, so we had to navigate by dead reckoning and the map. We went into a couple of dead-end inlets. At least this one was very pretty.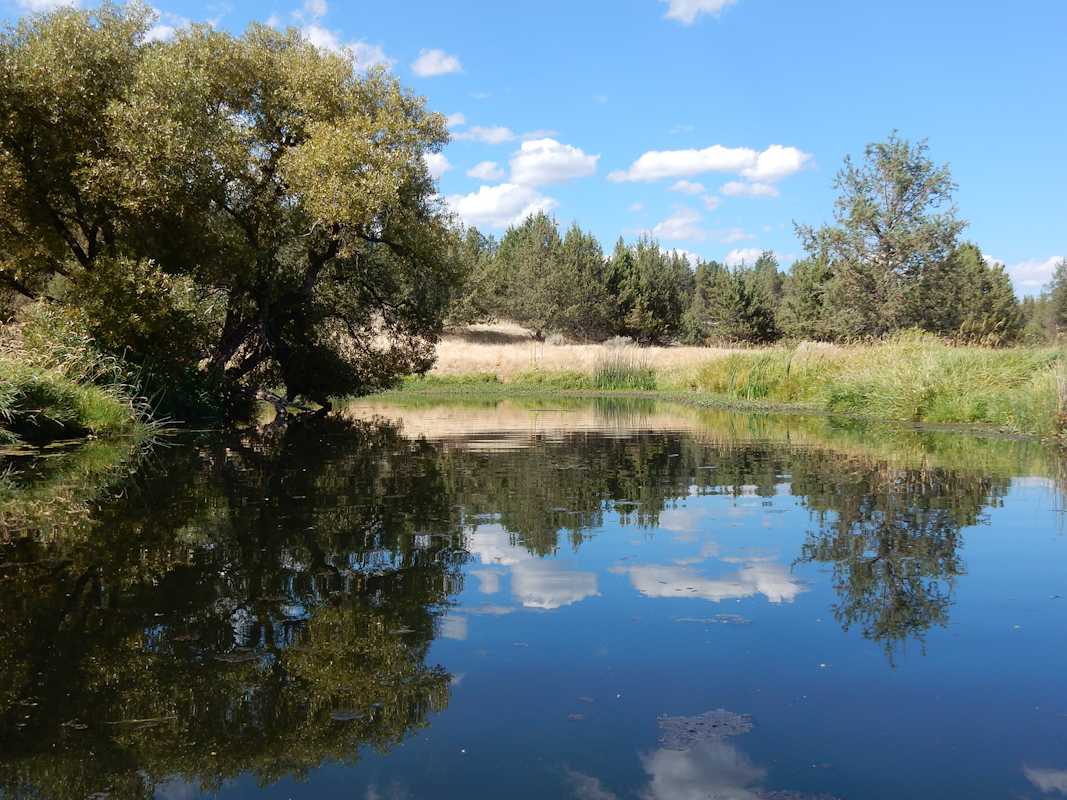 From the boat, with binoculars, I saw what looked like an empty campground. When we got to the boat ramp, the three young men with the inflatable green kayaks were still unloading. They said that they had taken one of the campgrounds, but that the third looked vacant even though it had some chairs in it.
Sign for the park. You'll see that the Department of Parks and Recreation can't even afford to maintain the park, and has to depend on funding from the Department of Boating and Waterways.
I went ahead to scout out the potentially-empty site, furthest from the boat launch. I did in fact find chairs and a couple of burlap sacks full of firewood. But it was quite large and had two picnic tables, and was certainly shareable in a worst-case scenario. We decided pay the whopping $15 per night fee for the site ($15 for no potable water and no parking lot?) and unload the Weeble and set up.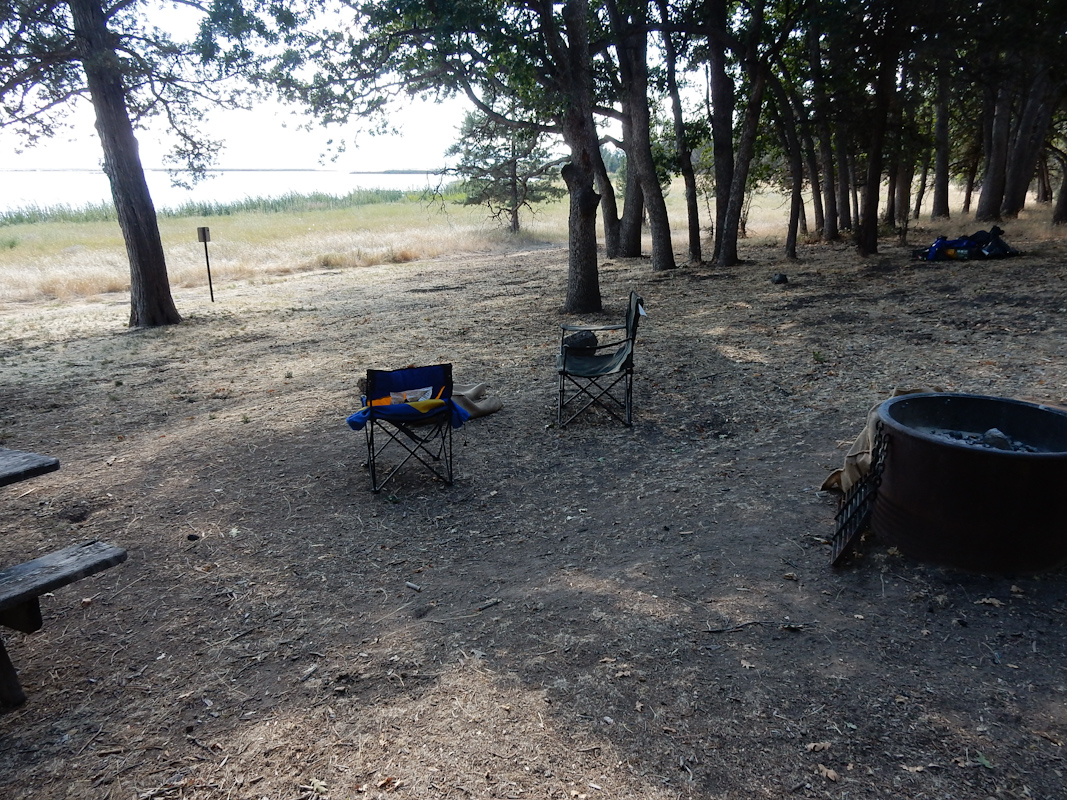 I was in pain, Eric was sick, and we were nervous that other occupants of the campsite would show up at any moment and be angry. Eric noticed that what I had thought were two bear lockers were actually one bear locker and a wooden storage cabinet, and that there was only one firepit. We decided to set up off on the edge of the site, so that we would be less in the way if the original occupants returned. The spot we found was, while shady, not exceptionally flat. Flat tent sites are rarely found in mountainous areas unless someone clears one deliberately.
We had brought our easy pop-up tent, but struggled even with it. We had only used it a couple of times before, and were trying to invert some of the joints. One of the poles popped out of the joint and, while we were able to snap it back in, in the intervening time, it had come loose of the fabric that it was supposed to hold up. Also, the pole for the fly got twisted around such that we couldn't get both ends of it attached to the fly at the same time. Both of us were getting frustrated and, since we were each handicapped by medical issues, neither of us was able to console and reassure the other. Surely, if we hadn't been so nervous about squatting in someone else's site, we would have been more competent about setting up an easy pop-up tent.
Only after we had finished badly setting up the tent did Eric discover a little note, under what looked like a very old piece of bone on one of the picnic tables, that said, "Occupied."
We got scared. Since we had been told there were no other available sites, and in any case had insufficient time to paddle to another campground before dark, we picked up the tent, en masse, and carried it to the closest flat-ish clearing between sites we could find. This involved dragging it through what we thought, in the dimming light, might have been poison oak, but which fortunately turned out, in better light, to be incipient Oregon white oak. Then we unloaded all of our other gear from the boat to that spot.
The third campsite in the campground, the one most convenient to the boat launch and the single unplumbed potty, was occupied by three middle-aged men from Marin, Chuck, Jim, and Ed. Chuck saw us and told us that they had been there since the day before, and had seen no one in that campsite. When we told them about the "Occupied" sign, Jim said that that was "unconscionable." "Unconscionable." That made us feel a little bit better. Chuck said that, as it was starting to get dark, he was sure that no one else would come along for the site. Since we had no picnic table, we had been planning to cook on the boat launch, but after this conversation, we decided to cook in the camp and, if no one showed up, move our tent back to it.
Eric found this lava rock at the campsite.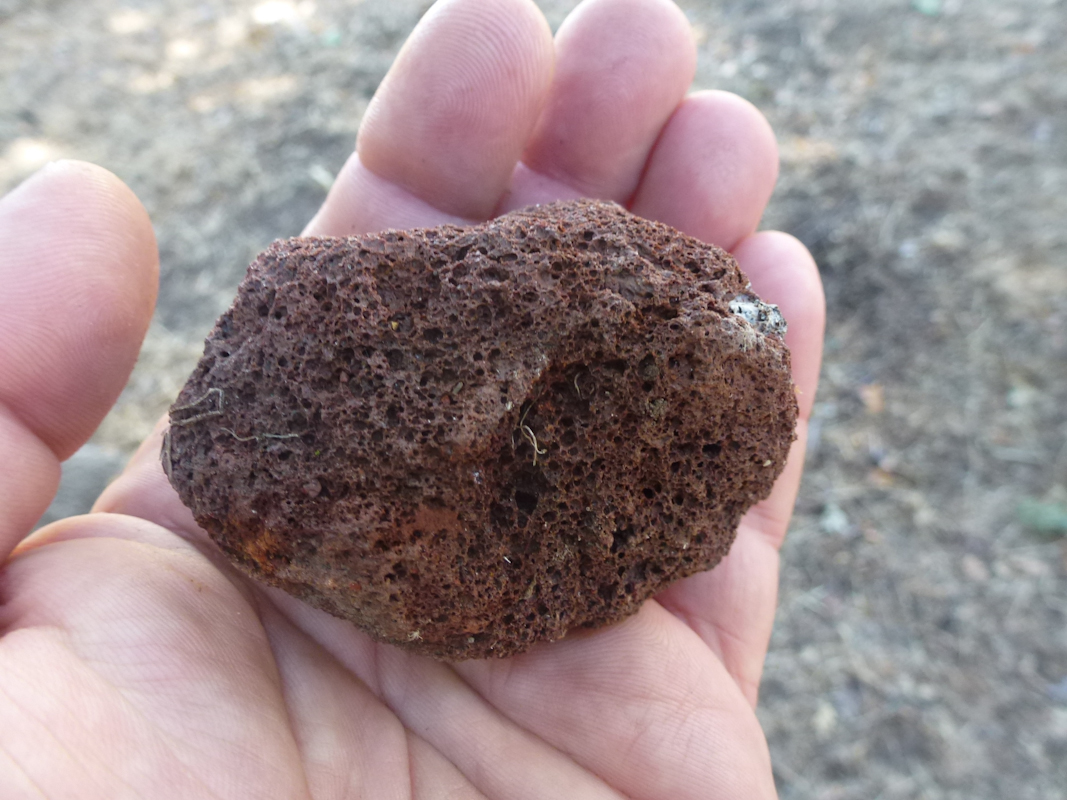 Our single burner made cooking take far longer than it should have. Our largest pan could only fit half of a spatchcocked chicken at a time, and the chicken had to be turned frequently to avoid burning on the outside before the inside was cooked. While Eric managed the chicken, I singlehandedly moved all of our gear except for the tent, including our heavy solar shower, from the not flat spot to the real campsite. We still felt somewhat sneaky and guilty, but more justified.
I went out to the dock to fill our bucket with water. I found Chuck out there photographing the sunset. While I was trying to get water to flow into the collapsable bucket (which is harder than it sounds), Chuck asked me what I did for a living.
I often tell people that I have an ordinary office job but that in my spare time I'm a trapeze artist, but for some reason, this time, I just said, "I'm a legal secretary."
Chuck said, "I'm going to be getting into some law myself."
"Are you starting law school?" I asked. (Many people get this hare-brained idea in midlife.)
"No, I'm getting a divorce," he answered.
"Oh, I'm sorry," I said.
Chuck told me that he and his wife had been married 25 years. When I told him that Eric and I had been married 25 years, he asked me if we had any kids, and I said we didn't. He said that having kids had "changed the tenor" of his and his wife's relationship. She was suddenly all into the kids and had nothing left for him. "But I'm still here!" he said. He had spent 13 years supporting the whole family, and then, when the kids went to college and no longer needed his wife, she looked at Chuck and said, "I don't want you anymore."
I told him I had heard of this sort of thing happening to other people. I said that midlife was a really tough time, that people get to the point where they feel their lives are more than half over, and they suddenly ask themselves whether they've been doing it all wrong.
Chuck told me he had spent 22 years remodeling an Eichler, and now would have to sell it. I told him that we just had a little Berkeley bungalow, nothing as exciting as an Eicher, and that that was just a terrible shame.
"Well, I don't want to burden you with my problems," Chuck finally said.
"Oh, I'm happy to offer what little comfort I can," I said. "You guys were a big comfort about the campsite."
I took a picture of the sunset, too, and went back to the campsite and hugged Eric.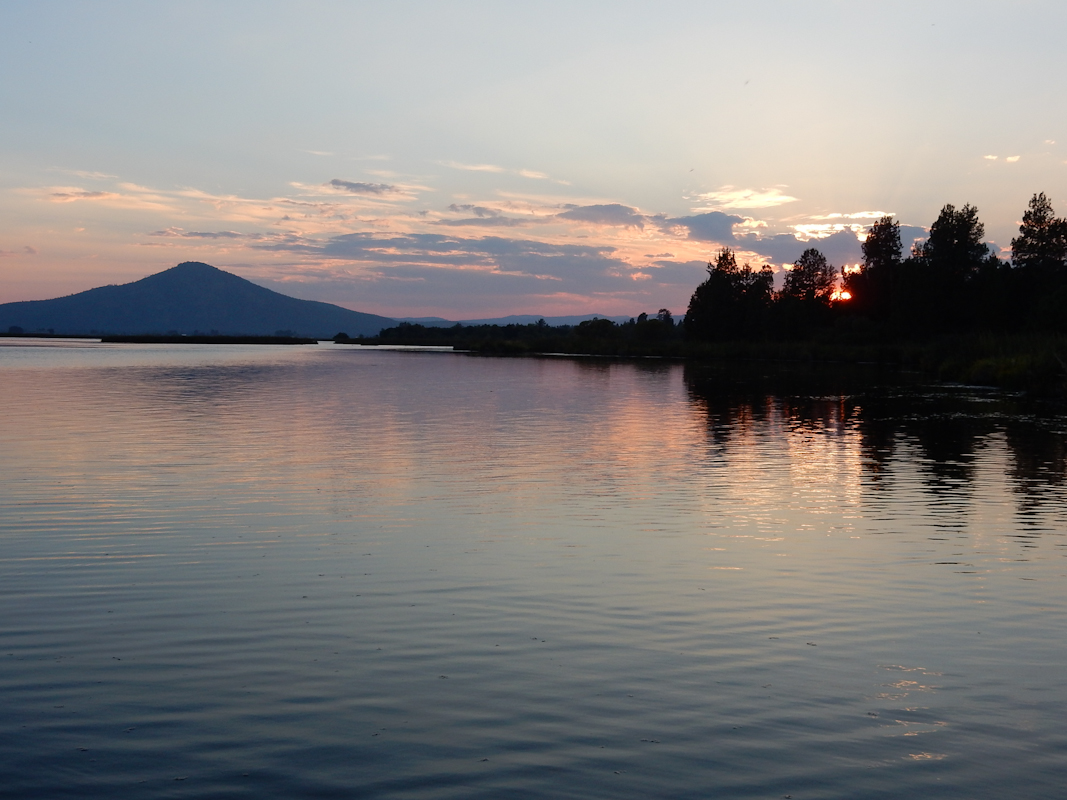 I was too frustrated about the campsite to much enjoy the spatchcocked lemon rosemary chicken, and all the grease proved to be a gigantic mess to clean up. I couldn't get anything, including my hands, completely clean, especially by lantern light. Eric and I moved the tent over to the site and set everything up inside it. Eric declared that he was ready to spend only one night here and go home tomorrow. I said we should see how we felt the next day. Then we went to the potty for one last visit before sleeping.
Chuck and Jim were out looking at the stars, which were amazing. It's so foggy in the summer where we live that we rarely see the summertime stars, and it was fabulous to see spectacular views of Scorpius and Sagittarius. The Milky Way stretched visibly across the sky.
Very tired, we went to sleep about 21:15. I took four ibuprofen to reduce my pain enough to sleep.
Around 2:30, there was a small noise of something hitting the outside of the tent. I thought, at first, that it was seeds falling off the trees, but it continued and became more steady. Eventually, I woke up enough to figure that it must actually be sprinkles.
Then, there was a boom of thunder.
The storm continued for perhaps an hour. I could see flashes of lightning through my closed eyelids, and eventually the thunder woke Eric up, too. I kept counting in between the lightning and the thunder, and the storm seemed to stay about 3 km (2mi) away. Sprinkles turned into rain, which then turned into a downpour. I began to worry that our tent would flood, as the old one had at Crater Lake, and that we would have to sit there freezing in wet gear until the sun came up and we could pack up and leave. I began to worry that the lightning would start a forest fire. How would we evacuate? We certainly couldn't safely paddle back across the lake in a lightning storm, especially in the dark. Would rangers come to pick us up in a vehicle and take us to some shelter along the fire road? We would probably have to abandon all of our equipment. I kept imagining that I smelled smoke. I was quite ready to give up this ill-planned adventure and run off to a Super 8 in Redding or Red Bluff for Sunday night.
At last, however, the storm ended, and I took some more ibuprofen and went back to sleep. Our tent held up and did not flood, and the fly kept us covered even though it had been improperly mounted. The forest did not burn, and we did not have to evacuate. All our cooking stuff, however, was wet.
On to Part 3: Massive Improvement.
---