---
Seaside Homer
July 28-9, 2011
---
Ah, Homer! What an adorable little seaside town! Homer is uniquely situated at one tip of the Kenai Peninsula, alongside the beautiful Kachemak Bay. It's a wonderful place for scenery, wildlife, and enjoyment of life. Homer has a 6-km (4-mi) spit jutting out into the Kachemak Bay. We had assumed it was artificial, but it turns out that it is actually a glacial terminal moraine. Homer is a special place.

Homer is the kind of place that has road signs like this.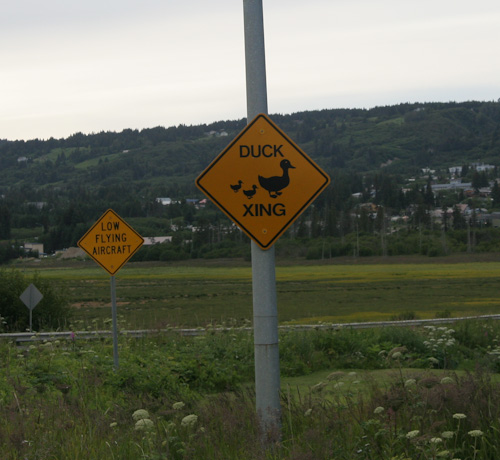 Once again, we had driven all the way to the end of the road (Alaska Route 1), in this case to the very tip of the Homer Spit.
We woke up (at--yawn--5:30) to views like this.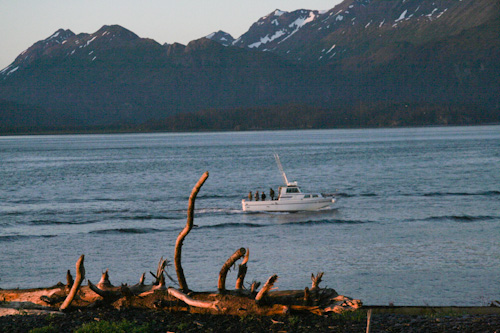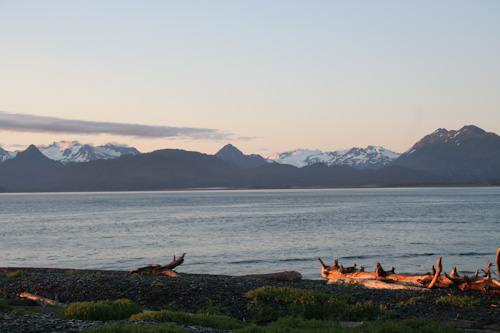 Center for Alaskan Coastal Studies Trip
Homer is home to the Center for Alaskan Coastal Studies. This is a nonprofit organization that does educational tours on the roadless southern side of the Kachemak Bay. I had read in National Geographic Traveler's Alaska about their all-day combined hiking and kayaking tour, and it sounded great. It turned out to be a pretty fantastic experience, and I can add my recommendation to National Geographic's. It didn't have quite the excitement of the glacier trek, but it was definitely one of the better things we've done. The time of the tour varies from day to day depending on tides; we just happened to be unlucky with our timing and so needed to meet the tour at 7:30.

The meeting spot was an easy walk from our hotel at the end of the spit. Our tour guides, Howard and Kim, sent us off to Nancy's Snack Shack for some box lunches. These were the cheapest box lunches we had bought in Alaska: only $10.
Boat Ride
They took us across the Bay in a small boat called the
Seabird
.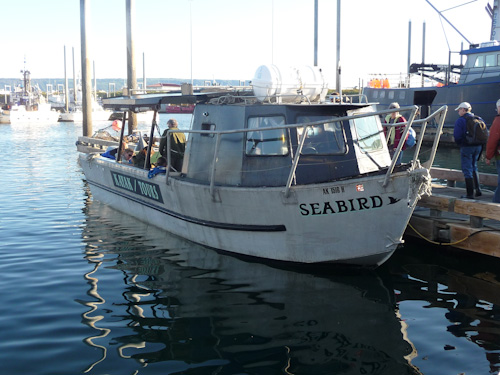 We could see the Land's End from the water.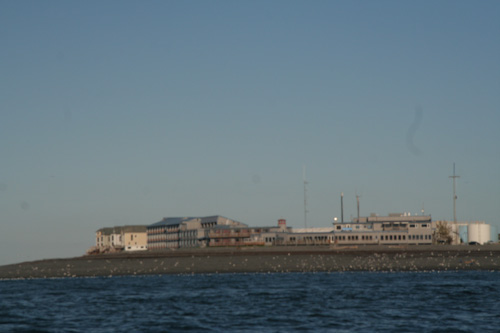 We stopped at a big rock called Bird Island so that we could get a look at the Tufted Puffins. I was so happy to see a puffin at last! I was unable to get a good picture of a puffin that day, but I got lots of great ones later in the trip. Puffins have heavy bones for birds and wobble amusingly when they try to get airborne.
Most of the birds at Bird Island were gulls, but it was definitely geologically interesting.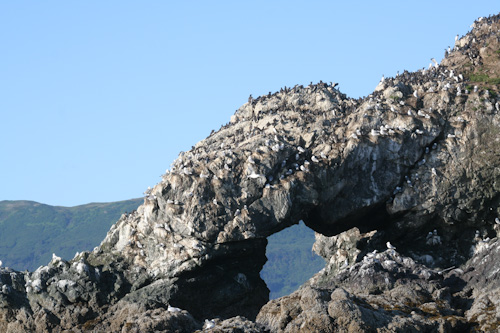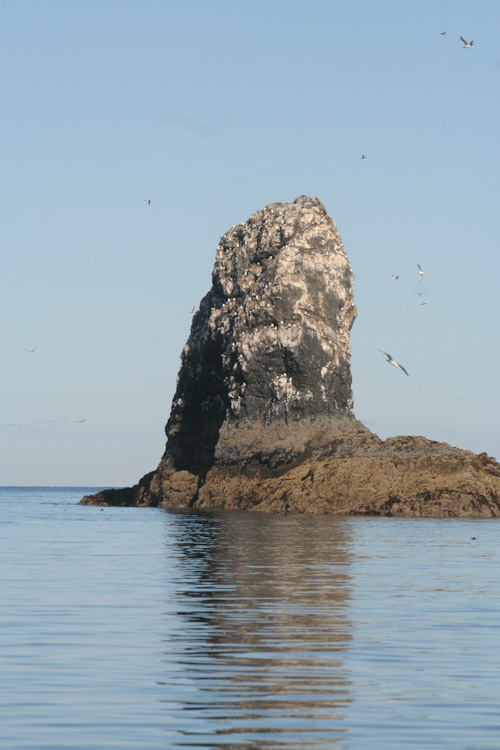 Also geologically interesting was this formation called Otter Rock, because it looks like an otter swimming on its back.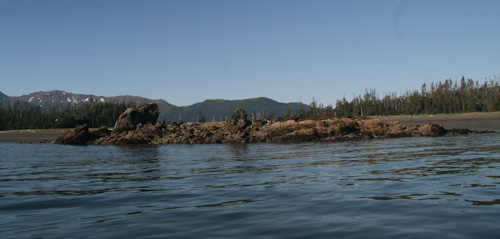 Eric took a closer-in view of Otter Rock.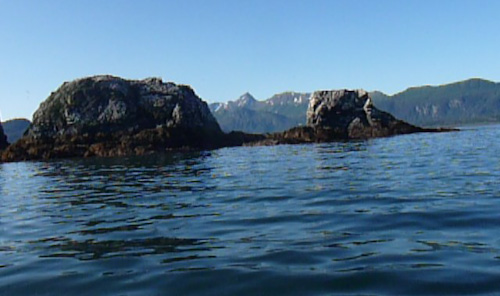 When we landed on the other side of the Bay, we had to take a little raft across an inlet. Photo by Eric.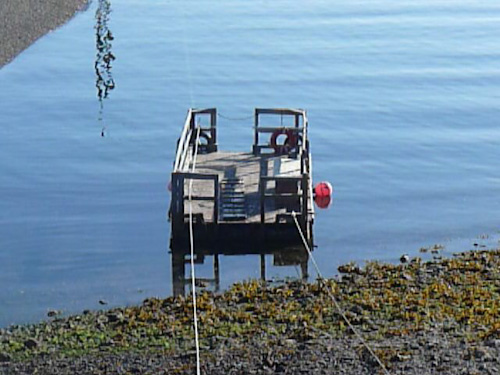 The raft runs on a rope, and we pulled the raft along on the rope. Photo by Eric.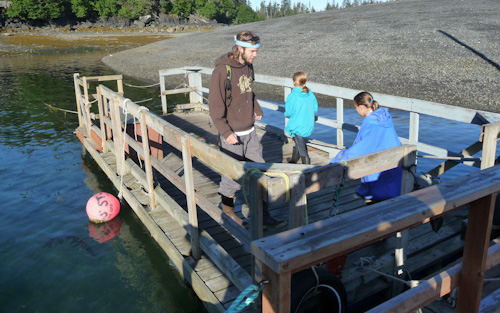 From the other side, the view of the raft and the landing dock for the larger boat.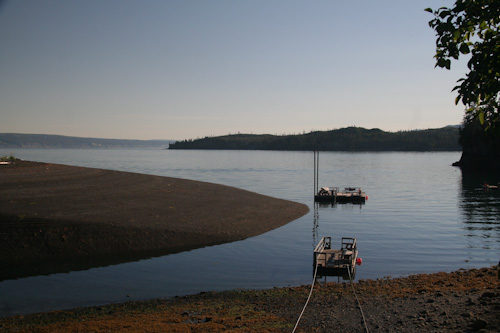 Tidepooling
After organizing ourselves at the field station, we headed across the tiny peninsula to China Poot Bay for tidepooling.

The views of the mountains were spectacular.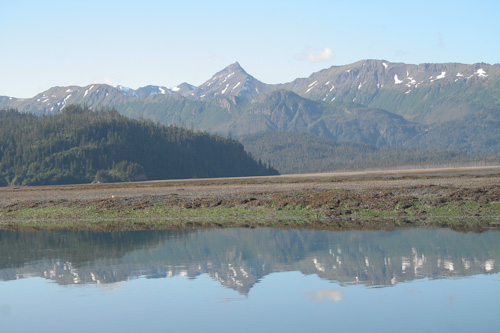 Some of our group out on the beach.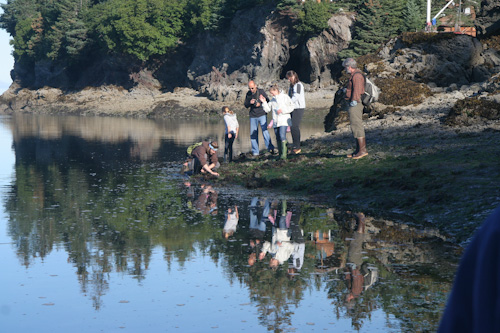 What an idyllic spot!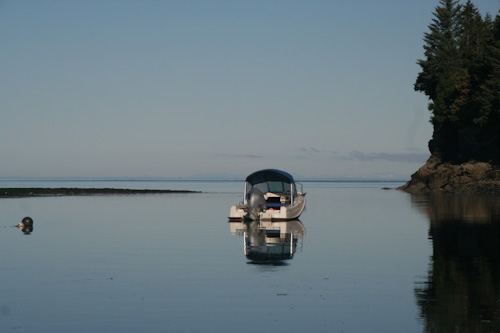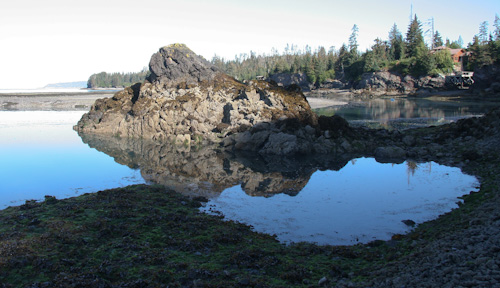 Kim told us that this fascinating rock is an example of rhyolitic chert. The rock is actually made of the shells of ancient crustaceans.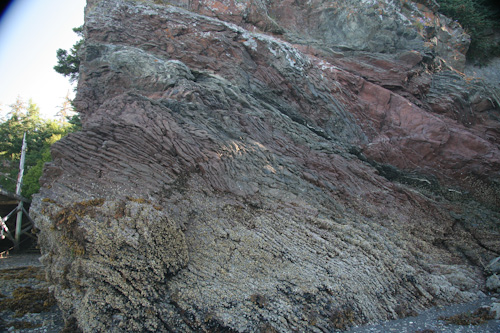 Kim was incredibly knowledgeable about the animal life in the tidepools.
She showed us many of these seastars. There were so many, you had to be careful not to step on them! They will spend part of the day underwater, when the tide comes in.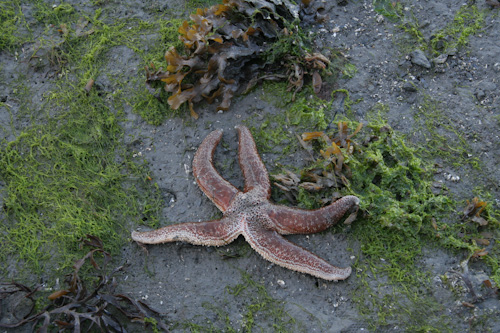 This seastar has raised itself up because it is feeding. The stomach is in the middle of the body.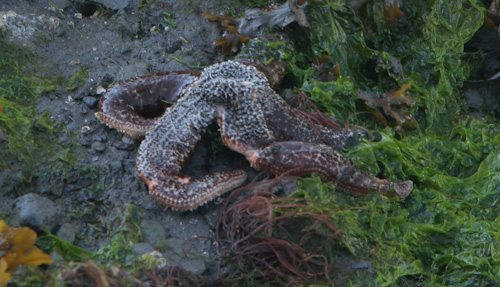 Kim turned one upside-down so we could see the underside. Here, you can see the critter's mouth.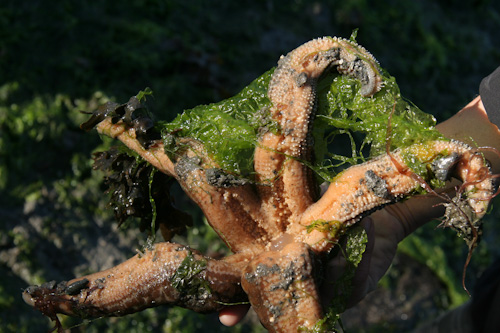 There were lots of these little Rock Crabs.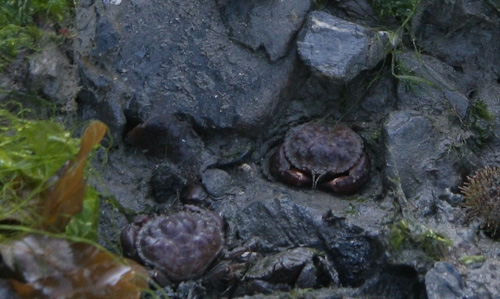 Eric took a picture of an urchin Kim showed us.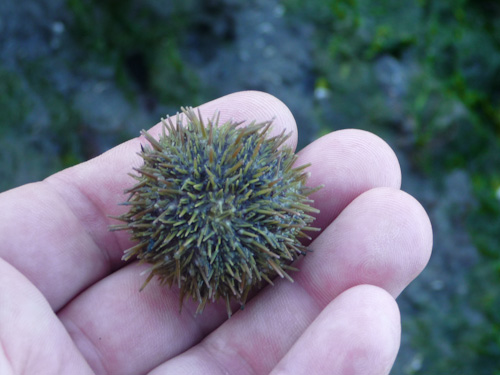 Here, you can see the urchin's stomach. Photo by Eric.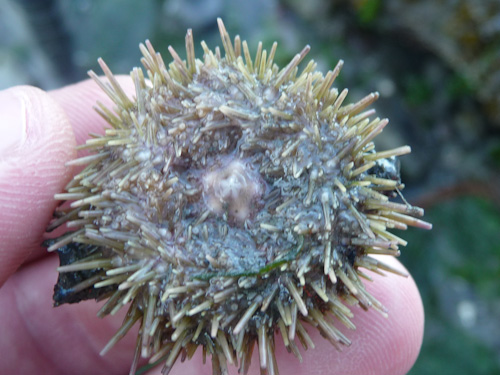 Here are two Leather Limpets.

Deep inside the water under a rock, Kim found these anemones. Photo by Eric.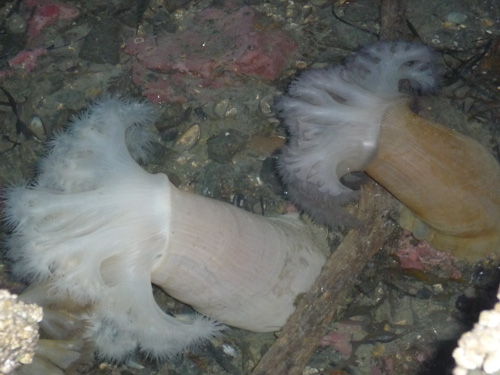 Hiking
After the tidepools, Howard showed us this site, once a living area for the Dena'ina (pronounced den-eye-na), an Athabascan tribe of Alaskan natives.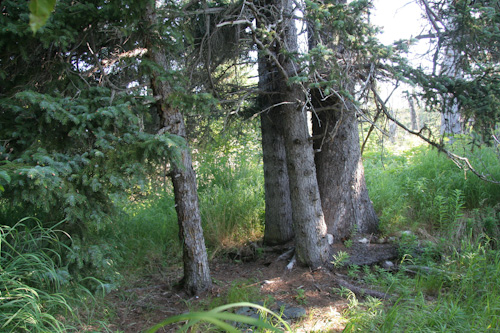 Howard told us that the Dena'ina were frustrating to archaeologists, because they led a serious "leave no trace" lifestyle. Very few artifacts have been found, and most of what we know about them has been learned from interviewing their living descendants. Howard told us that, rather than saying something along the lines of, "I bagged a moose," the Dena'ina would express the statement differently, more like, "A moose came to me." The Dena'ina hunter would view the moose as having given him the opportunity to kill it. It's a different way of looking at the responsibility for an event.
Howard also told us that the Dena'ina had advanced harpoon technology. They used a toggling harpoon that would embed itself inside an animal and wedge itself in, so that it could not slip out. When the Russians came to Alaska and saw the Dena'ina harpoons, they immediately adopted the technology for themselves, and it is still in use today.
Back at the field station, we had a picnic lunch with Howard and the other kayakers on the trip, Dan and Carlyn, fellow geocachers from one of our favorite places: Corvallis, OR. We have met many Oregonians on the trip, and I have enjoyed talking to them, because I can proudly tell them how much of their state we have seen, and how much we've loved every part of it. We had a nice time talking to Dan and Carlyn.
After lunch, Howard took us on a short hike out to Lost and Found Lake.
Howard showed us the damage done to the trees by the Spruce Bark Beetle.
While this looks like a devastating sight, it's actually part of a regularly-occurring, natural process. The beetles come in and eat the trees. They are soon followed by the Three-Toed Woodpecker, one of their major predators. They also carry on their bodies shelf fungus spores, which then feed on the trees the beetles kill. The dead trees become nurse logs for new spruce trees. And as the tree canopy is destroyed by the beetles, new plants are able to grow up in the increased sun exposure. Eventually, a new spruce forest grows.
This Devil's Club is one of the species that grows well during the period when the Lutz Spruces are down. The Dena'ina used this thorny plant for scrubbing (sometimes for scrubbing their teeth!), and believed that putting it outside your door would ward off evil.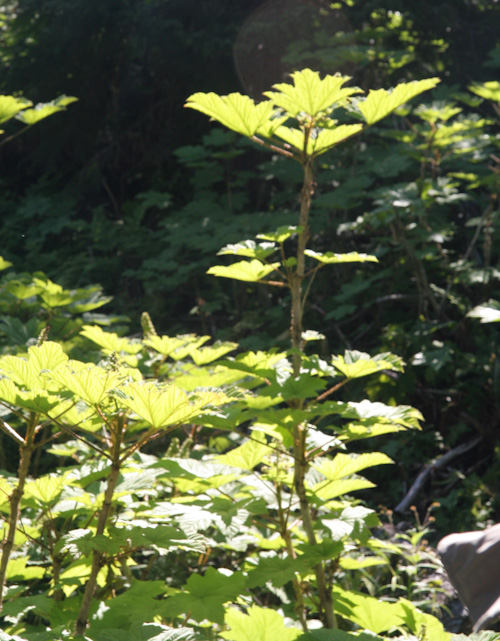 Howard showed us this place where the earth dropped several feet during the 1964 Good Friday earthquake.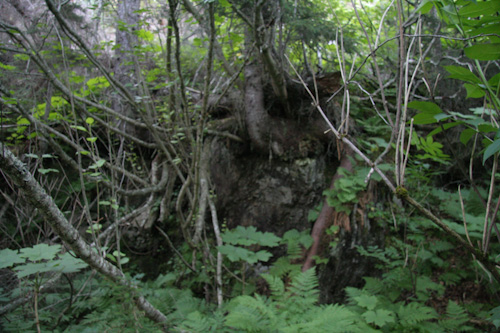 The Good Friday earthquake had a magnitude of 8.4 and is one of the largest earthquakes every recorded. Some of the land around China Poot Bay lowered itself into the Bay. The trees there were killed by exposure to the salt water.
There were wild blueberries all along the trail, and also these salmonberries.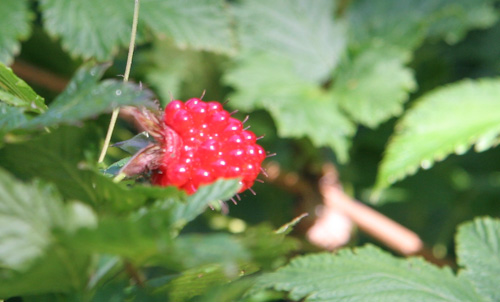 Eric tried some of these currants, which were very sour. Photo by Eric.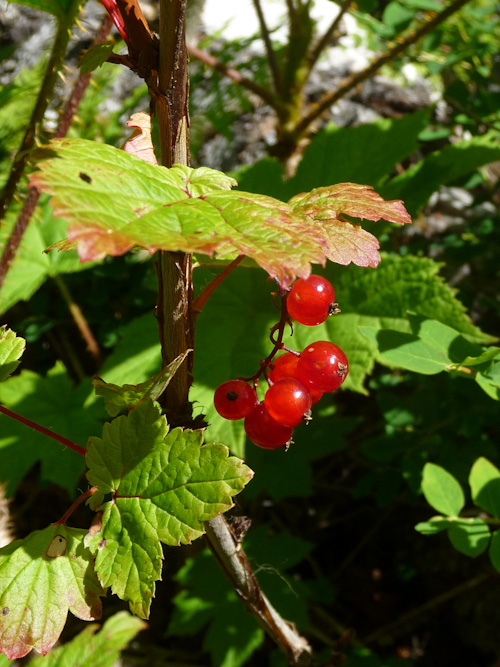 We saw some great examples of shelf fungus.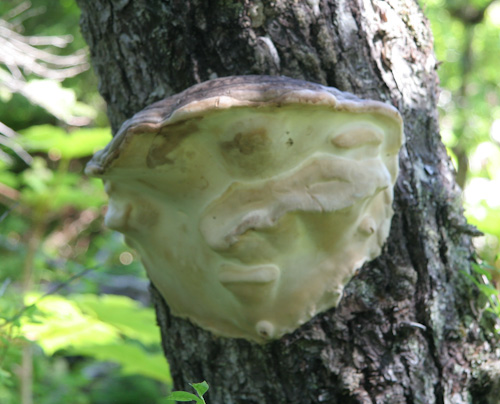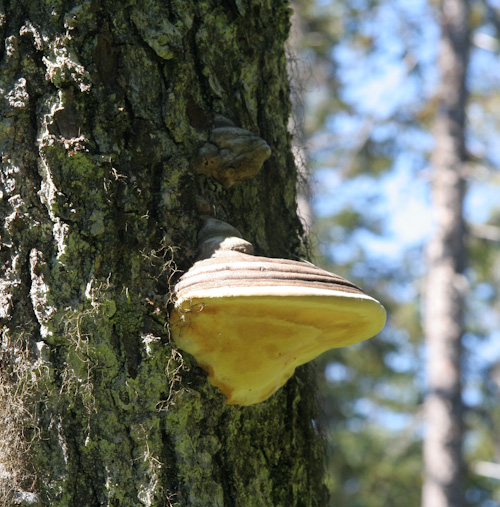 Lost and Found Lake turned out to be quite beautiful.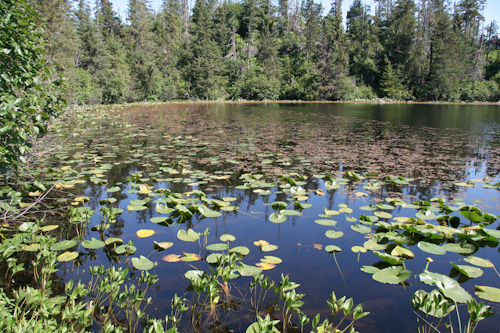 We headed back down the trail to the field station, enjoying the trees and the berries and the Devil's Club.
Howard pointed out some wet bear tracks on the trail. Photo by Eric.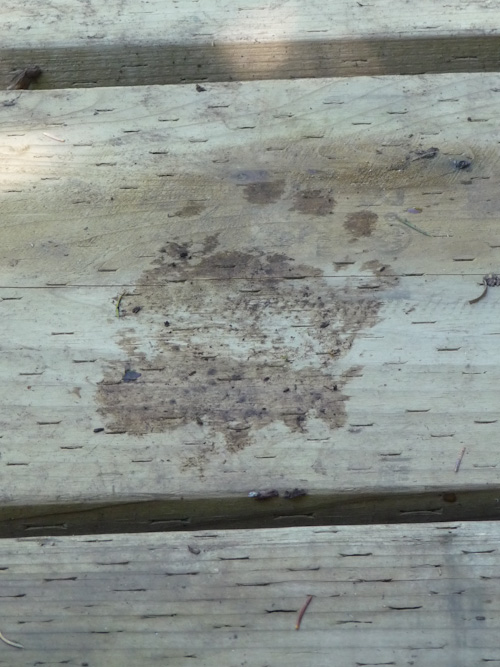 As we rounded a bend in the trail, Howard loudly announced, "Bear!"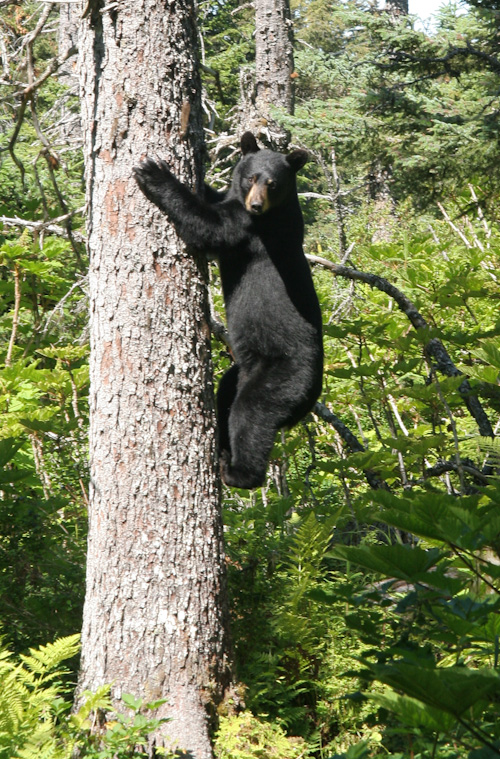 Oh, my. We just stood there for a second, dumbfounded, and Eric, Dan and I each took a great picture. Then Howard spoke loudly to the bear as we slowly backed away. Backing up was difficult, as we had just crossed some deep tree roots. We went back around the corner, and Howard told us that the bear had climbed back down the tree and gone off the other way. You're supposed to make noise, so Carlyn suggested singing, "Marching to Pretoria." I sang the title part, but that was all of the song I could remember. We gave the bear a few minutes to go away, and then started back down the trail, hearts thumping.
Even Howard's heart was thumping. He'd been hiking in the area all summer, and hadn't seen a bear while on tour with a group. Usually tour groups make so much noise that all the bears and moose get scared away. That bear apparently heard us coming and tried to run away up a tree, which didn't work very well for him. But it certainly worked for us photographically. Scary as it was, it certainly made the day more exciting!
Back at the field station, we explored the touch pools.
A couple of pretty seastars.
There were some fun crabs.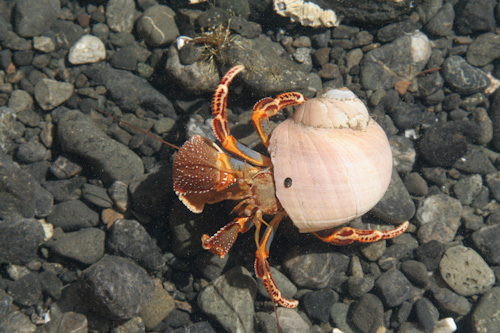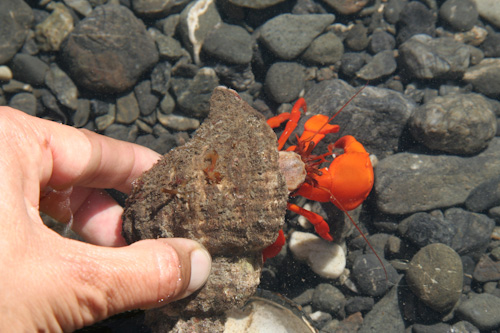 Sea Kayaking
After this, we said goodbye to Howard and met Tadhg and Evan, our kayaking guides. Tadhg was from Ireland and did a hilarious safety briefing, explaining how not to end up in the water, and what to do if you did anyway. He told us that the water was 4.4 Celsius (40 Fahrenheit), and that we would be panicking and panting like crazy if we went in, acting out an imitation of a swamped sea kayaker.

While I enjoyed the kayaking, it didn't go well for Eric. Our tandem boat was too big for me and too small for him. While for me this just meant that I couldn't brace myself properly against the sides of the boat, Eric just couldn't get comfortable. Evan was very good about trying to adjust the kayak for him, but it was just the wrong size.

Eric took a picture of some of the rocks.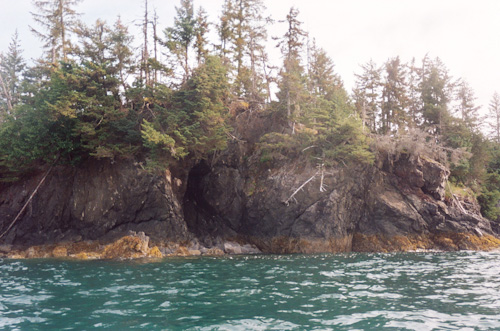 Dan and Carlyn paddling on beautiful Peterson Bay.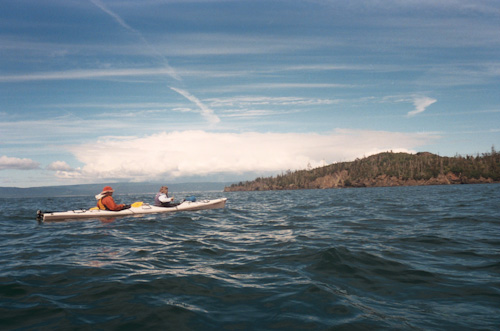 Evan took us to check out a quiet outlet.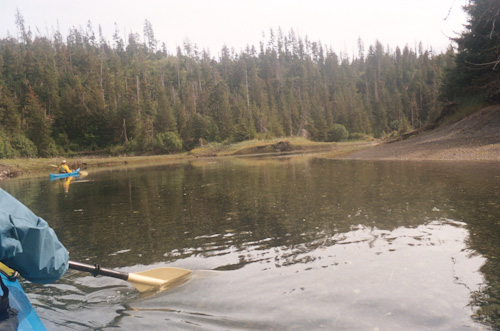 Eric took a picture of me balancing the paddle on my head. It was actually a surprisingly easy object to balance.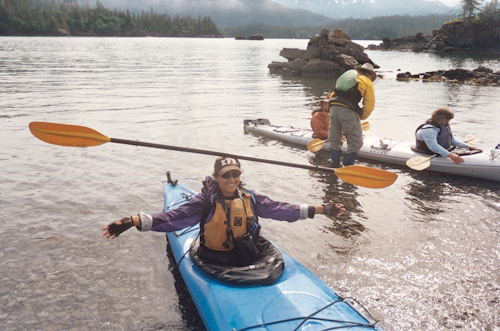 We did see some great stuff out there in the kayaks, a couple of otters and some amazingly pretty scenery. We saw an oyster farm. We got a look at a Bald Eagle's Nest, but couldn't see the baby eagles. We did see the adult, though, very small in the frames of our disposable cameras.
Back on the boat, we saw a Pigeon Guillemot with a fish in its mouth.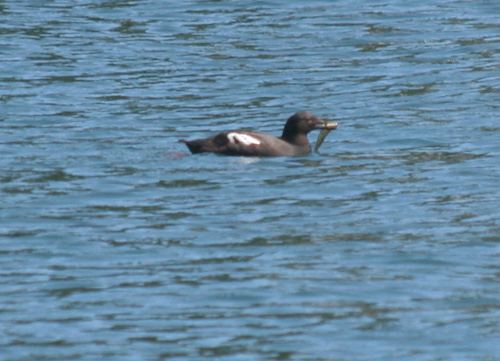 The view of the mountains along the Bay was beautiful.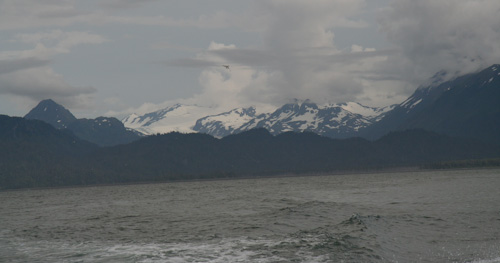 Back at the harbor, we said goodbye to Tadhg as he rode off on his mountain bike.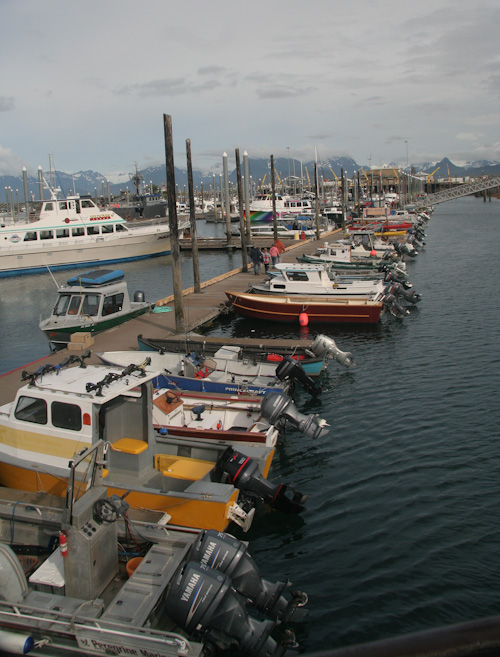 Even I got a little sunburn, on the underside of my cheeks from the reflections on the water.
All in all, it was an amazing trip. Kim and Howard were especially good and knowledgeable guides, full of information. This is an excellent tour for anyone who wants to learn about the life in this amazing area.
Old Town
To be perfectly honest, we did not feel that the Land's End was worth the money it cost. Yes, the location was fantastic, but many other things were less than special. The building was unattractive and the service indifferent. While all hotel beds bother me, Eric found the bed there to be in a category of uncomfortability in and of itself. And the Subway ad on the door key was worthy of Motel 6. We had expected better.

But nothing of the sort could be said for our accommodations on Thursday, at the Old Town Bed & Breakfast. This was the best place we had stayed at in Alaska. I can't say a single negative thing. Our hosts were a mother-and-daughter team, Jeanne and Julie. Julie was even more friendly and gracious than your usual B&B hostess, full of information. And our room had the best bed in Alaska! We slept a full, much-needed nine hours. It was a thoroughly enjoyable stay. The price for a shared bathroom was quite reasonable. If you do take our advice and go out to Homer someday, this is definitely the place to stay.

Our very pretty room, Rose's Room.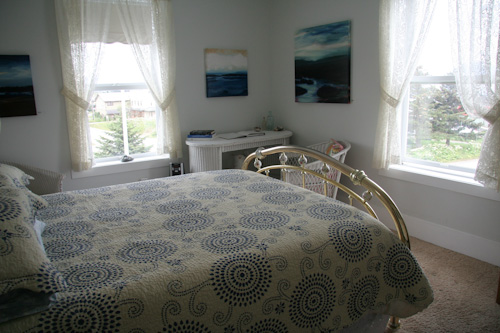 We still had a nice view of the Bay and volcanoes out of our window. Note that this picture was taken at 22:30.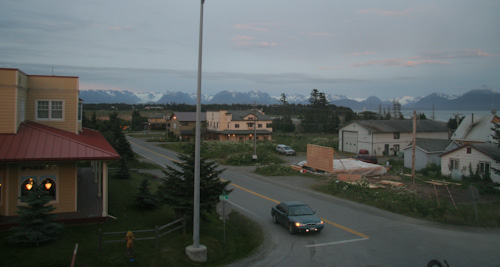 The B&B is in a historic 1937 building. It was damaged in the Good Friday earthquake.
The stairs were steeply canted to the left.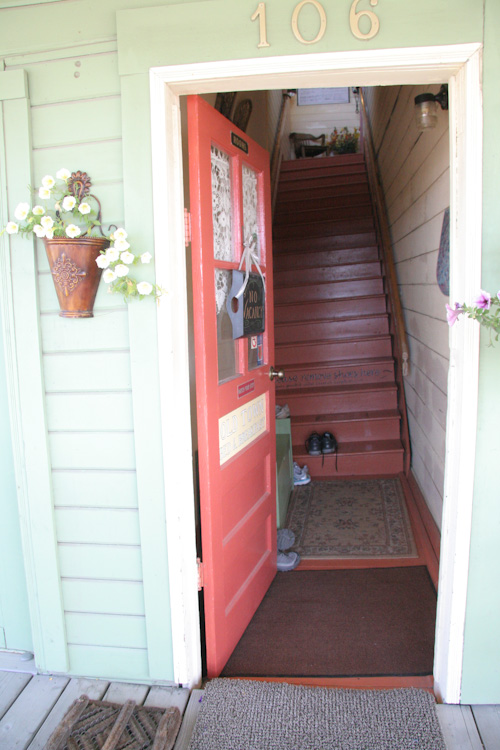 Julie recommended next-door AJ's steakhouse for dinner. While we normally don't eat at steakhouses, she told us a folk singer named Caressa would be performing there, and that held some appeal. She also promised that they had fish dishes. We checked out the menu and found it to be reasonable, so we went in and had a seat.
"Have the salmon," instructed the woman at the next table.
"Oh?" I asked.
"It's excellent," she told us. "I asked for it rare, and they cooked it just the way I wanted it. It was perfect."
"OK, I was going to try the halibut, but I guess I'll have the salmon," I agreed. "Where are you from?"
"San Francisco."
"Really? We're from Berkeley!"
"Well, we live in Sausalito. We motorcycled here."
"Get out!" I said. "That is so rockin'!"
In order to get to Alaska by road, you have to go around the Wrangell-St. Elias mountains, through the Canadian Yukon Territory. The couple told us they had come up I-5 from California to the Canadian border with another couple, after having spent a year planning the trip. But one of the other people was refused entry into Canada, apparently because he had been a victim of identity theft. They spent a couple of days riding around northern Washington to the east, trying to decide what to do, and then the other couple went back to the Bay Area and our table-mates went on into British Columbia and then the Yukon. They came into Alaska north of Wrangell-St. Elias National Park and then came out to the Kenai. They had been to Seward already and told us it was a lot like Sausalito. They were planning to ride all the way up the dirt road to Prudhoe Bay, and were hoping to go back through Alberta so that they could see Banff and Jasper. It sounded like an awesome trip, even if it didn't work out quite the way they planned.
Eric and I both ordered the salmon, and it was indeed very good. It came with a salad, corn, and some excellent mashed potatoes. We did get ours cooked all the way through, though; I don't like rare salmon.
Caressa had been on a break when we arrived, but she soon started up again. We really enjoyed her very sweet performance. I found out later she had a Facebook fan page.
The presence of a live musician at dinner encouraged a barlike atmosphere where everyone talked to everyone else. As soon as the couple from Sausalito left, the guy at the table on the other side started up a conversation with us. He was from Tacoma and was in Alaska for the summer doing construction. He had a two-year-old daughter who was the apple of his eye, and his wife had another baby on the way. We talked a lot about how much we all loved the outdoors, and wonderful places to see in Alaska, Washington and Oregon. What a wondrous world it is! It was an excellent dinner, full of fun. It would have been nice to have sat, had a beer, and listened to Caressa a little longer, but we really needed to catch up on sleep. We went to bed at 22:30 and didn't wake up until the alarm went off for breakfast at 7:45.
Julie and Jeanne had made a salmon and spinach quiche for breakfast. I'm not a big fan of eggs, but this was very good. The other guests at the B&B were three women from the Bay Area and a couple from Anchorage. The three women told us how much they had enjoyed the Wynn Nature Center, also operated by the Center for Alaskan Coastal Studies, which was our next stop. The people from Anchorage were taking the ferry across the Bay to spend the weekend off the road system in Soldova. It sounded like a fantastic place. While we're seeing the road system extensively, and least in southern Alaska, our trip itinerary doesn't get us off the road system much at all. I wish I had planned for an off-the-road-system excursion.
After rushing so much to get to Homer, we took our time getting out. We told Julie how much we had enjoyed Caressa and AJ's Steakhouse. She told us that it was a brand-new, woman-owned business and that she wanted very much to see it succeed. She was so friendly that she hugged us goodbye.
Wynn Nature Center
We headed up to the Wynn Nature Center for a short nature hike.

On the way, we stopped at a beautiful overlook on Skyline Drive.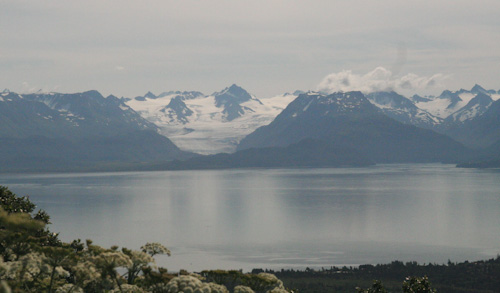 Eric took a closer-in view of these volcanoes and glaciers. Pretty spectacular!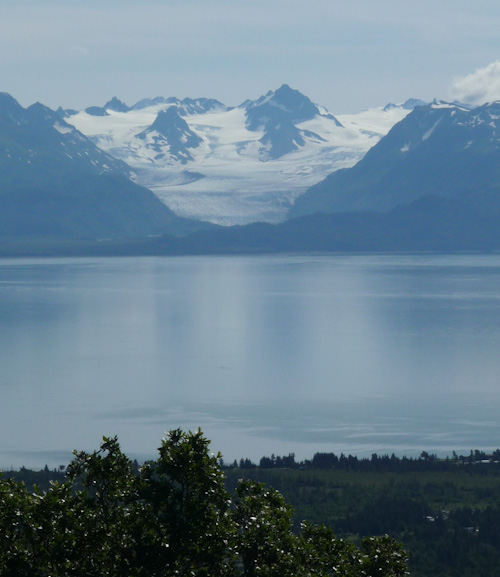 This picture shows the Homer Spit jutting out into the Bay.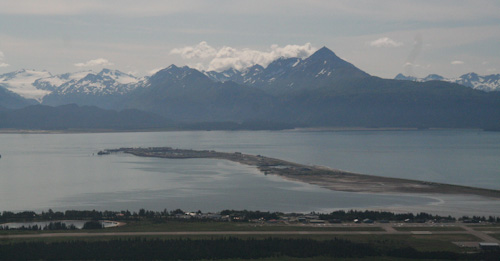 Here's a broader picture showing the Spit, the Bay and the mountains.

Eric took a picture of these, uh, things on a leaf. What are they?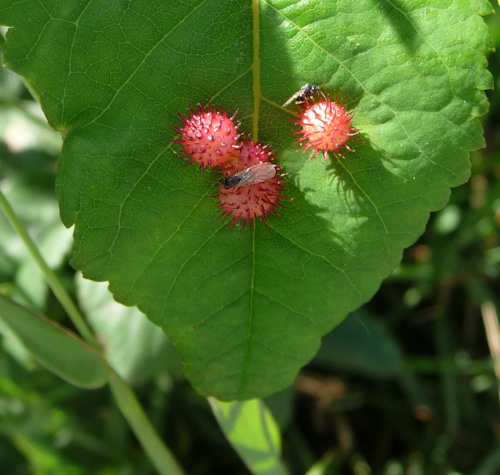 This is an example of a Lutz Spruce at the Wynn Nature Center.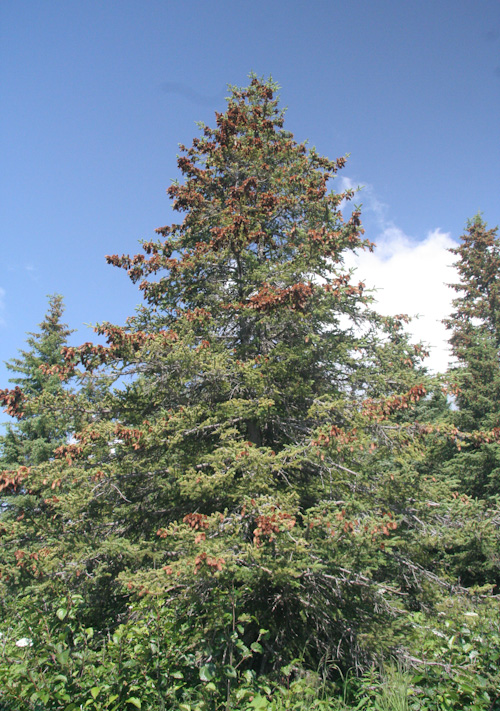 This is a beautiful subalpine meadow. I picked the Kenai partially for its diversity of ecosystems. The Wynn Nature Center also had boreal forests, and we saw temperate rainforests on the other side of the Bay.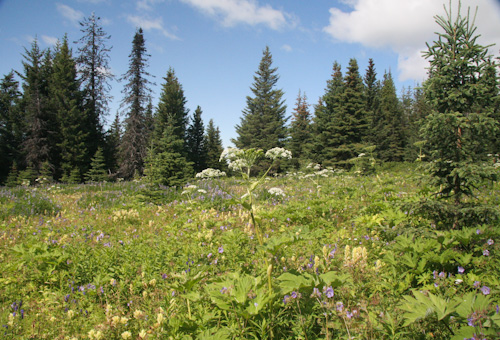 Eric took this picture of an alder tree. It is very unusual because it has both broad leaves (i.e., not needles) and cones.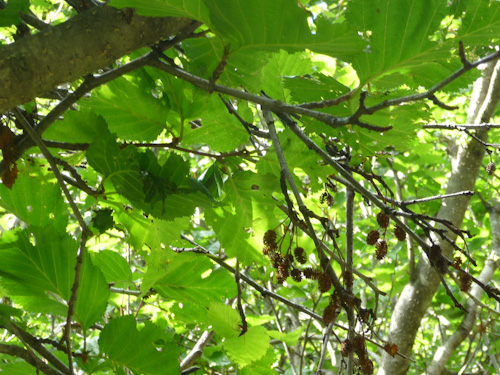 On to the drive from Homer to Seward.