---
Anza-Borrego Desert State Park
Part 2, 24-25 December, 2018
Bighorn sheep. Photo by Eric.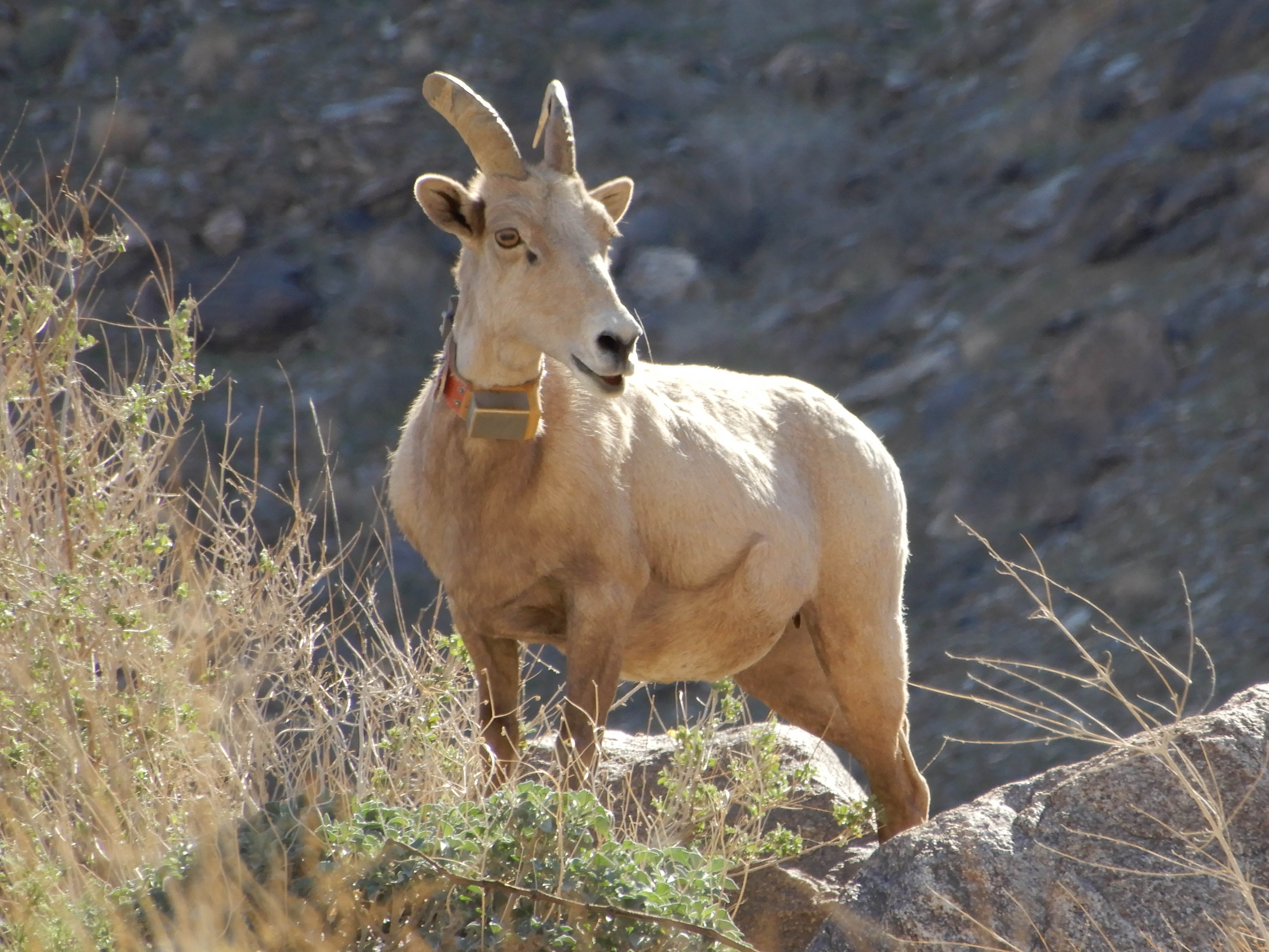 Borrego Springs
My illustrious plan had been to shoot the morning's sunrise in Hidden Valley at Joshua Tree National Park. The fact that we were still in Anza-Borrego Desert State Park instead necessitated a change of plans. The next best sunrise location within a reasonable distance from Borrego Springs suggested by Jeff Sullivan in "Photographing California, Vol. 2: South" was the eastern end of Henderson Canyon Road, right there in Borrego Springs. Perhaps in the spring, we would have found some wildflowers here, but as it was, we mostly seemed to be looking at an empty area with a bright, shiny RV park under the ridge to the east. We thought later that we should have planned on the extra time to drive back to the view over the Slot, because those badlands would have been lovely with the light from the east shining over them.
I wasn't happy with any of my pictures, but, since we had accidentally parked Mather in our view to the west, Eric took a picture that he pretended was for a Subaru commercial.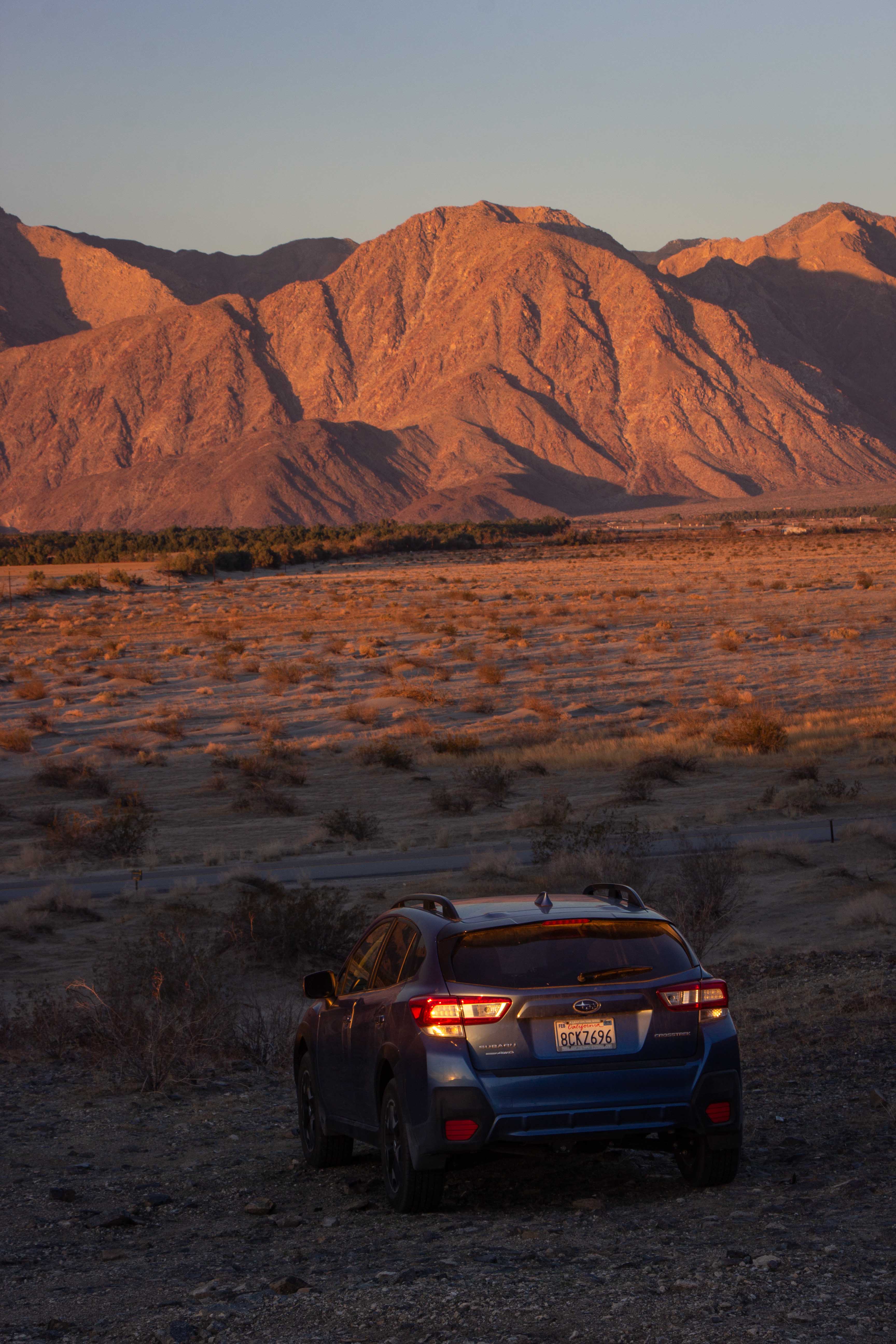 He also took a picture of me, holding a mug of tea to keep me warmer.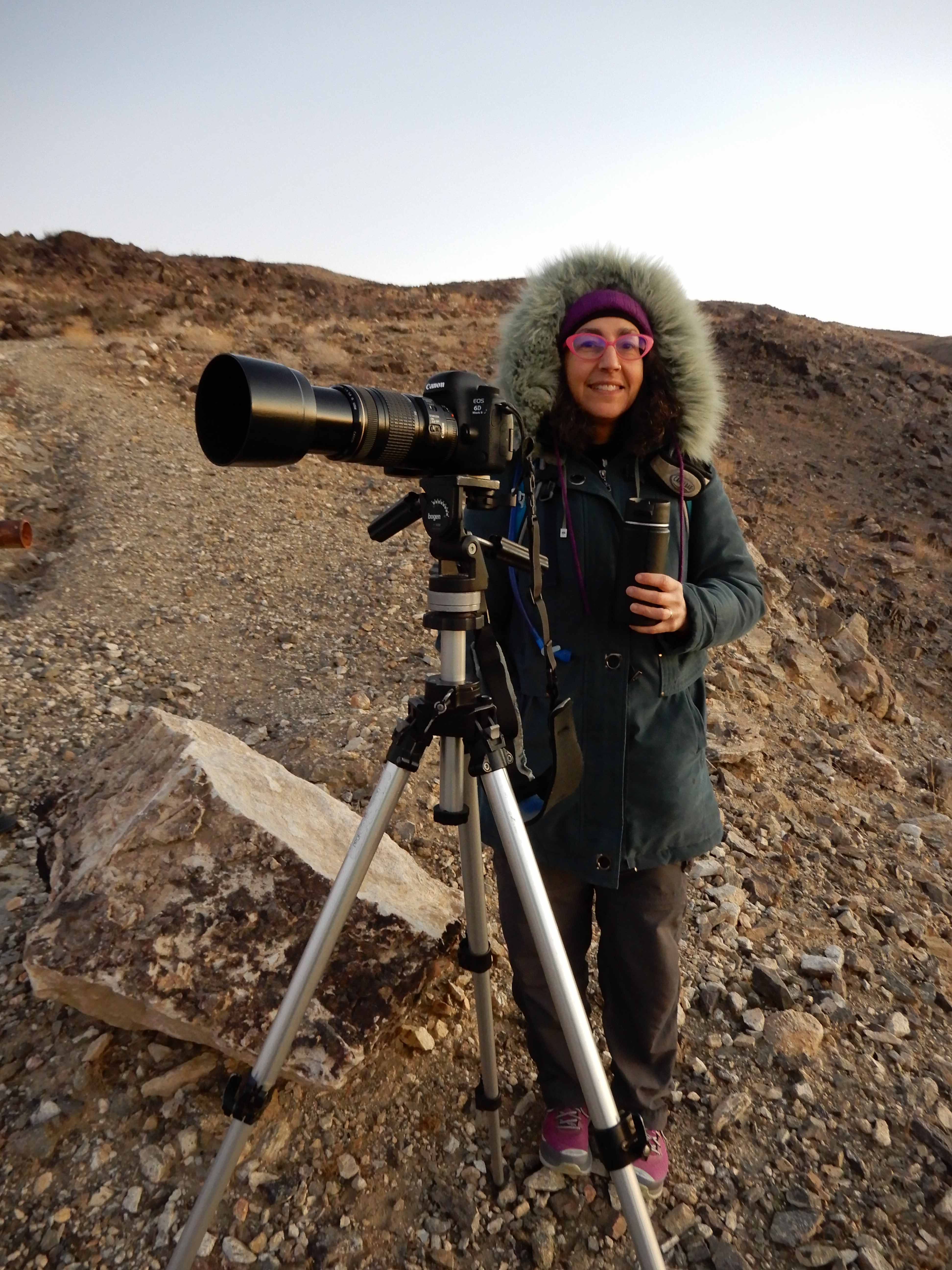 Even though we had already found geocaches in San Diego County, we stopped to find a quick one in the RV park--a commemoration of a Gold Rush figure, Peg Leg Smith. Photo by Eric.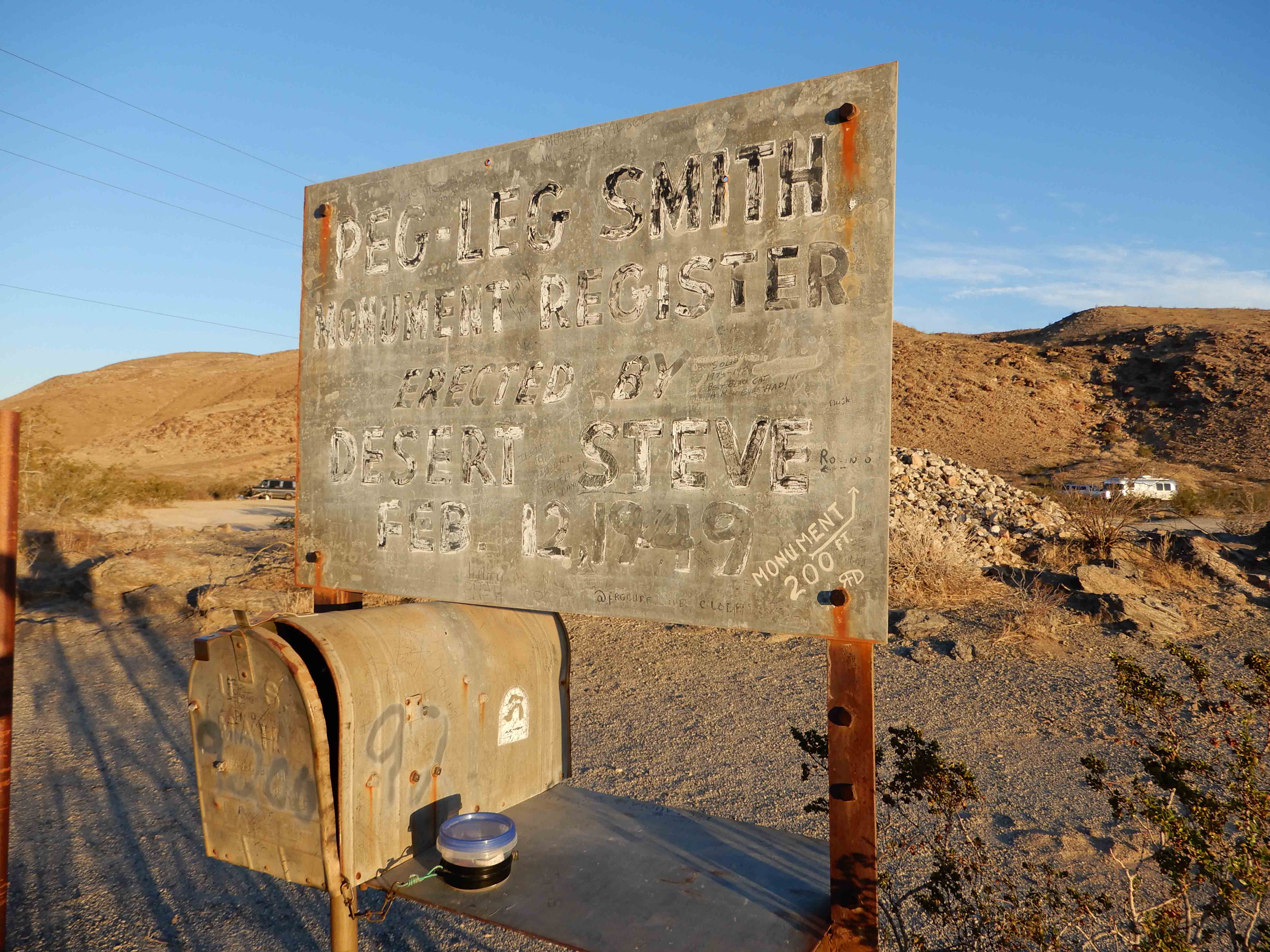 Carmelita's wasn't opening until 9:00 on Christmas Eve, so we went back to the resort to shower and check out before breakfast.
In the parking lot for the resort, we found a woman with binoculars, who pointed out this White-winged Dove, a life bird for me.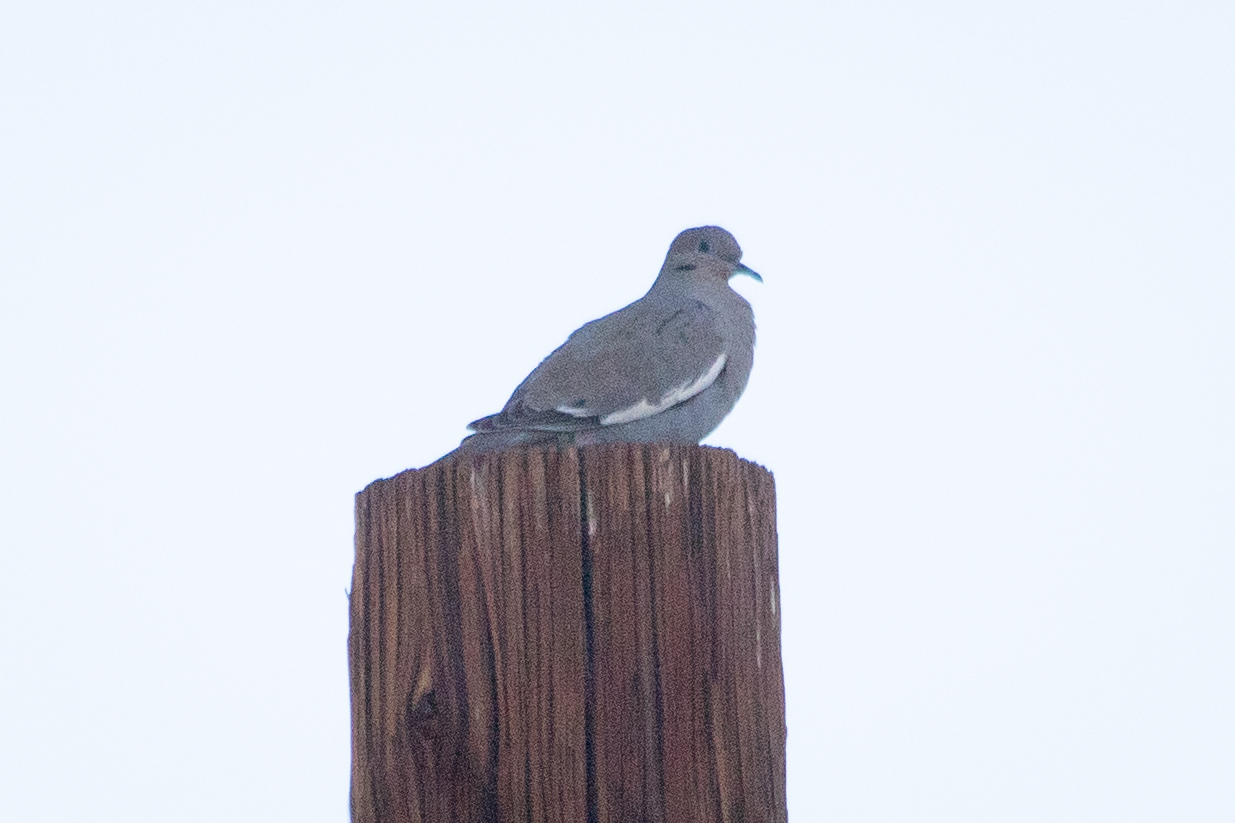 Palm Canyon
We returned to Carmelita's for another lovely but somewhat less than expeditious breakfast of chilaquiles and a breakfast burrito slathered with sour cream, cheese, and chunky guacamole. We needed to be back in Arcadia, three hours' drive away, for my cousin's Christmas Eve party by evening. But it seemed that, if we didn't tarry too much, we could experience the signature attraction in the park, the 5-km/3-mi round-trip hike into Palm Canyon to see the palm oasis at the end of the trail.
What a lovely experience this turned out to be! The ranger at the entrance told us people had been seeing Bighorn Sheep along the trail, and we saw one!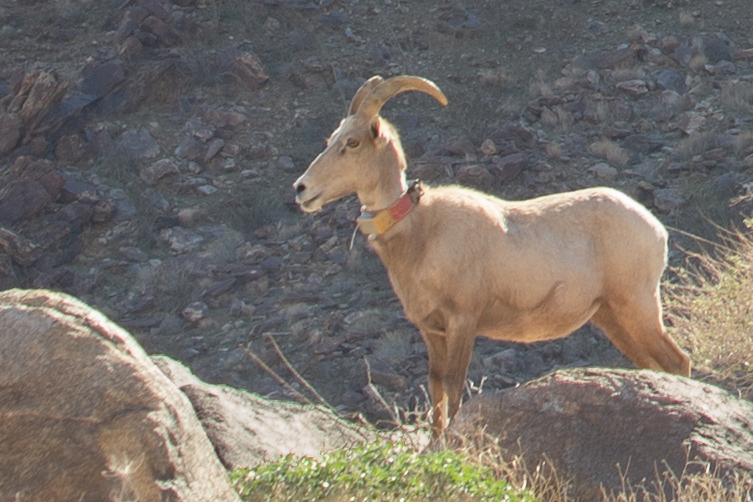 This is an interpretive trail with a brochure explaining the plants and sights you see at 15 stops. It was a fun learning experience.
Eric took a picture showing the general look of the pretty canyon. You can see that this part of the trail was fairly exposed, and the desert was quite warm and sunny even on Christmas Eve.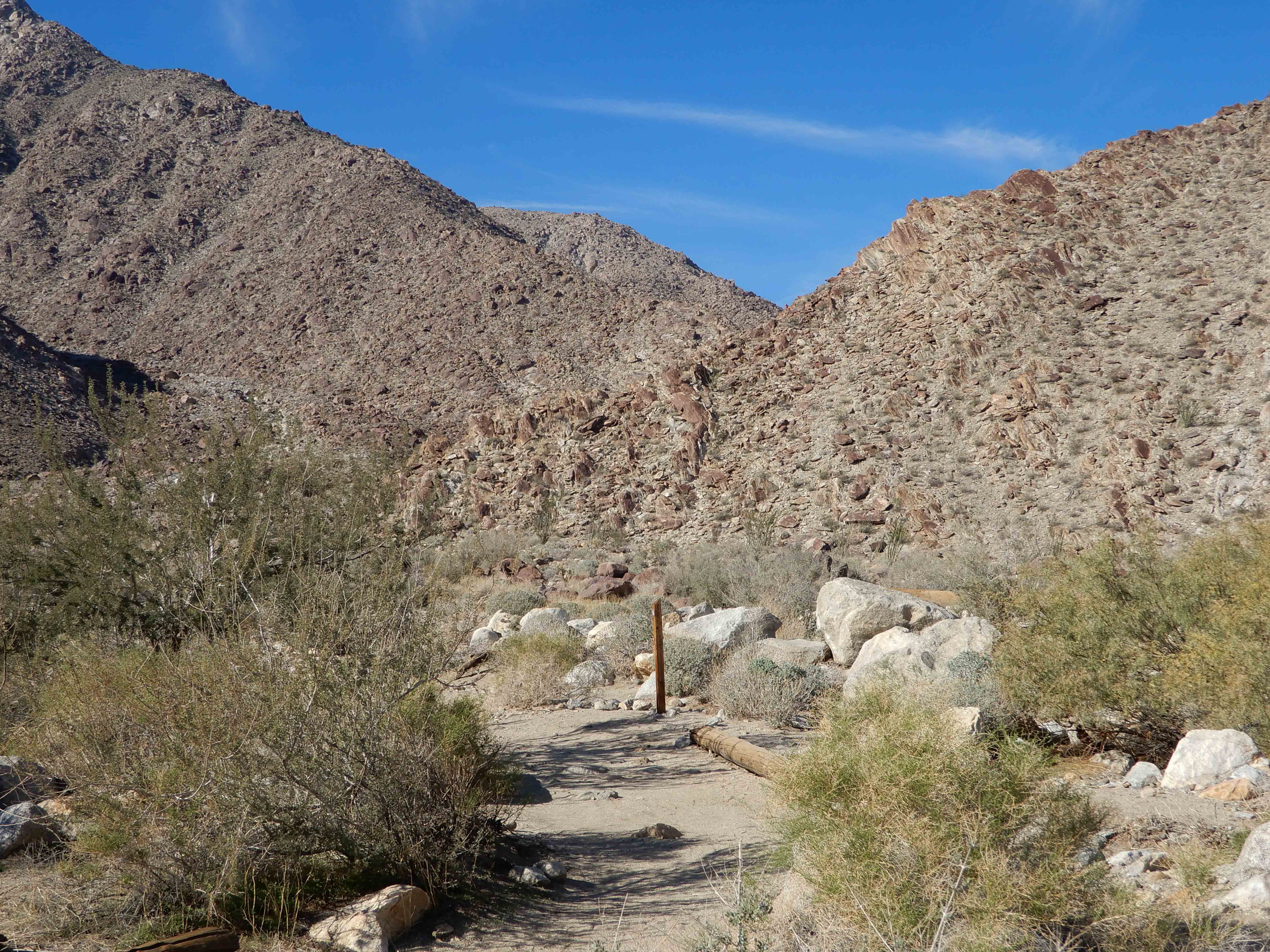 Soon, I found my third life bird for the trip, a Costa's Hummingbird. I didn't get a great picture of him, but at least I got one.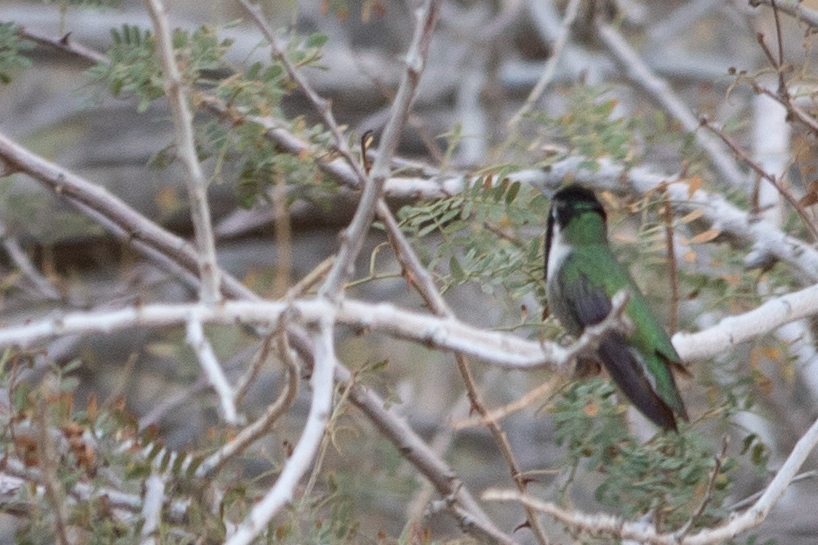 As the trail went on, we saw fewer and fewer other people. The trail became more technical, with scrambles over rocks, and places where the Civilian Conservation Corps had built steps like this.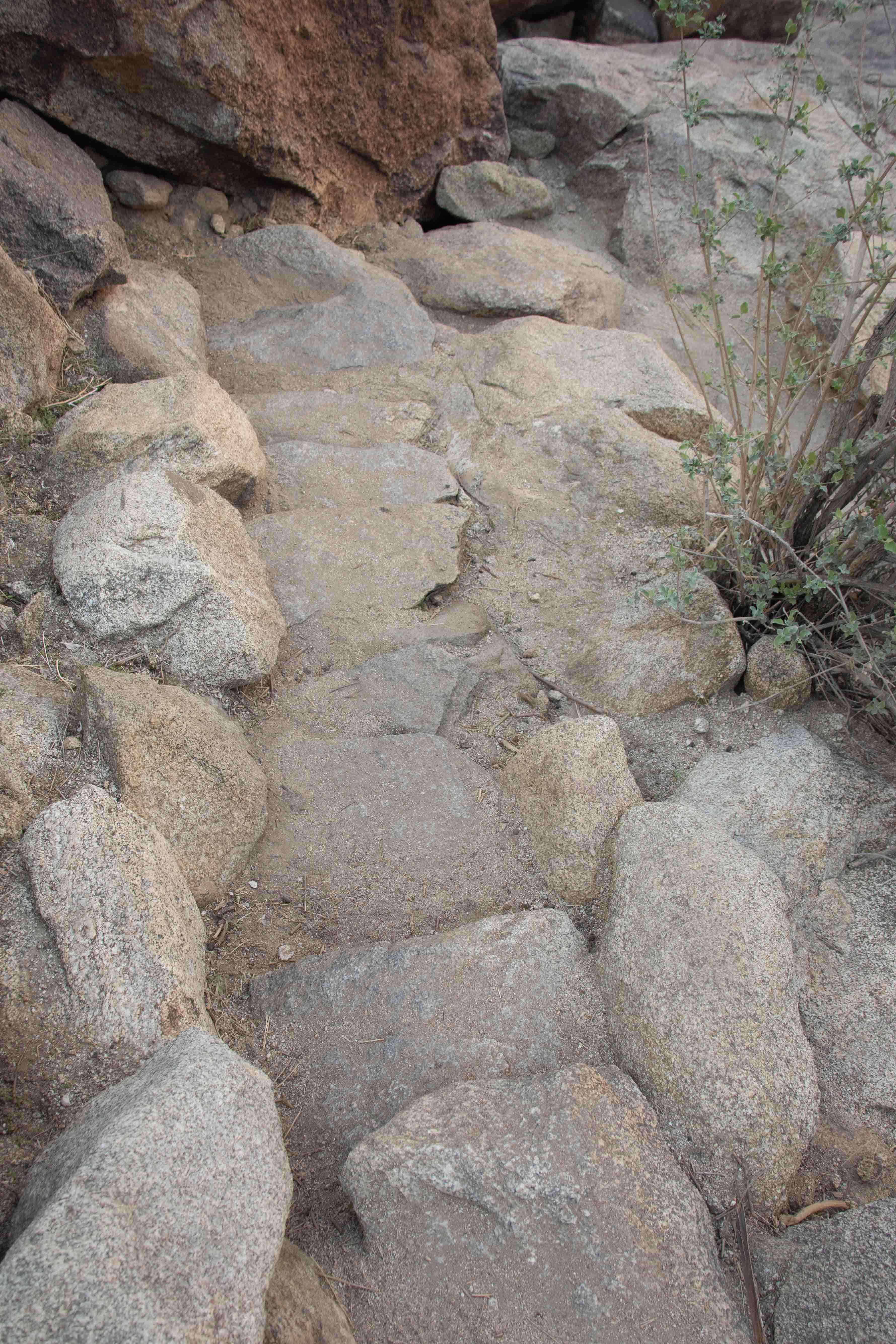 As we approached the palm oasis, we were hiking close to the creekbed and deep in the shade of the canyon, and the microclimate was comfortably cool.
At last, we reached the palm oasis. Photo by Eric.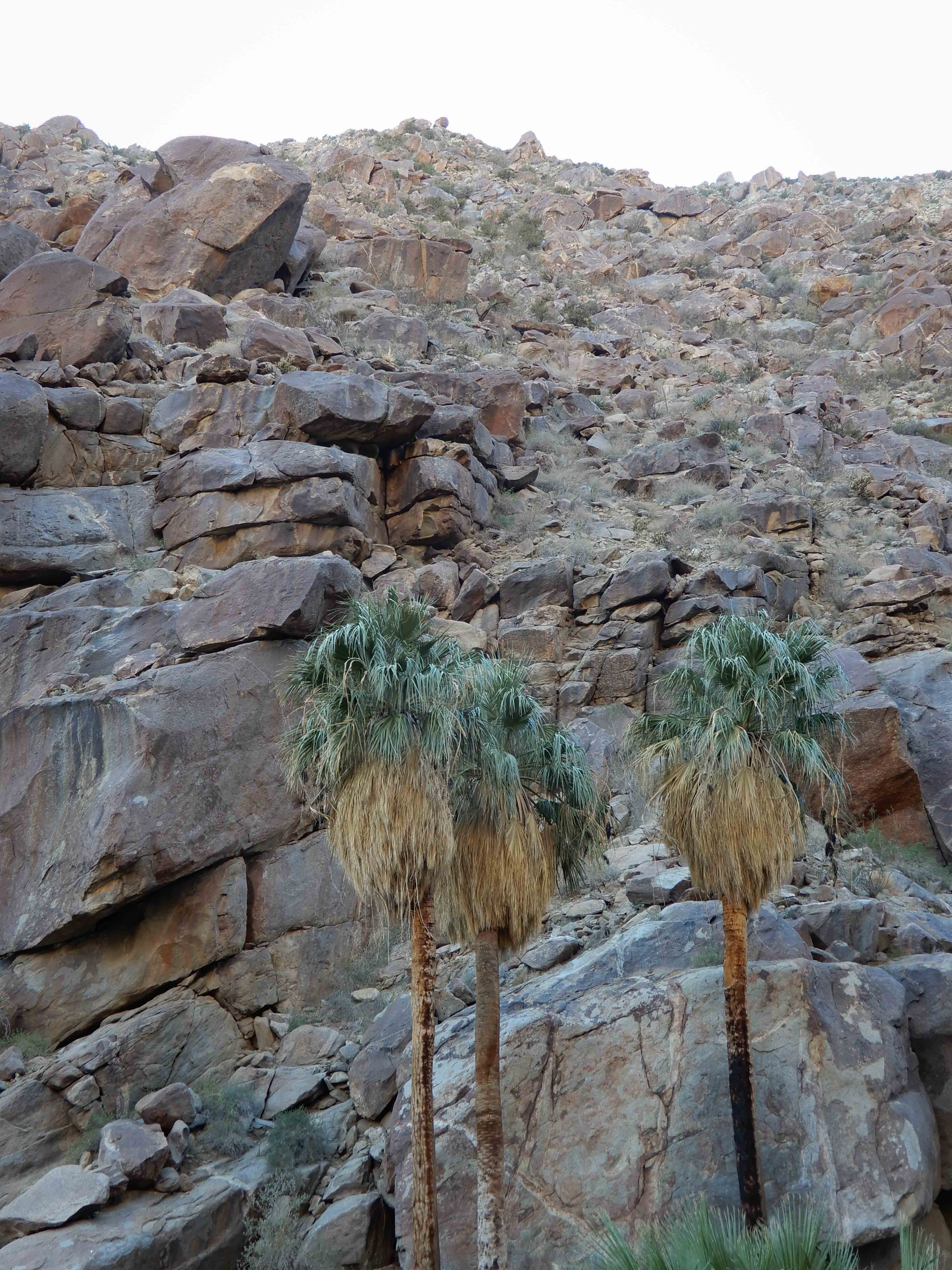 Inside the cool palm oasis. The brochure tells me that these are California Fan Palms. While this is the only species of palm native to California, it is apparently hard to find in the wild.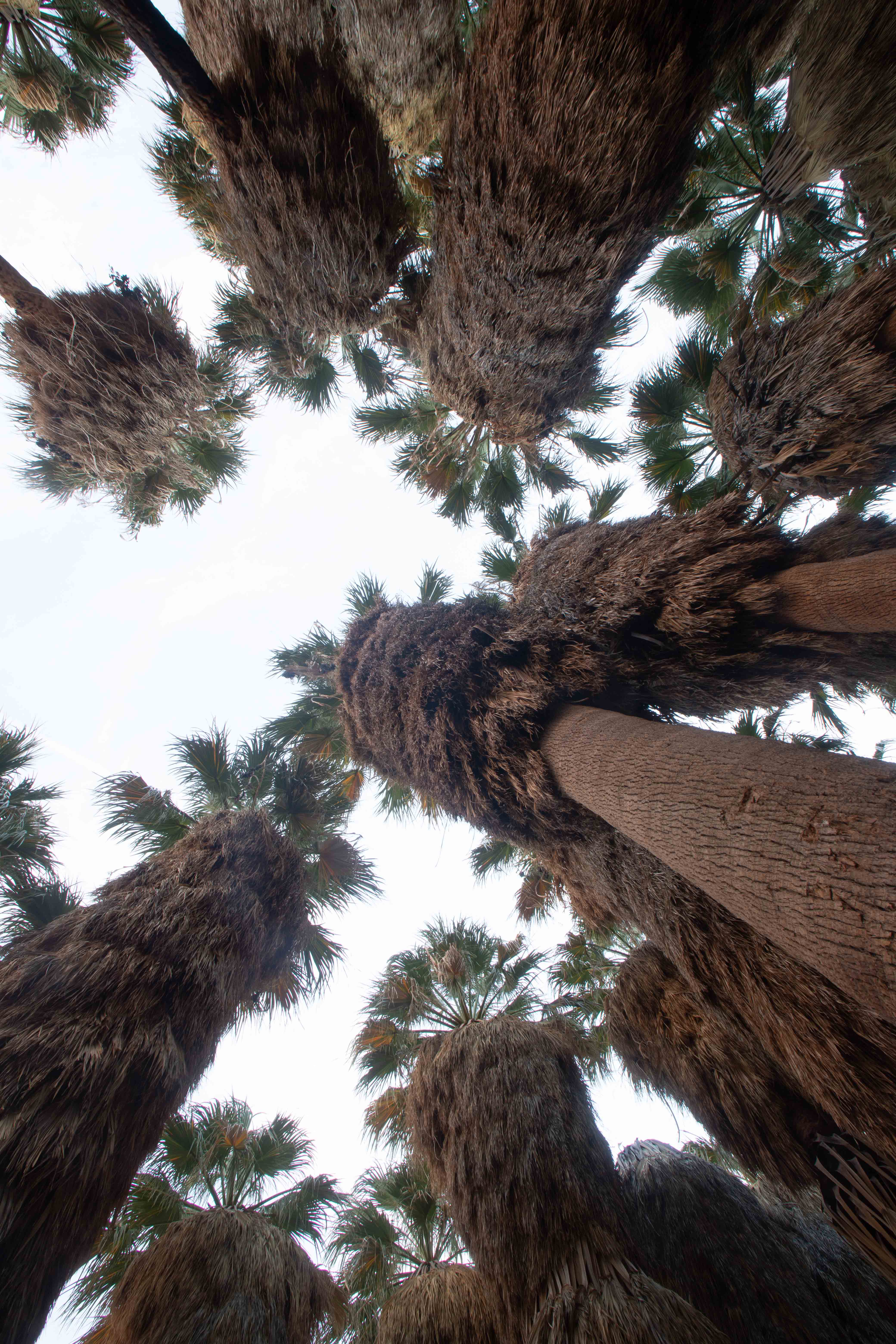 I took a picture of Eric in the palm oasis.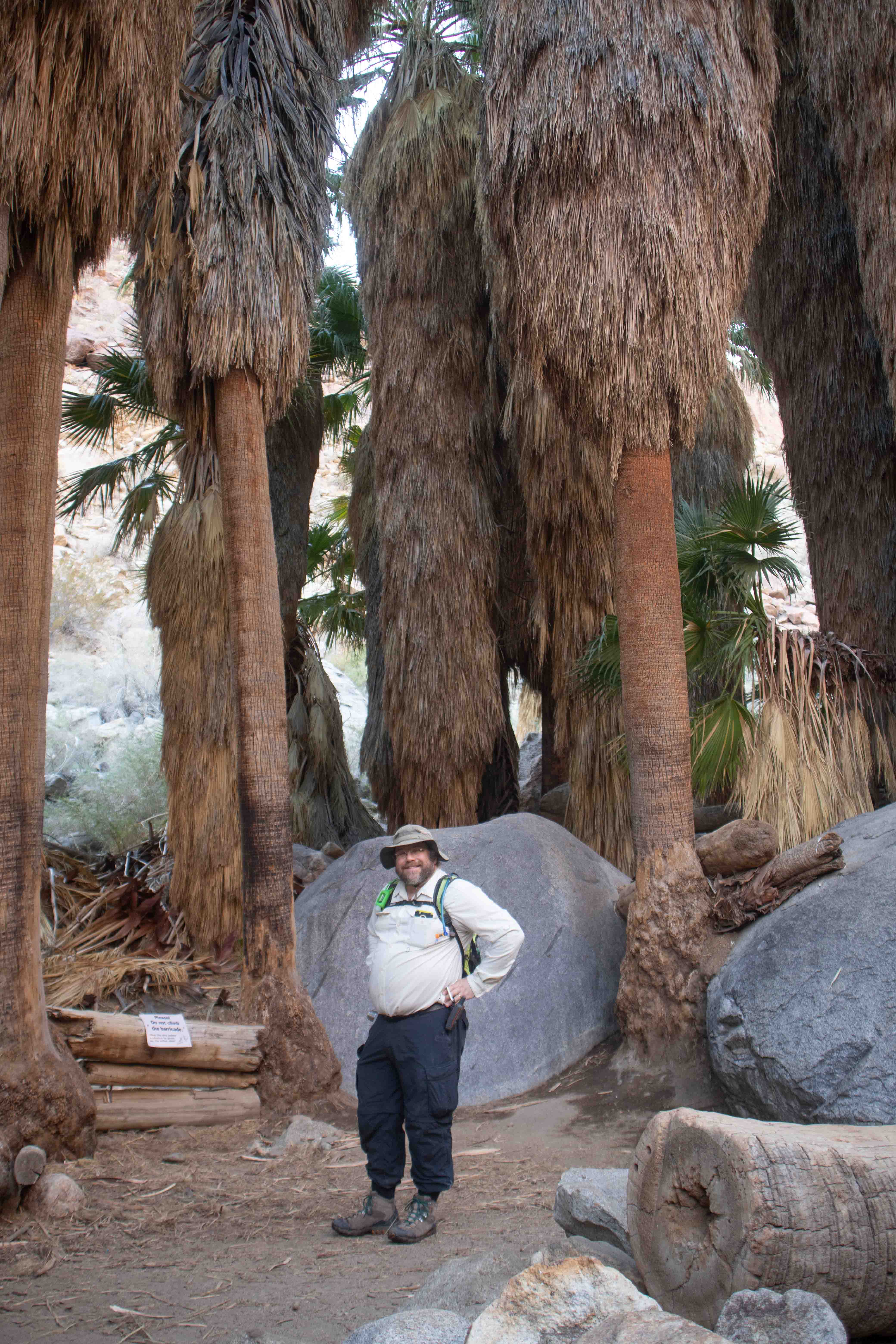 Eric took a picture of one of the palm fans.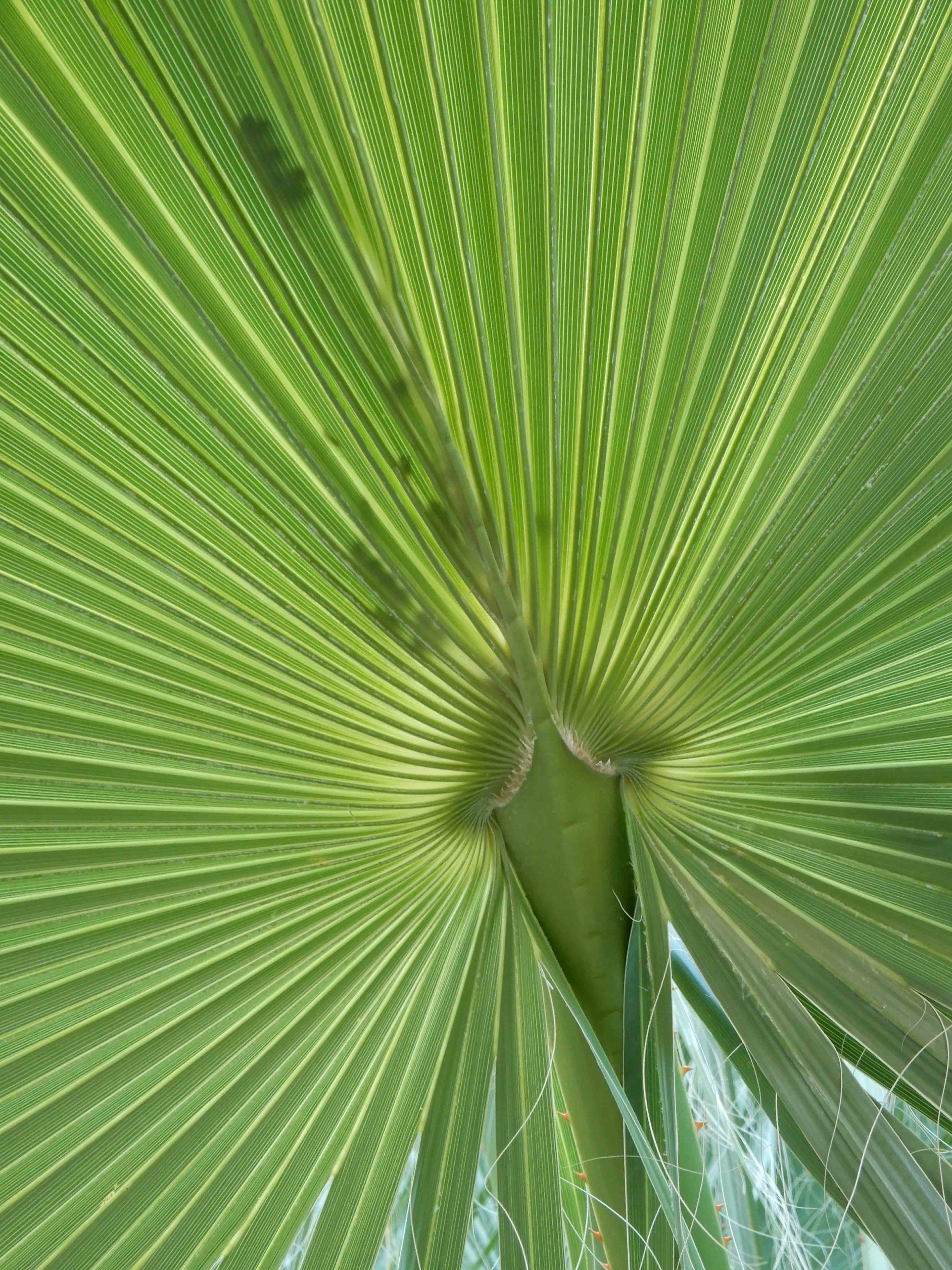 On the way back through the canyon to Mather, the low light of the sun made it feel later in the day than it was.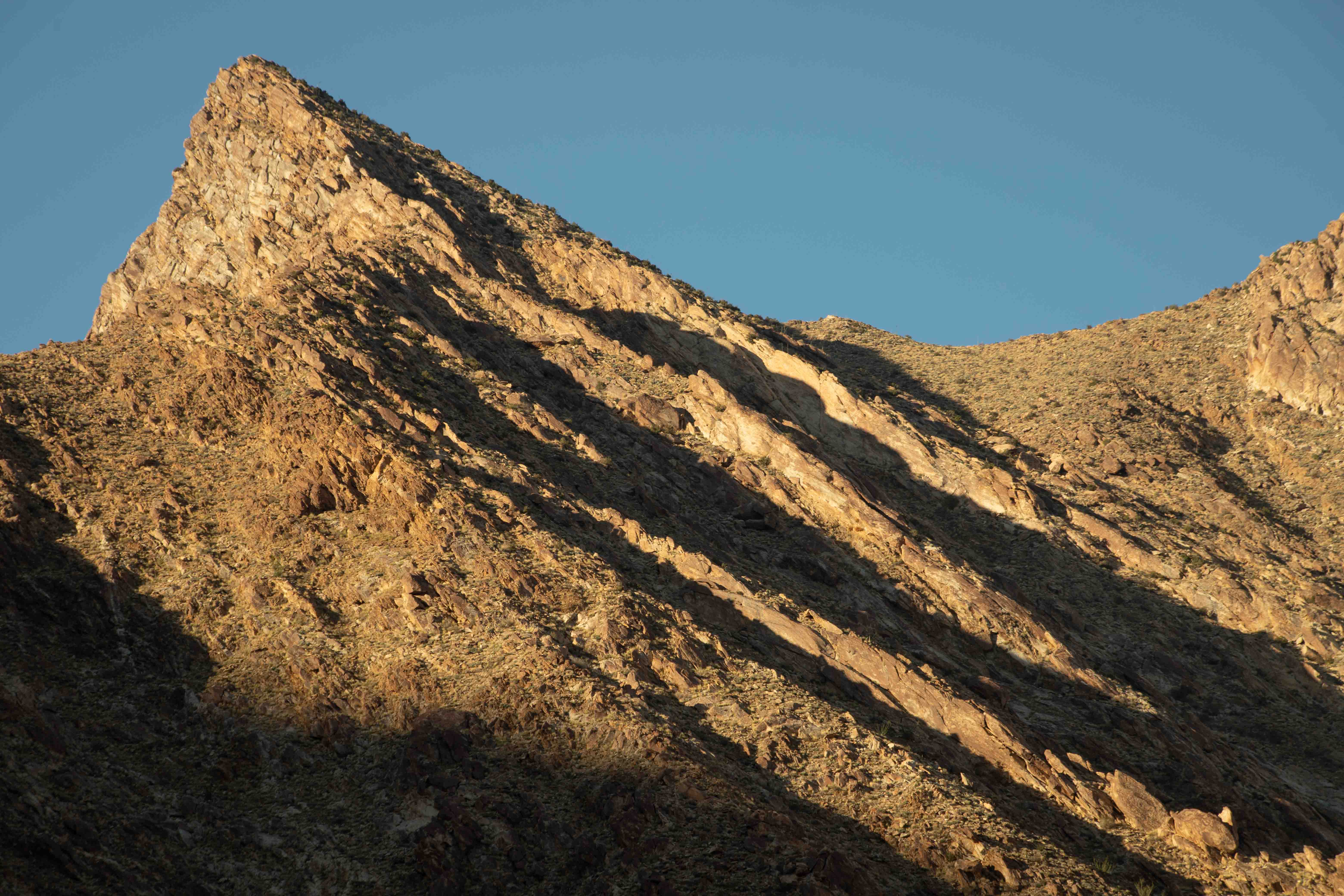 Having passed up some photo opportunities on the way out in the interest of time, we stopped to photograph some of the cacti.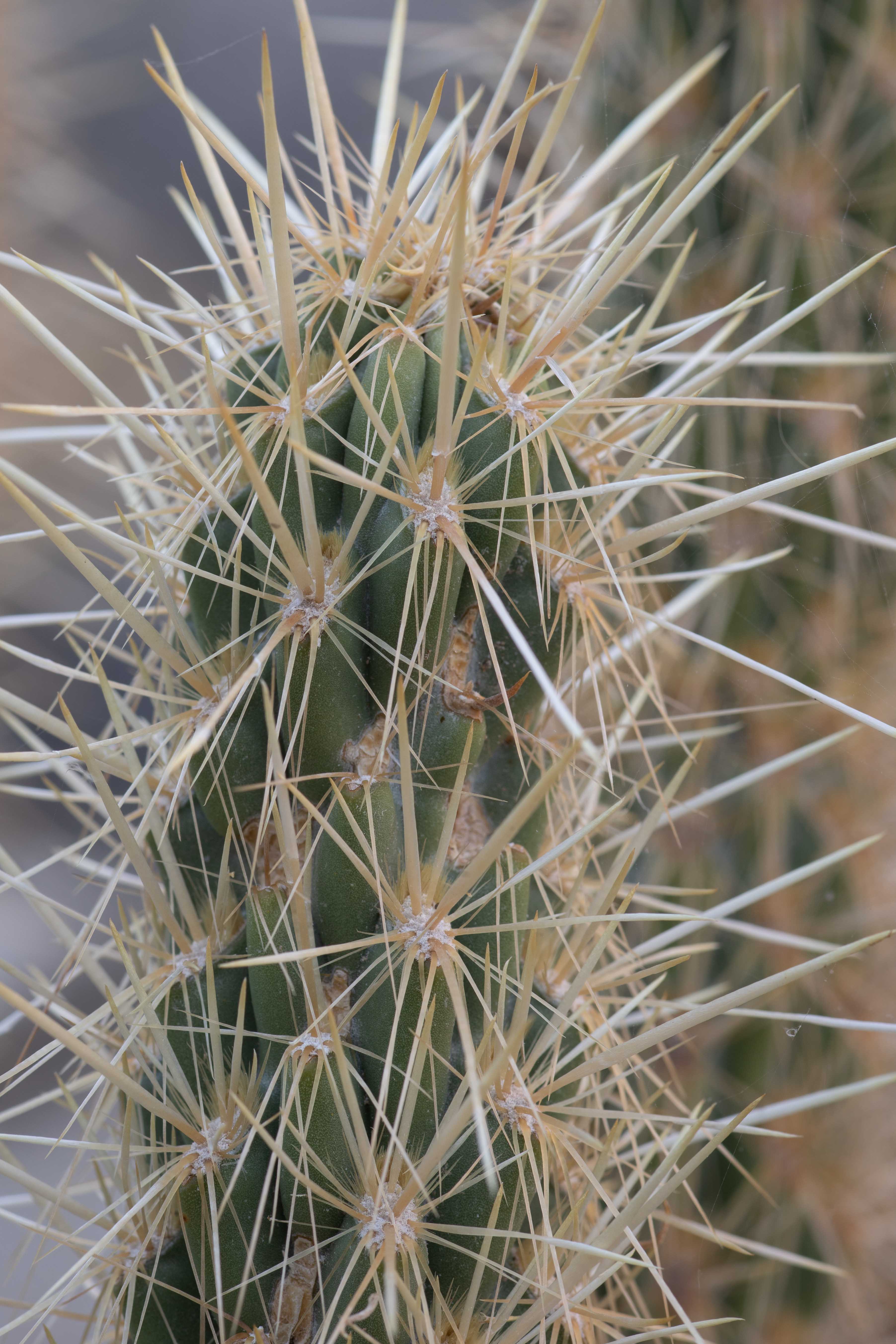 Cactus photo by Eric.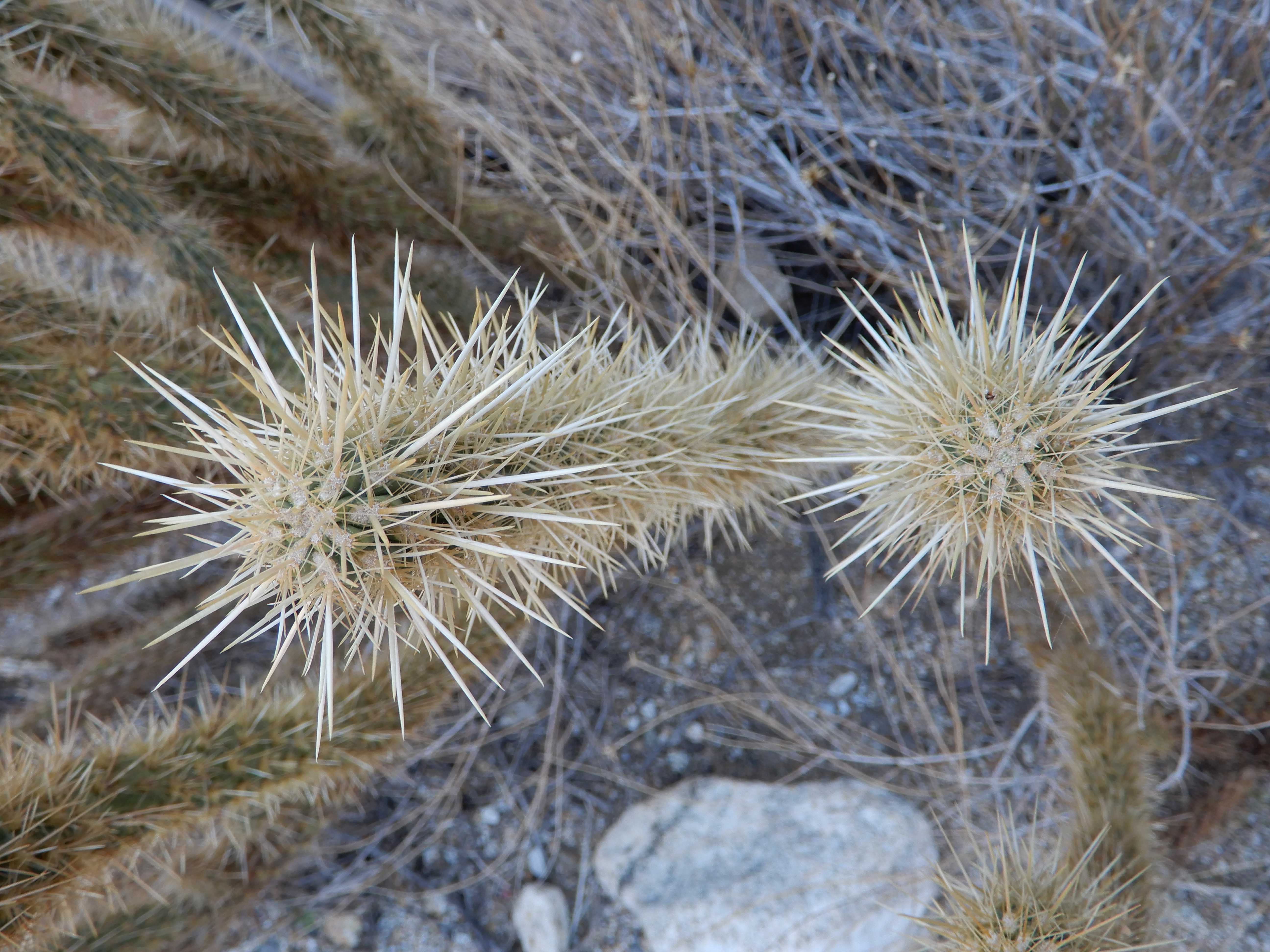 This isn't the cactus that Eric had waypointed for photographing on the way back. There was a woman standing there, who openly told us she was waiting for us all to go away and give her an opportunity to pee. She insisted, however, that we go ahead and photograph the cactus as we had planned. "Oh, no," I said. "I'm a woman your age, and I know how it is. I saw another perfectly good cactus just a little bit up the trail."
Octotillo flower.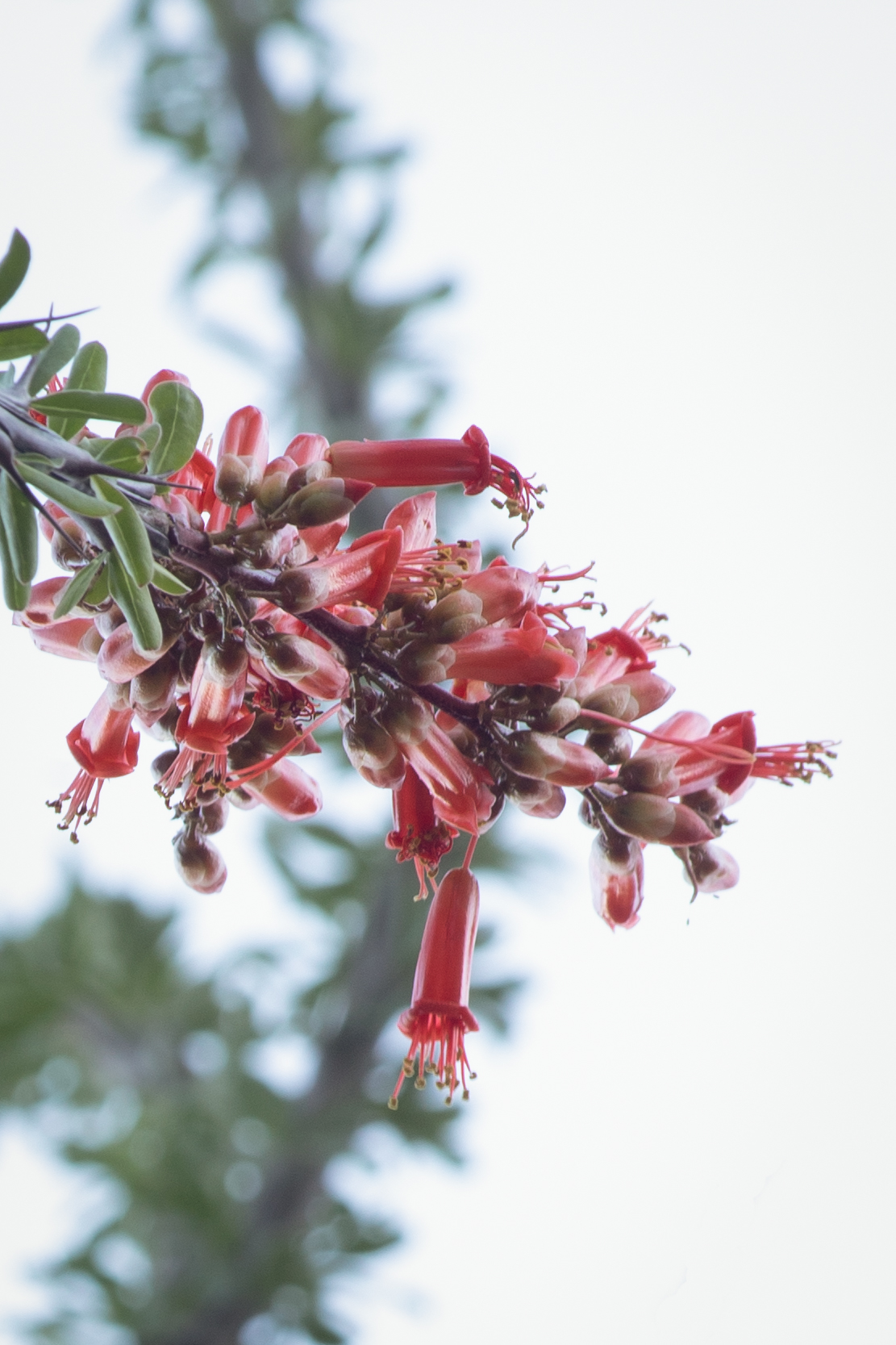 Los Angeles and the Central Valley
After that lovely hike, Eric drove us back out of the park. We finally saw the view from the road we had driven in the dark Saturday night. We headed into the LA Basin for the family Christmas Eve party, arriving at a reasonable 19:10. While we miss my cousin's wife, whom he lost to breast cancer a few years ago, life goes on, and we had a good party full of tasty food. I had made my mother's cookie recipe, with cutouts in the shape of clubs, diamonds, hearts, and spades, sprinkling red sugar on the hearts and diamonds and black sugar on the clubs and spades. I packaged them on plates decorated with Egyptian symbols. Unfortunately, one of the plates had cracked in half in an unfortunate incident where it went flying out of Mather when I opened the door. My cousin loved the plates. I told him that my mother had bought them for me at Target.
We spent Christmas at my mother's house, opening presents with my mother, my brother and his family. My niece made sweet cards for Eric and me, with cats and kittens. We had a fantastic turkey, with my mother's fabulous stuffing. At 15:00, hoping for better traffic luck than we'd had on Saturday, we departed on the long trek through the Central Valley up to the Bay Area.
We made a quick stop in Pasadena to return Sarah's large, cast iron pan hanger, which had been dominating the space in the back seat. Unfathomably, Los Angeles was among the counties in which we hadn't found a cache, so we quickly rectified that at a library parking lot near Sarah's house.
With my mother planning to move to northern California to be with the rest of our family, we didn't know when we'd be making the suicide-inducing drive through the benighted Central Valley again. So, we wanted to cross the remaining counties along the route off our list. Kern and Merced were still left. Had we known that the Tejon Pass was in Kern County, it would have been good to have sought out a cache there. But it was too late to do that research. Instead, we found a cache out in the middle of a field of mud in Buttonwillow. Why would someone place a cache here? We have no idea. It was only Eric's great skill that enabled us to find the cache in the oncoming darkness.
The last cache was in Merced County, and in yet another mudfield. This time, it was completely dark. And yet, Eric found it. He took a photo.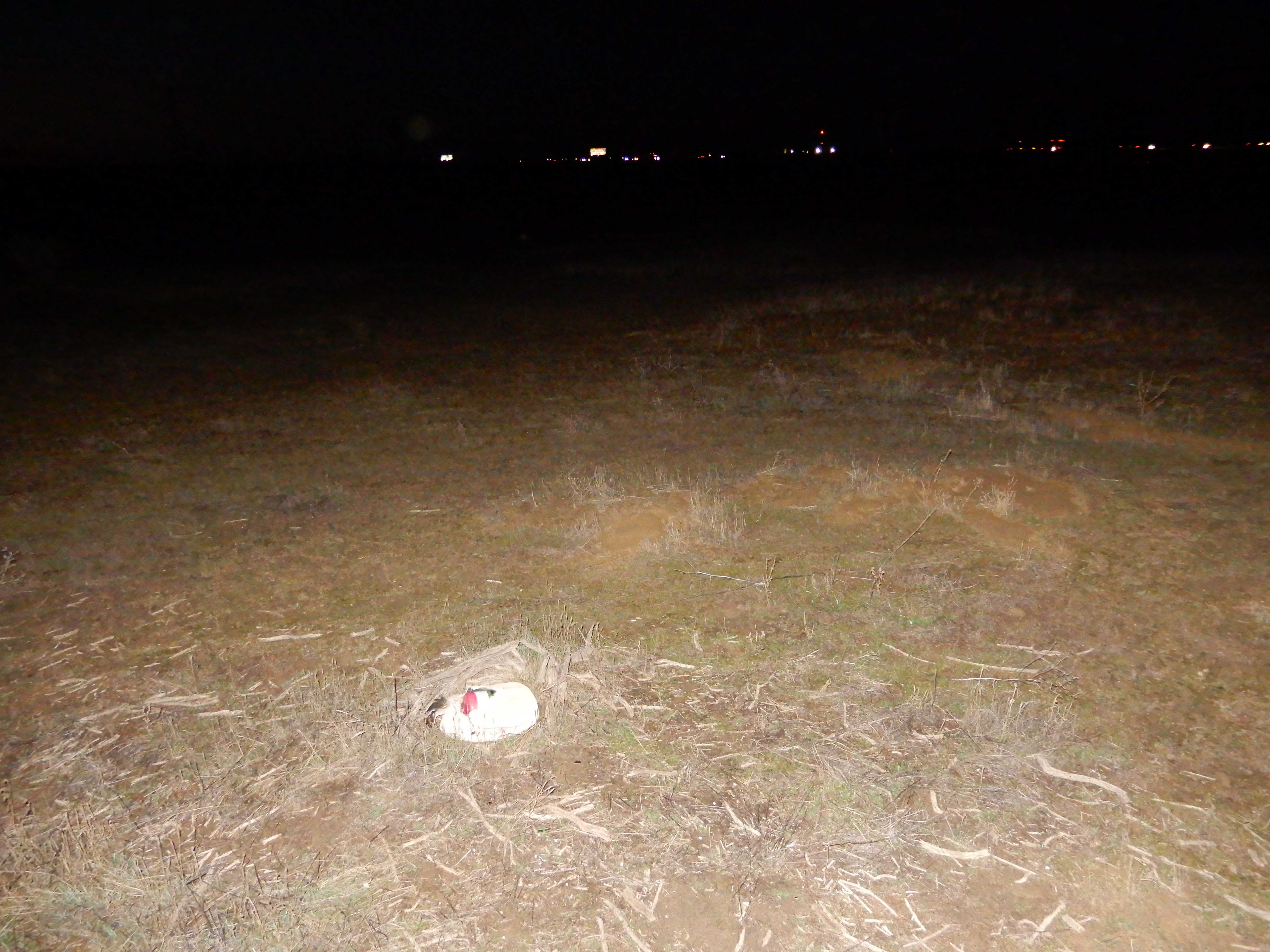 We made quite a bit out of our four-day Christmas weekend, in spite of the government's best attempts to ruin our plans. In addition to the typical food and present holiday celebrations with family, we did two sunrise shoots and one sunset shoot, explored some amazing geology, hiked about 7 km/4 mi, found six geocaches, crossed five counties off our list, and saw three life birds! Although it is far off the beaten path, Anza-Borrego is a fantastic place, well worth the effort of a visit.
---
Last updated: 26 December, 2018 by Eric and Beth Zuckerman6>