---
Mano a Mano and Praia do Leme
5-6 July, 2012
---
Me with Tim and Angelina at the salsa show. Photo by Eric.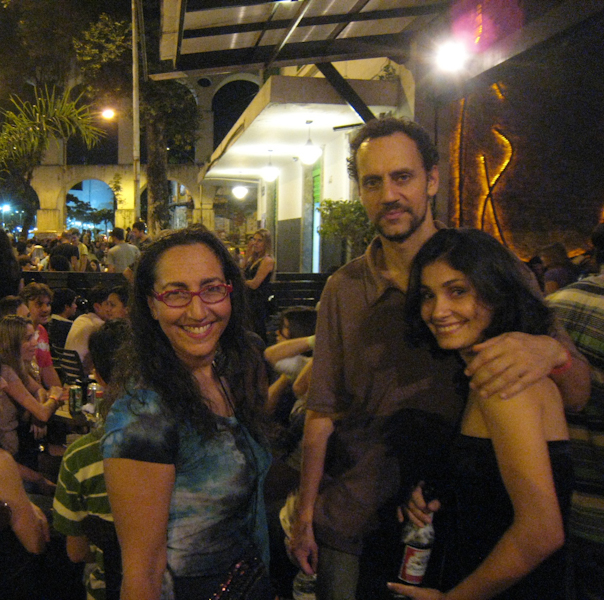 Our driver and guide, Cleiton, got us back to the airport in Iguaçu in plenty of time, and we flew back to Rio de Janeiro, arriving at Tim and Angelina's apartment around the time it was getting dark. Of course, we were very enthusiastically greeted by Nina. We are learning all sorts of great Portuguese terms, like baba de cachorro. Before you start thinking, "That sounds kind of nice," it means, "dog spit." Nina is determined to become the first dog to be able to destroy a KONG. I have become quite adept at snatching laptops out of the way of an incoming leaping animal.
Tim and Angelina were unfortunately asked by their landlord to move between the time we scheduled our trip and the time we arrived in Rio. They left the artsy hillside neighborhood of Santa Teresa and moved to Flamengo, closer to the beach. The new apartment is on a main drag close to lots of shops, and practically right across the street from a metro station. Although Tim and Angelina have been in the middle of all of the chaos of moving, they have been very gracious. The man from the gas company has made a lot of trouble by being unreliable about showing up to turn on the gas, so, as much as Angelina wanted to make us a chicken and a delicious vegetable lasagna, cooking has been virtually impossible. She's made some great salads, though, and a fabulous breakfast of fresh bananas, melons, breads and cheeses every morning. In the absence of gas, though, we had pizza delivered for dinner. Fortunately, in spite of the problems with the gas man, we at least have hot showers. The apartment has maid's quarters (kind of a large laundry area, overlooking an interior courtyard, with a very small bedroom) with an electric shower.
Mano a Mano
Tim plays every Thursday night with his salsa band, Mano a Mano, and we were hoping to see Tim perform as much as possible. We went to see Mano a Mano at a bar called Leviano.

You can see in Eric's picture that the bar was right near the Arcos da Lapa, the famous Rio aqueduct. Trams used to run along the top of the aqueduct up to Tim and Angelina's old neighborhood, but they were closed after a fatal accident last year.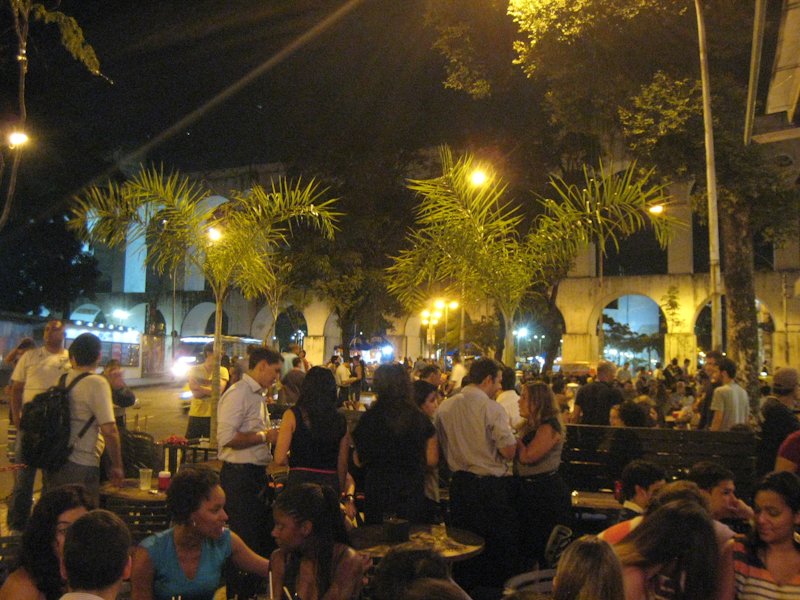 Mano a Mano was very good, although not as full of excitement as Orquestra Voadora. They stayed on the stage for the entire performance. Tim is one of two trombonists in the band, which apparently is typical for salsa. The dancers were great to watch, very talented. The weather was perfect for the open-air bar. The atmosphere was fun and friendly. Since it was salsa music, the words were in Spanish rather than Portuguese. When we asked what country salsa came from, Tim told us that it actually came from New York. It was started by Cuban and Puerto Rican immigrants, but technically it is American in origin.
Mano a Mano on stage. Tim is the trombonist on the right. Photo by Eric.
Praia do Leme
By the time the band got to its second set, Eric and I, who had gotten up about 18 hours before, were seriously ready to go to bed. Fortunately, we had planned a relatively low-key day for Friday, just a visit to the beach. You can't go to Rio without going to the beach, right? Tim recommended Praia do Leme, near Copacabana. It was two metro stops away from the new apartment, so we hopped up there on the metro.

I had brought a couple of sun hats to Brazil with me, but Tim thought they were both too silly-looking to wear in public. Angelina got me an adorable new hat. It is reversible, and inside, it has a little secret pocket for your keys and money. And, it has a drawstring along the outside, so you can make it into a purse instead of a hat! It's just awesome.

Me at Praia da Copacabana (Copacabana Beach) with my new hat, and a coconut full of coconut juice. Photo by Eric.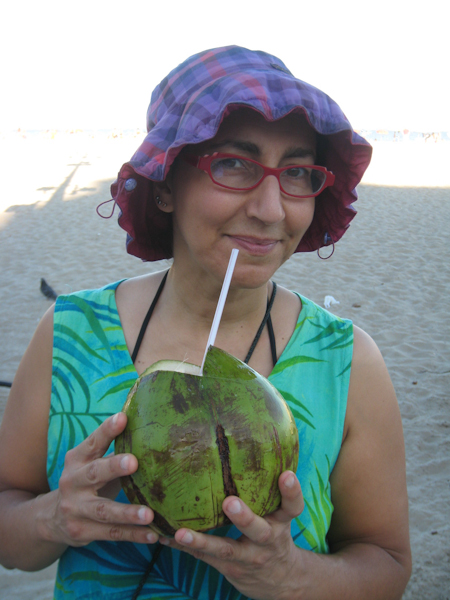 Praia do Leme is a smaller beach at the very tip of Copacabana. This picture looks back at Copacabana. Those bright spots are lights surrounding a
giant
screen. The thing plays loud music at night. Leme is quite a bit quieter.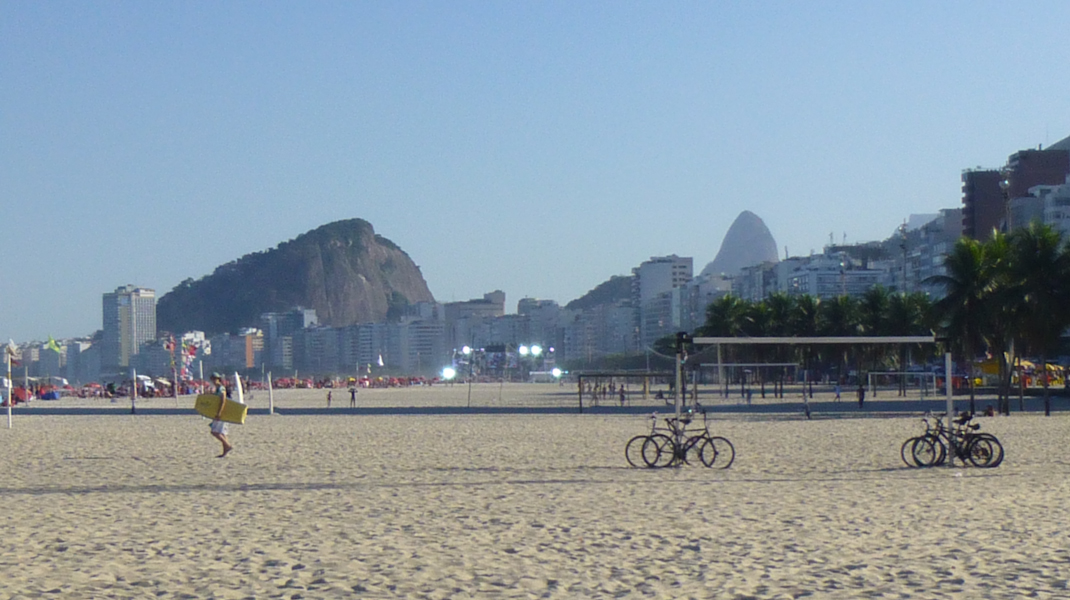 Praia do Leme, with Morro de Leme (Leme Hill) in the background.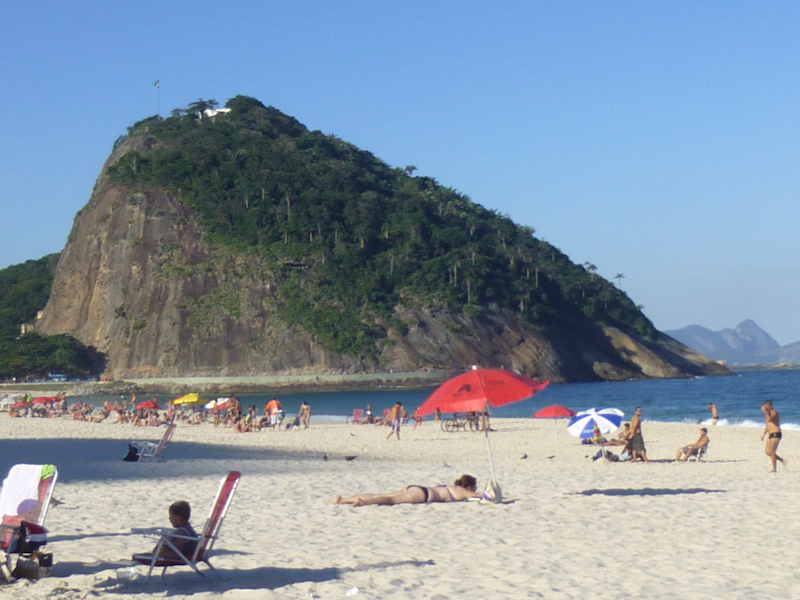 The water was amazing. Just the right temperature, not Florida warm but not even southern California cold. It was easy to get into and enjoy. There was a good surf in some parts of the beach if you wanted to play in it, but it was also fairly easy to avoid it if you didn't. I swam for a long time out beyond the breaking point of the waves, and then played in them as I came back in. I have loved playing in the waves since I was a teenager visiting Cape Cod in the summer, and I very much enjoyed Praia do Leme.
The waves at Praia do Leme.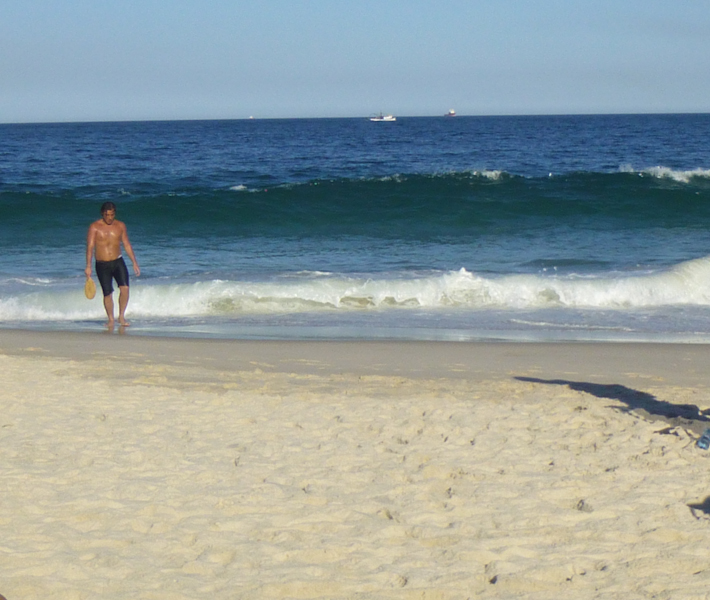 On to Pedra Bonita and Leblon Beach.
---