---
Lost Coast Bike Tour
Sunday 1 September, 2013
The Mattole River. Photo by Eric.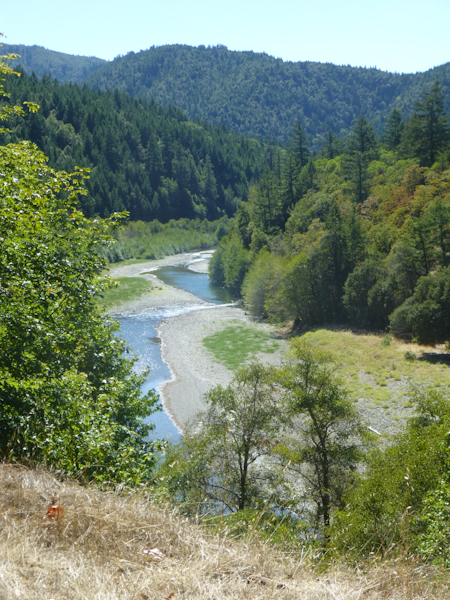 Humboldt Redwoods State Park, continued
We got up at 5:00. Since I'm the one who wants to go camping while Eric would rather sleep indoors, I did the heavy lifting of compressing the sleeping pads and bags while he heated up water for packaged oatmeal and tea and coffee.

As soon as I ate my breakfast, I had an unpleasant gastrointestinal situation that came on very quickly. The less said about this, the better, but let's just say that I wish I had known then that the little building near the water pump was an outhouse. It would have saved quite a bit of time and trouble. The next 45 minutes or so were decidedly unpleasant.

Our clothes from the previous day had not dried overnight in the misty redwood environment, but we needed to wear them the next day. To dry their clothes, touring cyclists strap their wet items to their panniers and let them air dry as they ride. Probably most other touring cyclists are smart enough to wear less flashy intimate ladies' undergarments. For some crazy reason, I had worn lace rather than something more utilitarian. I strapped it to the non-traffic side of my bike and hoped for the best. We got out of the site at exactly 7:59.

We stopped briefly to find a geocache at Bull Creek Pioneer Memorial Cemetery. Eric remarked that we had probably never before found a cache before 8:30.

Bull Creek Pioneer Memorial Cemetery.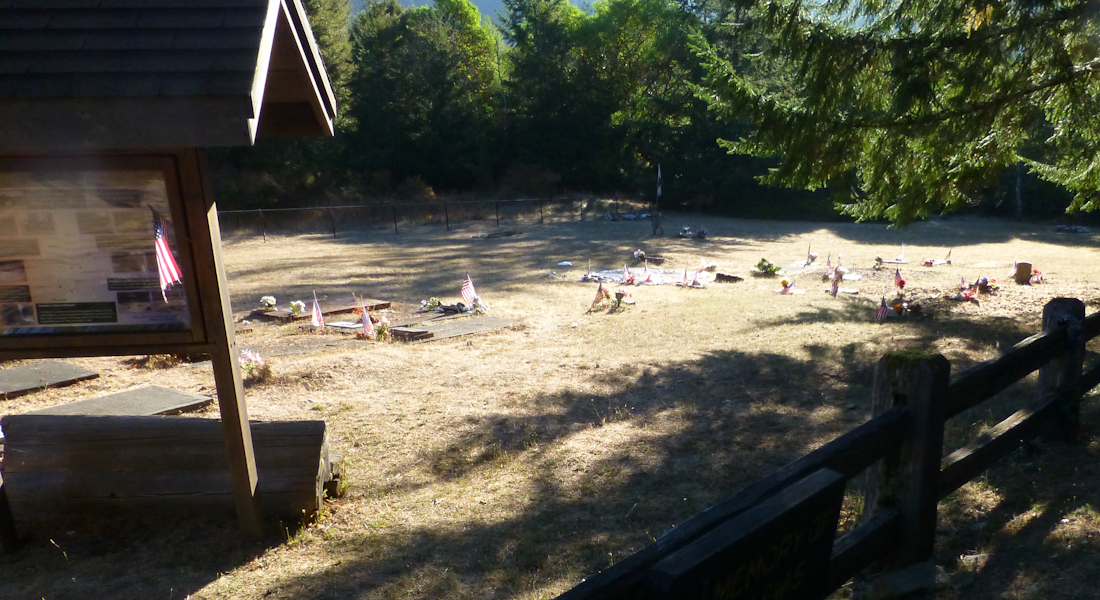 Not too far along the road, we took a short detour to the next camp, Cumeo Horse Camp. We needed fresh water, so we had to stop there. There were lots of kids, and as much Spanish as English was spoken.
A lovely horse at Cumeo Horse Camp.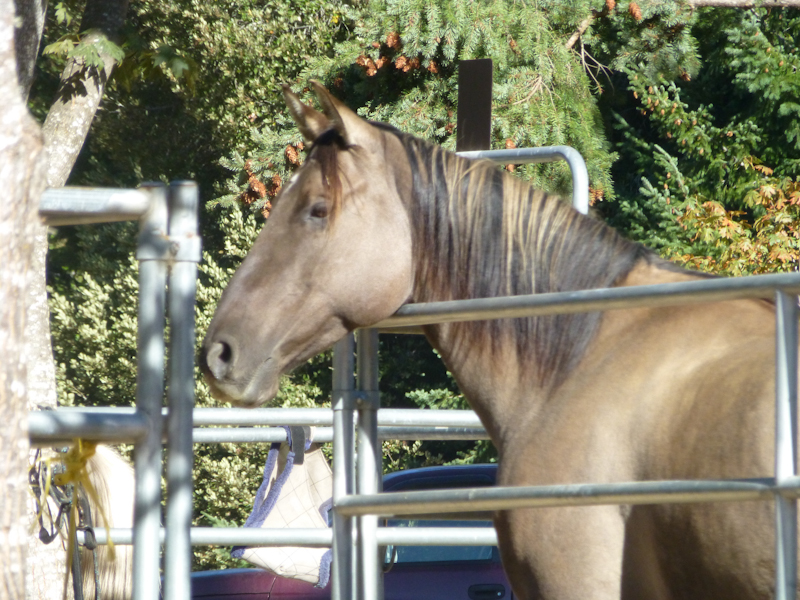 While we were waiting for the bathrooms, Eric noted that the morning's unpleasant episode had not endeared the idea of camping to him any further, and that he would prefer to spend the night at the B&B in Petrolia rather than at Arthur Way County Park as planned. This would also put us a little further along the road, making a better distance split between the remaining two days. But not only would this cost a lot more money, we wouldn't even be able to stay for the breakfast. I said that I would not feel that I had truly conquered the Lost Coast unless we did it self-contained. He relented.
Immediately after Cumeo Horse Camp, we started the lengthy incline that would comprise most of our day. This would be the first, and, according to Lonely Planet, the easiest (but tallest) of the three difficult ascents we would have to make. This would be our first crossing of the California Coast Range, from east to west. Fortunately, it wasn't particularly exposed. Actually, there was enough tree cover that our clean clothes took a long time to dry, especially at the low speed we were going.
We climbed and climbed, past many curves like this. Photo by Eric.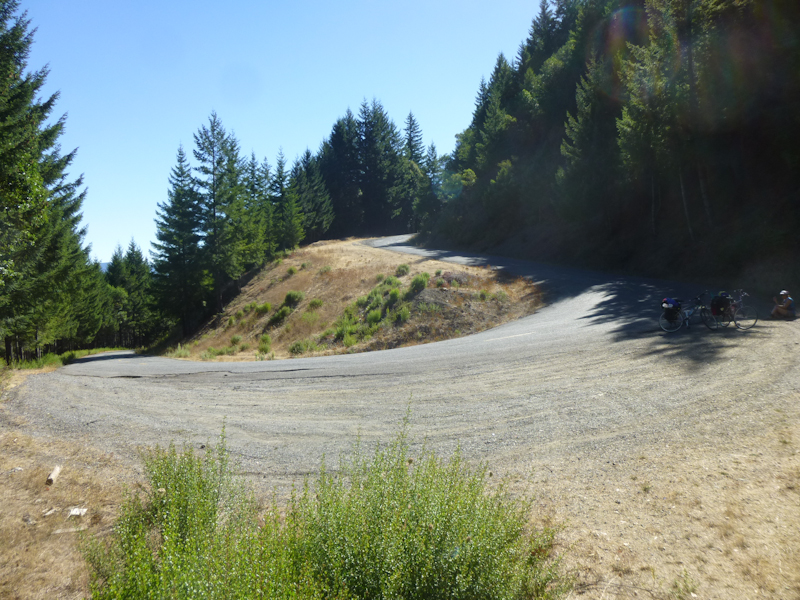 I kept trying to eat just light snacks like a few pieces of turkey jerky or some dried peas, but I was miserably hungry. Finally, at the spot in the photo above, I gave up and ate a whole Clif bar. I should have eaten just half of it, because continuing to exert myself at this level with a Clif bar in my stomach caused further tummy upset. There is just no making my digestive system happy.
We found a couple of geocaches on the way up, caches that had not been found in seven weeks or so. This was a remote area! There were few cars, and when I waved to the drivers, most of them waved back.
Closer to the summit, we had some nice views into the valley. Photo by Eric.
At last, about five hours after we left camp in the morning, we reached the summit. Then we went down and down and down.
Topo map of Panther Gap.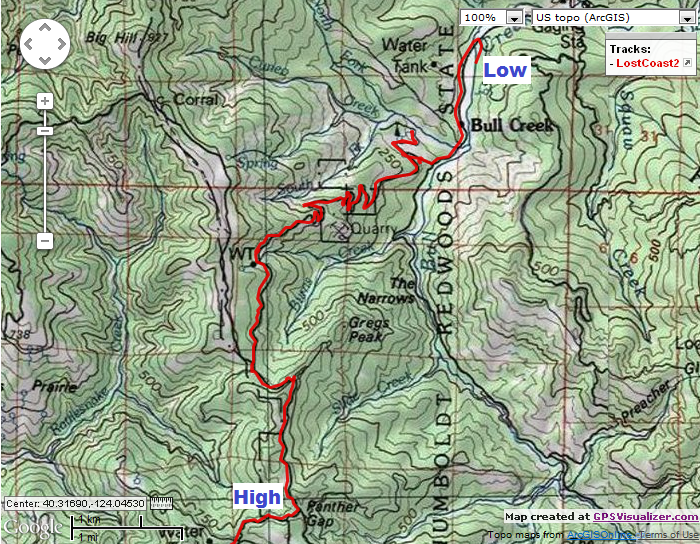 Honeydew
While taking a break to cool our rims to save our brakes on the downhill, we met a couple of cyclists coming from the other direction, the Lebers from Bend, Oregon. I told them how much we had loved the Bend area on our Cascade road trip of 2010. They had driven to Yreka, further north in California, and were touring the coast from there. The Lebers were somewhat remarkable in that they were older than we were. And still touring! They told us there was another camp out there called Mattole Beach Camp, but they said Arthur Way was much nicer. Apparently Arthur Way was quite spread out, with lots of space between camps, while at Mattole Beach Camp, they were crammed in with many obnoxious loud drunks. Furthermore, they told us, the drunks were particularly excited because it was the first day of deer season, and they had heard gunshots up on the hill from the beach. Arthur Way sounded like a considerably better place to sleep. But if there was another camp out there, maybe we could refill our water bottles during the day.

Eric took my picture crossing a bridge over the Mattole River, into the one town we would see that day, Honeydew.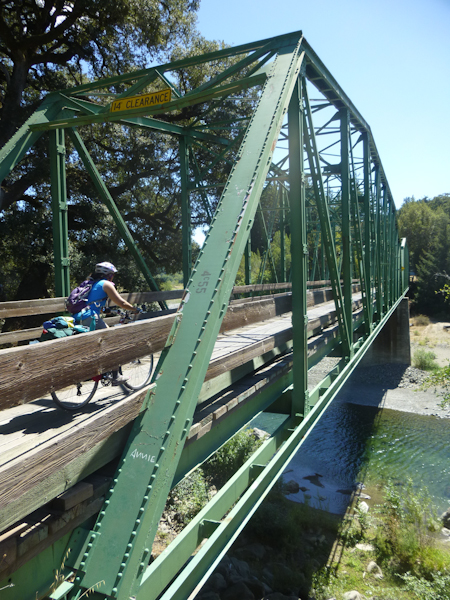 We had been quite looking forward to our visit to the store in Honeydew, as it would be our only opportunity to resupply for the day and to get lunch. The Lebers had promised that the store had excellent honey bars with chocolate chips and nuts. The parking lot and outdoor eating area, however, were full of rather strange characters. But there was no place else to go.
Disappointingly, the store did not have freshly-made sandwiches. We were considering how an entire loaf of bread would survive the trip when one of the strange characters suggested tortillas instead. We acknowledged that that was a great idea. Eric shopped for tortillas, turkey, cheese, one fresh item--an avocado--and Haagen-Dazs bars, while I spread our clothes out on the picnic table bench to dry. I tried to hide my lacy intimate ladies' undergarment, but there wasn't too much I could do with it.
We ate the Haagen-Dazs bars first, of course, before they melted. Then Eric carefully cut cheese and the avocado with his knife and made us cold turkey-cheese-avocado wraps. A cute little mutt named Molly came over and begged. Molly was literally drooling at the sight of our food. We promised her she could have a little when we were done, and she did get some turkey.
Molly.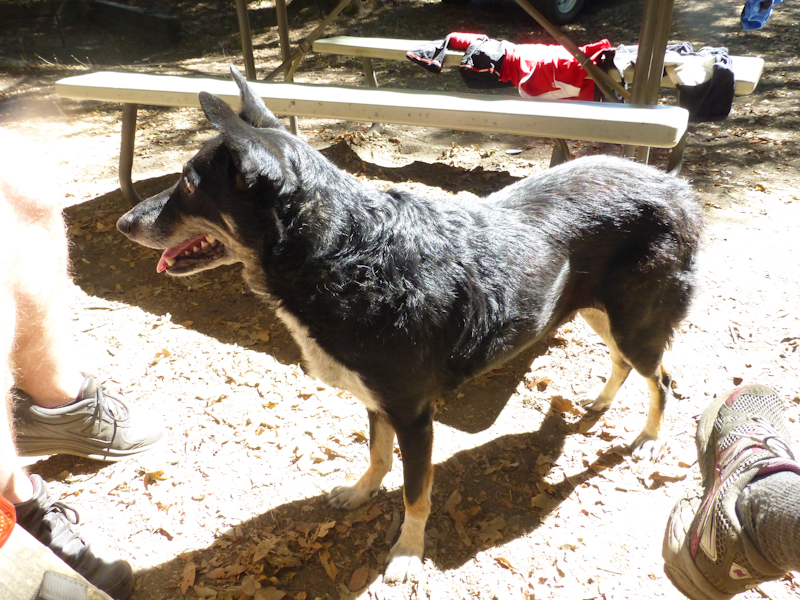 The characters, about half a dozen of them, all men but one, sat down at the next table over and proceeded to get high. This was Humboldt County, after all, famous even more for pot farms than for redwoods. We turned down the offer to share in their Humboldt County hospitality, and talked about the weather.
I went back into the store to get some Benadryl, as I was suffering from itchy mosquito bites and thought it might help me sleep better than the previous night. I discovered that Eric had forgotten the infamous honey bars that we had heard about from the Lebers! There was only one left!
At last, our lunch was eaten and our clothes were mostly dry. I was at least able to put my lacy ladies' undergarment inside my bag. We checked out some nice paintings that the one woman had made of the local scenery, said goodbye to Molly, and headed on down the road.
Honeydew to Arthur Way County Park
The rest of the day was one of the best parts of the trip. The road was easy, the distance was short, and the travel was pure joy. Our worst problem was that we smelled like bike messengers.

The area was so remote that one could abandon a car right next to the road, and no one would ever tow the derelict away.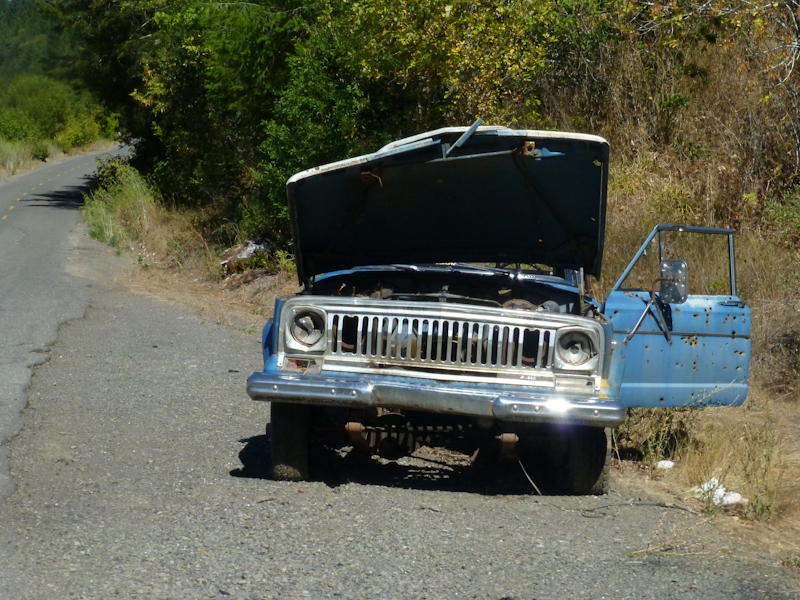 The scenery was fantastic.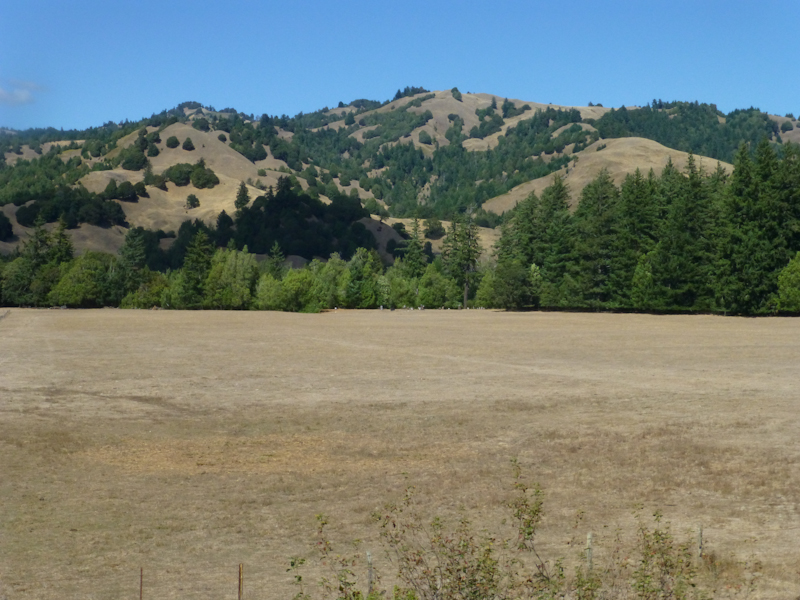 Eric took my picture riding over a fun dip in the road.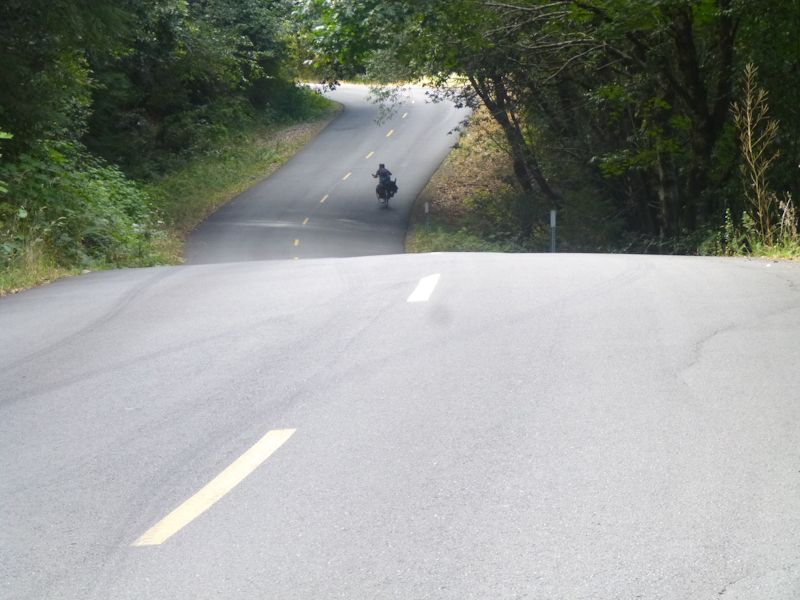 A piece of the road just fell off. Welcome to California. It's not just earthquakes, we've got fires and landslides, too.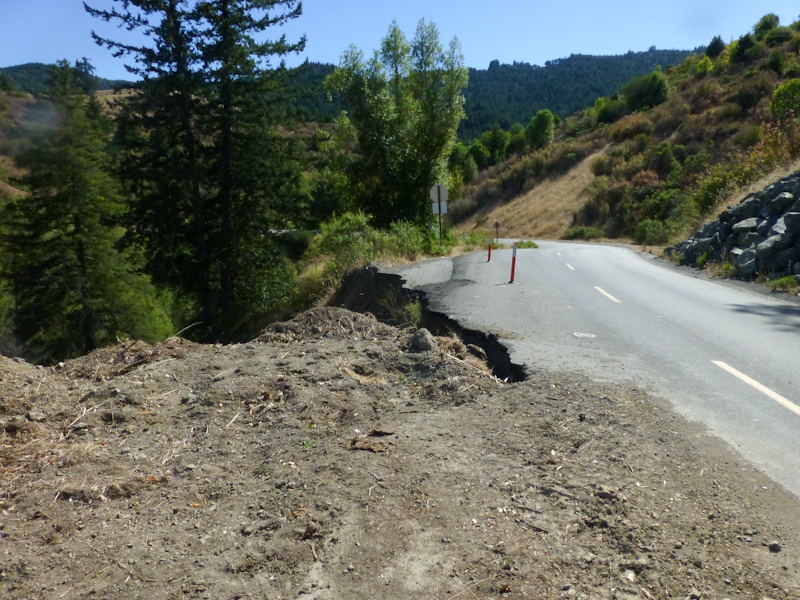 Arthur Way County Park
It turned out that Arthur Way County Park was only about 41 km further along the road than our camp on Saturday, for a total of 131.15 km for the trip so far. This would leave us as much distance to do on Monday as we did Saturday, but with hills. Brutal hills. Hills known as "The Wall" and "The Endless Hill." I would have felt more comfortable being further along, it's true. We probably would have had time to get to Mattole Beach Campground, but wanted to avoid loud drunks. This was Lonely Planet's planned stop for the day, so we took it.

We were annoyed that they charged US$8

per bike

, but only US$20 for a whole car full of people. I guess they were making the assumption that each bike would have its own tent, but that wasn't the case with us.

Photo of the sign by Eric.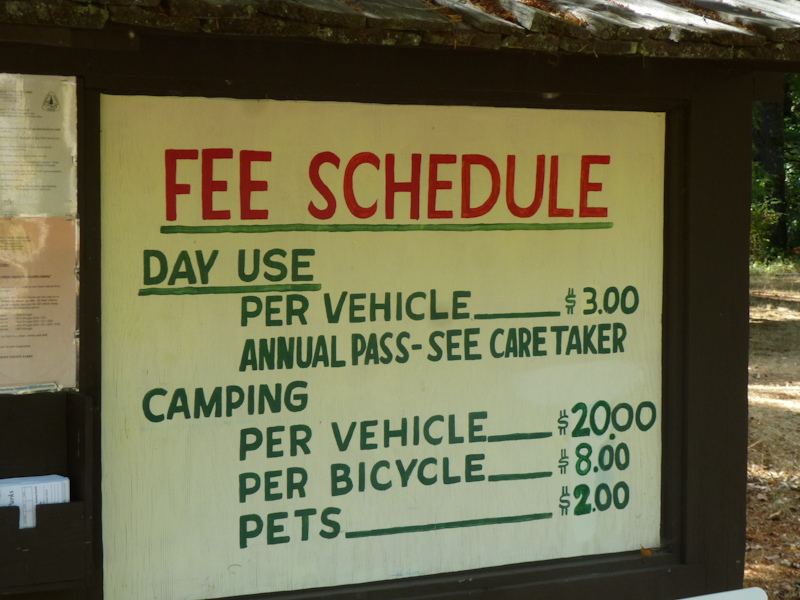 The campground was indeed as nice as the Lebers had promised. And it was only about a quarter full! The campground did not take reservations, and this had been a source of anxiety for me in planning this trip. Several years ago, when first considering the trip, I had called the ranger and asked about the likelihood of getting a spot on the Sunday night of a holiday weekend. The ranger had told me that for sure there would not be any spots available on a 4th of July weekend, but that we might get a spot on a Memorial Day or Labor Day weekend. Since our Memorial Day weekend is always BayCon, that left only Labor Day, and we had to put off the trip until we had a free Labor Day weekend. But the ranger had made it sound like that time would be competitive, and it was not.
Eric took a picture of our campsite, with the tent pitched before 16:30! In the background is the Mattole River.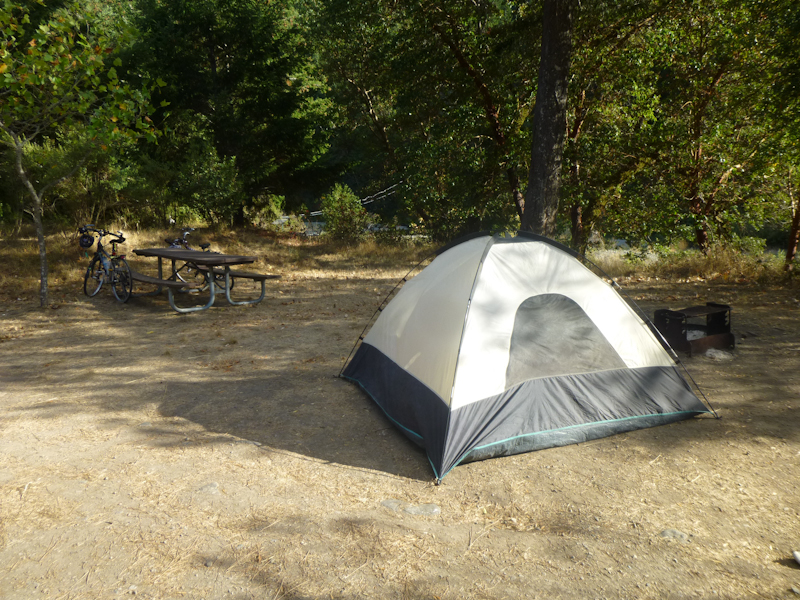 Since it was so early, we went down to the river for a quick swim. Eric found the water too cold.
The Mattole River beach at Arthur Way. We saw some people jumping off of that rock into the river, but we are not that kind of adventurers.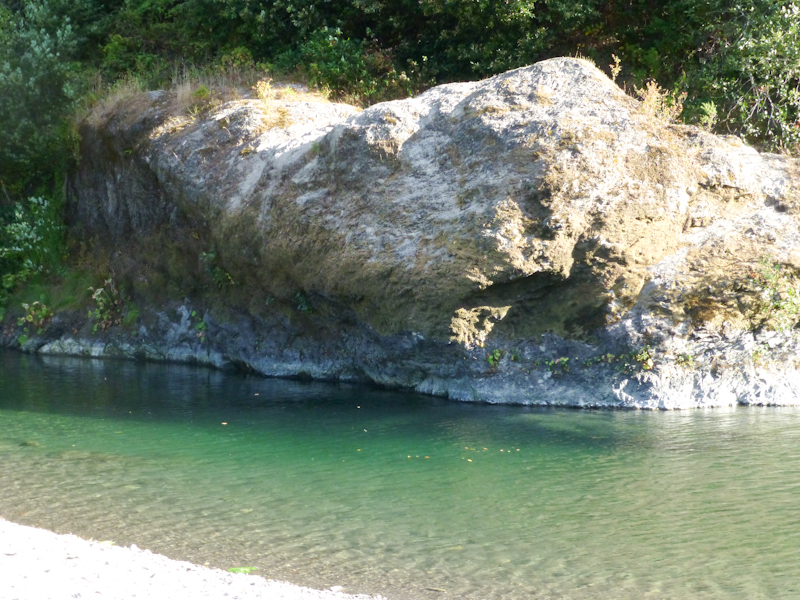 We decided to take our showers that night so that we could get an earlier start in the morning. The showers were nice, but more expensive than the ones at Humboldt Redwoods.
What an amazing thing to set up camp during daylight! We weren't sure we had ever done such a thing before. The site was windy! Eric found it hard to keep the backpacking stove lit while I filled air mattresses and zipped sleeping bags together. We had another backpacker meal, a pasta primavera this time, because I wanted some vegetables. It wasn't as good as the pad thai, but it was certainly acceptable. We had saved the honey bar for dessert. It turned out to have coconut in it, which was disappointing.
As we were having dinner, some people in an RV all the way on the other side of the campground started playing country music on their radio, loudly enough that we could hear it. I was concerned that they would have loud music on until quiet hours started at 22:00, when we wanted to get up at 4:30. Eric worried that there wouldn't be any enforcement of quiet hours at all, because there didn't appear to be a ranger on the premises.
We met our neighbors, an older couple with a pickup. The man told us that he had already been over to talk to the RV people, and that they had promised to stop the music shortly after dark. We said we would try to be quiet when we got up, and they assured us that it would not be a problem for them.
We were ready to sleep at 20:30! We set an alarm for 4:30 instead of 5:00, figuring we would really appreciate that extra half hour the next day, when we needed to cover 60 km and giant hills. It was hard for me to sleep with the music, even with earplugs. I had to try deliberately to listen to the crickets chirping and Eric's breathing instead. But they did shut it off around the time it got dark, 21:00 or so.
The temperature was much higher than it had been the previous night at Humboldt Redwoods. This is not what I would have expected closer to the coast. We were not cold. The only thing that really kept me awake was some crazy bird running around squawking in the middle of the night. At first, I thought it was a dog running around with a squeaky toy, but then it started to make more of a squawking sound. What kind of bird runs around squawking in the middle of the night? It woke Eric up, too, but it ran away when he got up to go the bathroom. It wasn't a bad night, after a pretty good day!
Sunday elevation profile.