---
Newberry National Volcanic Monument and Environs
August 30-31, 2010
---
We took some time to explore central Oregon, the Umpqua and Deschutes National Forests, and Newberry National Volcanic Monument.
Drive Up Through Umpqua and Deschutes National Forests
After leaving Crater Lake National Park, we detoured west a short distance to see Diamond Lake.

Although the rain had let up significantly, the view was still unspectacular.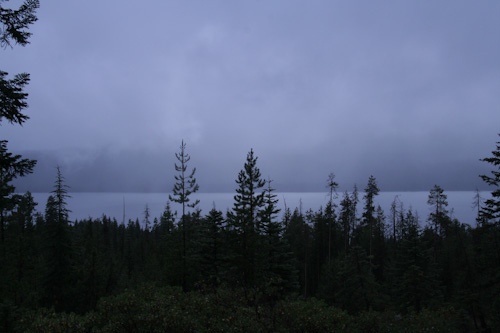 We were very close to Mt. Thielsen at this point, but weather conditions rendered it entirely invisible. Another mountain missed.
Eventually the rain let up enough to produce this beautiful rainbow along the road.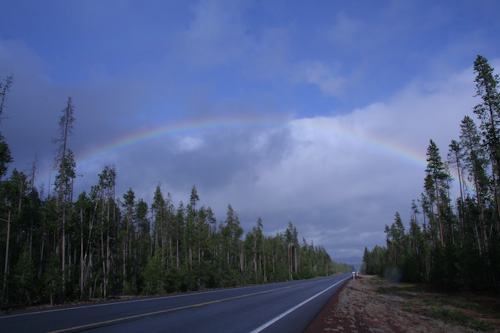 We checked in to the amazing Bend Super 8. In addition to the amenities that can be found in a standard motor vehicle, such as a watertight environment, climate control, and electricity, our room had a most amazing amenity: thermostatic climate control! It also had indoor plumbing, right near the bed! There was a microwave oven, a mini-fridge, and a bathtub! The motel had even more amenities: a guest laundry, complimentary breakfast, complimentary wi-fi, a pool and a hot tub! After a few days up in the mountains, my perspective has been so completely reset that I can't believe I could ever have needed anything more.
Our room was big enough to set up the tent to dry it out.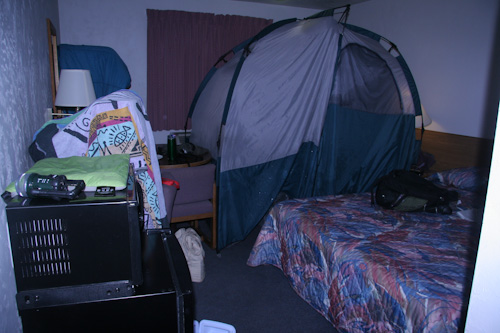 We also dried out some of our other gear in the bathtub.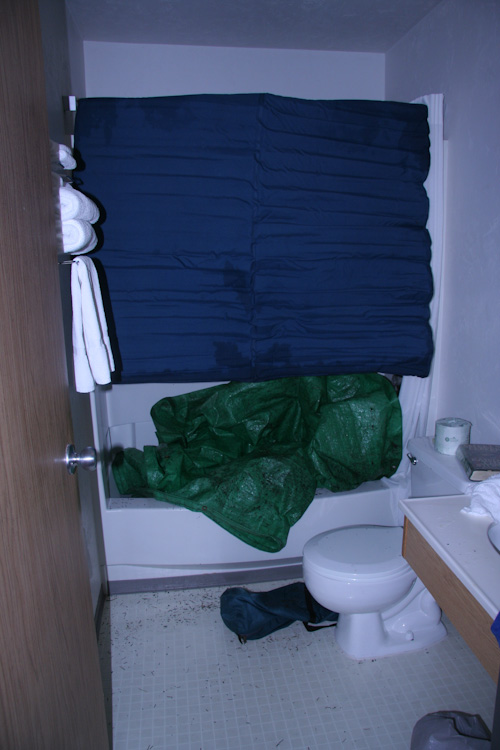 Between the motel and dinner Sunday night, this unexpected cold front has added over $200 to the cost of this trip. Apparently, however, the weather is so unusual, it made the morning news. So, none of this is the result of poor planning on my part!
Before leaving on our trip, we got Pearl a major tuneup. She had been losing oil at the rate of about a quart (~a liter) every 900 mi (1,450 km). Our mechanic replaced her PCV valve and told me that should do a lot to solve the problem. I've never been sure exactly what it is that a PCV valve does, but they sure seem to need to be replaced often. Eric checked the oil before leaving for Newberry, and sure enough, the level was good. Thank you, Jeff!
Newberry National Volcanic Monument
We visited Newberry National Volcanic Monument. This exciting area is similar to Lava Beds National Monument in that it is a shield volcano that gives you close-up looks at surface volcanic features. The park has two sections that are accessible by road, northwestern and southeastern. My conversations with the Forsest Service had led me to believe that this would be a fun place to take a rented rowboat out on a pretty mountain lake. Nothing we had heard about this park before our arrival prepared us for the amazing sights we would see. This park was so fascinating, we could have spent an entire day at each section. Waterfalls, caves, and much, much, much more lava!
Northwestern Section
Benham Falls
First, we hiked along the Deschutes River to Benham Falls. Note the lava on the other side of the river.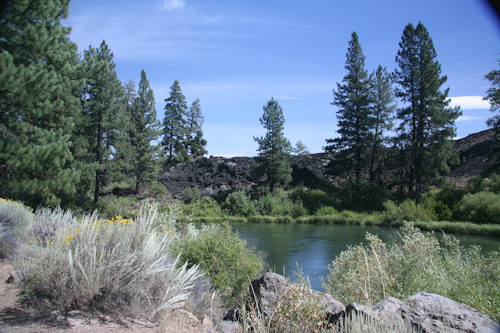 The falls from the top.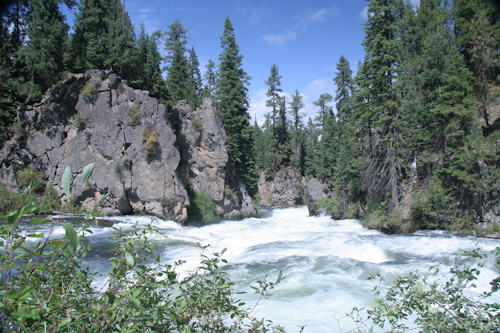 Note how the water spins around and goes uphill briefly here.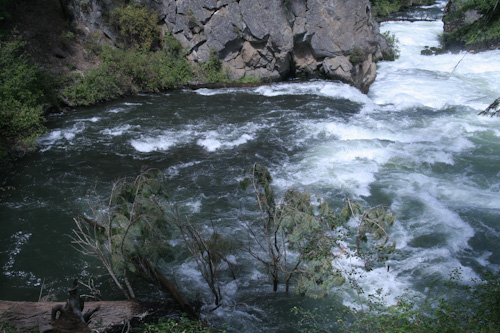 Finally, Benham Falls.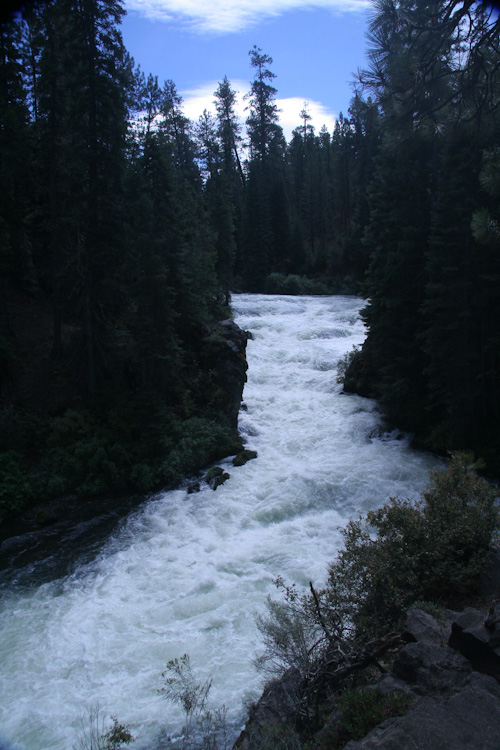 We took a short spur trail to complete the requirements for an earth cache. It wasn't worth it.
I don't think this has ever happened to me before outside of New England.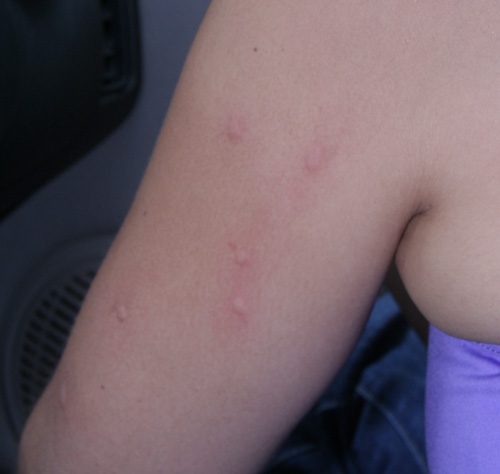 Lava Butte
When we came to the park entrance, the ranger asked us if we would like to drive to the top of the Butte. We hadn't planned on that, but it sounded like fun, so we accepted a timed parking pass from her.
Lava Butte, a large cinder cone.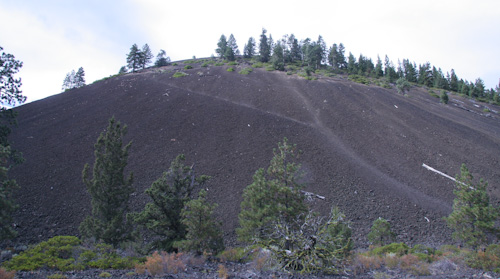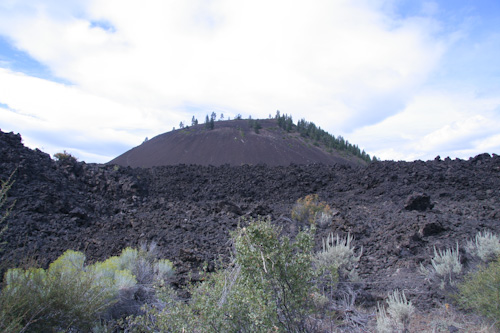 A crater at the top of the Butte.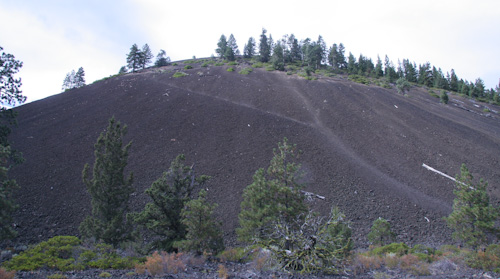 The lava goes on a long way, doesn't it? In the bottom left of this picture, you can see entrance to Lava River Cave, our next stop.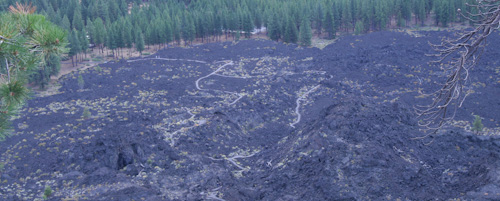 Lava River Cave
Lava River Cave is a mile-long lava tube, divided into five sections. We didn't have time to go the entire way in, but we made it to the third section, where it was starting to get substantially narrower. The tube goes under US97.

Most of the cave looked a lot like a train tunnel.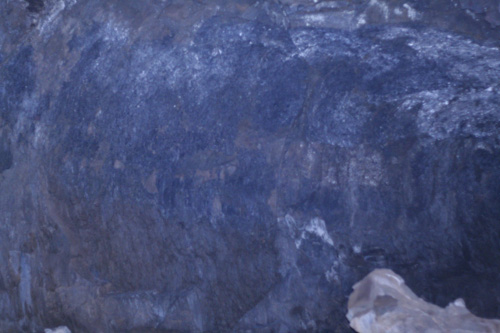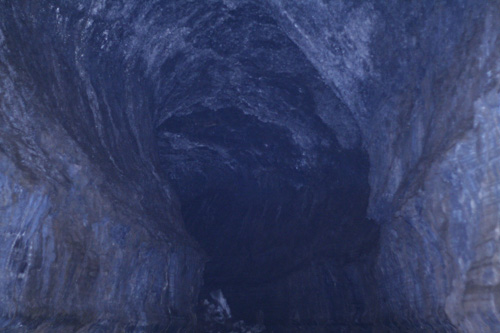 The roof, in particular, was reminiscent of a tunnel.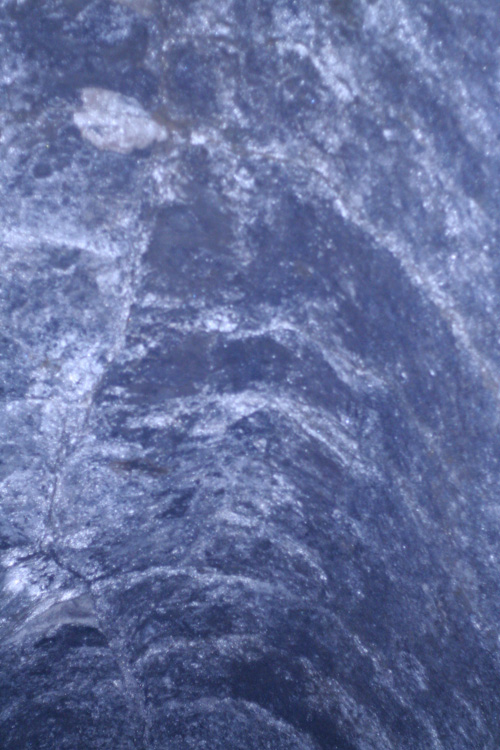 Detail of the lava in the roof.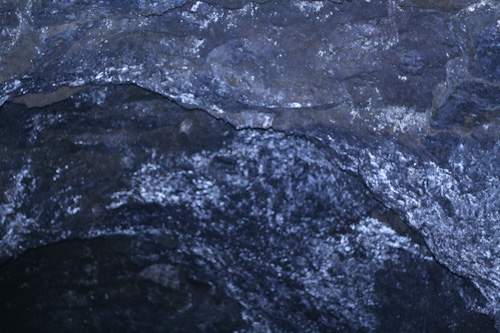 The first two sections were very large.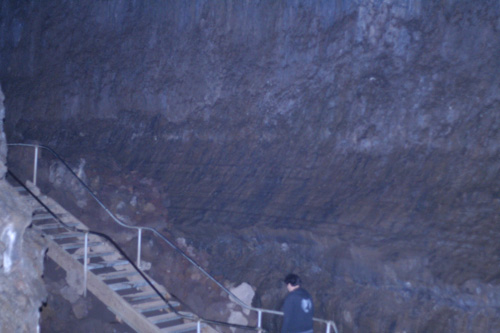 But the third one narrowed considerably. This was as far as I felt like going, especially since we were still in the first part of the park.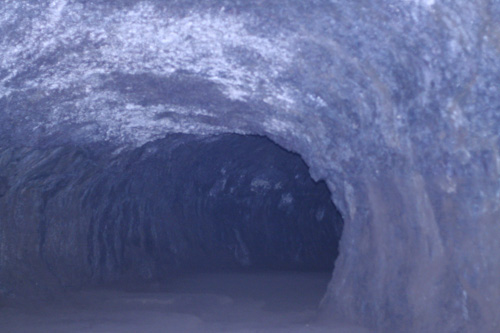 The way out.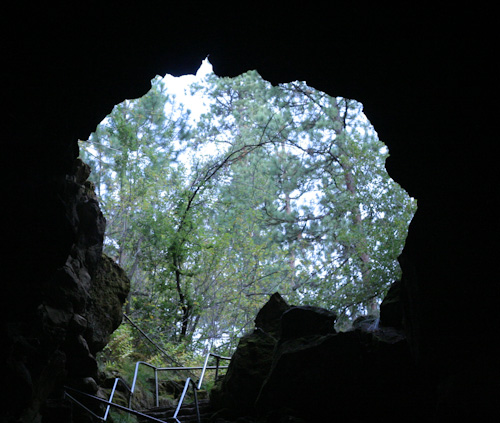 Southeastern Section
Paulina Falls
A double falls.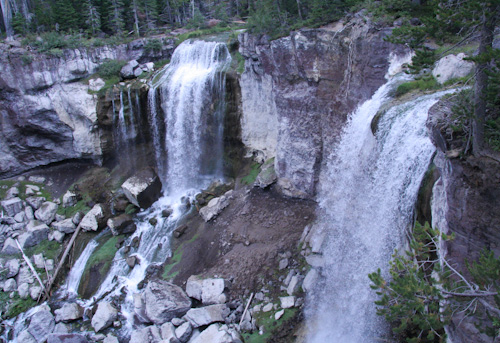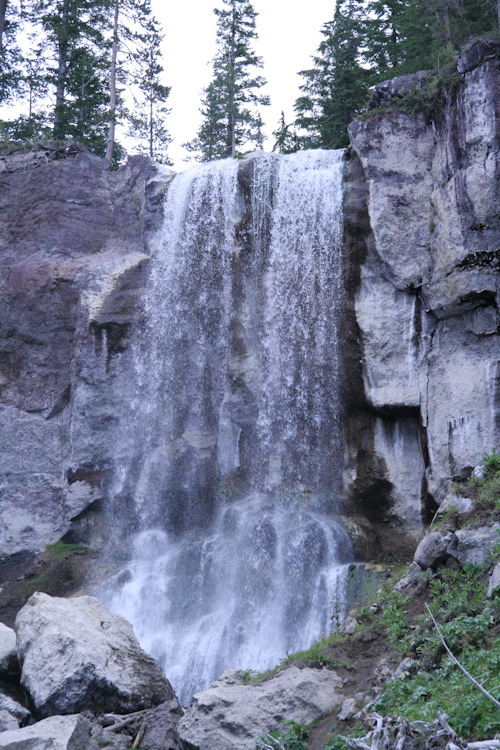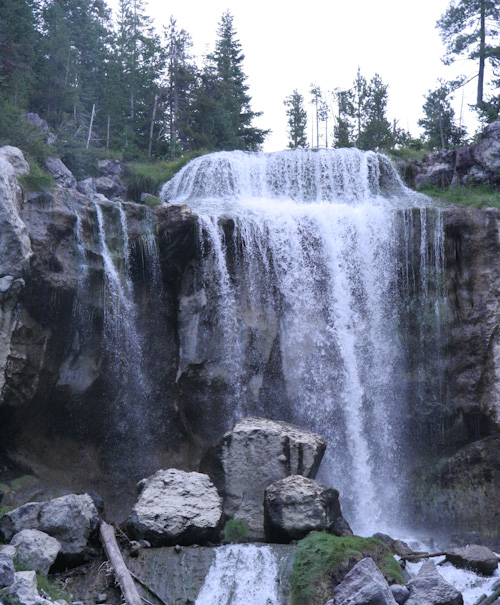 Paulina Lake
This is where we had intended to camp that night. In retrospect, now that our gear had dried, it would have been possible, if uncomfortable. I would have had to have slept in the wetsuit again. I was unfortunately not able to get our money back on this reservation, and we clearly had not needed a reservation as there was practically no one else around. But we were surely much more comfortable in the Super 8.

Obsidian at the Visitor Center (closed by the time we arrived).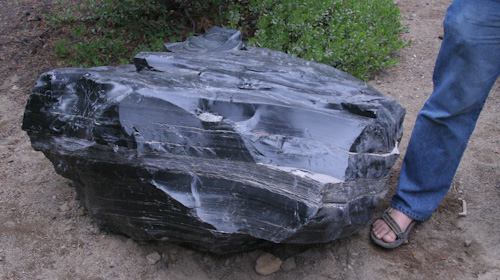 Another cool rock at the Visitor Center.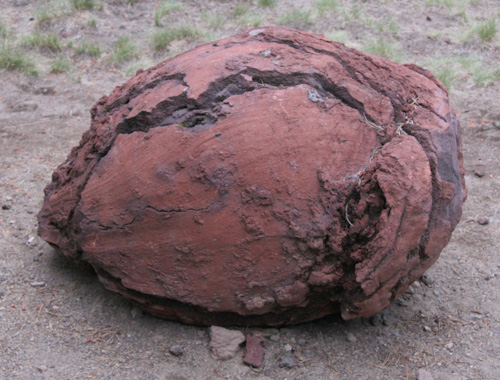 Paulina Lake. I'm sure it would have been prettier in the sun. I'm sure a boat ride would have been nice, but certainly not a particularly unique experience.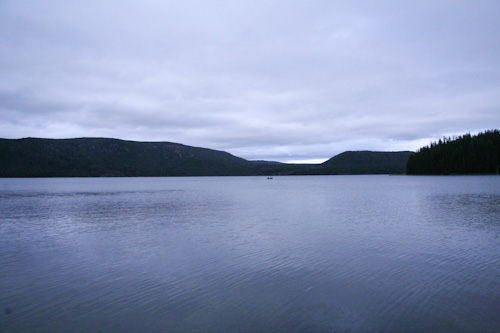 Reeds in the water.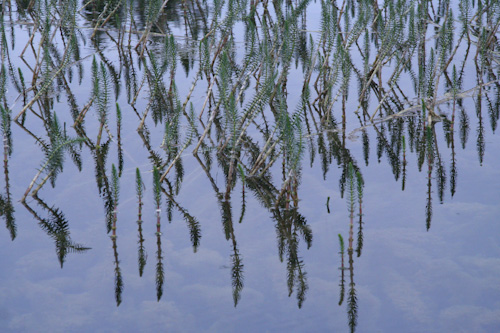 Paulina Peak
Paulina Peak overlooks the lake. We drove 4 miles (7 km) up a steep, bumpy, dirt road to the top.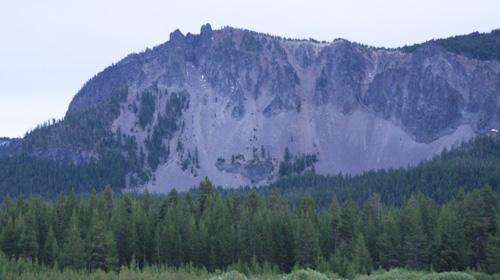 The sun setting on the way up.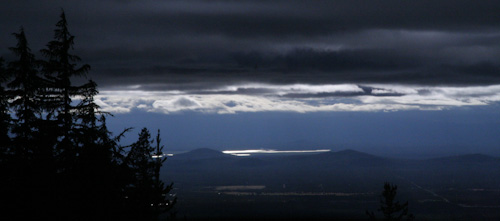 Paulina Lake from the top.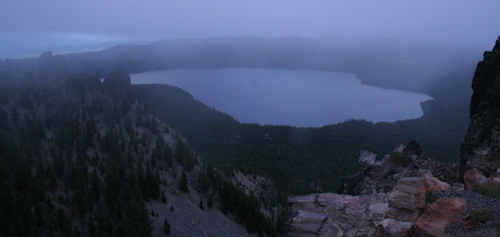 Another view from the top. Notice the fog coming in. Where does it come from? We were so far inland.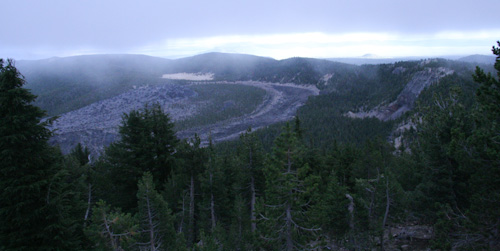 Me standing on the tippy top. It would have been a prouder moment if we had bicycled up, like we saw some others doing.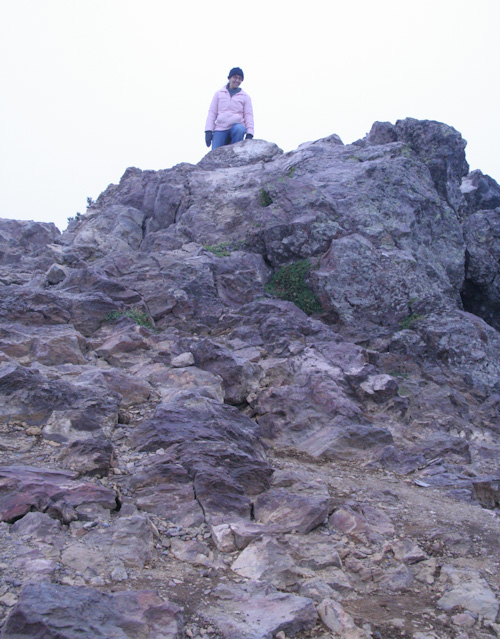 Eric standing on the tippy top. This spot is at almost 8,000 feet (2,400 m). It was damp, windy and frigid.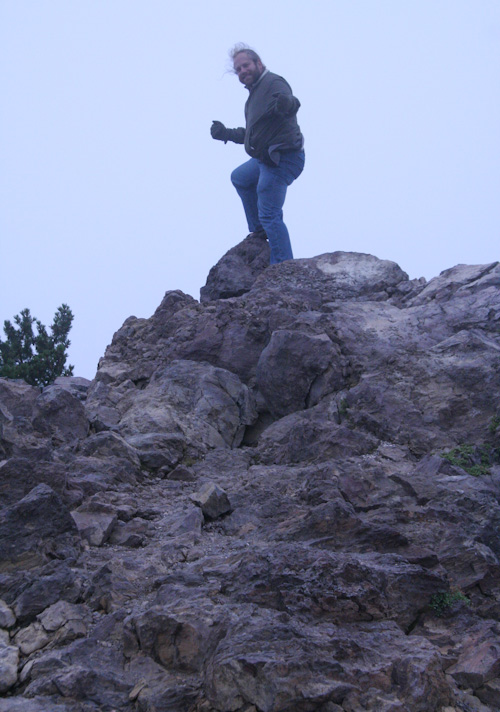 Big Obsidian Flow
The Forest Service's Volcanic Vistas newspaper has this to say about Big Obsidian Flow:
Big Obsidian Flow is the result of the most recent lava flow of Newberry Volcano, 1,300 years and is the youngest lava flow in Oregon. Over 170 million cubic yards of obsidian and pumice erupted from a vent about a mile south of the trailhead. Native Americans used the glass for trade and tools. A one-mile loop trail and seven interpretive signs guide visitors across a corner of the flow.
They make it sound like kind of a cool spot, but nothing absolutely amazing. This trail was spectacular, the best thing we have done on our vacation so far.

The trail goes right up the outside of the caldera that contains Paulina and East Lakes.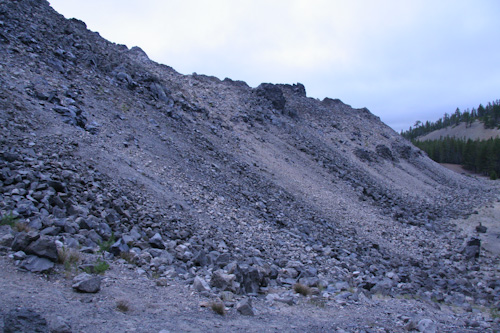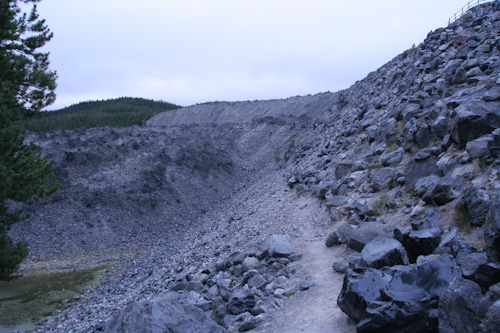 This most alien trail led right up through giant piles of a'a.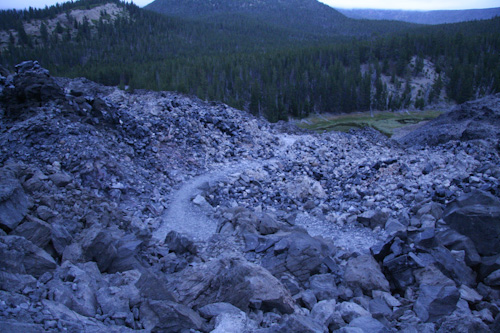 We couldn't believe they built a trail right through this lunar-like landscape.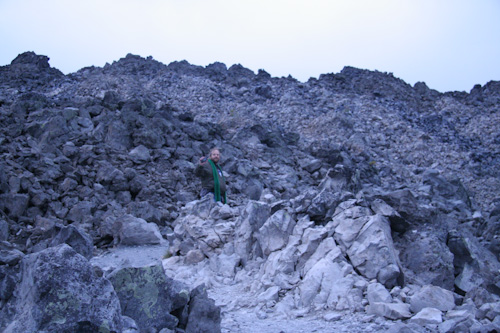 Obsidian on the trail.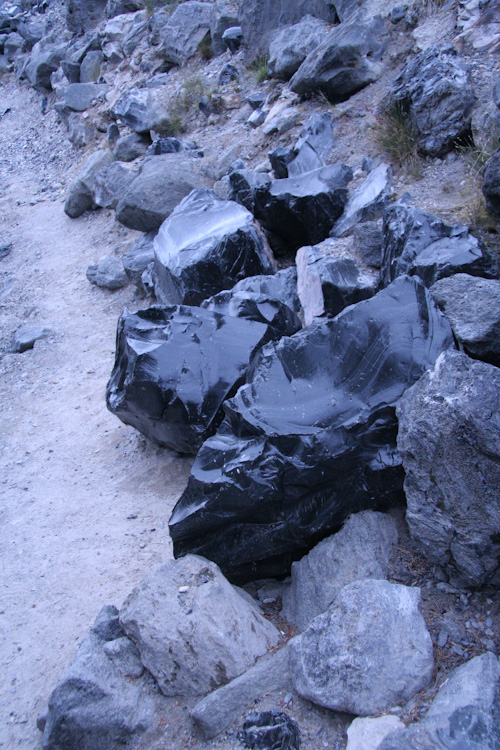 Eric noticed these incredible patterns in the rock.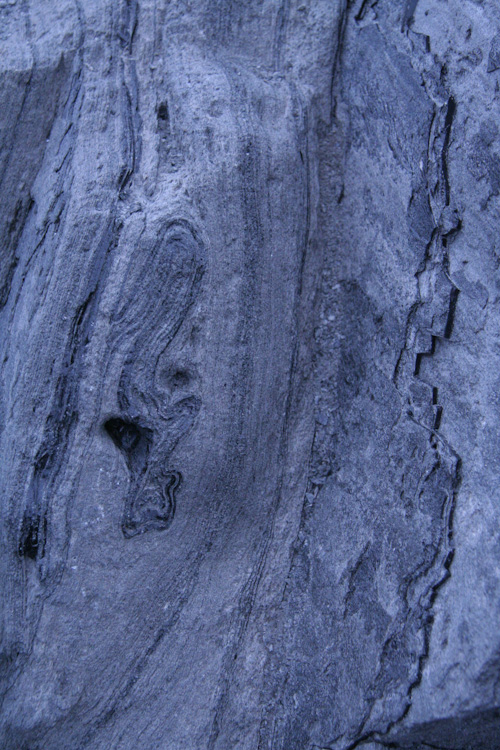 Rock photo by Eric.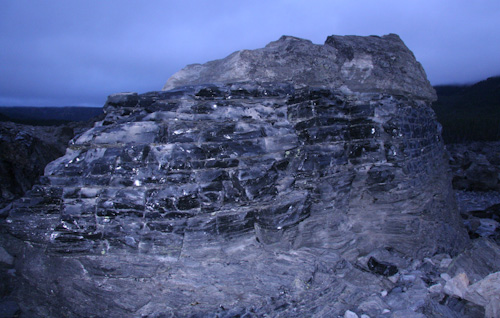 Life manages to survive even in this mostly barren landscape.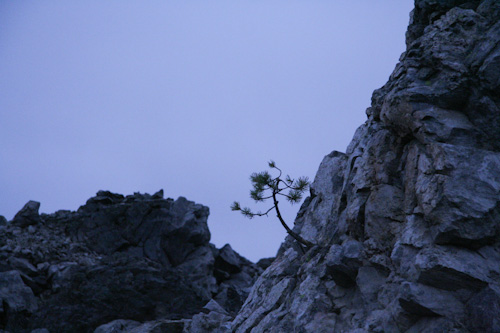 Photo by Eric.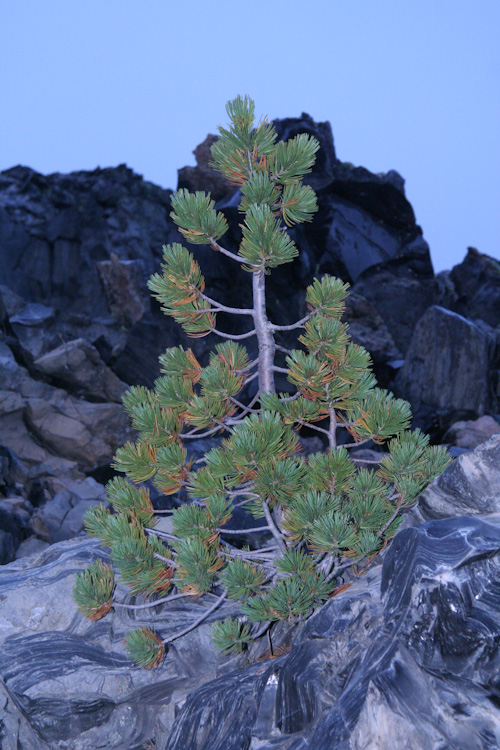 The view from the top. Paulina Lake in the distance.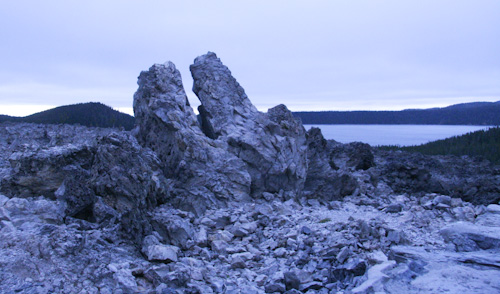 Nothing could describe the experience of trekking through this landscape. We felt as if we'd walked on the moon. It was literally awesome.
Volcanic Vistas lists eight primary attractions in the park, and we managed to see all but the one which was quite a bit further from the road. We felt that we had thoroughly seen this incredible park.
Distance driven: 225 mi (362 km)
Caches found: 3
Cumulative:
Distance driven: 828 mi (1,333 km)
Caches found: 10
On to Multnomah Falls.
---