---
Route of the Hiawatha Trail
Tuesday 18 August, 2015
Bitterroot Mountains from Hiawatha Trail.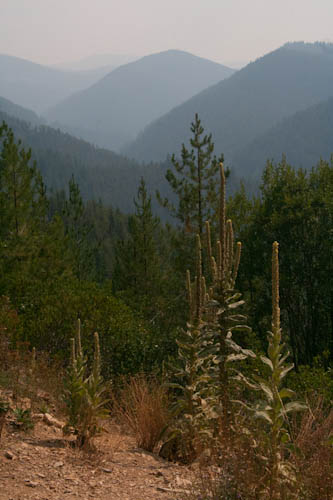 The Hiawatha Trail is a former railway turned into a bike trail, running through the beautiful Bitterroot Mountains on the Idaho-Montana border. The trail takes you along 25 km/15 mi of picturesque mountain territory, through several tunnels (including one 3-km/2-mi long), past a waterfall, and over several high trestles. I read in Sunset magazine that it was one of the most scenic bike trails in the US, so I extended the trip by a day (and two states!) so that we could ride it.
The operation is run by the ski resort at Lookout Pass, one of the oldest ski resorts in the US. One end of the ski lodge is in Idaho and the other is in Montana, so we completely lost track of how many state border crossings we made on this trip. The general plan is that you go pick up your exceedingly poorly maintained bikes at the lodge, hang them on the back of your car, drive a few kilometers on the freeway and then a few more on a stumpy dirt road to the trailhead, ride down the 1-2% grade trail, then take an old bumpy yellow school bus back up to just before the very long tunnel, and then ride through the tunnel back to the parking lot, put your very dirty bikes back on your very dirty car, and bring them back to the Idaho-Montana lodge. If you have enough time, you can ride both ways rather than taking the bus, and we tried to plan on enough time for that. Our friend Grant from Portland, seeking road trip adventure before WorldCon but lacking a plan of his own, decided to come along for the ride. But since he had not ridden a bike since an accident two years ago, he planned to take the old bumpy yellow school bus back up.
To make things even more exciting, Eric had seen a brand-new geocache along the trail online, not yet found. We had an opportunity to be first-to-find! We had no idea, at the time, just how exciting the search for this cache would turn out to be.
Since we'd gotten back so late the previous night, we couldn't get up as early as I had hoped. We still had about an hour's travel time to Lookout Pass. We managed to leave about 9:15, and arrive at the resort at 10:15 in spite of a great deal of road construction. Lulu the GPS started showing the time in Mountain Time, and we feared that the lodge, which we thought was scheduled to close at 17:00 PDT, might actually close at 17:00 MDT, or 16:00 PDT! I had planned on an extra hour, but that would still make things quite tight. I looked at the freeway around me, running through the Coeur D'Alene National Forest, and began to strategize places we might check out on the way home, since we would have so much time. We were relived to find out that the lodge would be open until 18:00 PDT.
It took more than an hour to prepare and get outfitted with everything, where I had been expecting half an hour, and hadn't known that we wouldn't be starting directly from the ski lodge. I had to make the mechanics adjust my right brake cable ("Just squeeze it a little harder," they tried to say), and, since the bikes were not outfitted with racks, we had to pack everything we usually carry in our panniers, along with our Camelbacks, into our backpacks. The staff informed us that the temperature inside the long tunnel would be 7.2 C/45 F, so we had to pack warm clothes. I couldn't get my handlebar-mounted camera bag mounted onto the handlebars, and I couldn't get it into my backpack, either, along with all the water and warm clothing, so I had to leave it swinging from the convenient shoulder strap. (Later, I saw someone with a 7D just swinging from his shoulder on the bike with no bag!) With all this, it was 11:45 before we started riding, and we needed to return to the lodge by 18:00. I thought this would be enough time for Eric and I to ride 50 km/30 mi.
Eric and Grant under the entrance sign.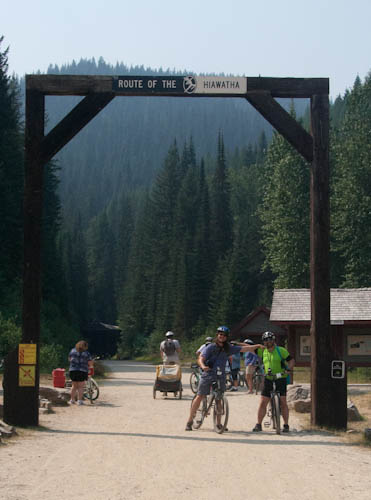 The long tunnel came up right away. I thought it might be scary riding that far in a dark, enclosed space, but they had outfitted us with good lights and it was actually fun. I was thankful I had brought not only two jackets but rain pants, full-fingered gloves, and toe covers.
Exit of the tunnel.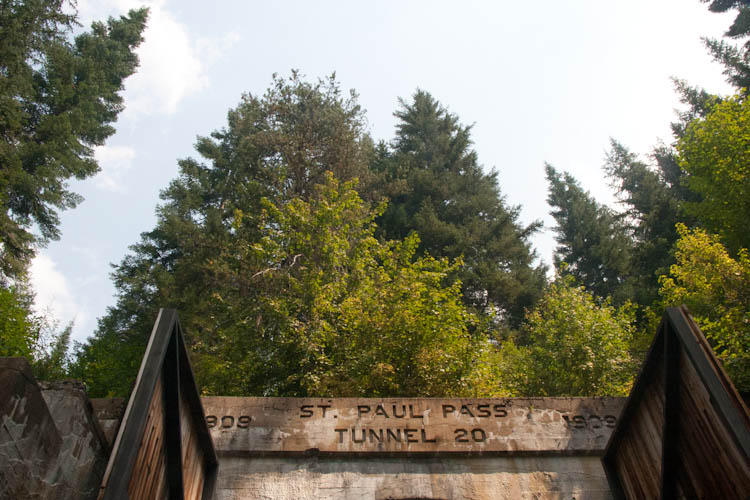 A small waterfall beside the tunnel exit.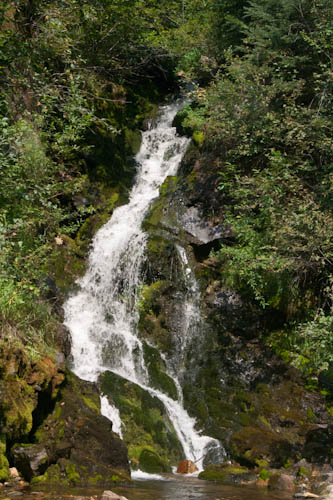 Another, much shorter tunnel soon followed. Eric took a picture of the inside.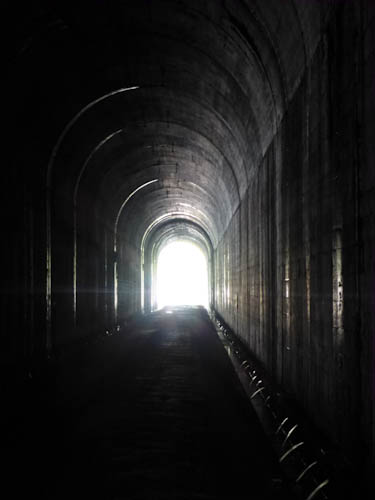 There were a lot of tunnels, some walled on the inside and some not! Eric took a picture of one that was not.
Each time we entered a tunnel, we had to turn on our lights and remove our sunglasses, and every time we exited one, we had to turn the lights off and put the sunglasses back on. It became kind of a routine.
Soon, we came to expansive views of the Bitterroots to our right.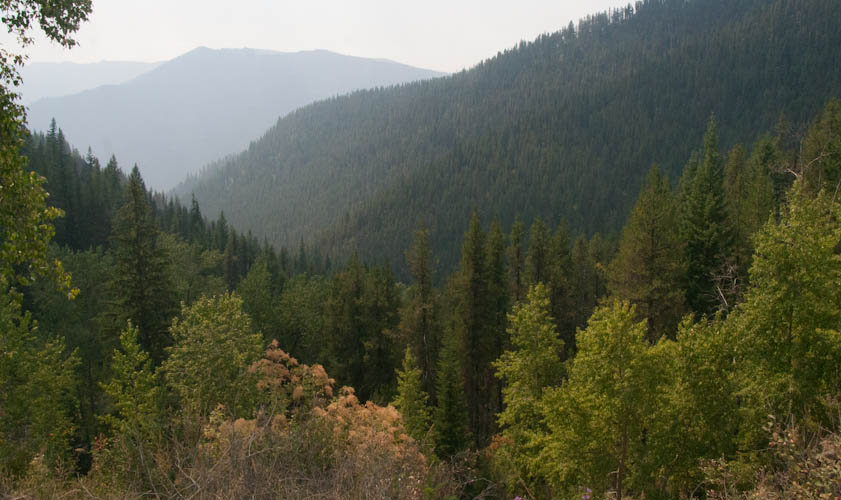 Eric's view.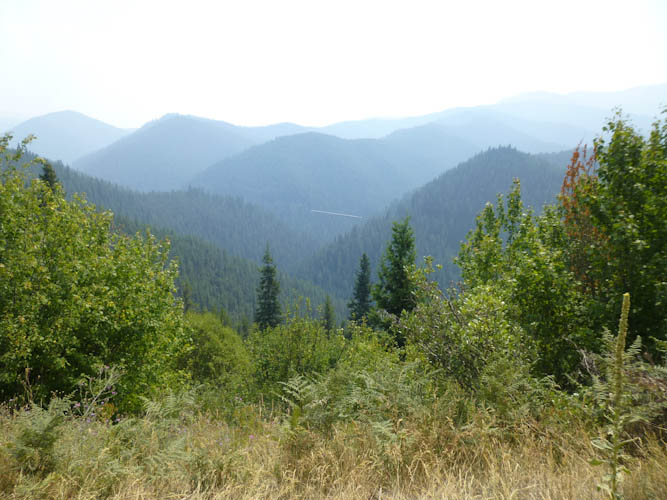 Far below, we could see the car road. We could totally ride up that, right? On dirt? We had no idea, at that point, that we would later be driving down it.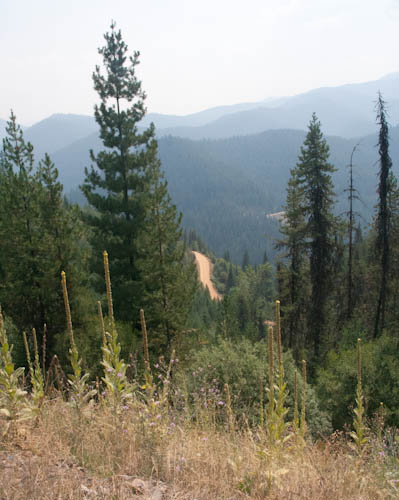 The view was marred by this unfortunate clearcut.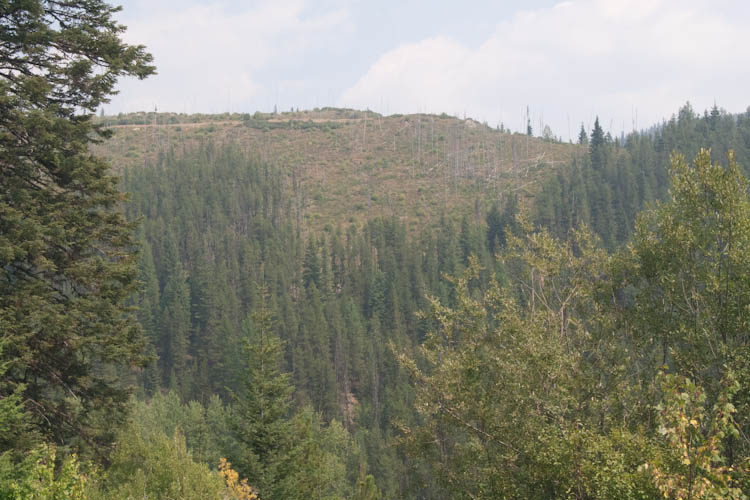 Grant at one of the many overlooks.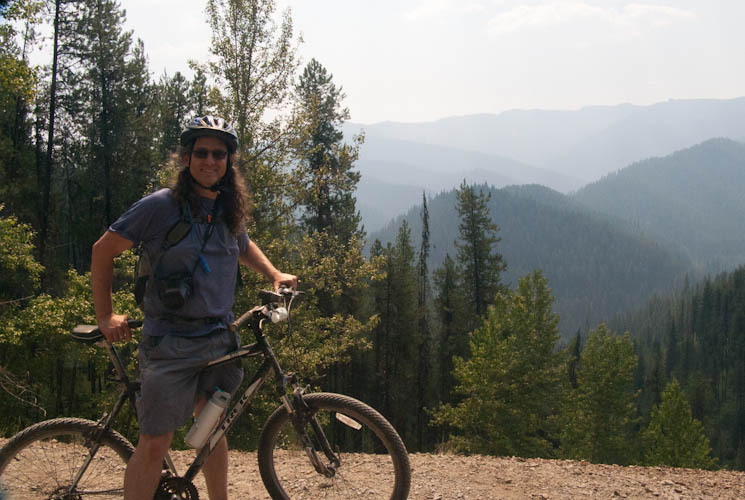 While the right-hand side of the trail had expansive views of the mountains, the left-hand side had fascinating roadcuts. This really looks like an earthquake hit it, doesn't it? An interpretive sign along the way confirmed that the area was indeed extensively faulted. I hoped that none of the faults would slip while we were in one of the tunnels.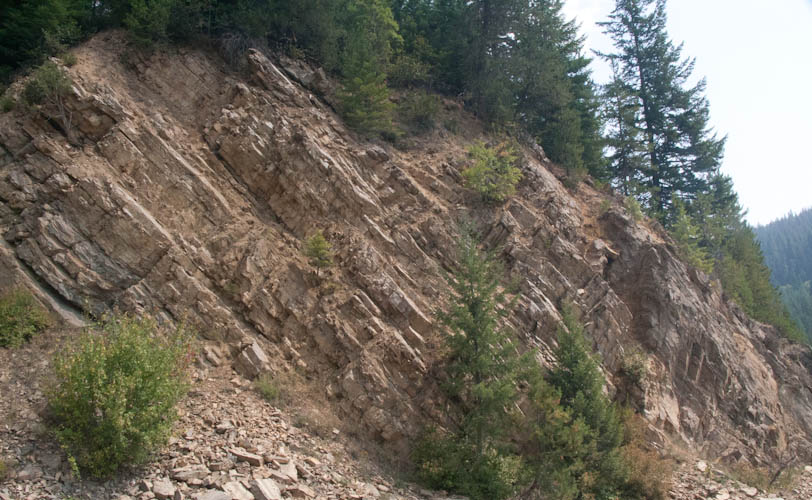 It should not go without mentioning that the bikes we were on lacked even a modicum of comfort. Apparently, the resort buys new bikes every year and and sells them at the end of the season, but you wouldn't want to buy one. We think all the maintenance they do is hose the bikes down every night to remove the ubiquitous dust, along with any of that messy lube that might have been on the chains. Oh, how I missed Scheherazade! I missed her soft gel seat. I missed her comfy ergonomic hand grips. I missed her helpful rear-view mirror. I missed her convenient rack. I missed her little bell. Leaning over much further than I preferred, I missed her meant-for-a-woman's-arm-length fit. At least I had been given a kickstand.
While the bike did not have a true annoying step-through frame, it did have a dropped top tube. These idiotic designs are much less structurally sound that a regular triangular bike frame. Bike rental places always assume someone of my diminutive stature couldn't possibly be able to throw her leg over a real bike frame, and they always give me these stupid things.
Exactly how was I supposed to retrive my water bottle from this space while riding? I could barely even do it when standing next to the bike.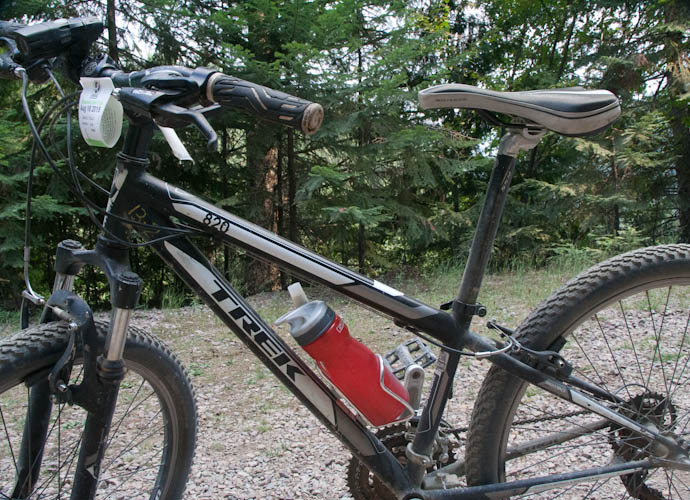 Eric photographed Grant and me entering a tunnel.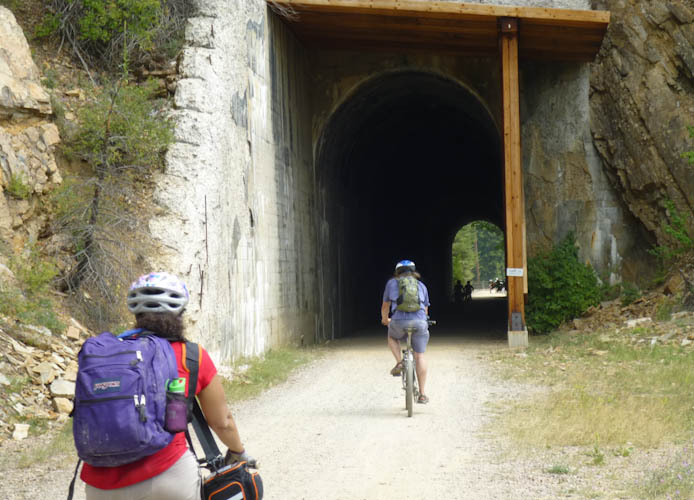 We started seeing trestles in the distance, and wondered whether we would be riding over them.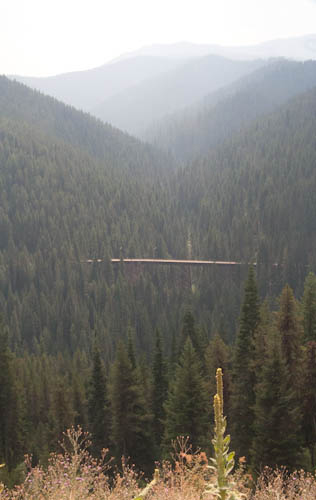 We were delighted to find out that we were.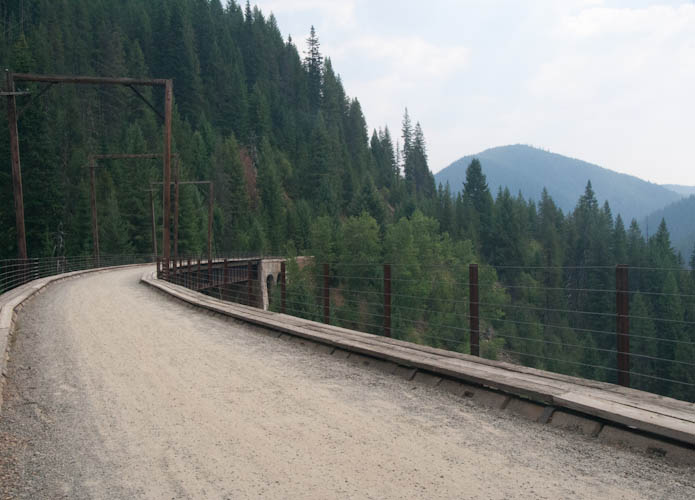 Looking over the side.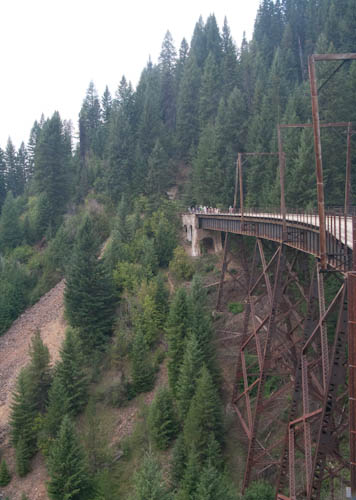 Eric took a picture of Grant taking a picture over the side of the trestle.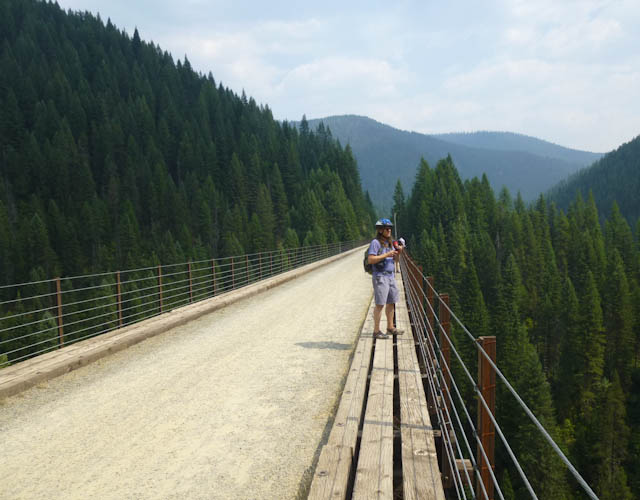 Looking down the side of the trestle. See my foot for scale.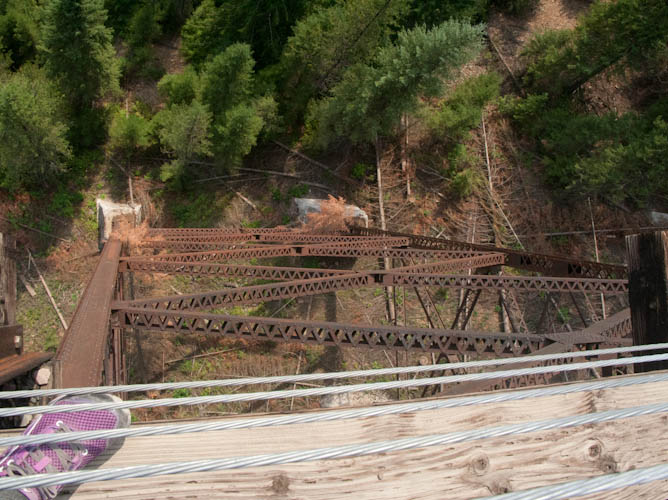 Eric took a picture looking down at the top of the trees. An interpretive sign explained that these were mostly Lodgepole Pine, planted by the Forest Service to replace the original species that had lived there. Lodgepole Pines, unfortunately, have a much shorter lifespan than the species they replaced.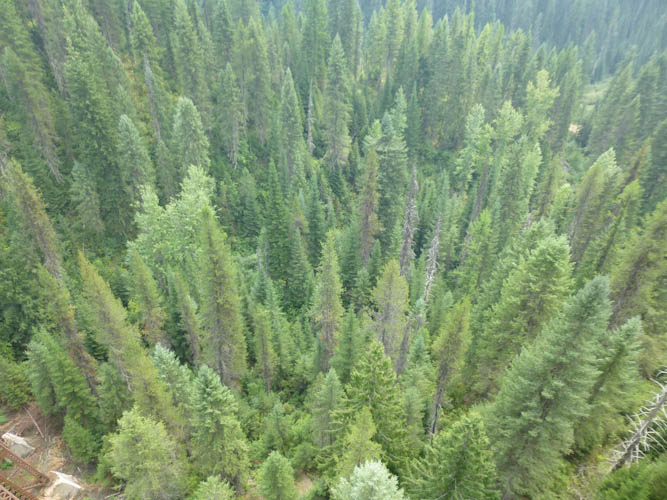 At some point, we calculated our distance and looked at the time. It was 14:20, and we had only come about halfway down the hill. It became obvious that there was absolutely no way Eric and I would be able to ride the rest of the way down, and then back up the dirt trail, before 18:00. We would have to ride the bumpy old yellow school bus with Grant. We felt wimpy, underadventurous, and disappointed.
More dramatic geology on the left side of the trail.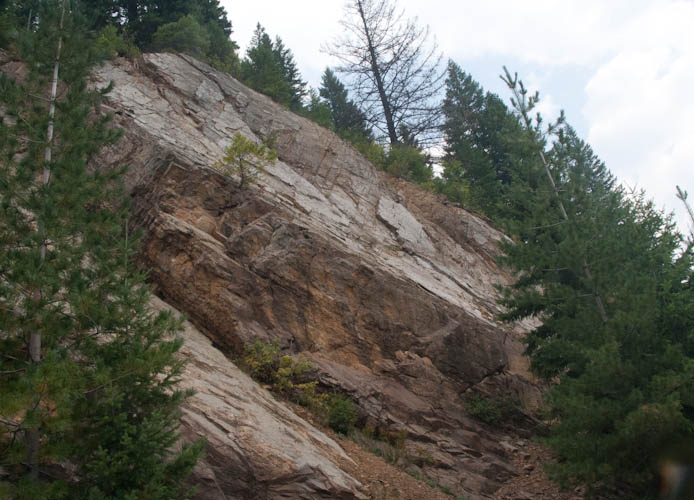 Trestles ahead of us.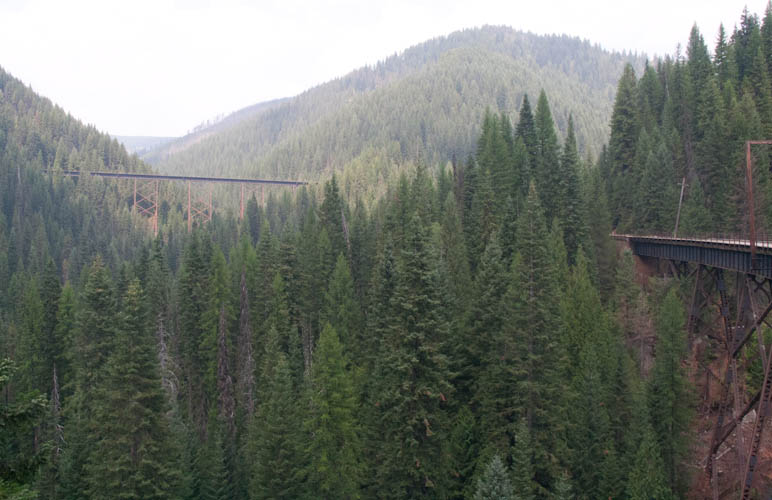 Eric and Grant goofing off on a trestle.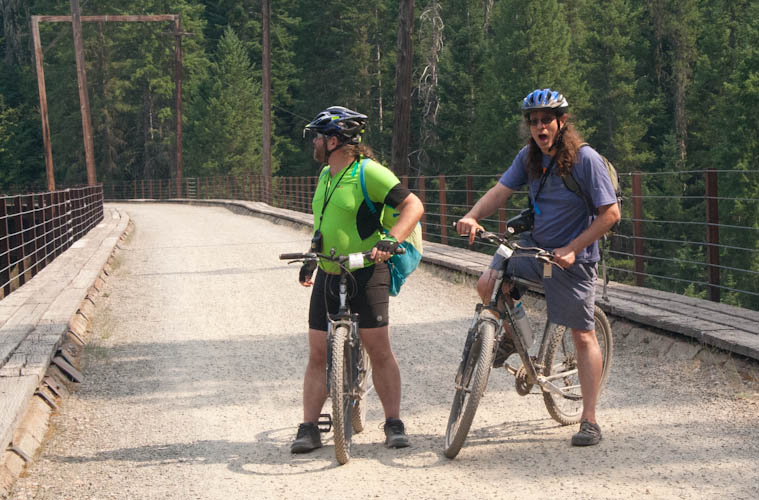 Fascinating rocks at the entrance to yet another tunnel.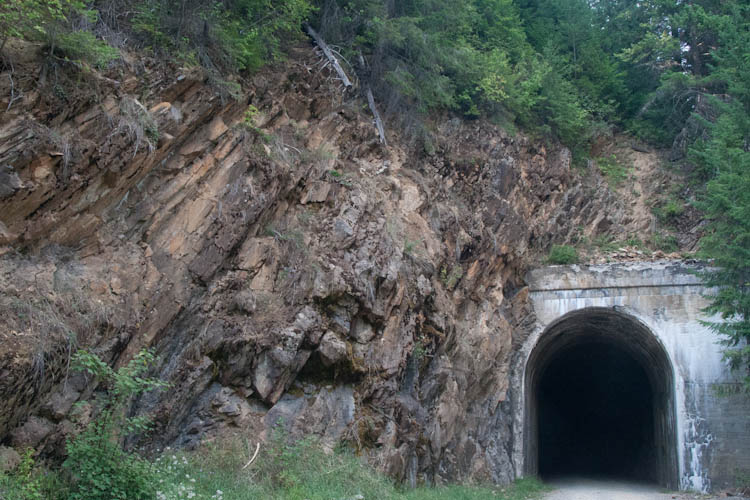 Grant thought it might have been most exciting to ride down the first half, then turn around and ride back up without going all the way to the bottom. The later part of the trail had a flatter grade and was surrounded by trees on both sides, obscuring any views there might have been. While I found this part pretty and peaceful, Grant described it as "boring."
Eric took a picture of Grant and me riding on the "boring part."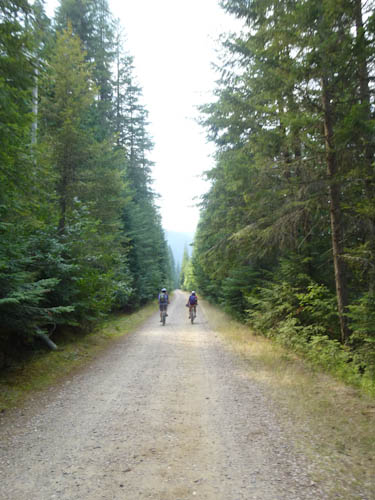 We got to the bottom of the trail around 15:20. The next shuttle was not scheduled until 16:15, but there were three buses there and the first one was being loaded. We got in line for the second one, and I barely had time to run to the bathroom before they started to load it. We headed back up the hill along the steep car road in the bumpy old yellow school bus.
It was only after the bus departed that Eric announced that the brand-new cache was down at that end of the trail, and that we would have to come back for it with the car. Looking at the steep road, the lack of traction in the dirt, and the precipitous edge of the road, I kept asking, "Why didn't you say something sooner? We could just have taken the 16:15 bus!" We had been rushing so as not to have to wait 45 minutes for another bus, and he hadn't fully figured out where the cache was and just how bad the drive down to it and back up would be. There went my dreams of getting back to the motel in Coeur D'Alene at any kind of reasonable hour.
A discussion with the staff back at the lodge revealed that we would only have to go down the very miserable road. Rather than coming back, we would be able to continue more or less straight on the road back to the interstate in the direction of Coeur D'Alene. Maybe this would somehow manage to take less than two hours. But I thought we would be able to leave the lodge by 17:30, and it was 18:30 by the time we got the bikes returned and headed off down the road.
The first fascinating wildlife we saw on the steep dirt road was a pair of Ruffed Grouses. The male put on a dramatic display for us.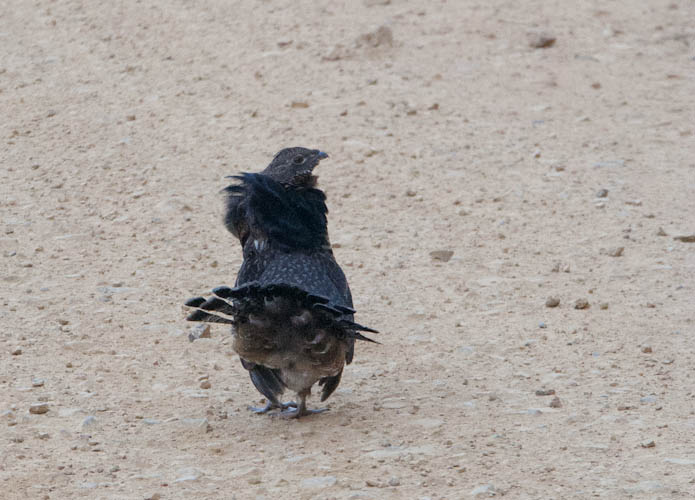 Then we encountered some even more exciting wildlife! Eric's photo was a bit more clear.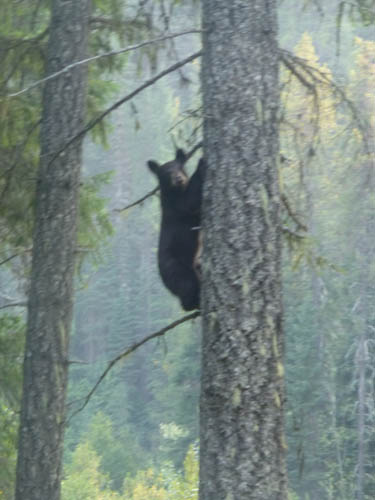 Oh, my, oh, my. Where was Mama Bear? We were in a car, right? We could drive away from Mama Bear, right? We had to take pictures through the window, but we could take a few, right?
Baby Bear climbed down and tried to hide behind the tree, but he couldn't help but peek out at us.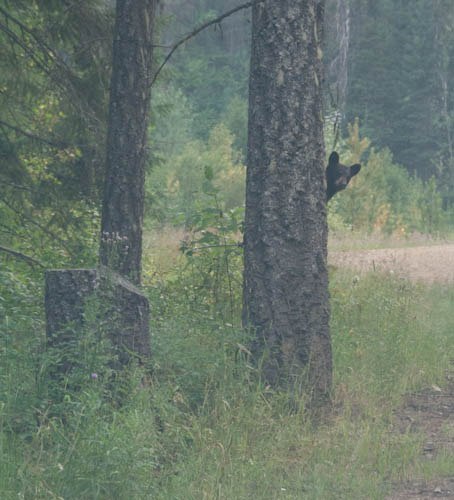 We should have felt guilty, but we were thrilled to have bagged a few pictures of Baby Bear before driving away as rapidly as we could on the low-traction surface.
Eric photographed the beauty of the road.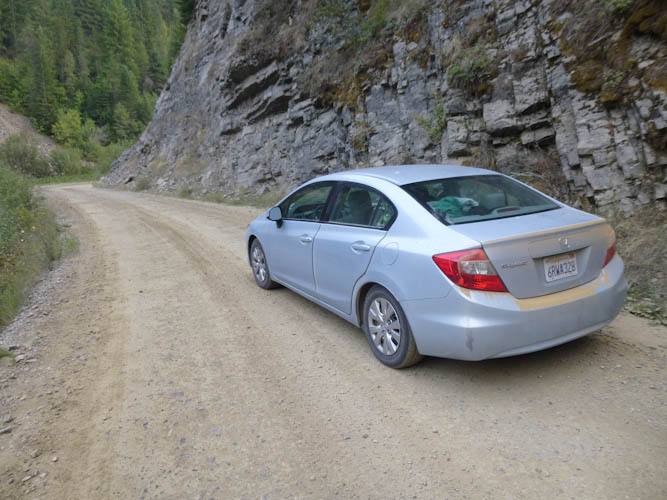 Maybe the beauty of the road and Baby Bear made it worth looking for the cache, even though it turned out to have already been found. On 6 August, a week before we even left home. How can you be first to find a cache and then not log it as soon as you had access to the internet again? Especially when you consider the practical difficulties of searching for this particular cache, that is downright rude.
What with all of this excitement and frustration, we got hungry before we got back to Coeur D'Alene, and stopped at a pizza place in a tiny town called Wallace. While the pizza Eric ordered was vaguely serviceable, the pasta alfredo I ordered was served in an aluminum tin and had obviously been frozen and reheated. It also was supposed to come with garlic bread that never materialized. Just say no to dinner in Wallace.
While the bike ride was more touristy and less adventurous than our wonderful waterfall trip the day before, driving down the dirt road and seeing the wildlife added a great deal of excitement to the day.
On to Sasquan, the World Science Fiction Convention.
---