---
Crater Lake National Park (Well, Not Really)
Friday 14 August, 2015
Salt Creek Falls, Willamette National Forest.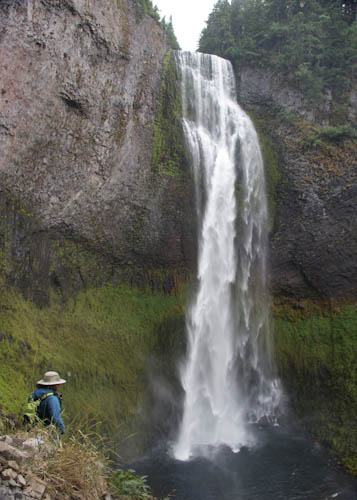 This was not our best vacation day ever. Fire, a man with a gun, and a difficult domestic situation.
Our last visit to Crater Lake was marred by freezing temperatures, drenching rain, a flooded tent, and a canceled boat tour. We ran away from the campground at Mazama Village to a lovely, dry, and warm Super 8 in Bend, Oregon. One of our primary motivations for taking off on a second Pacific Northwest tour was another opportunity to ride the boat around Crater Lake, with a stopoff for hiking at beautiful Wizard Island, a new volcano that is rising in the site of the former massive Mt. Mazama. Unfortunately, we will someday have to try yet a third time.
When making the reservation for the Wizard Island boat tour in 2010, I made several attempts far in advance, only to find that tickets were not yet on sale. After that inconvenience, this time I waited until three weeks before the trip to try to make the reservation, only to find that the round-the-lake tours with the Wizard Island stopover were sold out for our planned day. Eric managed to get us a reservation on a Wizard Island shuttle trip, which would skip the tour around the lake and a close look at the Phantom Ship (an eruptive feature near the south end of the lake), but would at least allow us to hike to the summit of Wizard Island and take in the view from there. Unfortunately, this tour had a check-in time of 10:30 rather than 11:30, meaning we had one less hour from the time we left work at 12:00 on Thursday to get up to the lake on Friday morning. We planned to spend the night in Ashland or Medford with a 4:45 alarm set.
Eric was unable to leave work as early as planned, and I was subjected to Yet Another Annoying BART Delay to due to Yet Another Unspecified Police Action. I aimed for hitting the road at 14:00, expecting actually to be in Sydney at 15:00, but we did not leave until 15:20. Traffic on 80 approached rush hour levels.
Shasta from I-5.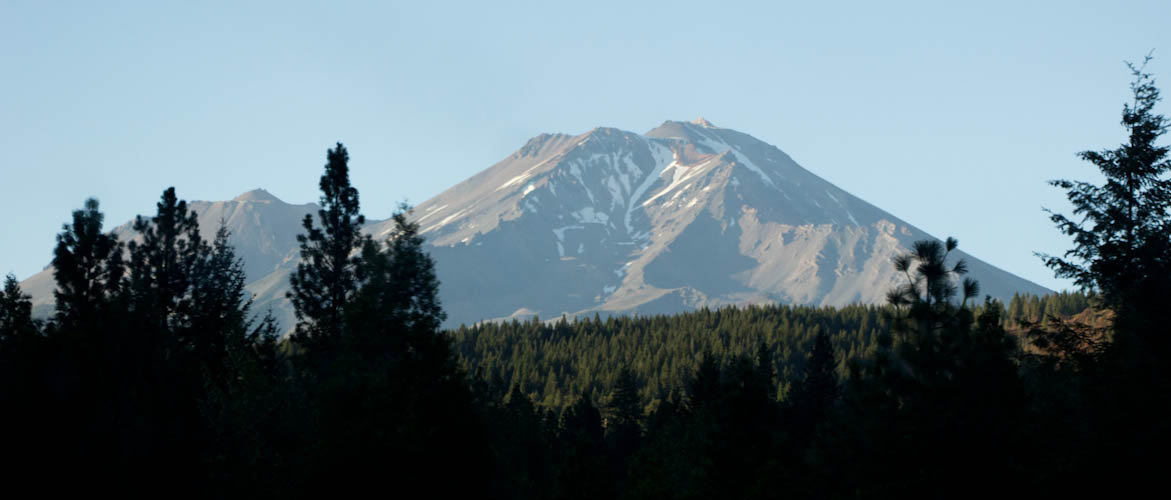 We passed the relatively recently-erupted Mt. Lassen, a very low Lake Shasta, and magnificent Mt. Shasta. We drove through the stark beauty of the Modoc Plateau. We had to put Sydney's fan on recirc, however, when we hit the usually dramatically beautiful Siskiyou Pass, because the canyon was engulfed in smoke from a wildfire. Conditions were not much better in Ashland--my throat choked up when we opened Sydney's doors. We headed for Medford, hoping for better air. We didn't find it. The desk clerk at the Quality Inn did assure me, though, that conditions were reported to be better at Crater Lake.
With all of our delays leaving the Bay Area, we were unable to get to bed at until 22:00. I set the alarm for 5:00 instead of 4:45, because I can become ill on less than seven hours' sleep. The Quality Inn costs more than Super 8, but the breakfast is noticeably better--there was real butter! We managed to get on the road at 7:20. With all of the uncertainty ahead of us, and conditions much warmer than those to which I have become accustomed, I hadn't slept well, so I napped in the car on the way to the lake.
Crater Lake National Park
We arrived at Mazama Village in Crater Lake National Park, where we had a camping reservation for the night, before 9:00. It all brought back memories of the last time we were there, calling the Super 8 in Bend to make a reservation from a pay phone in the downpour. With more than an hour and a half to make the half-hour journey to the north side of the lake, we stopped to acquire serviceable pre-prepared sandwiches, potato chips, tea, and some postcards. I also couldn't resist a big thick book with details and lists of hiking trails of US national parks. Those national park gift shops just have the best books.

Of course, it was nearly 10:00 before we left Mazama Village, which would have been plenty of time were it not for a 10-minute construction delay. However, given the conditions we were seeing from the road, we weren't sure we cared. Breathing without the air conditioner was difficult, and the views we were seeing were hardly worth the smoke exposure and attendant throat and chest pain. By the time we reached the boat launch, we hiked just a little way down the trail to the lake and definitively determined to change our plans for the day.

Haze over Crater Lake.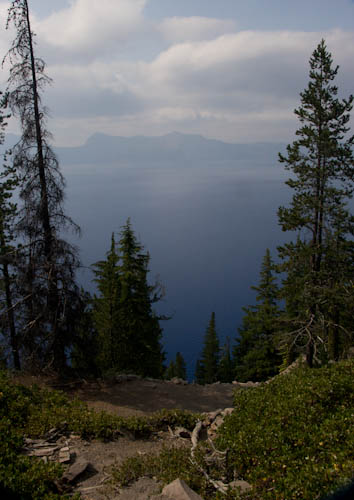 I consulted Waterfalls of the Pacific Northwest, and found a fascinating-looking pair of waterfalls called Salt Creek Falls and Diamond Creek Falls, in the Willamette National Forest, about halfway between Crater Lake and Bend.
Before leaving Crater Lake, we found a virtual geocache.
Hazy view of Wizard Island from Watchman Overlook.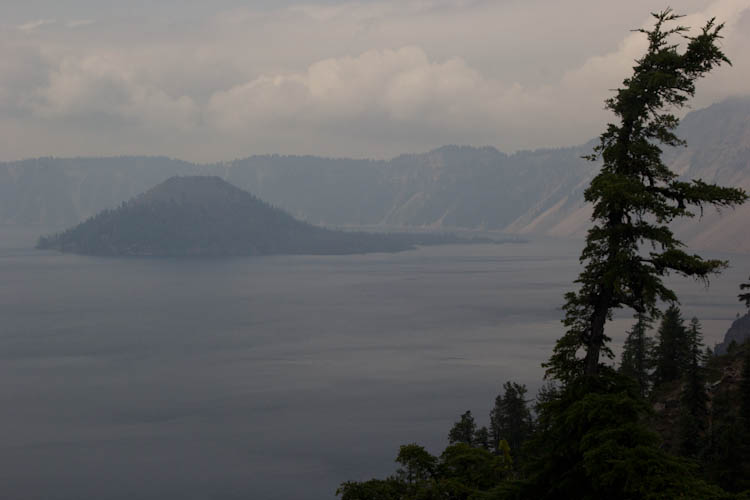 Someday, we will get to that island. But not this time.
Western Pasque Flower on the side of the volcano.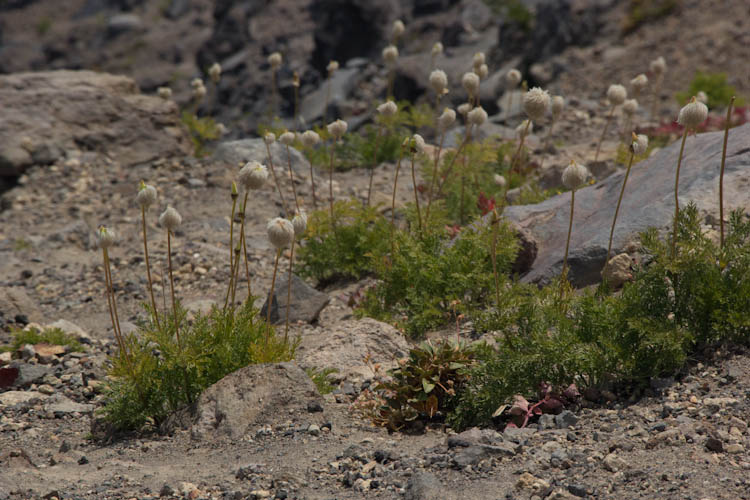 Eric took my picture at the hazy lake.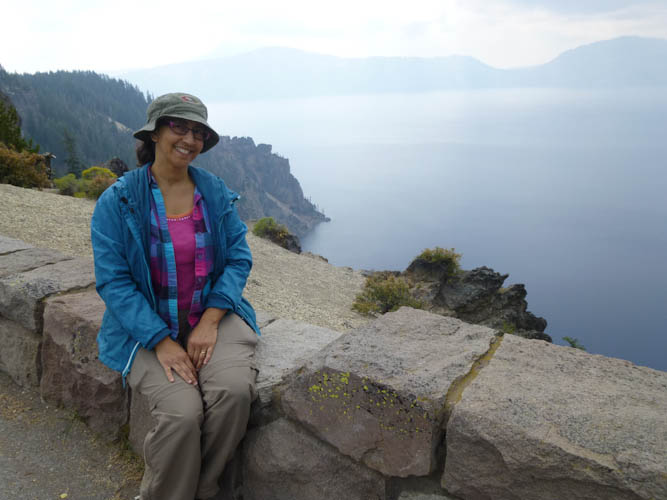 I was coughing quite a bit and had to return to the protected environment of Sydney, but Eric saw a Clark's Nutcracker.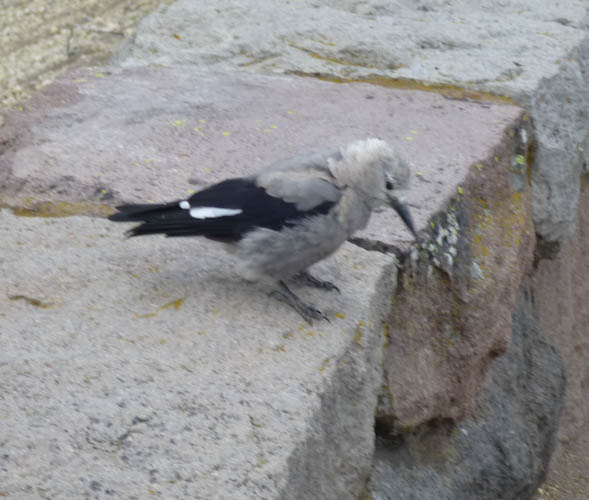 From the road on the outside of the rim, we could see the fire that ruined our plan. Photo by Eric.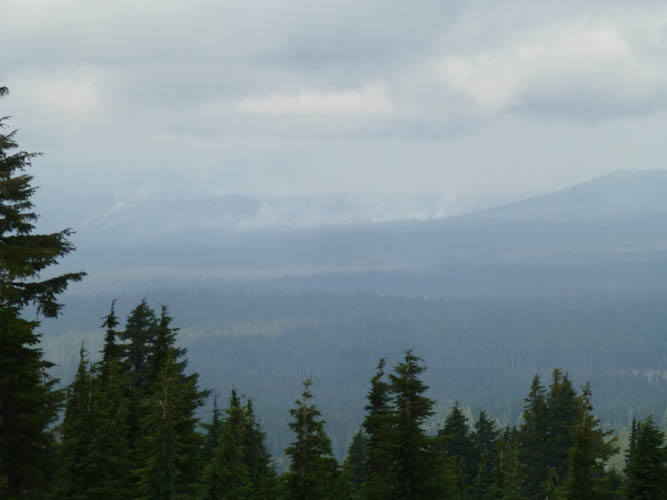 Salt Creek Falls and Diamond Creek Falls
Salt Creek Falls and Diamond Creek Falls are close enough to see both easily. The trail to the bottom of Salt Creek Falls is 1.6 km/1 mi long round trip, and the trail to Diamond Creek Falls is 5.6 km/3.5 mi long round trip in the other direction from the same parking area. There was no smoke! We were delighted. The book indicated that Salt Creek Falls was much taller and more dramatic, but a woman in the parking lot told us she thought it was worth it to see both.

Salt Creek Falls is a great one! At 87 m/286 ft, it is the second tallest in Oregon, after Multnomah. But Salt Creek Falls has a higher volume of water than much more famous Multnomah. It is visible from a paved, wheelchair-accessible trail near the parking lot, and there is a trail down to the bottom.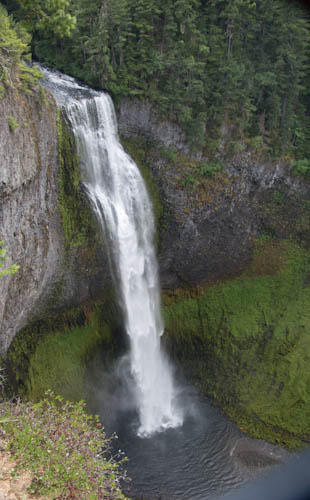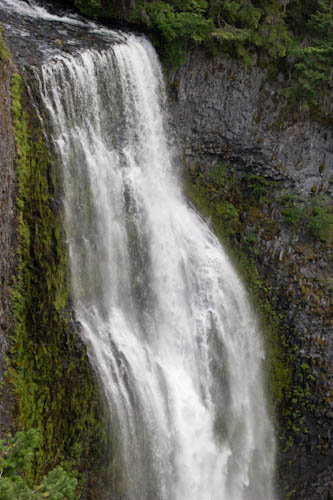 Lovely trail down to the bottom of the falls.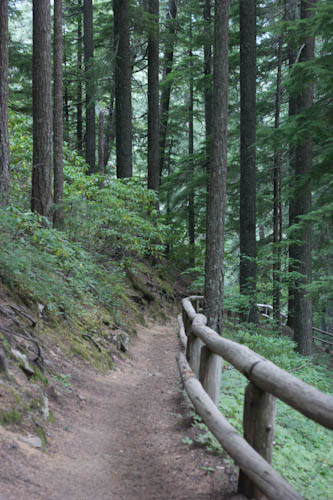 A sign warned that a rock slide had damaged the trail near the bottom, and that descending all the way to the bottom was not advised. I figured that the Forest Service would close the trail if it were well and truly dangerous, but it turned out to be less passable than I expected, and we were forced to turn back.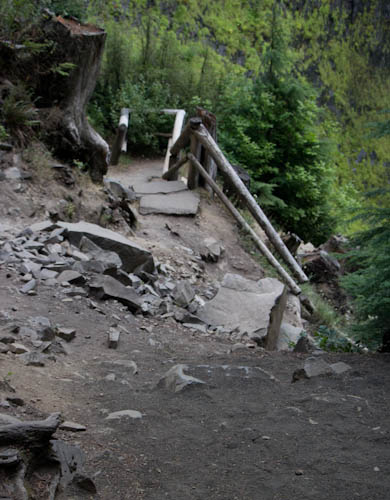 Eric's view from as far down as we could get.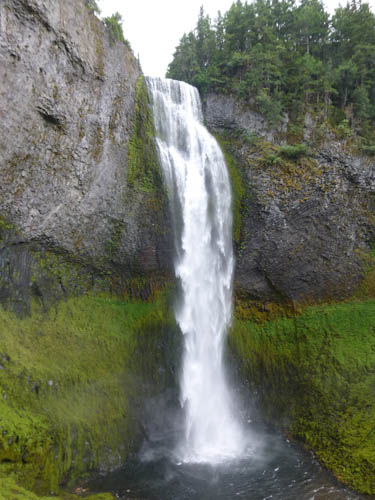 Notice the amazing surrounding rocks.
A couple of abstracts of the falls. I was playing with my new tripod.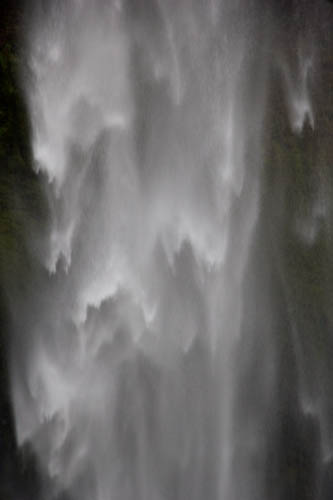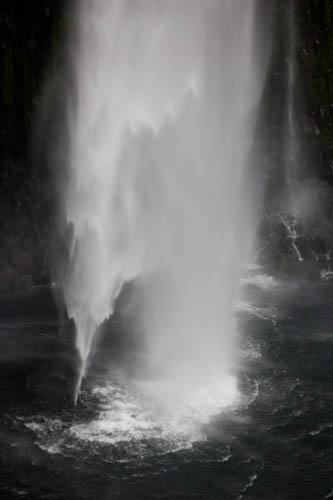 Eric took my picture to show how encumbered I was with all the camera equipment.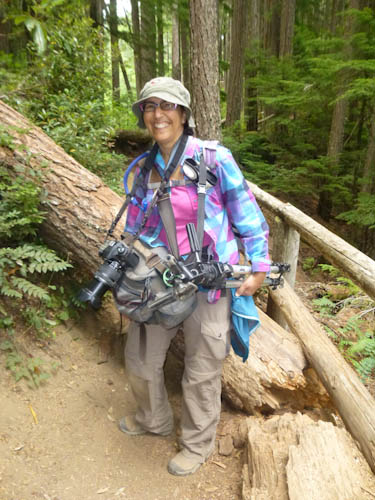 What with the difficulty of the damaged trail and my experiments with my new tripod, our visit to Salt Creek Falls had taken about 1:10. We debated whether we should try to see Diamond Creek Falls as well, or just go on to Bend and try to get some extra sleep after having lost so much. We decided we had enough time to see the second falls, but, in retrospect, we might have been happier if we'd skipped it.
The picnic area at the top of the trail was lovely.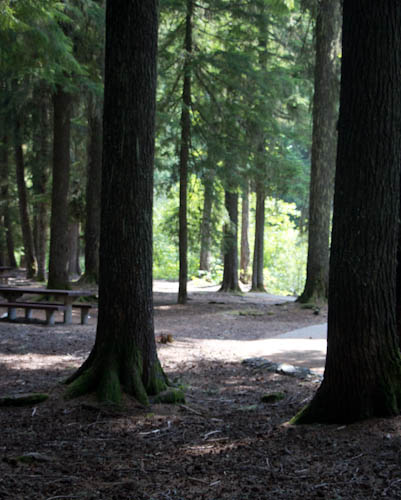 Eric took a picture of all the lush greenery around us. We don't often see this in California!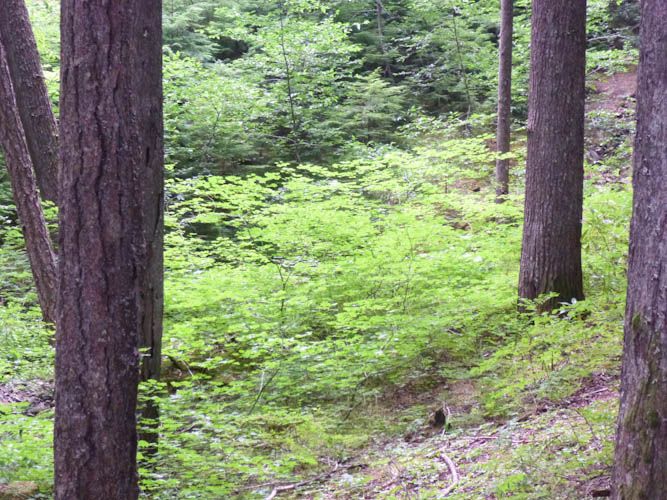 Eric's view of this fascinating basalt field. Yes, we were still in volcanic territory.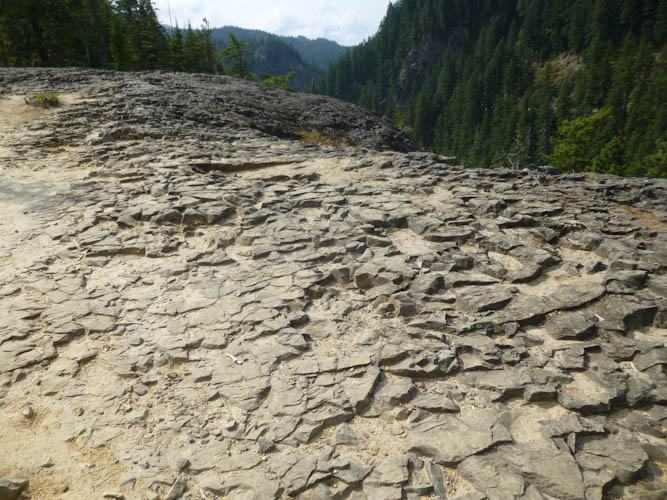 We hadn't seen anyone at all on the trail since we had left the paved, wheelchair-accessible overlook near the parking lot. Not another soul. It would have been paradisical, had we not, at the junction for the spur that went down to Diamond Creek Falls, encountered an extremely distasteful specimen of humanity. First, we saw a malamute. "Where are your people?" Eric asked the dog. Then a white man appeared. He didn't look exceptionally bright, but he greeted us in a friendly fashion, saying how beautiful the falls were. A tiny bit further down the trail, we encountered a woman, probably Latina, comforting a crying girl about eight years old. As we approached, she announced, "I hate abusive men." I asked if there was anything we could do to help, and, tears welling up in her own eyes, she waved us on.
We couldn't figure out whether the woman and girl had come to the park with the man and dog, or whether they had had an exceedingly unpleasant encounter with a stranger. I thought maybe the girl had been scared of the dog, and the man had been a jerk about it. We tried not to let this situation ruin our enjoyment of a beautiful falls.
Eric took my picture on a log carved with steps to make a steep descent easier. They need one of these for that rockfall at Salt Creek Falls.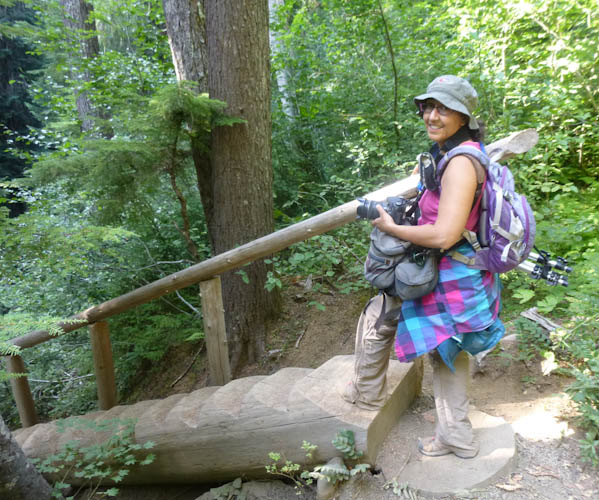 Water and greenery.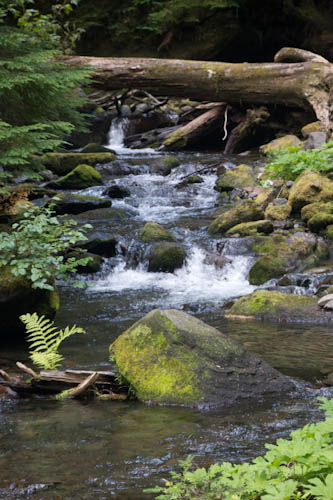 Some interesting fungi.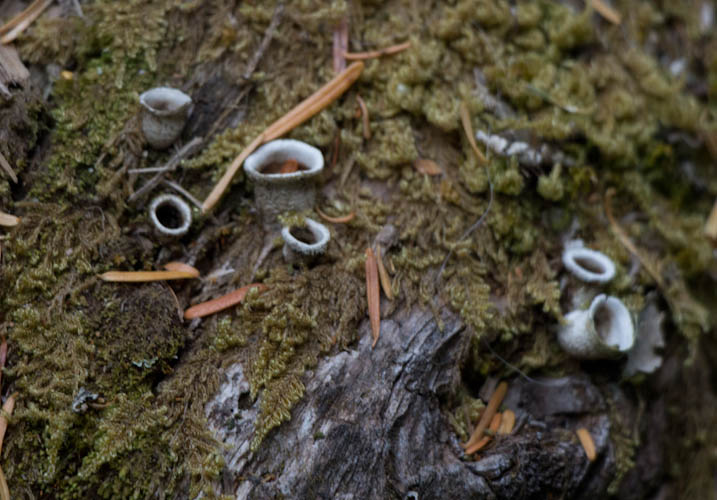 Diamond Creek Falls.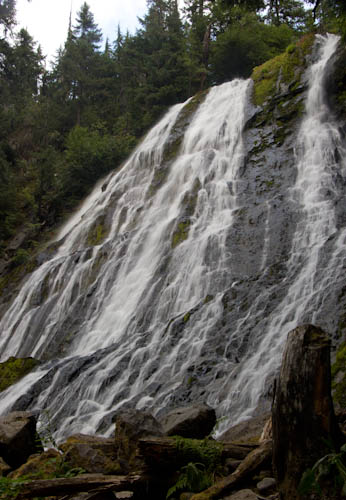 Diamond Creek Falls detail.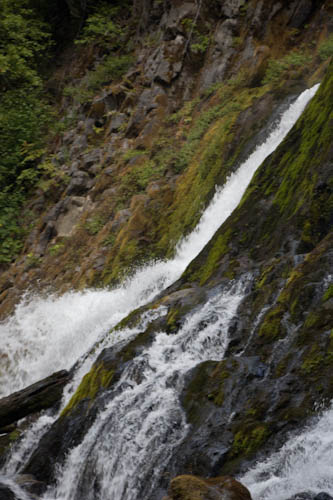 Eric took an interestingly steep view.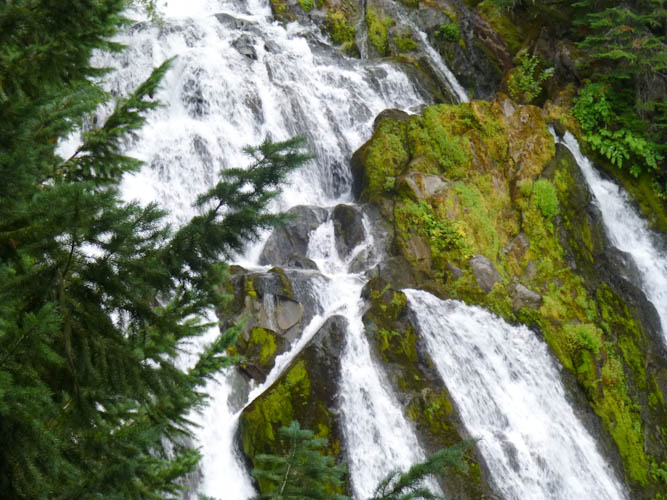 On the way back up the spur trail to the falls, on the way back to the main trail, we once again saw the man. He asked whether he had seen his girlfriend and her daughter, so apparently they were together. As we told each other later, each of us had been about to tell the man off, shame him for being abusive to the woman and child. And then each of us saw the shiny metal gun in a holster at his hip.
"Nope, we haven't seen them," we truthfully said.
Apparently this sort of open carry is legal in Oregon. But it was very disturbing to see, all alone with this guy out in the woods, a couple of kilometers from the parking lot and any more positively disposed humanity. What made me most angry was that it inhibited me from speaking my mind. Oh, yes, you have a gun, so I can't tell you what I really think. I have to be nice to you even though I don't want to be. You get the privilege of my deference and fake kindness when you are not entitled to it and clearly don't deserve it.
The trail back was pretty if not terribly interesting, but we would have enjoyed it more had we not been concerned about running into the man again. We mostly hurried back to Sydney, taking very few pictures.
I took one picture of rocks in a stream.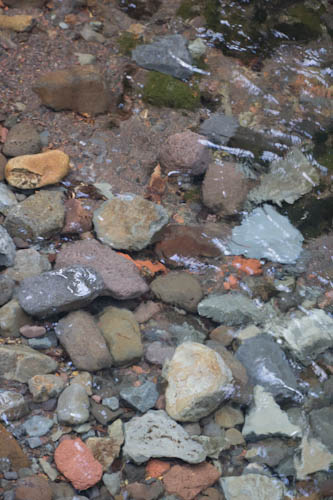 We did, unfortunately, encounter each of the people again, when we missed the turn for the spur back to the parking lot. We first saw the dog, then the woman and child. The child was playing on a branch, and they looked much better than they had before. The woman thanked us for offering assistance before, and said that she just got very protective.
"Of course," I said, "You have a little girl."
"I didn't get the whole picture when I first saw it," Eric told her.
Regrettably, that woman needs more help than we can give her.
We saw the man again a little further on, and again he went on about the beauty of the falls.
"Yes, very nice," we agreed, and hurried on.
One of the primary reasons for road tripping is to be able to explore these sorts of remote areas in the Forest Service territory, away from the crowds of places like Yellowstone and Yosemite. But do they have to have abusive men with guns?
Our stress for the day was, unfortunately, not over. Our next destination was Newberry Volcanic National Monument, and we had hoped to stay in the closest town, La Pine. It was Friday night, and everything was booked up. We called our beloved Super 8 in the next town, Bend, which had been our refuge the last time we had to flee Crater Lake. It was also full. I called several more places, all with no vacancy, before I was able to book a two-room, four-bed suite at Motel 6 for $125. Did you even know Motel 6 had suites? The luxury of a refrigerator and a microwave allowed us to eat the camping food we had planned to have in Mazama Village. Not wishing to get caught flat-footed again, we went to work right away booking a room for Saturday night!
On to Newberry Volcanic National Moument.
---