---
Hell's Canyon National Recreation Area
Sunday 16 August, 2015
View of Hell's Canyon from Hat Point. Photo by Eric.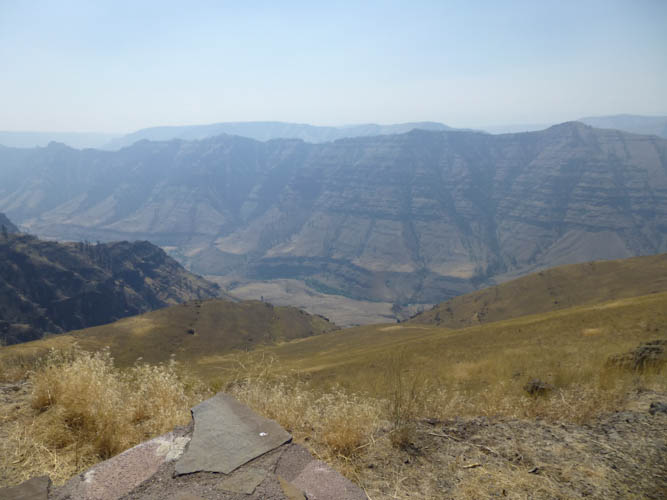 A few years ago, my father and stepmother did a driving tour of the northwest, and visited Hell's Canyon. Hell's Canyon, carved by the Snake River, is as deep as the Grand Canyon (slightly more than 1.6 km/1 mi) and much more dramatically narrow, only 16 km/10 mi wide (according to Roadside Geology of Oregon. A bit east of Hell's Canyon, the Imnaha River carves another canyon. The book describes how the area between the canyons gets lifted up by the carving action, like an air mattress on a lake, since the earth's crust is floating on its interior. As the land is eroded by the rivers, it weighs less, and thus rises, deepening the canyon.
Pictogram of Hell's Canyon. Photo by Eric.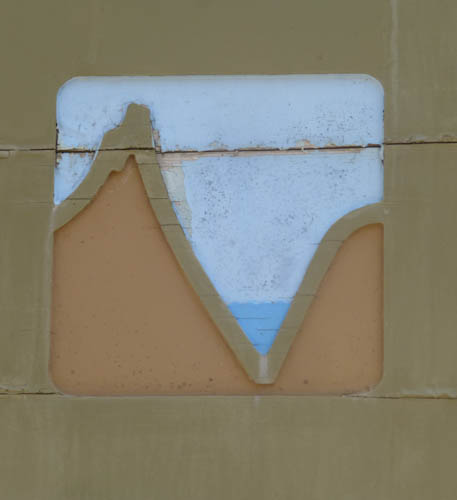 Roadside Geology of Oregon explains that, "Hell's Canyon is in wild and nearly roadless country, so very few people have seen it and the view from Hat Point is a rare treat. You have to walk to get to any other rim viewpoint on either side." I confirmed with my father that Hat Point was the site he had seen. The book goes on tell us, "This is a rough road that provides more adventure than most people care for. Bedrock along the way, for those who may have time to look at it while replacing the oil pan, is all flood basalt flows." My father declared that the view would be worth the road. We're tough.
We saw a road sign along the way that indicated that the first part of the road would be "gravel," but that most of it would be "improved road." As we never noticed any significant change in road quality, Eric believed (cross-referencing from a geocache listing stating that the road had been much improved, circa 1989) that that had been an obviously very old sign, and our 1978 edition of Roadside Geology of Oregon, were out of date and that the road is no longer as bad as the book described. While it's admittedly not some pitted washboard, the road requires navigating extremely precipitous curves with a truly suboptimal degree of traction. It is not for the faint of heart, and I sure wouldn't have wanted to have done it with an automatic transmission.
Roadside Geology of Oregon also says, "The view from Hell's Canyon can neither be photographed nor described." A smoky haze from those ongoing wildfires did unfortunately make it difficult to photograph. With all the haze, it probably wasn't worth the considerable trouble to get there, but on a clear day, it would surely be fantastic.
View of hills from OR 82 between Enterprise and Joseph.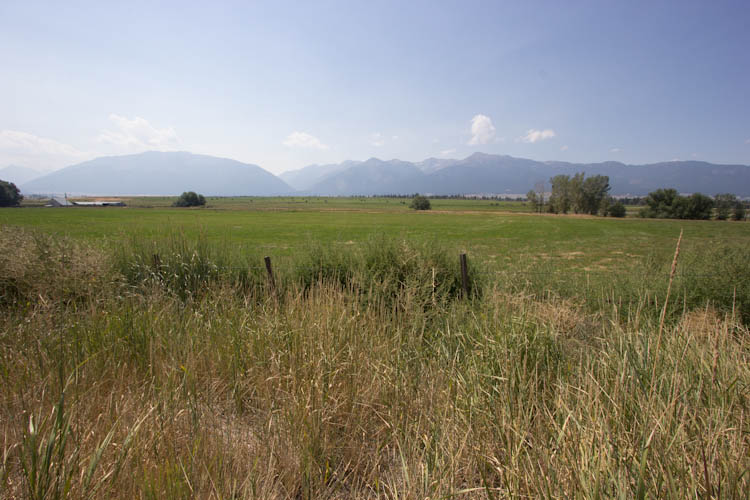 We had a lovely breakfast with wi-fi at the Red Rooster Cafe in Enterprise. The huckleberry lemonade was delicious. I went out to rearrange all of our junk in Sydney before Eric was through playing with the internet. A man standing outside the cafe greeted me, saying that he was waiting for his beautiful wife. I said I was waiting for my beautiful husband.
Craig and I got into a long conversation about the area and its beauty. He advised me to throw a couple of cans of fix-a-flat in the trunk just in case, as flat tires were common on Hat Point Road. He told me about Chief Joseph (known in his native language as Hinmatóowyalahtq̓it, according to Wikipedia), who led the Nez Perce out of their ancestral lands in the Wallowa Valley when they were forcibly ejected by the US government in 1877. On the way out to Hat Point, we would be following the path Chief Joseph and his tribe took as they fled. Craig told me that Chief Joseph was very well respected in the region. Wikipedia tells me that the City of Joseph, just south of Enterprise, named itself for the Nez Perce chief in 1880.
He said he thought that the area nearby was much more beautiful than Palousse Falls, and that we should skip that and spend another night in Hell's Canyon. I told him that we were interested in the geology of Palousse Falls. As soon as I mentioned geology, he started speaking it. OK, if we liked geology, we should see Palousse Falls. But we should definitely stop and see Wallowa Lake, just south of Joseph. He called it "an obvious glacier-carved moraine."
The first 50 km/30 mi of the road from Joseph to Hat Point, running through the Imnaha River Canyon, were paved and beautiful.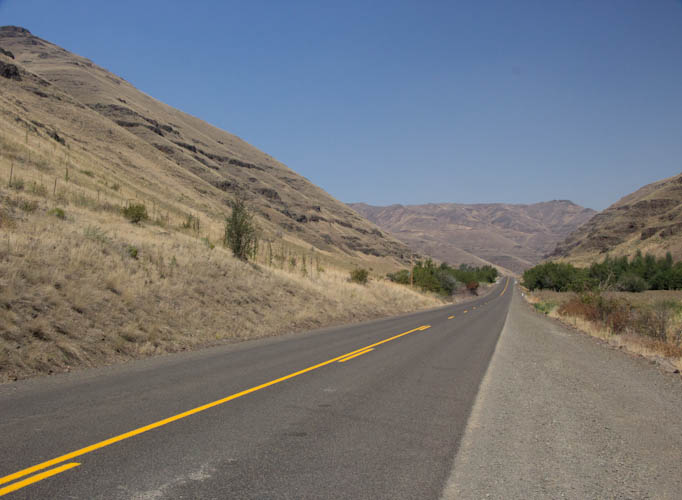 We were fascinated by the basalt formations all around us.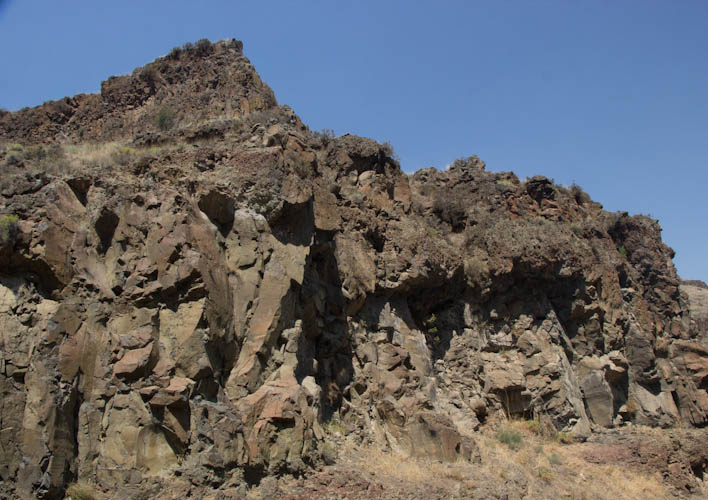 Entrance to the Wallowa-Whitman National Forest.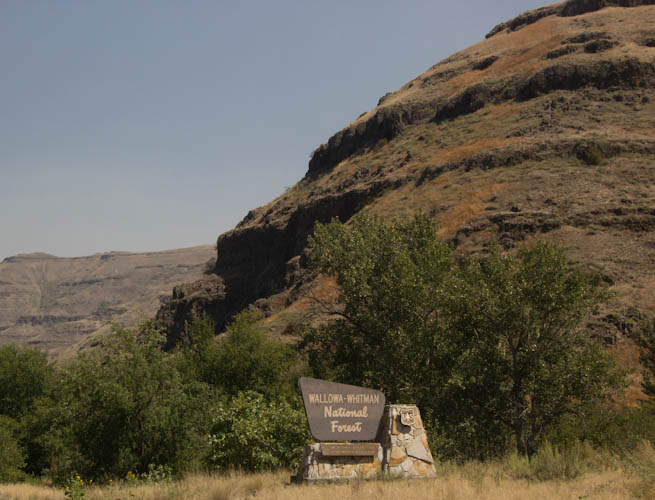 My father had said that we would be able to drive around 50 kmh/30mph on the dirt road, and that it would take about three hours to drive out there, see the canyon, and drive back. It soon became apparent that he had meant it would take three hours out and back from where the dirt road started in Imnaha, not from the Hell's Canyon turnoff in Joseph. While the road between Joseph and Imnaha was good, it was still 50 km/30 mi between them. I added another hour to the time estimate.
The road running through the beautiful Imnaha Canyon.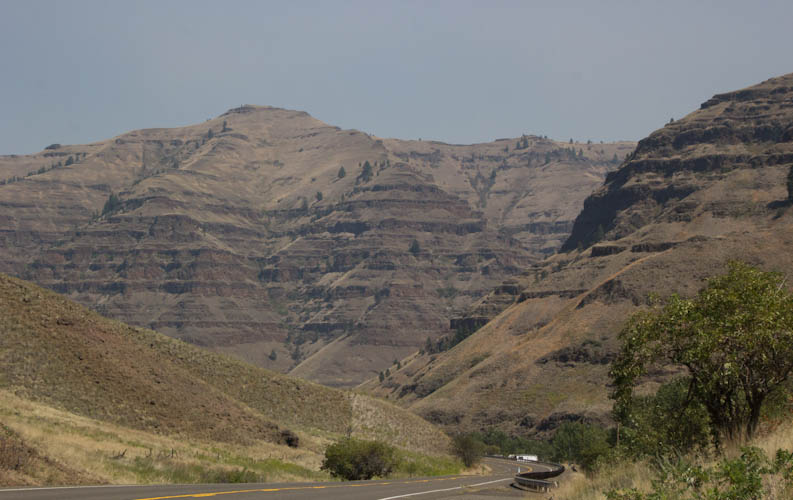 We were surrounded by amazing basalt formations.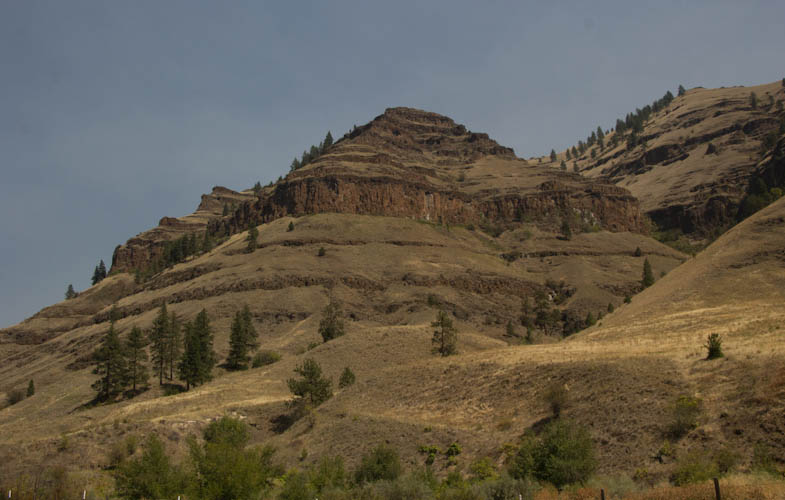 We stopped so many times to take pictures, I again revised my estimate of how long this adventure would take.
Eric's picture of another formation.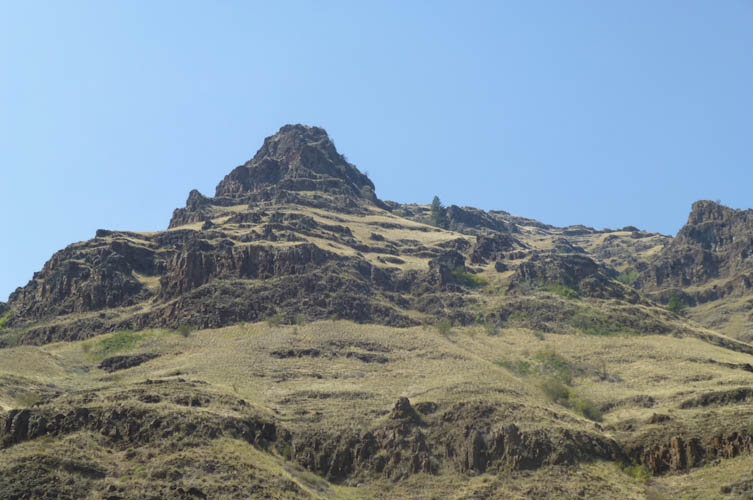 After about 45 minutes, we reached the tiny town of Imnaha and left the comforts of pavement behind. Climbing the steep gravel past precipitous dropoffs, I was uncomfortable using a gear even as high as third. 30 mph? How about 15? It was a hot day, and I fretted about overheating Sydney's engine. Once again, I desperately wished for a temp gauge. Of course, we could not use Sydney's wonderful air conditioner, and had to open the windows on the dusty road. We would have to travel 38 km/24 mi over this road, and, after having seen the sign, we expected conditions to worsen.
Eric took a picture of one of the somewhat less precipitous sections of the road.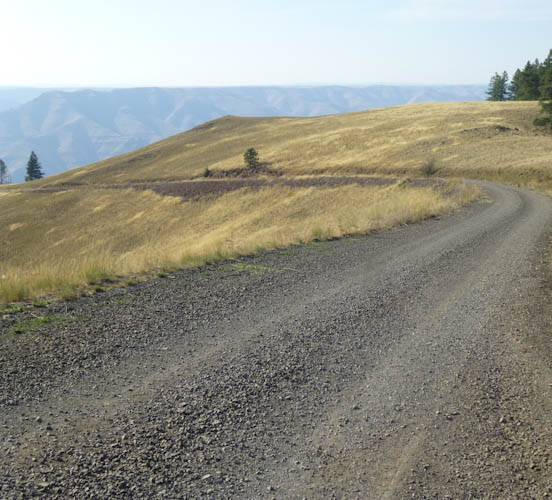 The road did not worsen, however; it improved. After about a quarter of the distance, it leveled off considerably, and I was able to use third gear and sometimes even fourth. I was able to get our speed up to 30 kmh/20 mph. It took about 1:15 to reach Hat Point from Imnaha, or about two hours from Joseph.
Amazingly, Sydney was the cleanest car in the parking lot! I guess maybe those other people drove a little less conservatively.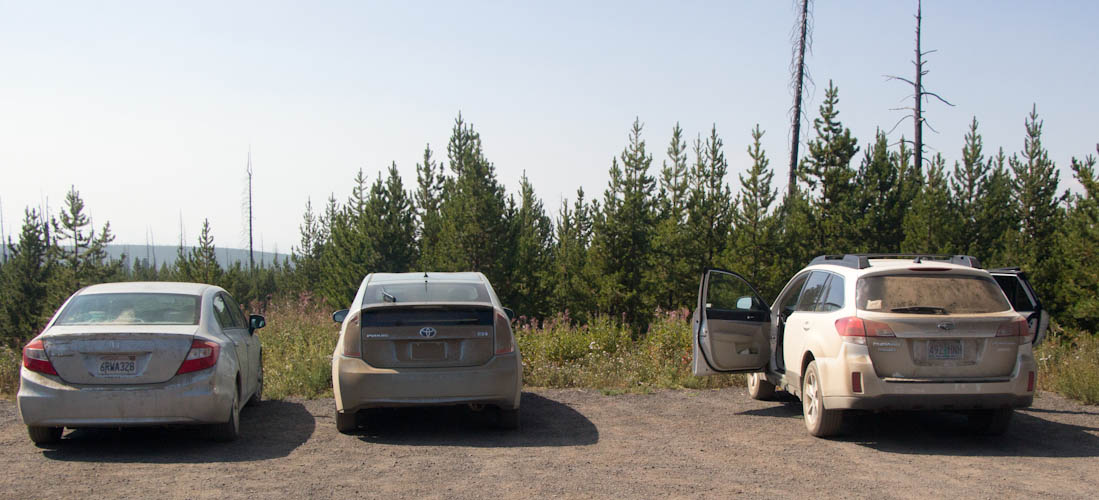 While the 2,100 m/7,000 ft overlook was indeed spectacularly dramatic, we were disappointed by a haze over the canyon.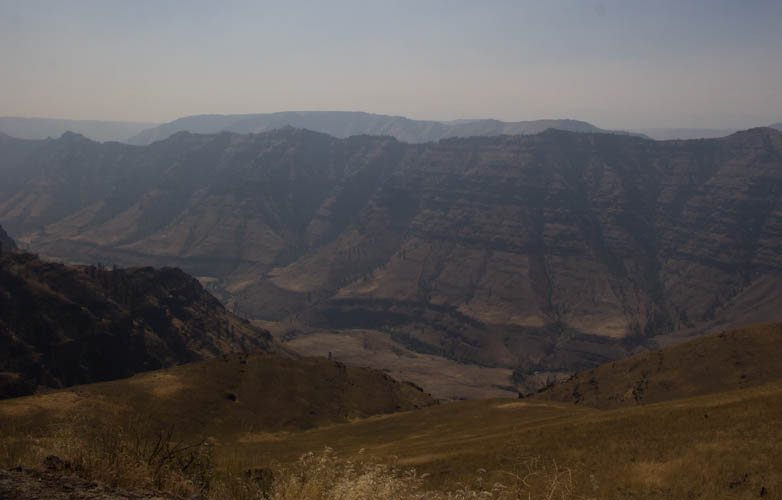 Poor views of mountains across the canyon.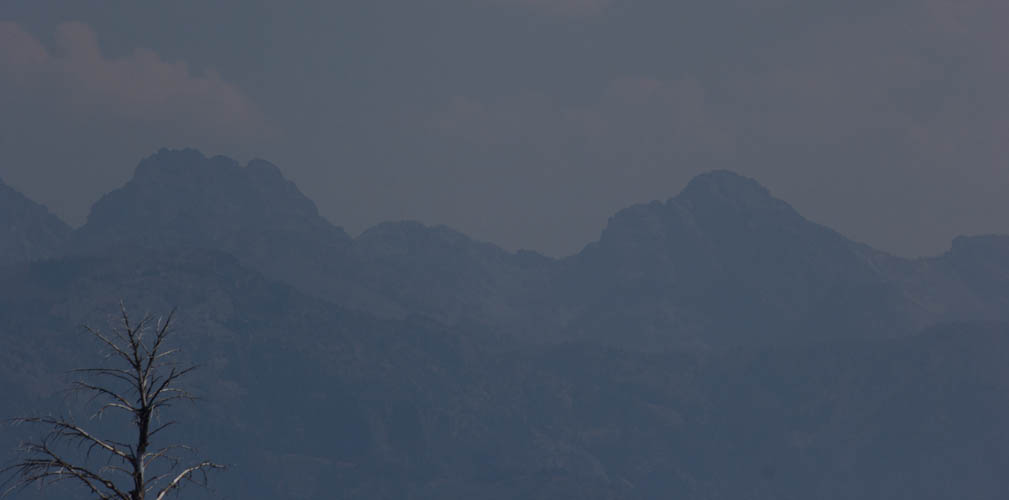 The entire area had been damaged by a large wildfire in 1989. Such a theme.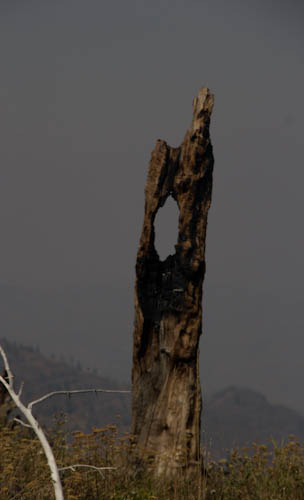 Yesterday, obsidian field picnic; today, canyon overlook picnic. We had vaguely serviceable sandwiches that had come from the Chevron station in Enterprise where we bought the fix-a-flat.
There was a geocache at the bottom of this tower.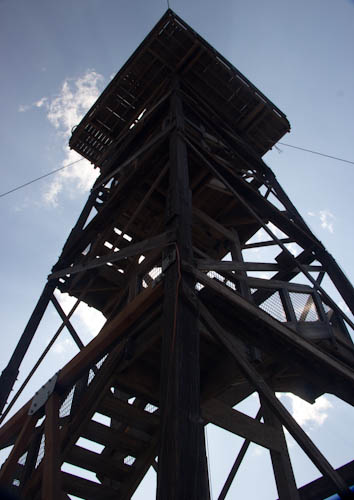 You're allowed to climb more than halfway up the tower. You can see Sydney far below near the upper center of this picture.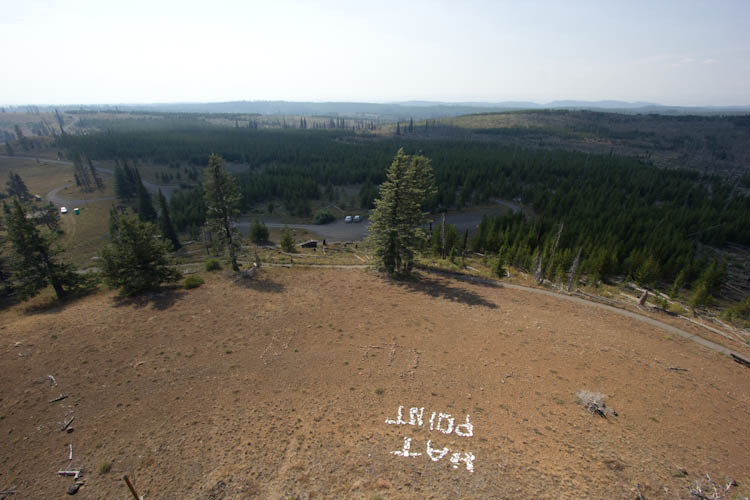 Views of the canyon from the tower.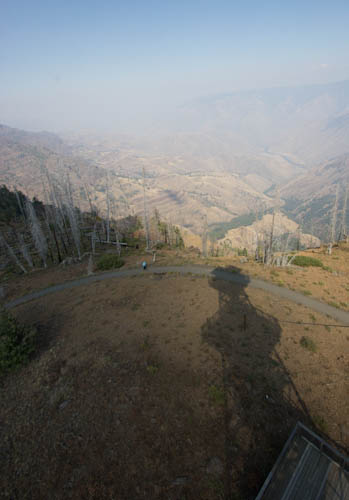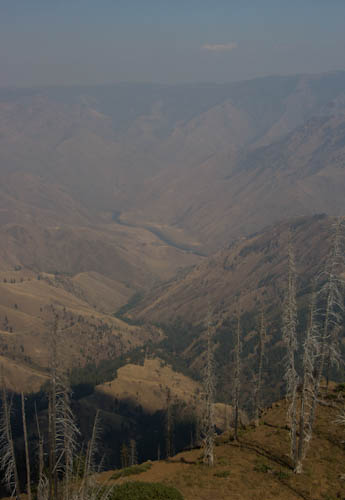 Way, way down there, the Snake River.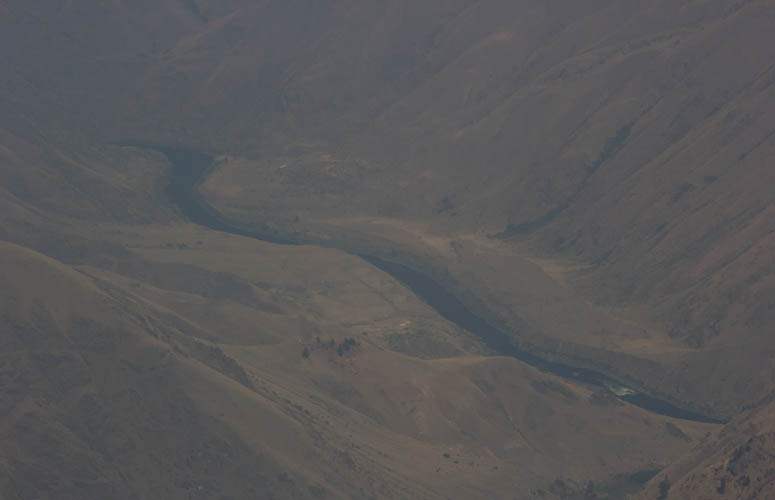 Eric photographed the tower stairs.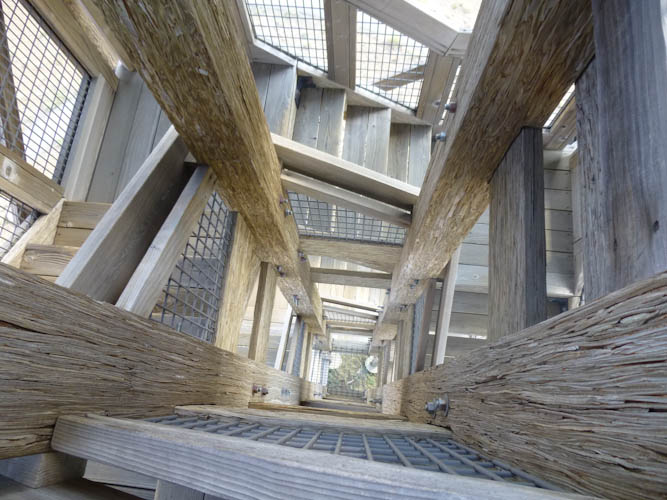 Of course, in spite of the conditions, we spent nearly an hour at Hat Point, picnicking, geocaching, and enjoying what we could of the view.
On the return drive, we stopped at Granny Point, overlooking the Imnaha River Canyon. The views were somewhat better.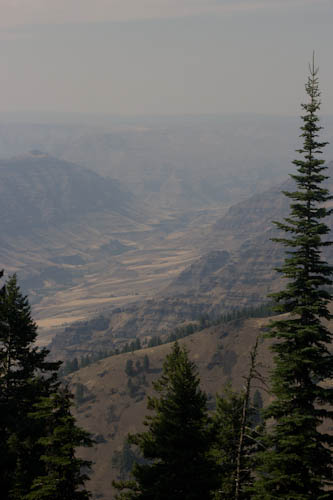 The Imnaha River running through the canyon.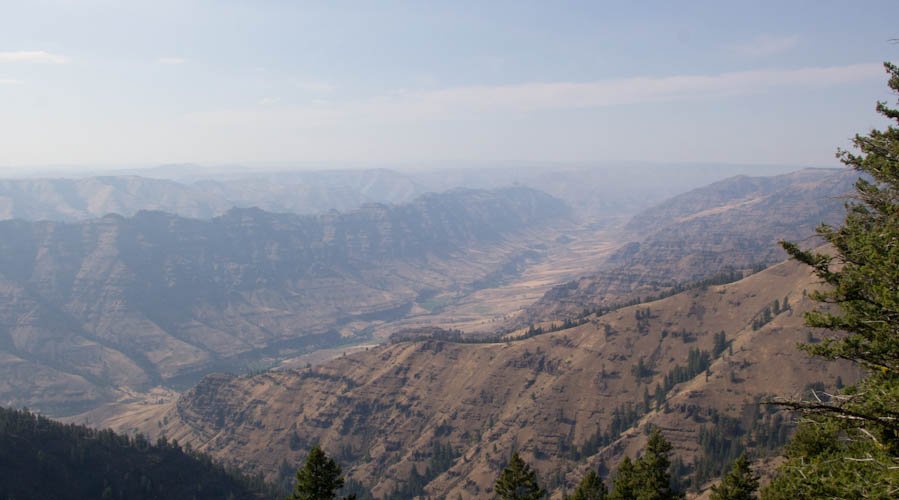 Unidentified wildflowers along the trail out to the overlook.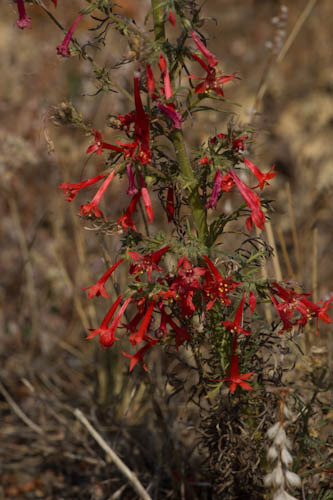 The Forest Service had designated a couple of pullouts in which to stop and cool your brakes on the way down. Since we could downshift to slow down, we may not have needed to stop, but it seemed like a good idea.
We got a great look at this bird by the side of the road. Grouse? Ptarmigan?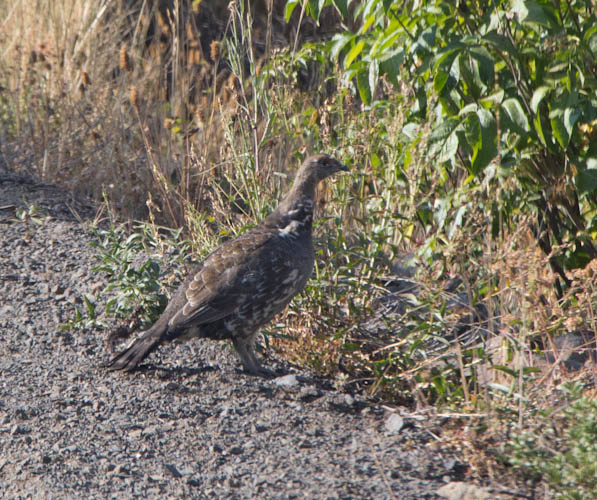 By the time we returned to Joseph, it was about 18:15, or 5:45 after we left Joseph heading for the canyon. Nearly twice as much time as Dad had led me to expect.
All the same, we wanted a quick look at Wallowa Lake in its glacial moraine. We checked out the state park at the south end of the lake, but the view was better from the county park at the north end.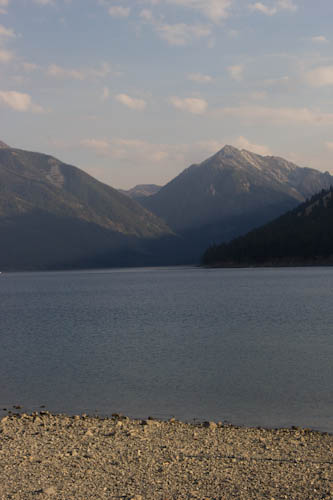 After yesterday's dinner of Subway sandwiches in Sydney, we very much wanted a sit-down dinner in a restaurant. Joseph was a cute town, and we stopped at La Laguna, a Mexican restaurant with adorable patio dining.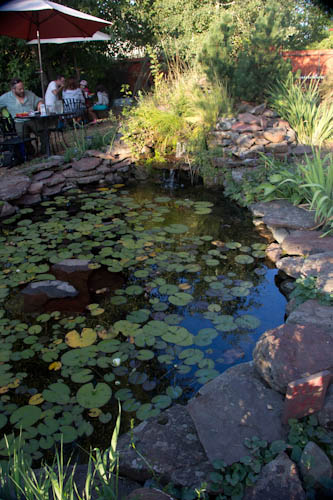 They had a delicious creamy chicken and mushroom dish. After confirming that there was only construction, no road closures due to wildfires, between Joseph and Lewiston, Idaho, I made a reservation there for the night on TripAdvisor.
Once again, we were driving through beautiful scenic territory in the dark. We passed an overlook for Joseph Canyon after it was just a bit too dark to see it. I could see outlines of the mountains and they looked beautiful but hazy. But we did much better than the previous day, getting to bed in the Days Inn in Lewiston, Idaho, by 23:00. Tomorrow, more fabulous geology!
On to Palousse Falls State Park.
---