---
Newberry Volcanic National Monument
Smith Rock State Park
Saturday 15 August, 2015
Big Obsidian Flow, with Paulina Peak in the background.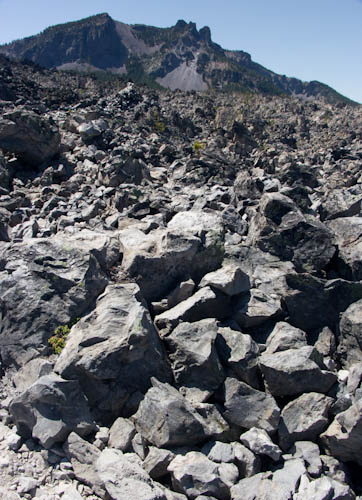 Newberry Volcanic National Monument
The last time we fled weather conditions at Crater Lake and slept at a cheap motel in Bend rather than in Mazama Village Campground, we spent a whole day at Newberry Volcanic National Monument. Stephen Harris' Fire Mountains of the West says, "If Crater Lake did not exist, Newberry might have become Oregon's only national park." We loved the place. We loved the waterfalls. We loved the lava. We loved the enormous lava tube. We loved the buttes. We loved the cinder cones. We loved the views.

Most of all, we loved the Big Obsidian Flow, a giant field of obsidian.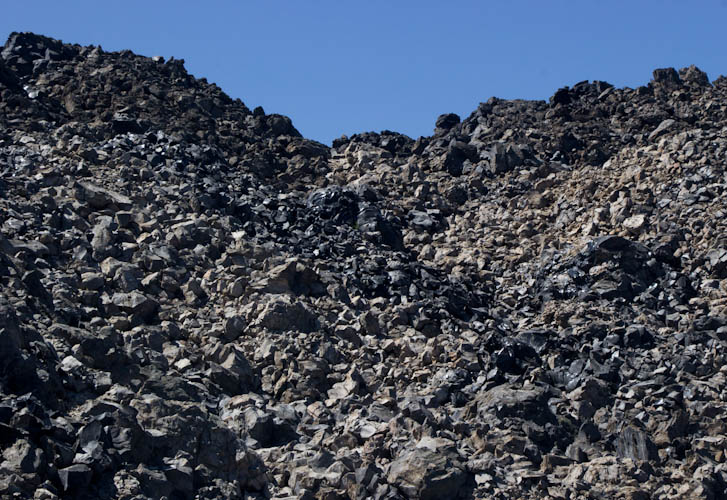 Unfortunately, we had spent so much time earlier in the day exploring waterfalls that the sky had been darkening when we reached the Big Obsidian Flow. When we started planning our second Pacific Northwest tour, a chance to see the Big Obsidian Flow during daylight was high on our list. But we had time only for the Big Obsidian Flow itself, not what would have been a delightful re-visit to the rest of the park. Everyone kept talking about the clarity of the weather and the lovely views from the top of Paulina Peak. A ranger described it as "the best view in Oregon." Painfully, we had to skip it. There are so many amazing things to see in this incredible little place that we are already planning our third Pacific Northwest tour (especially since we need to make yet another attempt at taking that boat to Wizard Island at Crater Lake).
A swallows' nest in La Pine, a bit south of Newberry.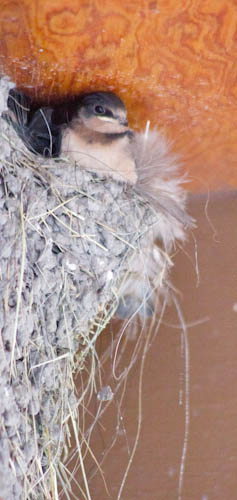 View of the Sisters from Bend.

Since we couldn't get a motel in La Pine, we had had to backtrack significantly from Bend to get to Newberry. Had we known how very many campsites there were in Newberry, it probably would have been more efficient to have camped there.
One of the most incredible things about the Big Obsidian Flow is the way they carved a trail right through the rock. Photo by Eric.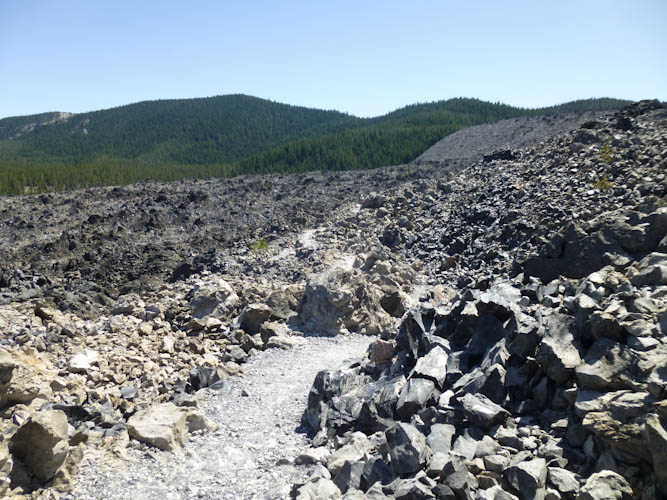 Eric took my picture on the trail.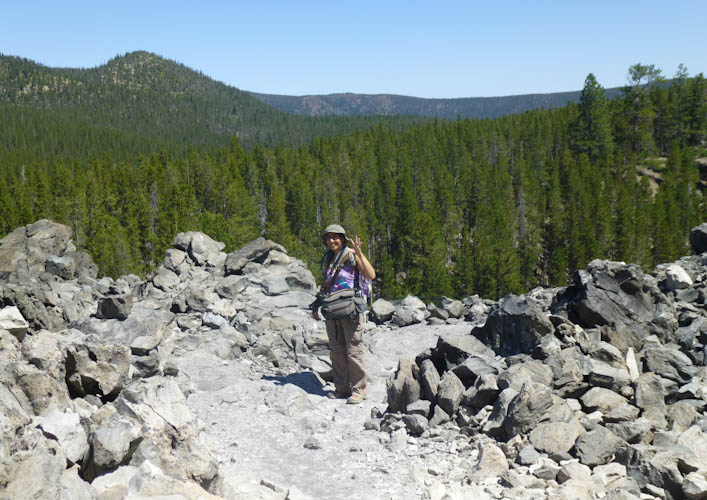 The trail provides great opportunities for close looks at the beautiful, shiny, black rock.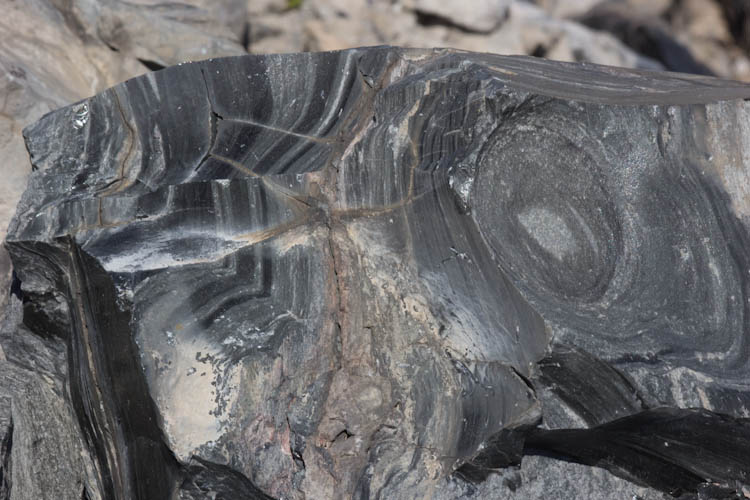 Eric's view of obsidian.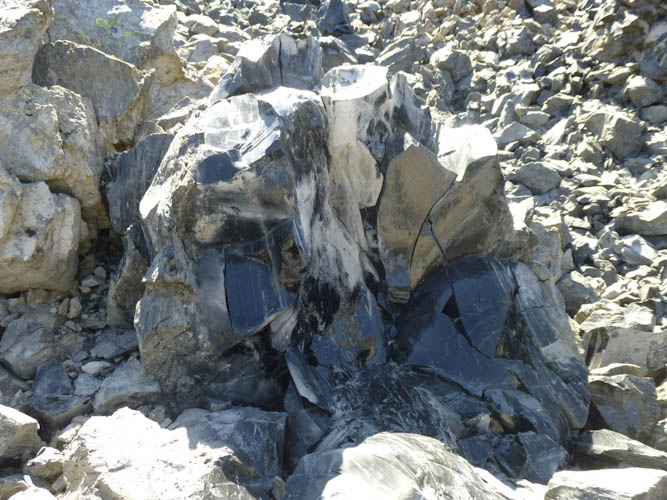 The rock shone in the sun. That
definitely
wasn't a feature of our previous visit!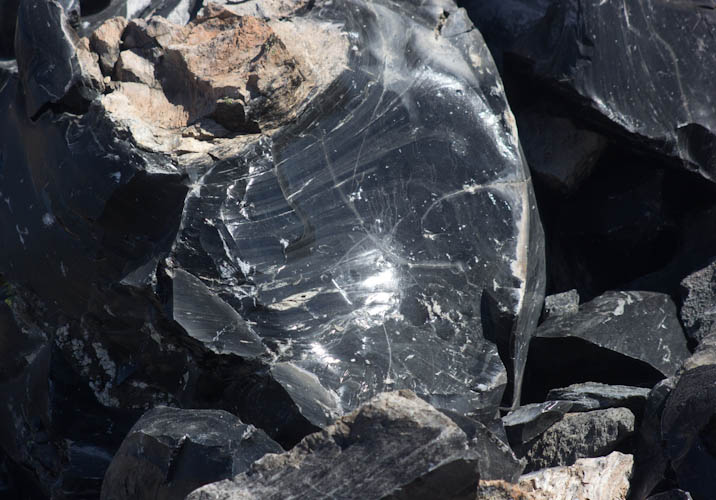 The rock was so smooth.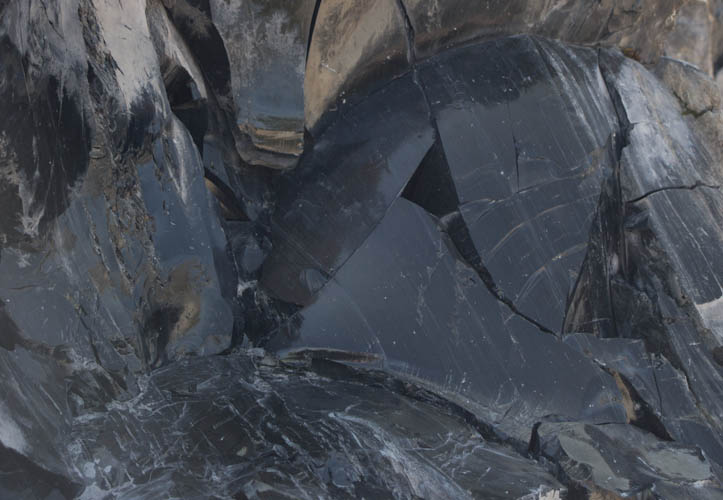 As we climbed the 1.6 km/1 mi loop trail through the obsidian flow, views of the South Sister over Paulina Lake emerged.
A fascinating formation.
Some of these volcanic rocks have interesting patterns.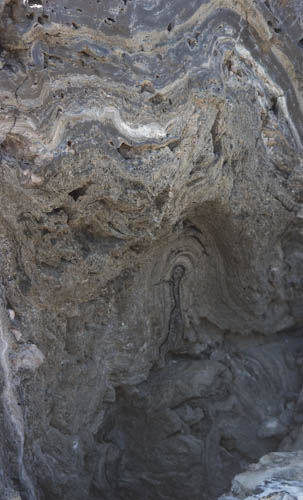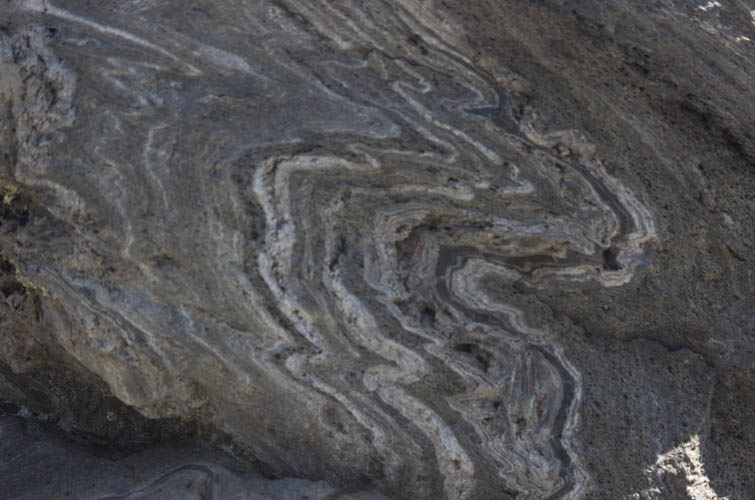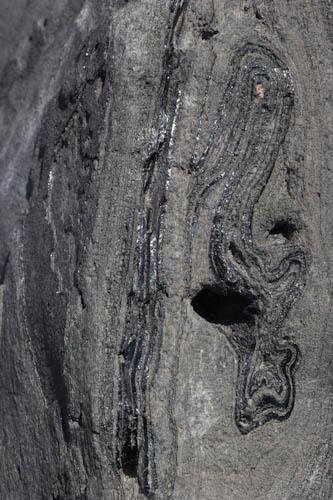 A hawk flew by overhead. Someone thought it was an osprey, but I am unsure.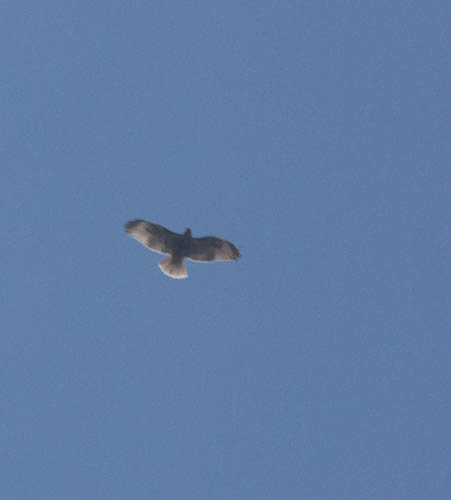 Twin formations near the top, with Paulina Lake in the background.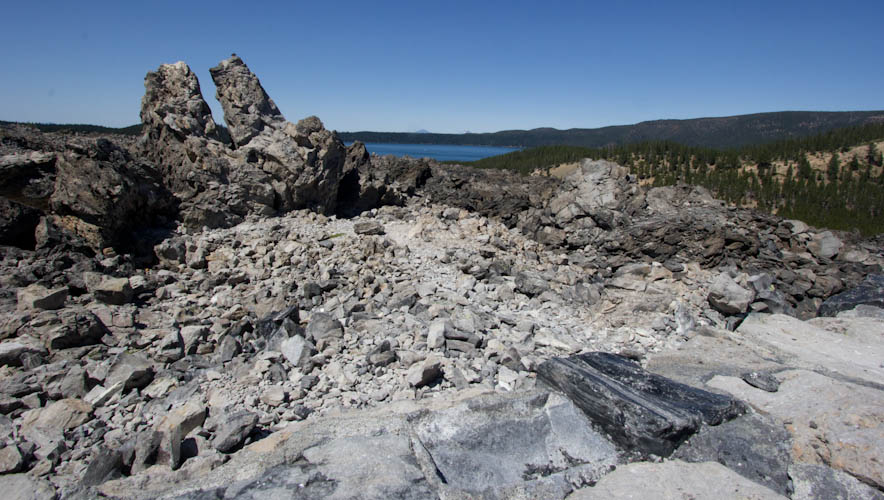 Remembering our picnic on a glacier in Wrangell-St. Elias National Park in Alaska, we had a picnic of bagel sandwiches at the top of the Big Obsidian Flow.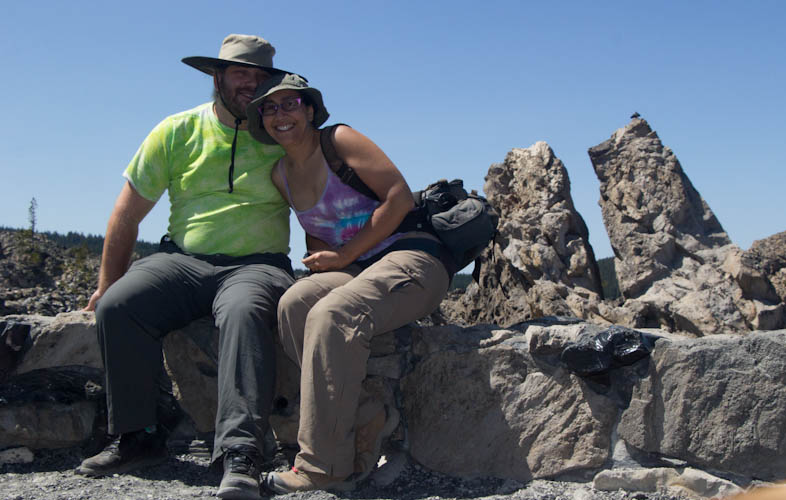 Starting down, I saw these layers in the rock. They have a sedimentary rather than igneous appearance, which I can't explain.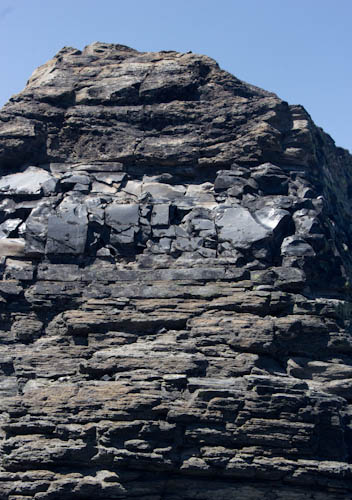 Live and in person, the depth and layering of the Big Obsidian Flow is extremely impressive. But the low levels of contrast in the rock make this hard to share photographically. Here are some views with a bit more contrast to show you the depth.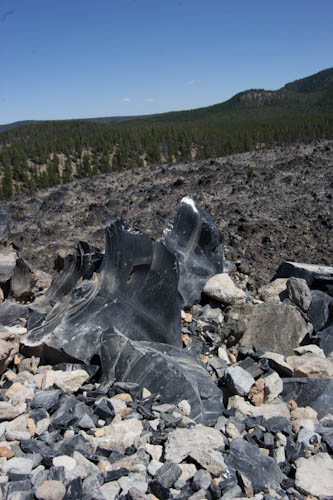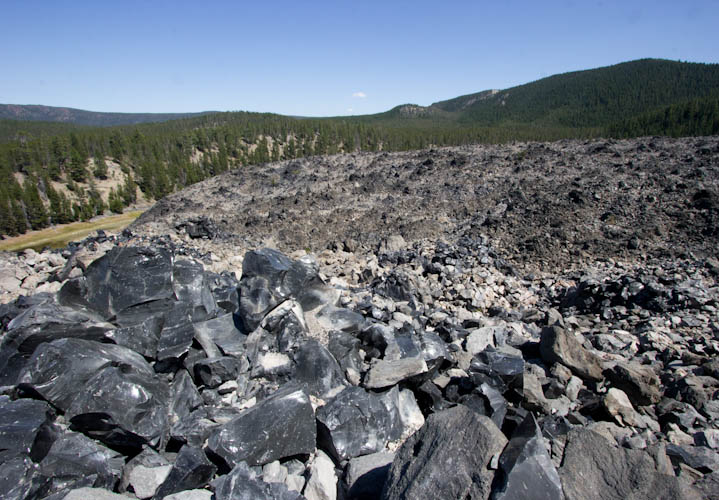 A crown pattern in the rock. The ways in which lava hardens are so interesting.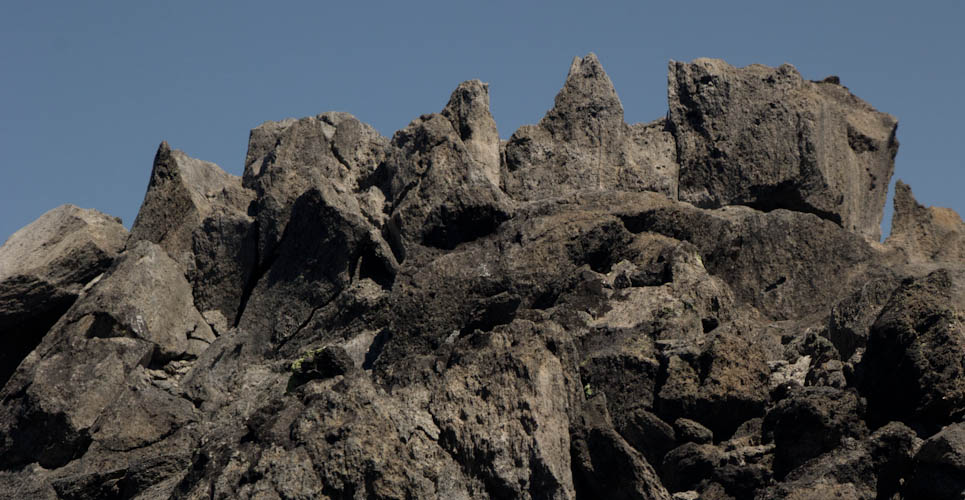 Light and dark volcanic rocks.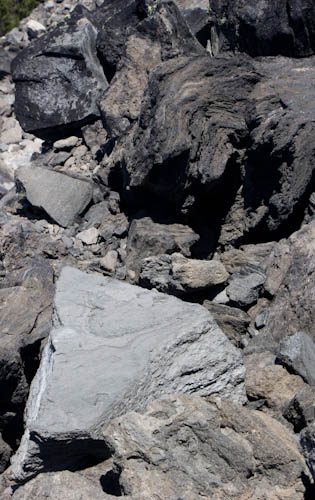 Removing rocks from the park is, of course, strictly forbidden. But at the beginning of our hike, as we were heading up the stairs on the outside of the cladera, we saw a man carrying a football-sized piece of obsidian. Eric asked what he was doing with it.
"Putting it down right here," he said, setting it down next to the steps. Clearly, that had not been his previous intention.
The man had stayed by an interpretive sign the whole time we were climbing the steps, and we had been sure he had been planning to return and grab "his" rock as soon as we disappeared from sight. We were so pleased, on our return, to see the rock still there.
Eric took a picture of the rock he saved, with his hand for scale.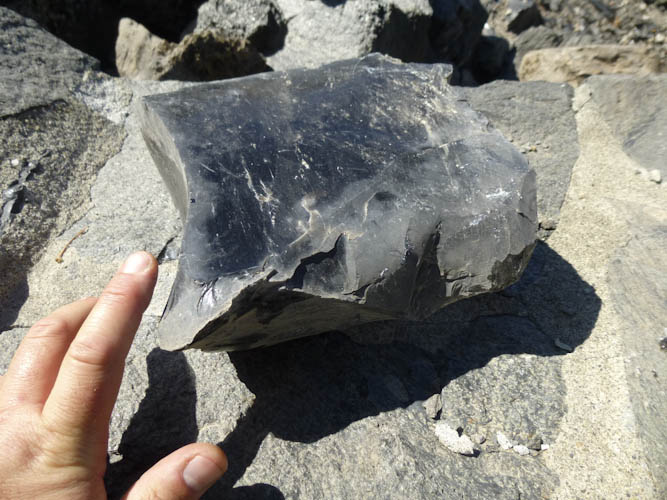 The dramatic outside edge of the caldera. Photo by Eric.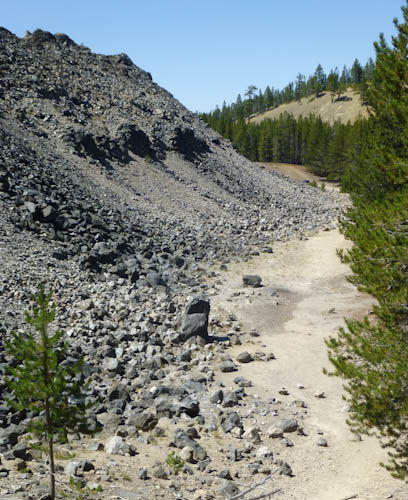 A couple of hours behind schedule, and after having failed to find a geocache in the walking trails behind the parking lot, we reluctantly set out from Newberry after another very exciting visit. We agreed that we would rank this spot among the best five hikes we've ever done, up there with Yosemite Falls, Lassen Peak, Castle Crags, and the Halema'uma'u Crater.
Smith Rock State Park
A few weeks before our trip, our friend Grant wrote about visiting Smith Rock State Park. Grant described this intersting and beautiful place, and we noticed that our route would take us right past it. We didn't have time for the 4 km/2.5 mi hike to the summit, but we did pop in for a quick look at the park and an approximately 800 m/.5 mi hike to a geocache.

Look at these volcanic spines! Looks like Mt. Lassen!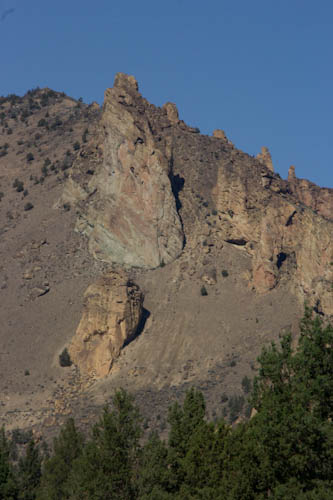 Dramatic Smith Rock.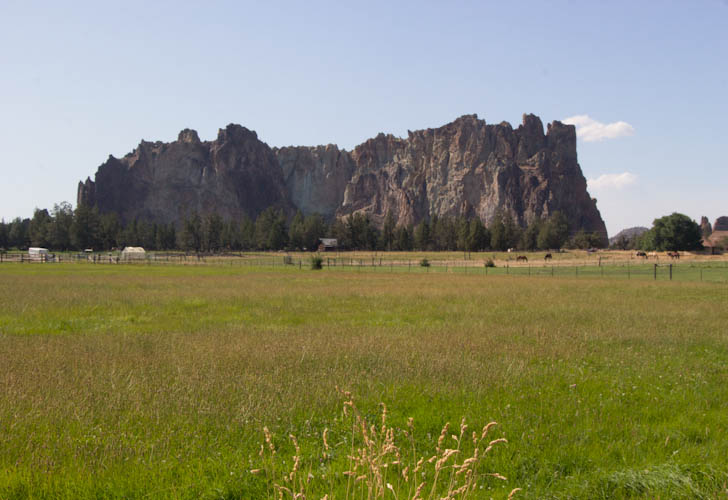 We hiked through an open field surrounded by beautiful rocks like these.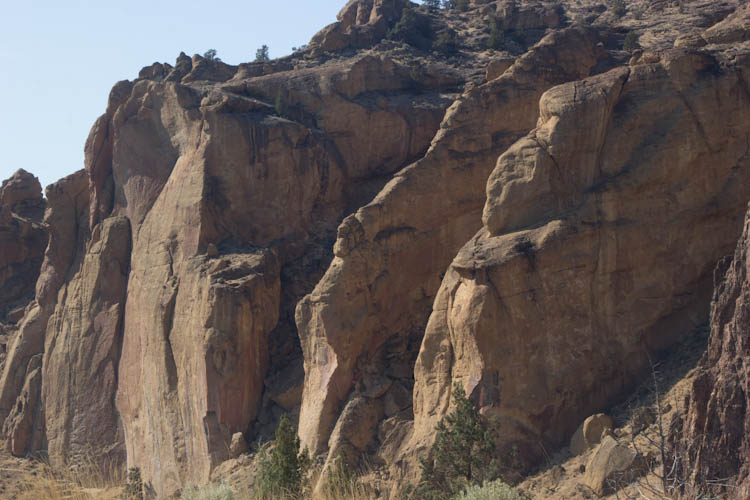 The steepness of the rocks here makes this park primarily a climbing destination.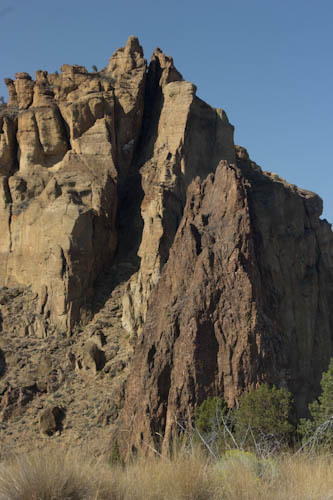 Another crown formation.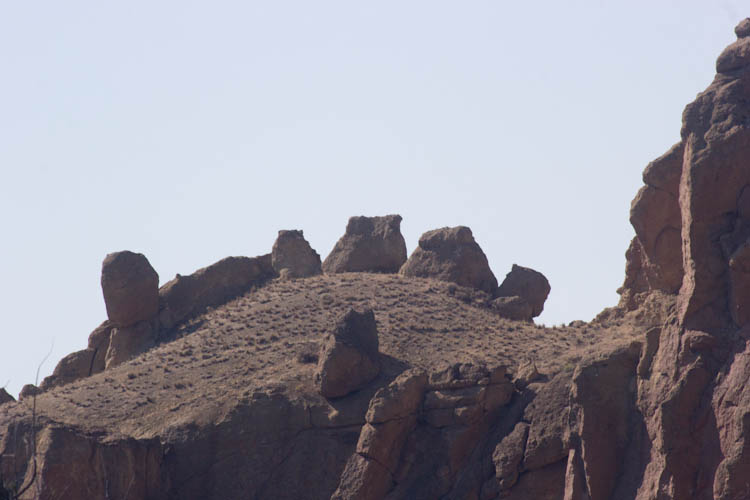 Eric took a close-in shot of a cleft in the rocks. Clearly this is not gneiss, but in some ways it reminded us of Joshua Tree National Park.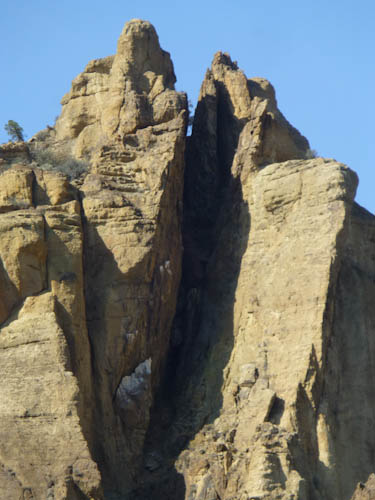 We found the cache at an overlook with views of the beautiful Crooked River.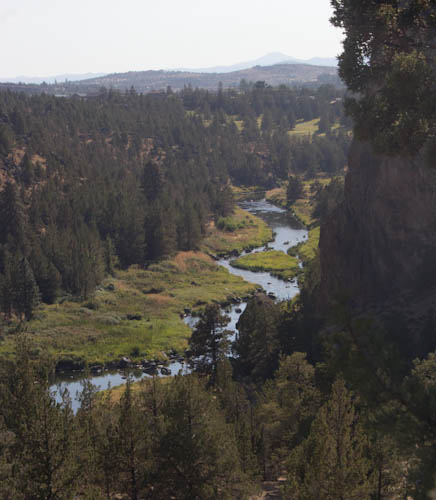 A ranger at Newberry had told us that the Newberry Volcano had thrown rocks as far as Smith Rock State Park, 70 km/40 mi north. Here they are.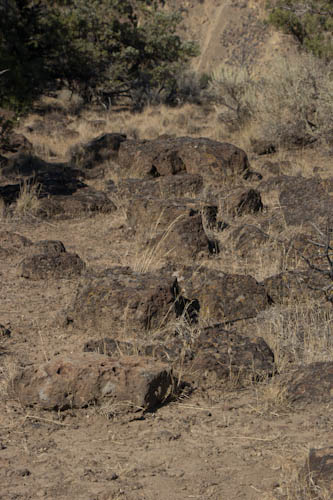 Just outside Smith Rock State Park was a small shop advertising huckleberry ice cream. Of course we could not resist this. The weather was very hot.
Since it was still the weekend and we had to expect competition for motel rooms, we had made a reservation for the night in Enterprise, close to the turnoff for our next destination, the Hat Point overlook of the Snake River in Hell's Canyon. Eric drove for hours north through obviously volcanic terrain.
We were lucky not to be heading west on OR 26, because yet another wildfire was burning there. Sydney's air conditioner protected us from the smoke.
Scary smoke plume. This is a terrible shot through the car window, but it shows the immensity of the plume.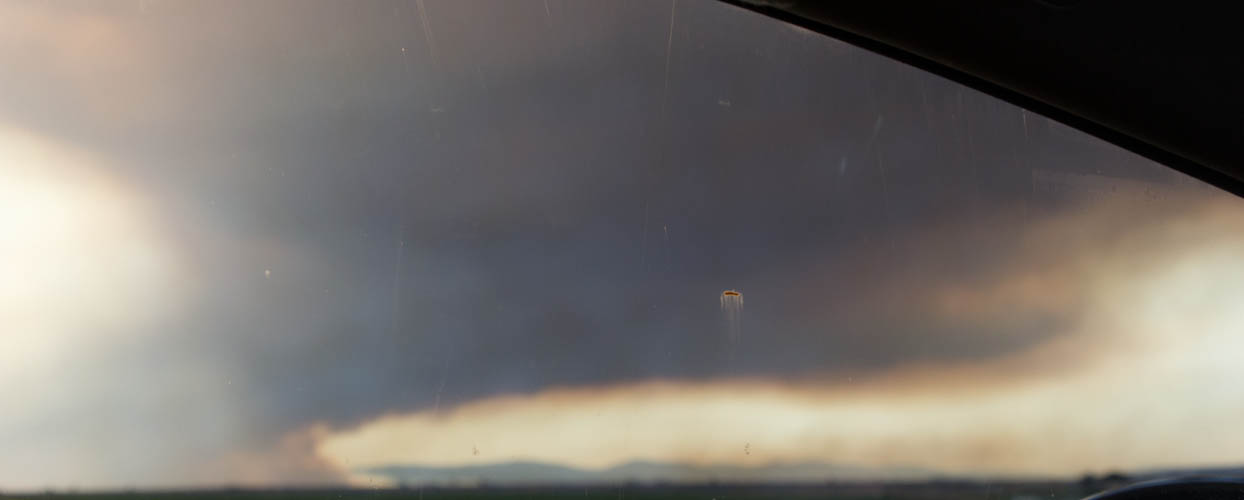 The sun to the west shrouded by the smoke. The light took on an eerie quality.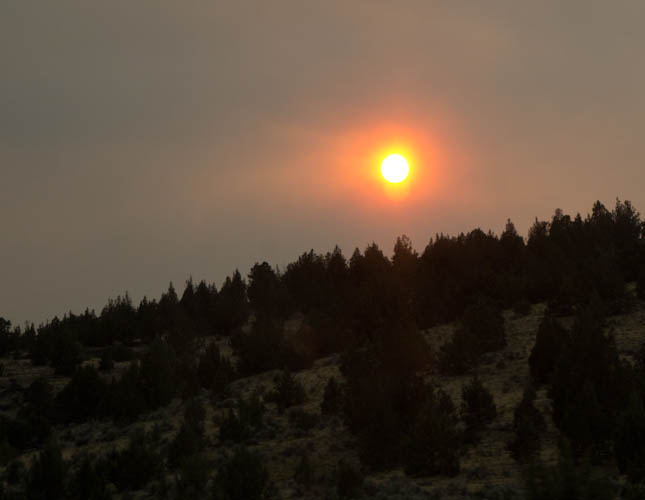 At last, we reached the Columbia River, separating Oregon from Washington, and turned east along the beautiful Columbia Gorge on I-84. I-84 was steeper and more windy than I had expected from an interstate. We went through a 1,250-m/4,100-ft pass in the Blue Mountains. I imagined the scenery around us must have been pretty.
Since were were, as usual, so far behind schedule, we had to have dinner, once again, at "our favorite restaurant" (measuring purely by frequency, rather than affinity), Subway. Pendleton has a 24-hour Subway, the first we've ever seen. We had been hearing reports of closures of I-84 due to wildfires, but the friendly "sandwich artist" told us that, while I-84 had been closed to the east the day before, it was now open. Eric had looked at Facebook and saw that another friend on the way to Sasquan had been diverted for more than an hour by a wildfire in Idaho. It seemed that this entire part of the country was on fire, and that we needed to be prepared to make major changes in plans at any moment.
It was about 21:00 when we got our dinner, and we still had more than two hours to travel to Enterprise. By the time we got to LaGrande, everything there looked so inviting and comfortable, I desperately wished we had not made a reservation in Enterprise. Less driving today would mean more driving tomorrow, but it was dark and late.
But the fun wasn't over. Just past LaGrande, as I was trying to figure out where to turn onto OR 82, the old dreaded flashing blue and red lights appeared in the rear-view mirror. An officer of the Oregon State Police introduced himself and, in a fashion oddly like a telephone customer service representative, informed us that our conversation was being recorded. Whether due to the recording or not, he was quite polite, as, of course, were we. He told me that the speed limit had just gone down from 40 mph to 30 and I had been doing 44--had I not seen the sign? No, I truthfully confessed, I hadn't, because I was trying to figure out where to turn onto 82. Clearly, I had fallen into a trap that had been intentionally set. The officer ran my driver's license, and saw that I had fortunately managed to keep my nose clean for the last several years. Perhaps because of that, or perhaps because I'm middle-aged and mostly white-ish, he let us go with just a warning about speed and particularly about animals crossing the road. He told us that 82 ran along a river, and that animals would often cross the road to get to the water, especially as weather conditions were so dry. We thanked him for the warning and went on our way.
Eric declared that he had had well and truly enough of being polite and deferential to men with guns, and that he really hoped we could break this pattern the next day!
OR 82 is the Hell's Canyon Scenic Byway. Occasionally, Sydney's headlights glanced off the river, and I imagined the scenery around us must have been pretty. I wished we hadn't made a reservation, so that we could have seen it in daylight.
We got to the Ponderosa Motel at nearly midnight. There was one parking spot left available. There were several antique cars in the lot--there must have been an event. It was too dark to photograph them, and of couse they were all gone by the time we got up the next morning.
The motel had comfortable rooms with wood furniture, and much better wi-fi than the Motel 6 in Bend. The walls were decorated with pretty pictures of waterfalls. I assumed the waterfalls were local, or at least Oregonian. But the more I examined one of the pictures, the more sure I became that it was Vernal Falls in Yosemite. When I compared pictures of Vernal Falls to the picture on the wall, it was clear that I had identified it correctly. Then I looked at the other picture with the idea that it might be a familiar falls, and it became obvious that it was a photo of the waterfall in the Grand Canyon of the Yellowstone. So much for local. But let's just say that I do know my waterfalls.
On to Hell's Canyon National Recreation Area.
---