---
Seattle, Portland, Albany
Saturday 29 August-Monday 31 August, 2015
View of Seattle skyline from
Gas Works Park
.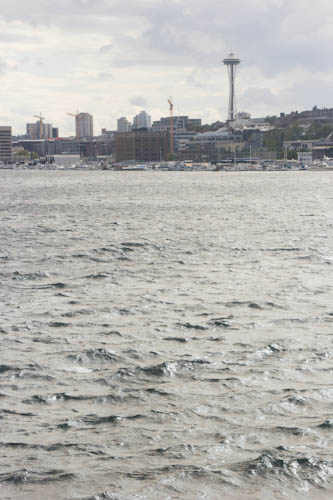 We couldn't make a Pacific Northwest visit without seeing our friends on the northern I-5 corridor. We would be on this interstate for most of our return journey--no more dirt roads. We awoke Saturday morning at the San Juan Motel in Anacortes to wild, wild winds. We had to ride the bikes about 1.6 km/1 mi to return them to the bike shop, and we fought the brutal winds the whole way. Sydney rocked from side to side in the wind even when parked. It was hard to open her doors. It wasn't quite like Icelandic wind, but it was some of the worst wind we've ever seen.
We had one last adventure planned, a diving excursion at Edmonds Underwater Park. I hadn't been able to bear the thought of returning to the Puget Sound without taking the opportunity to see it from inside the actual Sound, in the incredible beauty of the water. It's not at all like the shady kelp forest of the Monterey Bay; it's full of light even in December, and has a much greater density of life. Most exciting is the opportunity to see a Pacific Giant Octopus, just a marvelous and fascinating species. I wanted to do this badly enough to pack our heavy wetsuits, taking up nearly half the trunk, just for 30 minutes or so in that amazing environment. We had been led to expect rain, which hardly matters when you're getting wet, anyway. But when I saw the wind, I began to fear that we were not through missing out on adventures because of inclement weather. Of course, I was right. While we were driving from Anacortes to meet friends for lunch in Seattle, the dive shop called to say that they were canceling our trip.
In Seattle, we saw significant wind damage. My goodness!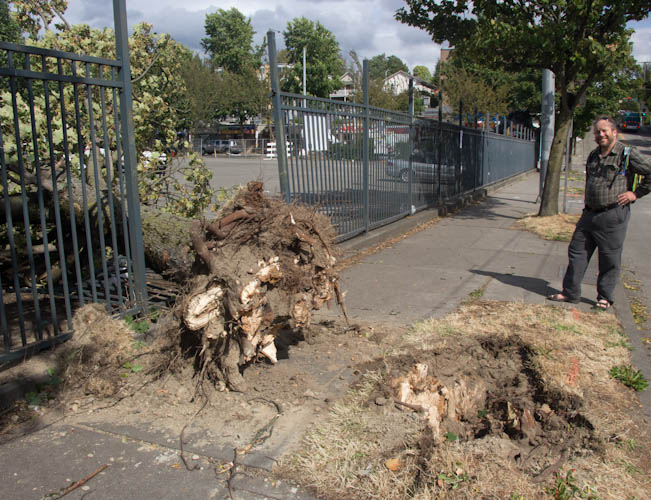 We had a lovely little lunch of butter chicken with our friends Maria and Mimi. It was like a continuation of Sasquan, as we had great conversations about science fiction books. Maria pointed out the neo-Platonism of Anathem, and I was quite impressed, because I hadn't thought about it quite that way before. But, yes, it all fit. We had a very enjoyable time.
We would be spending the night at Grant's home in Portland. We had thought we would arrive too late for dinner, and had planned on having breakfast with him and his girlfriend, Carli, in the morning. But with the extra time we would have not diving, we decided to meet them for dinner in Portland. We couldn't leave Seattle without seeing a few sights, though (and, of course, finding a geocache).
I posed for Eric in front of the iconic view of the Seattle skyline from Gas Works Park, my hair flying in the wild wind.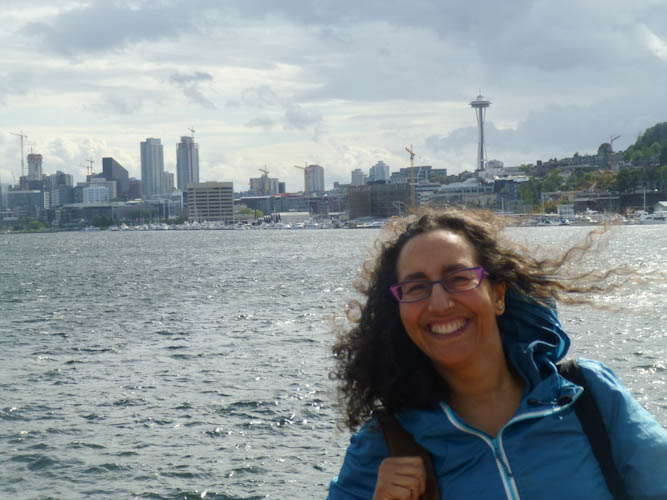 Eric took a picture showing the large equipment at Gas Works, with the Space Needle in the background.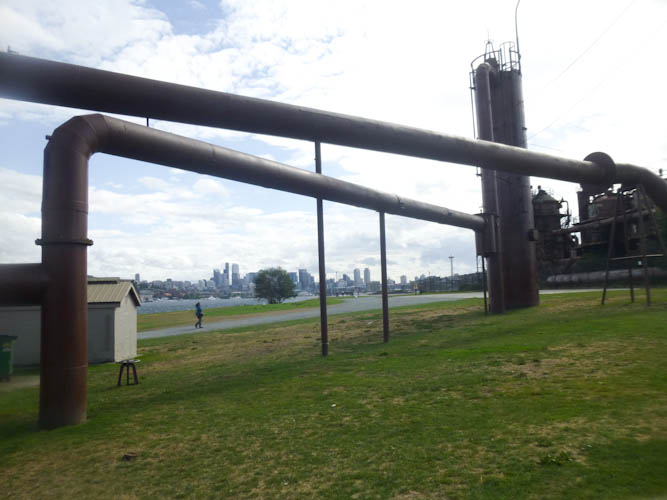 Kayaks at Gas Works.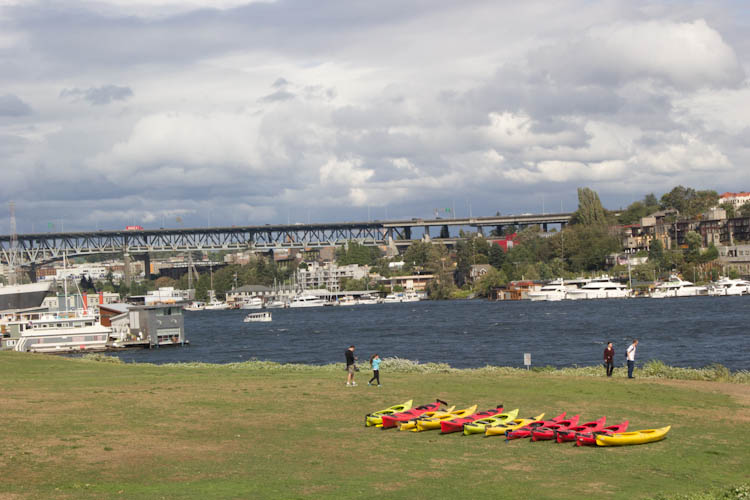 And, of course, the Fremont Troll.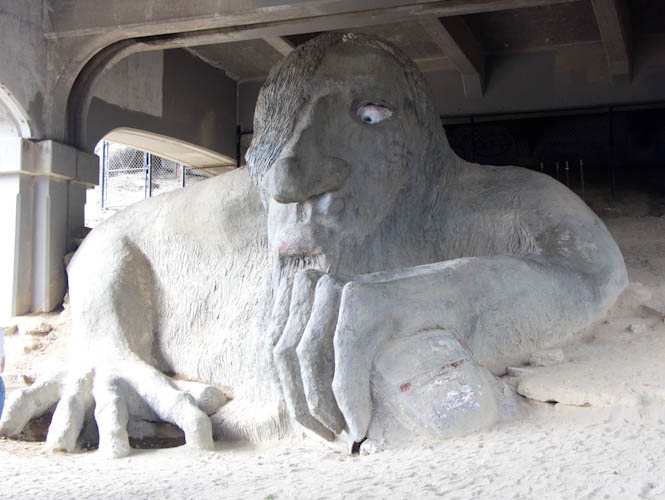 Eric took the Troll's picture from the side.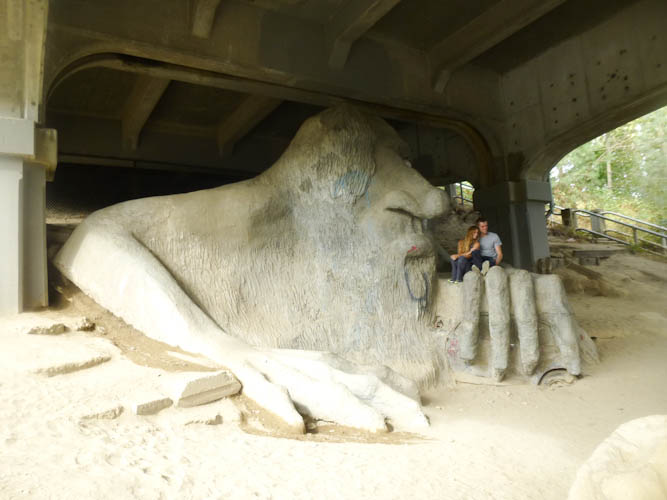 The Troll's face.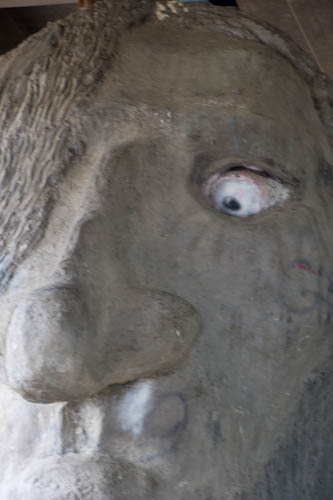 Eric took my picture examining the Troll's enormous fingers. He's so big, he's holding a Volkswagen Bug.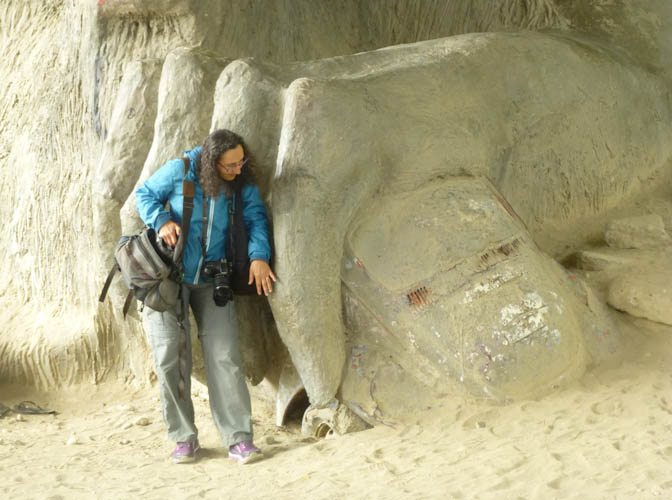 We also made a quick stop at Dilettante Chocolates for a treat. Seattle is a fun city, and we had a great little visit, even though it wasn't as adventurous as planned.
On to Portland! We met Grant and Carli at the funky Roxy in Southwest for dinner. Eric noted that, other than traveling in and out of California, we had visited four states on this trip (Oregon, Washington, Idaho, and Montana), and that we had now seen Grant in each one.
Some graffiti-ist in the Roxy bathroom wanted us to feel at home. Photo by Eric.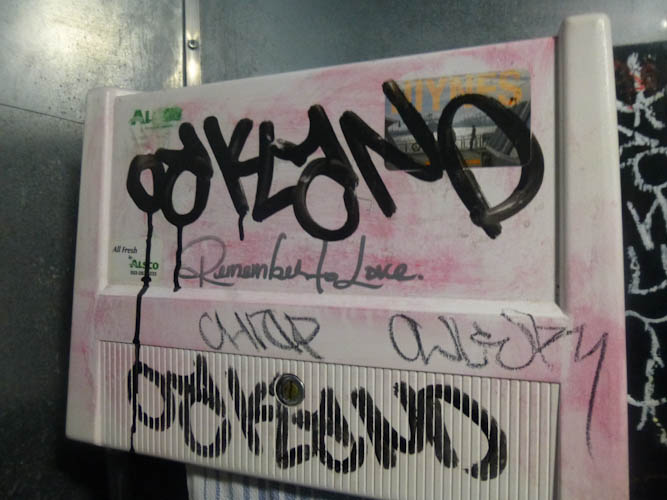 We liked the Roxy so much that we met Mike there for breakfast on Sunday morning. The biscuits were particularly good.
A visit to Powell's would have been fabulous, but Miranda and Charlie were hosting a gaming gathering for us. Jake would unfortunately be unable to join us, as he was further east in Oregon literally fighting the fires. That was clearly more important than seeing us. But it was great to see the Princes and Torsten and Tony. Lars also stopped in briefly for an exciting show-and-tell.
Lars gave us a small light. He developed this design and has been printing the lights on his 3-D printer.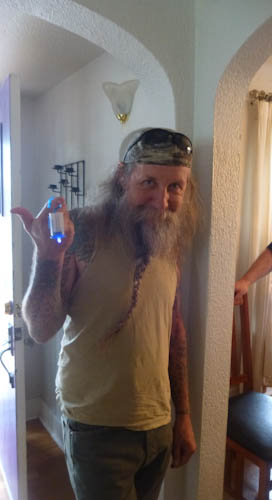 What Lars really wanted to show us all, though, was the latest development in Mark's legacy. He told us that Mark had once pulled a piece of Bach's music off of Lars' shelf and asked him to play it on the recorder. Lars told Mark that he didn't know the piece. Mark said, "Well, learn it!"
So, almost three years after we lost Mark, he's still exerting influence over us. Eric and I are still doing geology tours, and Lars learned the Bach piece. He played it for us on his electronic recorder. The instrument is basically a MIDI controller that responds to breath pressure. Thus, it can be a flute, an oboe, a saxophone, whichever you'd like. Lars made the mouthpiece himself.
Eric photographed Lars entertaining us with various pieces of baroque music.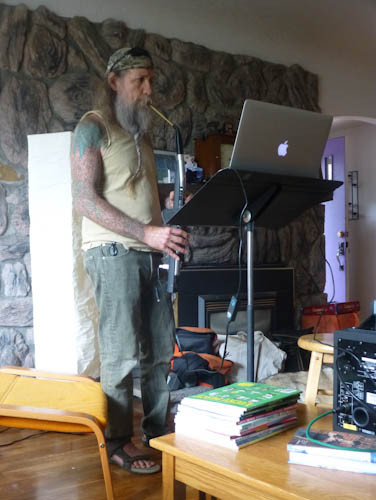 We talked about the nature of music. While much of music is culturally dependent, Lars explained that Indians discovered that human beings tended to respond to scales divided into twelve divisions, as in what we call the chromatic scale. During the baroque period, Lars told us, the twelve divisions to which harpsichords and other instruments were tuned were not equal. Modern instrument makers have divided the scale into twelve equal divisions, so the music sounds a bit different. He played us examples of the same music, first using the modern tuning, and then using the baroque tuning, to demonstrate the differences. He said that, because of this, we can play baroque music on modern instruments, while, "I can't open a Word document from 1990."
Charlie, the master photographer, aiming his lens at Lars.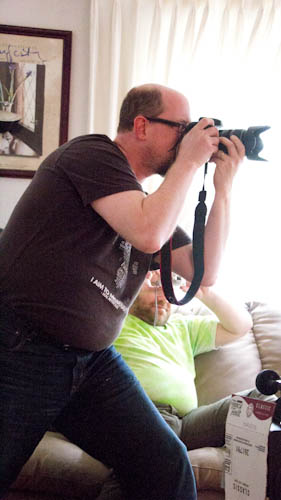 Eric videographing Lars' performance with the assistance of one of Charlie and Miranda's corgis, Boleyn.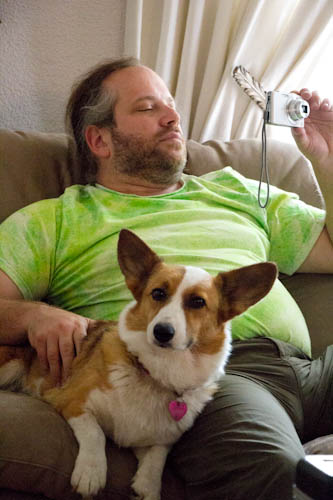 Torsten in front of the fireplace entertaining Temperance, Zeus, Boleyn, and Jack.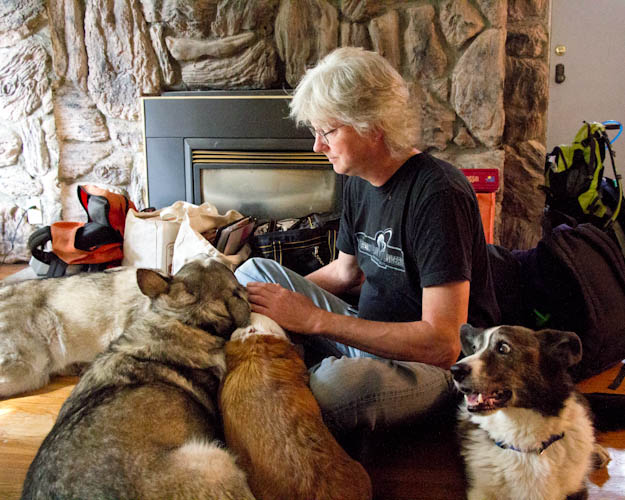 Lars also took people for a ride in his nifty new Tesla. He made everyone promise not to laugh with delight on acceleration, but Eric was the only one who barely managed it.
It was a fun gathering, and it was great to get so many of Mark's old friends together again. But, at last, it was time to head back to work and our regular life in California. As we packed up Sydney in the morning on a beautiful sunny day, I wished we could drive out to the Columbia Gorge to take pictures of more waterfalls.
Mt. Shasta on the way home. Photo by Eric while I was driving.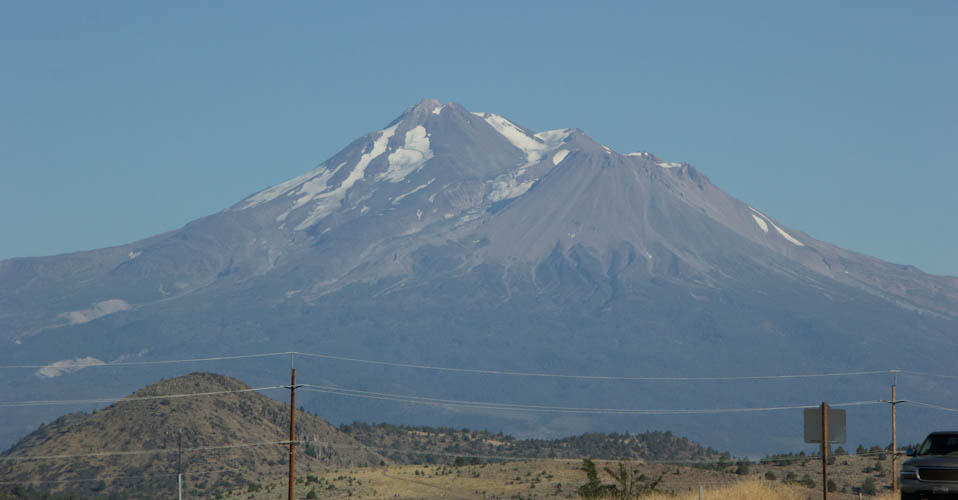 ---