---
Redwoods and Lighthouse Redux
Saturday 4 July, 2015
Eric sent me out to see the beauty of the lighthouse in the early morning light.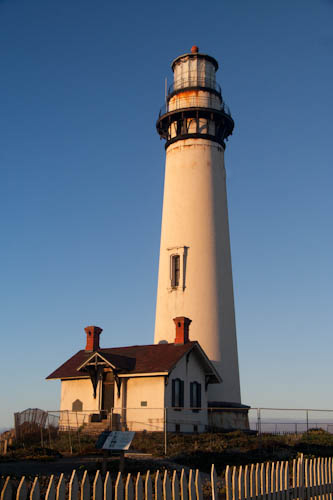 We did manage to get up at 5:00, but had to be very quiet, as quiet hours were from 23:00-7:30. Dragging along an object the size of a sleeping bag had been a waste--since I went to bed first, I shut the windows, no one reopened them and I was warm and slept well. Eric found a nickel (¨Ocean in view! O the joy!¨) under his bed and got a goodbye fist bump from a groggy Richard.
Eric took a detail shot of the top of the lighthouse..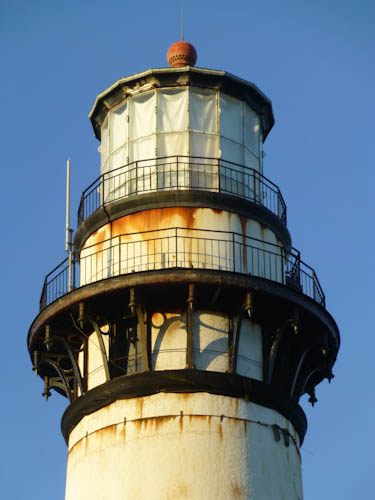 Pescadero and San Gregorio--The Flat Part
We set out at 6:45 along a short and, again, thankfully well-shouldered stretch of CA 1, and turned onto Bean Hollow Road.

The early-morning light made for perfect photographic conditions.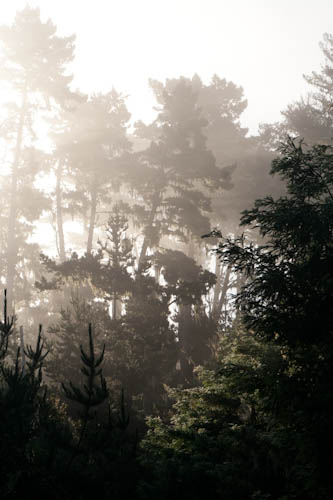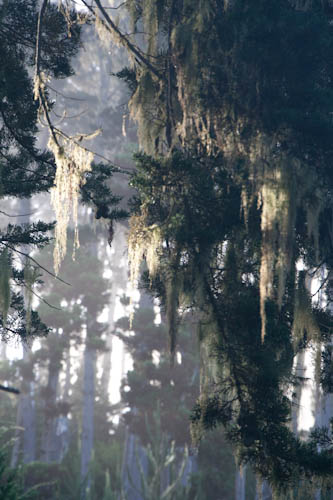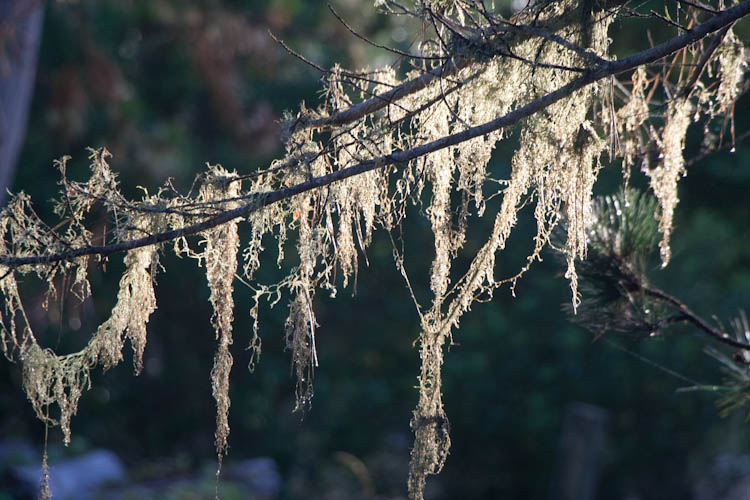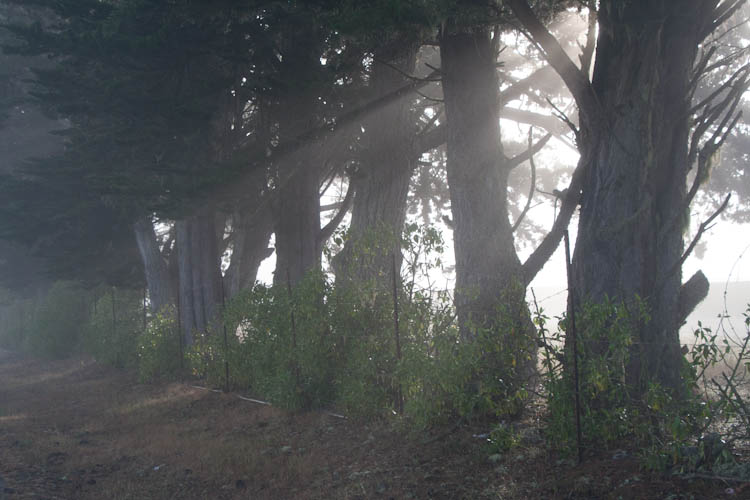 Sun rising over the pretentiously-named Lake Lucerne.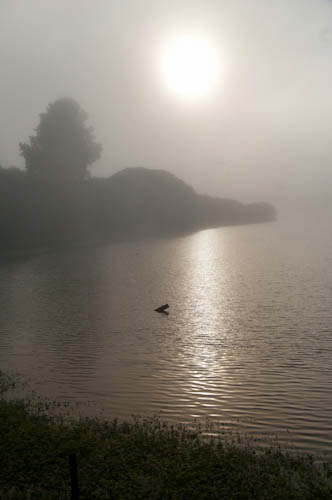 Eric took my picture riding past the little lagoon. We found a geocache on this bridge.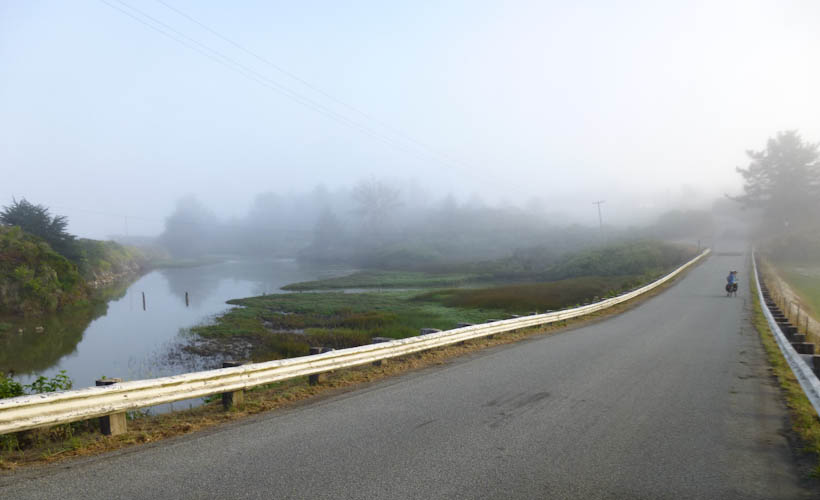 The road was so quiet.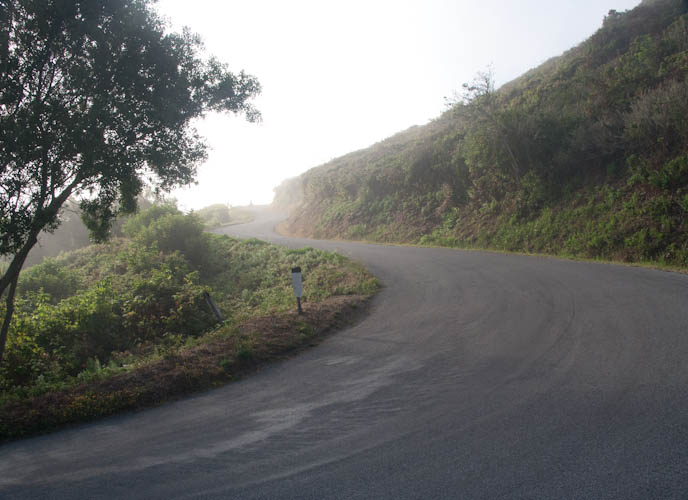 It was still fairly early when we reached the bustling metropolis of Pescadero, but Duarte's was open for breakfast. We had had a vague plan of meeting friends there for breakfast, but it was probably all for the best in the end that we didn't manage to work that out.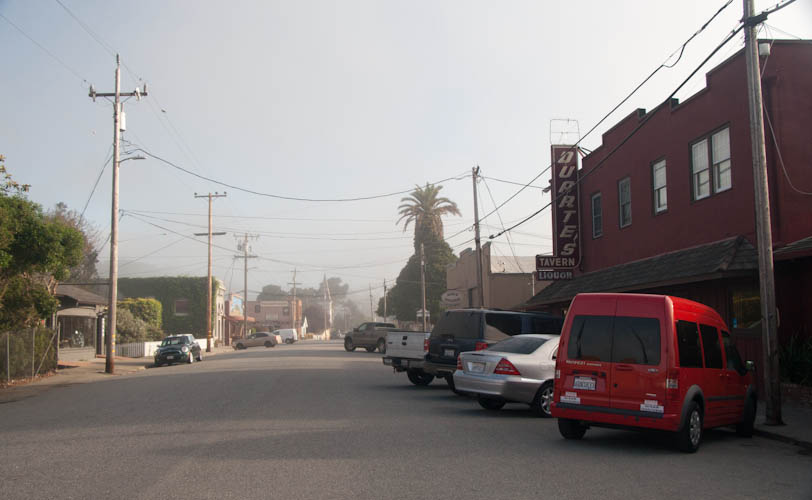 We rode through a beautiful eucalyptus grove.
Eric photographed the long and winding road. Still no cars, but we heard a howling barn cat in heat.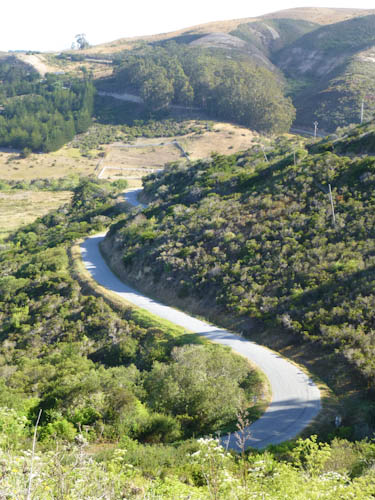 We saw some other cyclists in American flag jerseys. It was the Fourth of July! I wished I had a celebratory American flag jersey to wear. I think it would have received a friendlier reception from the few motorists who did pass us.
There is a geocache at the site of this barn, and it claims the barn had been owned by Steve Jobs and Steve Wozniak and used as a "computer test facility."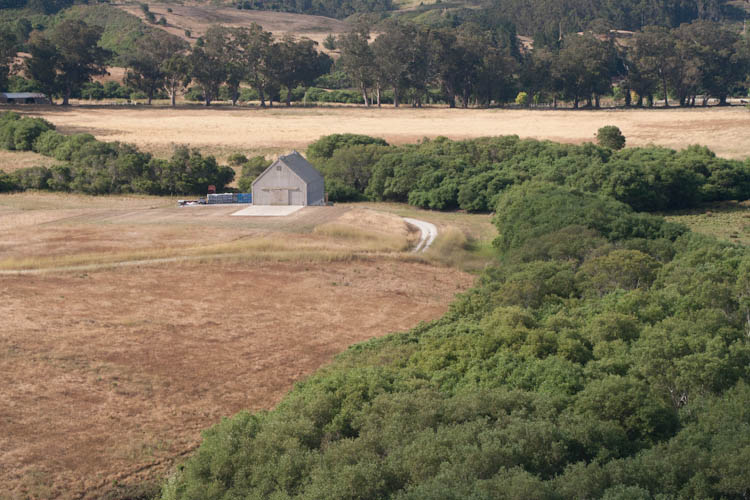 Eric spotted this California Quail.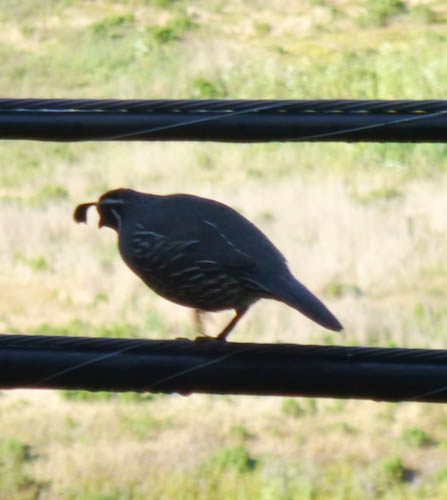 I caught the tail end of a bunny.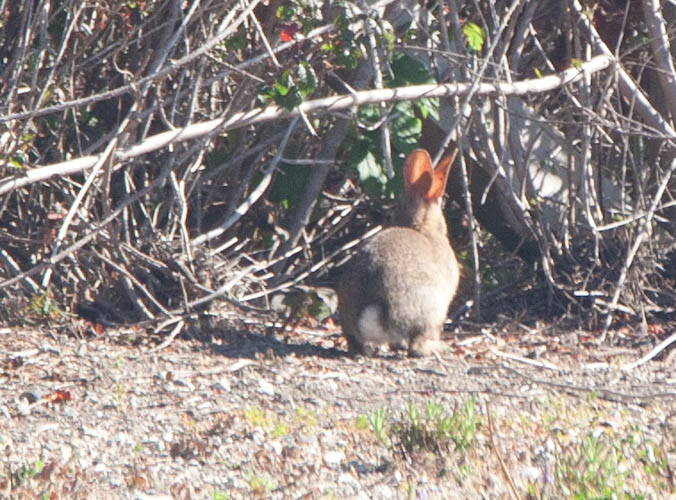 We climbed up high enough to see the ocean again.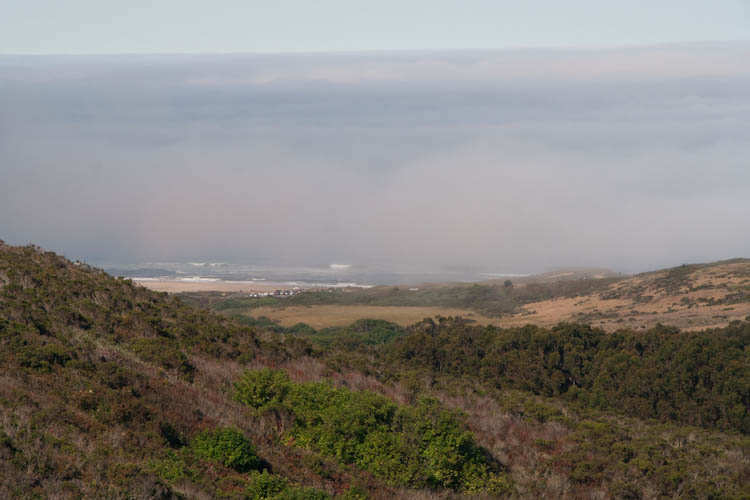 Between the hill climbing and my irritation with his flashing rear light, I found myself riding without Eric quite a bit.
Soon, we reached the even more bustling metropolis of San Gregorio.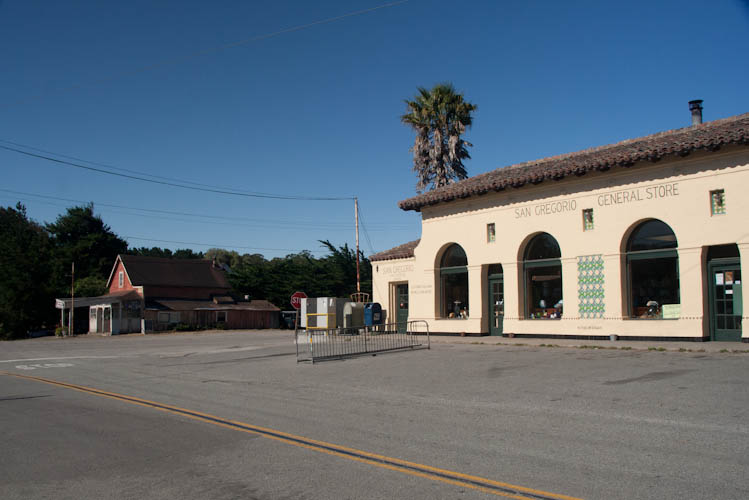 Closed for the holiday!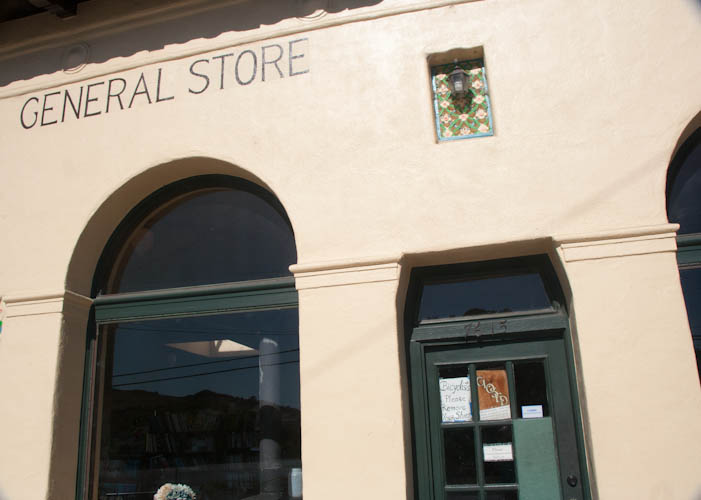 No sandwiches for lunch! We would have to eat nothing but what we call energy gummies (Cliff Blocks) and energy ketchups (Cliff Shots), and some yummy chocolate hazelnut biscotti I had made, for quite some time. Nothing but sugar! We had also intended to refill our water containers in San Gregorio, as we knew of no other water sources for quite some distance. I was quite concerned. I was also perturbed by the fact that some idiot had hung dead fish out to dry on a fence across the street from the store. Yeech. Some of them had been picked at by other neighborhood critters, leaving only the heads left. Obviously this preservation method was not particularly effective.
Eric took a picture of the development in San Gregorio.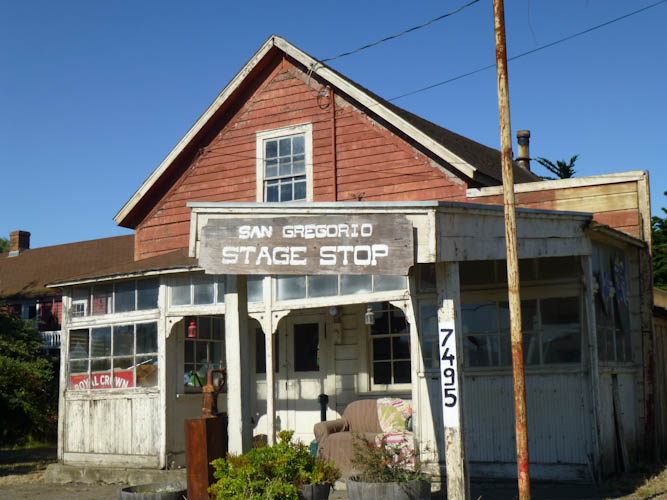 This is where we picked up CA 84, the road that eventually goes over the Dumbarton Bridge. We had been quite concerned about traffic, but, while there actually was some, there were as many cyclists as cars on the road.
Eric photographed art for sale by the roadside.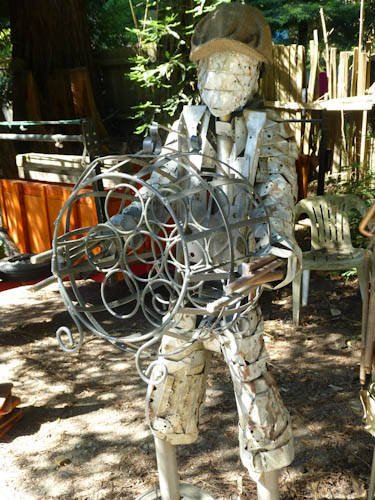 We were disturbed by the all-too-frequent presence of roadkill. Let's just say that, in your car, you can't smell it.
The Climb
We began the Herculean climb up Alpine Road.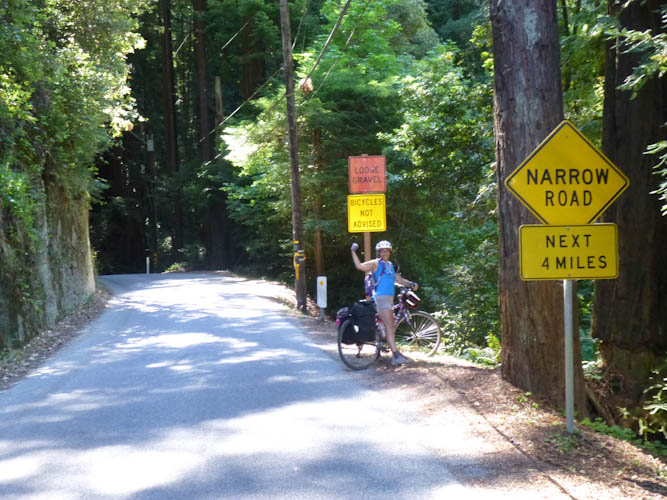 Although the signs warned against cycling, we saw very few cars, but lots of other bicyclists. Eric asked two of them about sources of water. To our immense relief, they told us that, shortly after we turned onto CA 35, we would find a fire station with a lovely water pump. Without this knowledge, we might have gone 16 km (10 mi) out of our way to Portola Redwoods State Park just for water.
Alpine Road ran along Alpine Creek.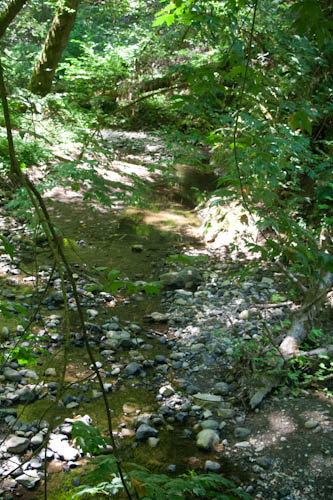 We climbed steeply on Alpine Road, exposed to the sun, through this meadow. I'd been hoping for a climb that was more at the level of difficulty of Tunnel; it ended up being noticeably worse, somewhere in between Claremont and Centennial.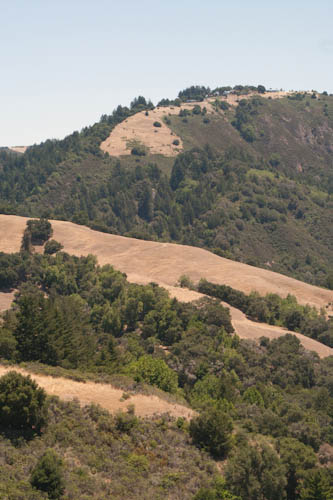 We continued climbing, slightly less steeply, on CA 35 (Skyline Boulevard). On the plus side, though, while our overblown imaginations had envisioned the sort of traffic that you see on 35 between 92 and 84, this was nothing like that. There were a few cars here and there. We kept looking out for that promised fire station! When it did not materialize after the promised 3 km (2 mi), Eric flagged down some friendly park rangers who were driving by. They gave us two bottles of water and promised we were close to the holy grail of the fire station.
After what seemed like an eternity, we reached the fire station! (Photo by Eric.)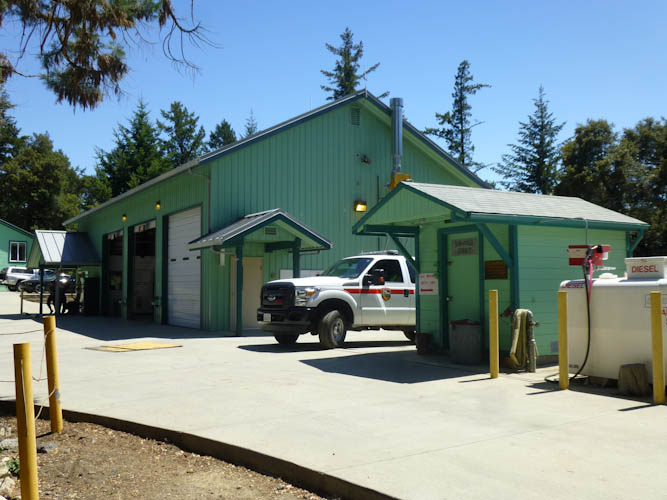 The fire station had a little shaded picnic area with a table and a water pump. They also had a bathroom that they let us use. It was glorious. We thanked them profusely for everything.
We met another cyclist here, who suggested taking CA 9 rather than CA 35 back. Although 9 would have considerably more traffic, it would be somewhat less steep and better paved.
Continuing to climb to up to the Saratoga Gap, we passed this frightening sign. (Photo by Eric.).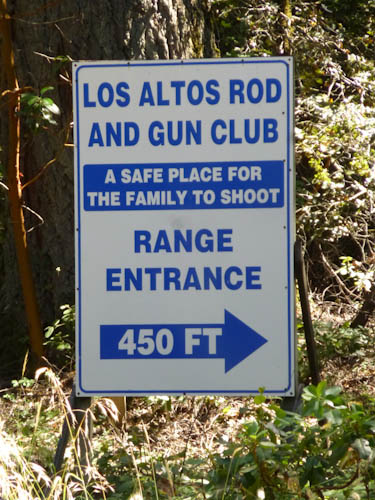 At last, around 16:00, after over nine hours of cycling, we reached the summit! Eric took a picture of the expansive view. It's hard to tell in the photo, but we could see all the way to Monterey.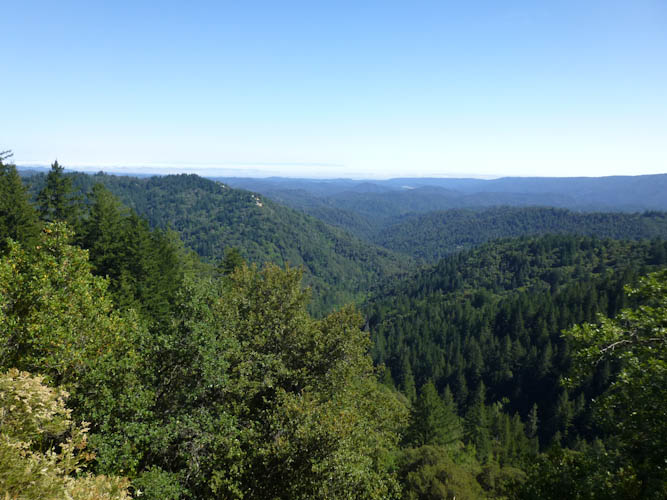 We found a geocache here. Since I can't eat much while climbing, this was where we were supposed to have those sandwiches we were supposed to have purchased in San Gregorio. Disappointingly, the best we had been able to do was acquire a couple of small bags of chips from Mr. Mustard, a hot dog cart we reached soon after the fire station. But we had only about four hours of daylight left, and 30 km (20 mi) more to cover. While the elevation profile indicated that it was almost all downhill, there were still a couple of short climbs, and I was anxious to get moving. But we decided we had enough time to avoid taking the more crowded CA 9, and we texted Larry that we would be back at his house by 19:30.
The Descent
The less steep part of the descent was on CA 35 (Skyline Boulevard). It was nothing like what we had expected; there were hardly any cars at all.

The steepest part of the descent was on Upper Zyante Road. Eric took my picture at the top..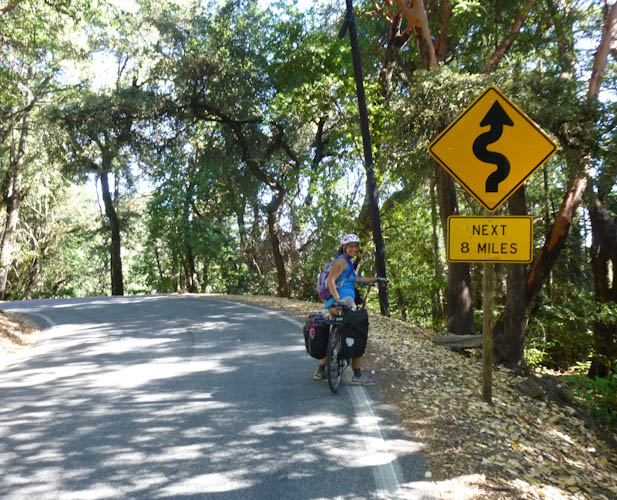 This was the last time I would see Eric for quite a while. I stopped at one point to cool my rims, and was surprised that he did not catch up with me, as he is usually faster. I assumed he was trying to keep me ahead of him as I was bothered by his flashing rear light. As I made the decision to move on, I was passed by a friendly old couple in a white Camry. I think that was the only car I saw on this lonely road.
After something like 20 minutes, I was becoming quite concerned about what might have happened to Eric. There was, of course, no cell phone reception out there in the middle of nowhere. I came to the last incline we would have to climb that day, and started up, hoping that it would slow me down enough that Eric would catch up.
I reached the top of the incline and came to a crossroads. Here, I sat down by the side of the road and determined that I would wait for Eric for 15 minutes. If he did not show up in that time, I would ride on toward town until I was able to get a cell phone signal, then call Larry and ask him to come rescue us with a car. That would have represented a considerable failure, but I didn't have any better ideas. I desperately hoped that a car would come up the road so that I could ask the driver whether Eric had been seen, but I only saw one car, and it was going in the opposite direction. I tried to tell myself that Eric was just being a jerk, stopping to pet someone's dog or getting into a conversation and ignoring me. If he were in some kind of real trouble, I told myself, the friendly old couple in the white Camry would have stopped to help him.
Eric apparently started out OK, taking a picture of the emptiness of the road and the redwoods around us.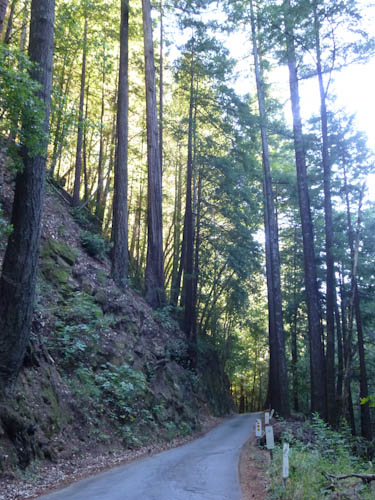 But remember how he'd been having brake problems on our training ride? Problems that we supposed to have been repaired during our pre-trip tune-up? They weren't. On the steep descent, he was unable to brake effectively. At one point, he got going too fast, and was forced into doing what Larry euphemistically describes as "getting off the bike." He was fortunately not badly injured in the getoff, but he was scraped, and of course, he had to take the time to stop and clean his wounds. After that, it was impossible for him to catch up with me, especially as he had to proceed downhill as slowly as possible, dragging a foot to keep from overaccelerating. I wish I had waited longer for him the first time I stopped. He said that I should have waited for him when I hadn't seen him for five minutes, and that he was very glad I had not proceeded into town and called Larry, because that would have been a miserably disappointing failure.
We still had about 13 km (8 mi) to go, some of it still steeply downhill. We proceeded, staying carefully together. Eric had to get off the bike (the regular way) and walk down the steepest parts while I waited. Given the circumstances, we were quite thankful we were not executing this procedure on CA 9 in a lot of traffic.
He took a couple of pictures of some cute things by the side of the road..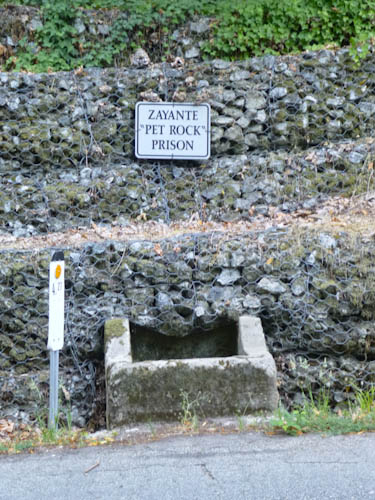 South America on a huge plastic globe.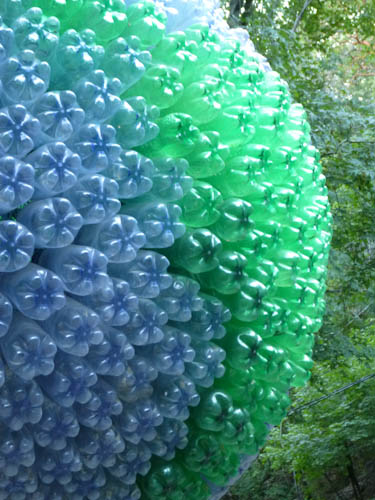 Eventually, we came close enough to civilization that we could text Larry and explain what was going on, as it was already after 19:30.
We proceeded down into Felton, slowly and painstakingly, with Eric either walking the bike or dragging his right foot. Instead of feeling triumphant as we should have, we felt frustrated with the bike shop and the situation. (The bike shop later told Eric that the bike had come with cheap calipers, and upgraded them at a discount.)
It cheered us up a little when Larry came out to meet us and take a few pictures along the last stretch of our route. (Photo by Larry Colen.)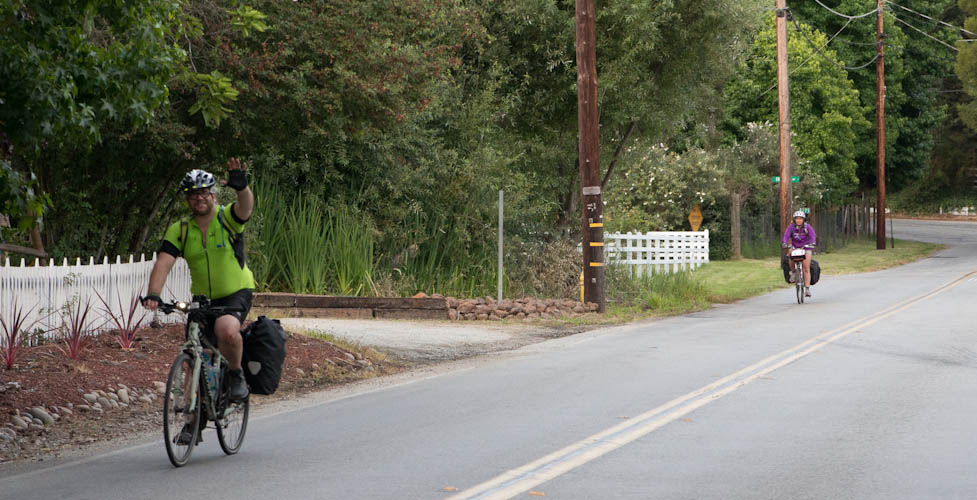 We managed smiles and waves. (Photo by Larry Colen.)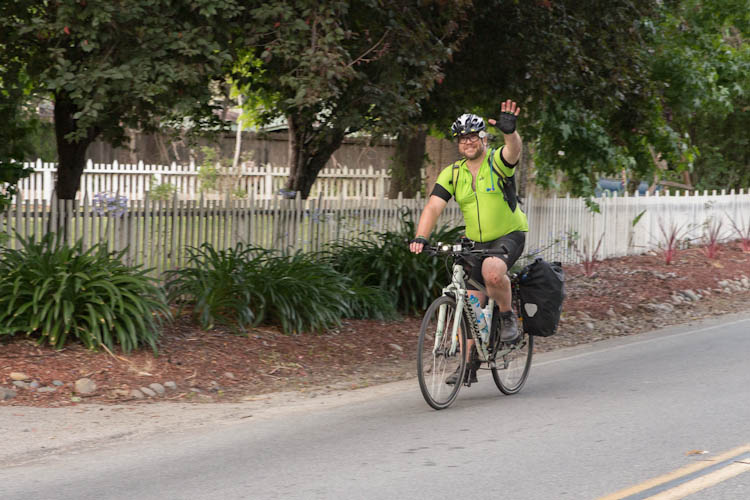 Photo by Larry Colen.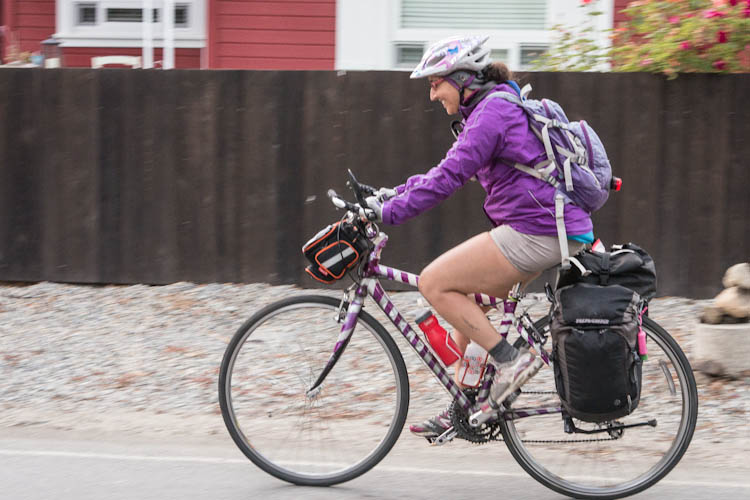 We arrived in Larry's driveway, with Eric crashing into me because of his failing brakes, at 20:15, 13:30 and 142.27 km (88 mi) after we had set out. Eric took a picture of our statistics for the day on his GPS.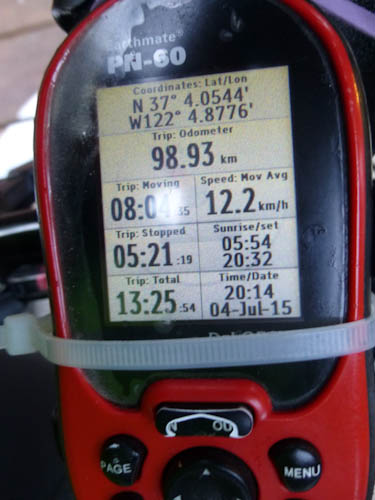 Here is the GPS elevation data for the day: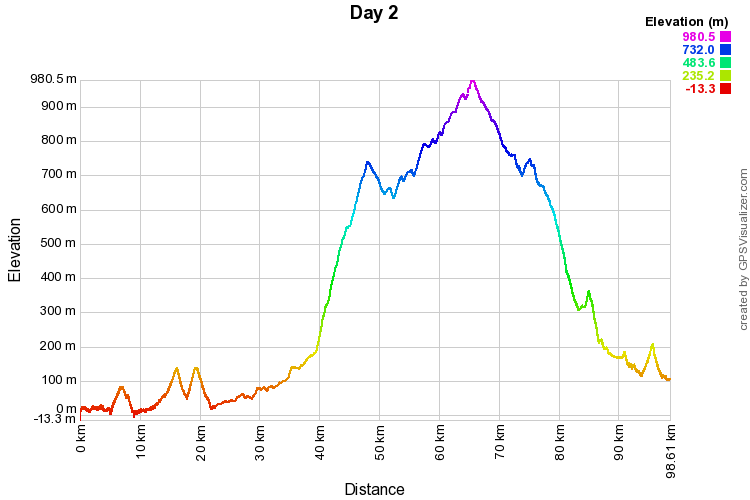 Eric also took a picture of the uneven wear on his shoes.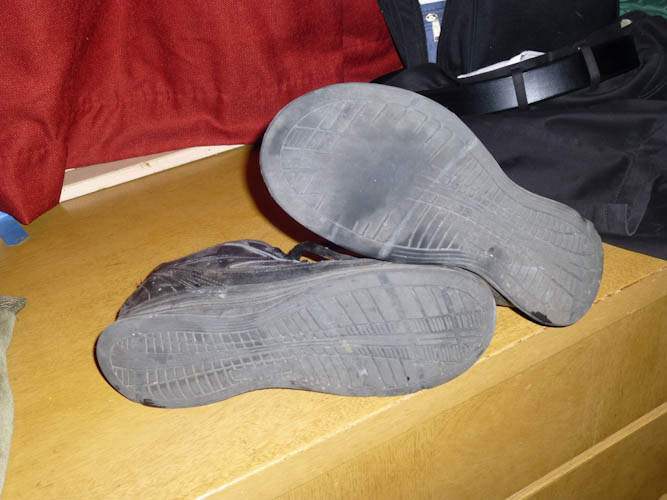 We had a nice dinner with Larry and went to bed, sleeping very late the next day.
Although things did not go as planned, we did complete the whole trip, and made it back before full dark. The route through the redwoods was incredibly beautiful, and the absence of traffic should have made for idyllic conditions. I think we need a second chance next year so maybe we can get this right.
---