---
Everglades National Park
Day 2--Wednesday 22 March, 2018
Alligator. Photo by Eric.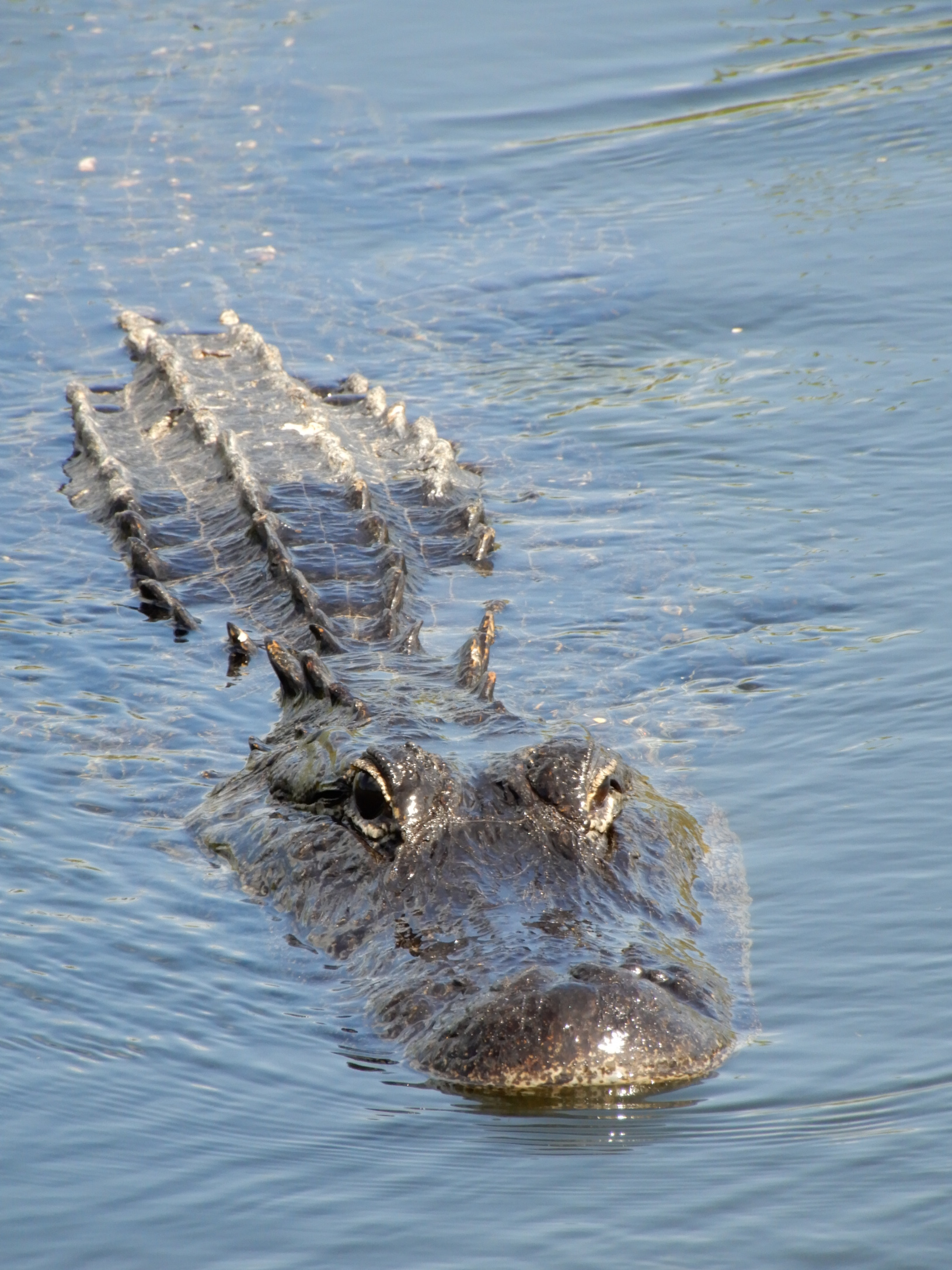 On our second day in the Everglades, we explored the Royal Palm area, in the freshwater area of the park. Then, we made our way down to Flamingo, back in the salt water area. The wildlife sightings there were well worth the long drive!
Royal Palm
Eric found a memorial to Stephen Mather, first director of the US National Park Service, for whom we named our Crosstrek.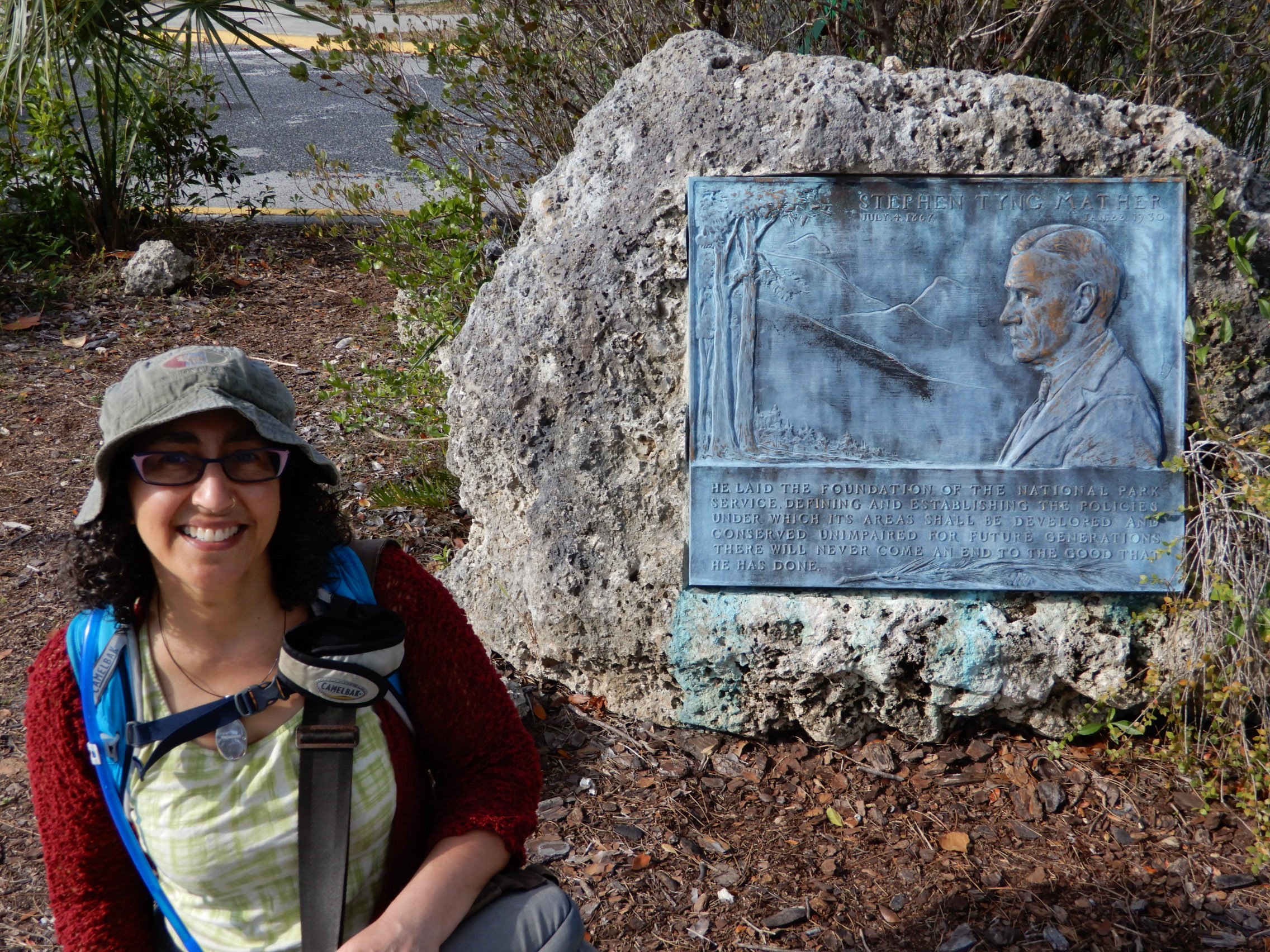 We walked the Anhinga Trail with Ranger Denise, who pointed out the wildlife for us.
The first animal we saw, right in front of the Visitor Center, was an alligator. Photo by Eric.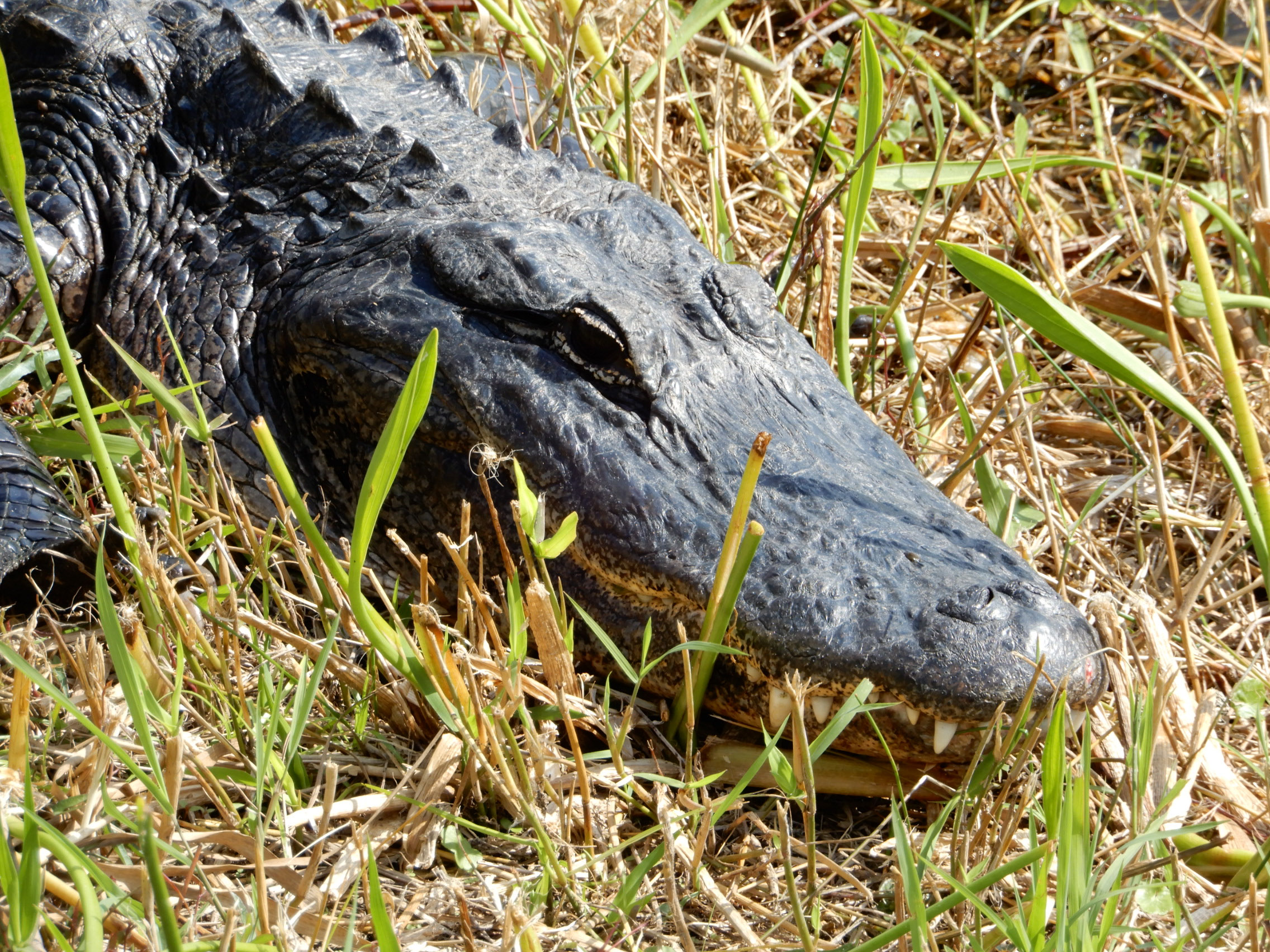 The alligator was very close to the barrier, but Ranger Denise wasn't worried about it. Alligators use vibrations in the water to find their prey and are generally not aggressive outside of water. Also, they are most active late in the day.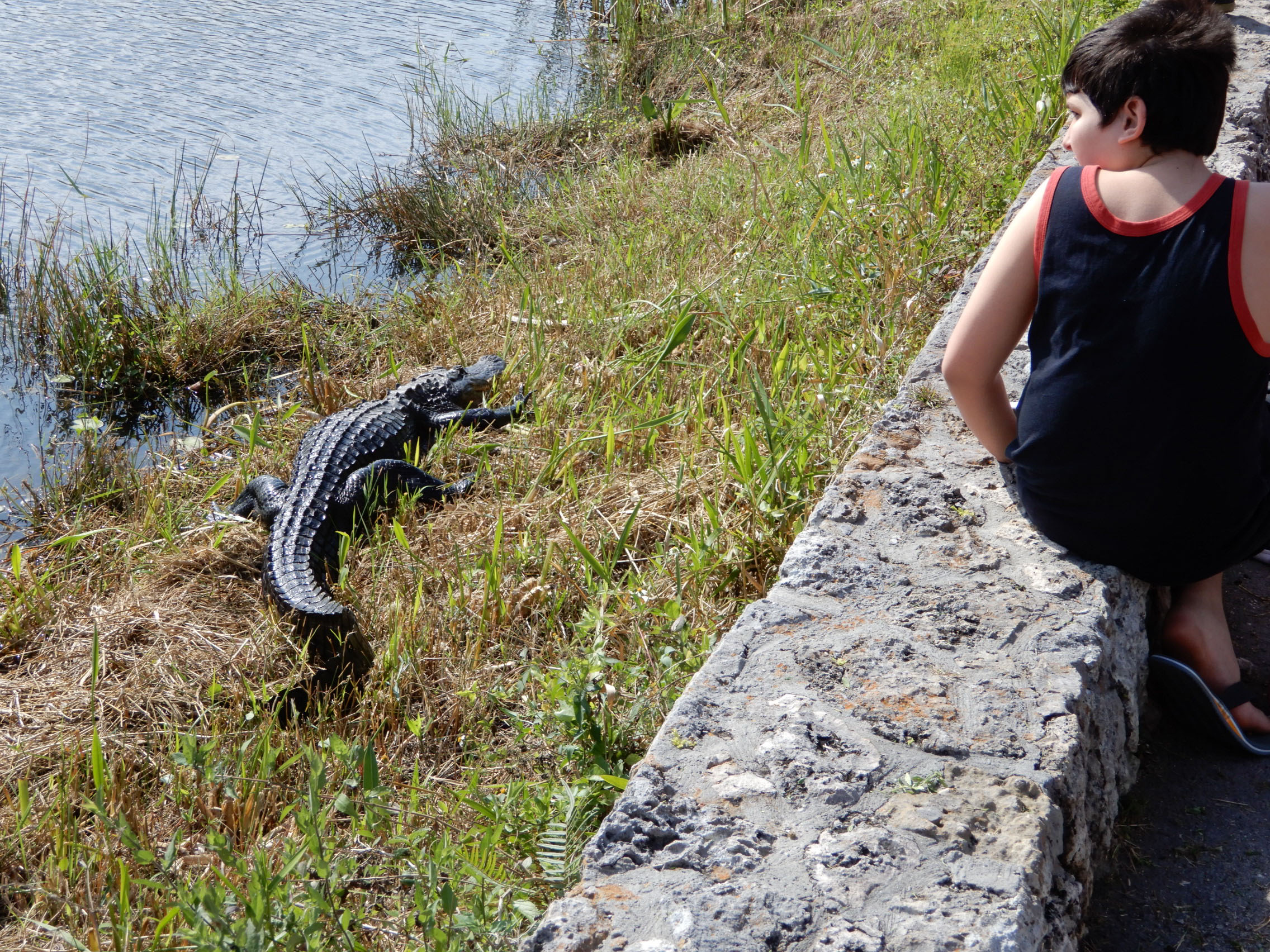 The alligator did open its mouth and display its teeth for Eric to photograph.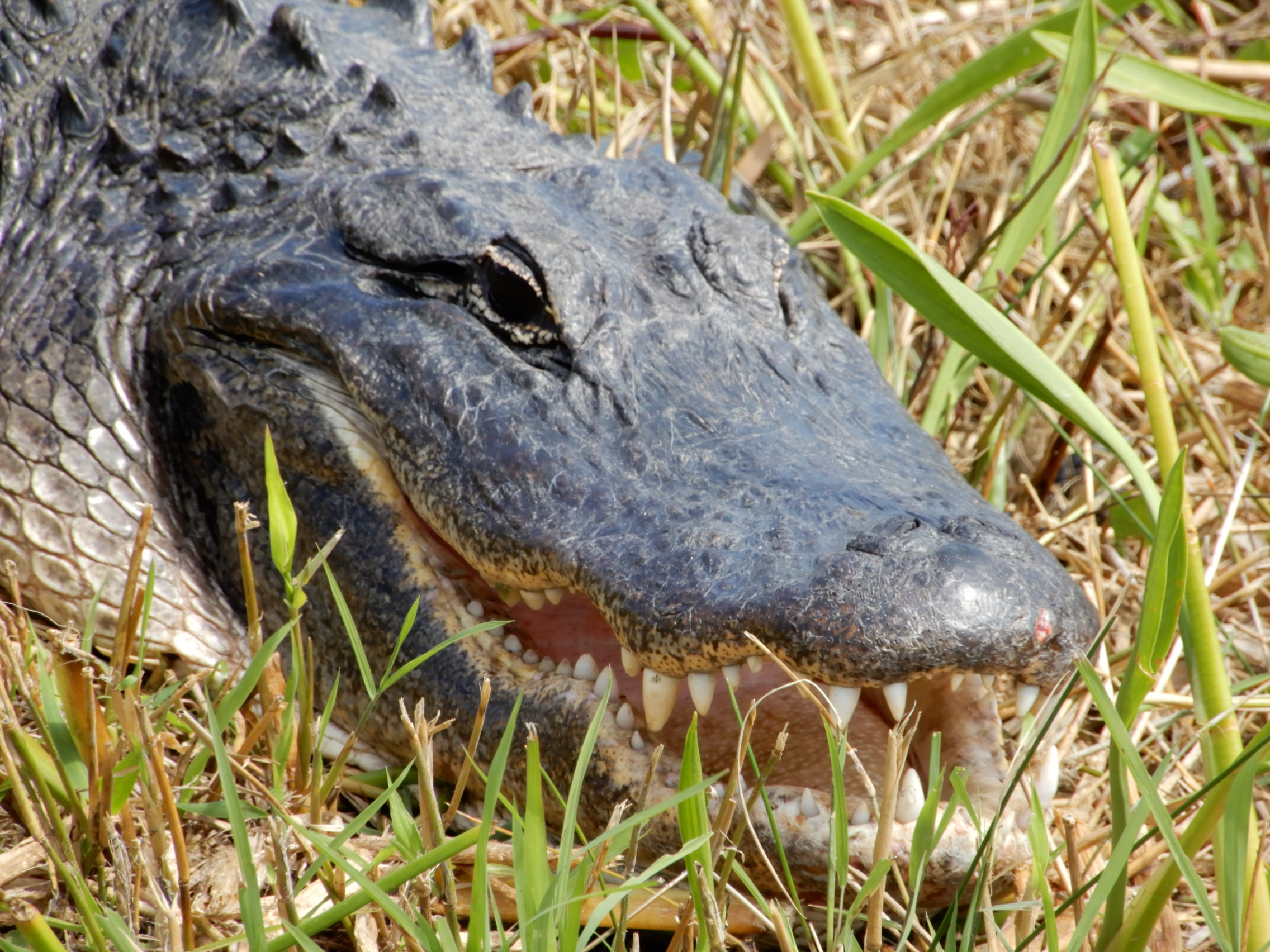 Ranger Denise showed us an alligator skull. You can see that the holes at the end of the nose are not nostrils; they are places for the alligator's large teeth to go.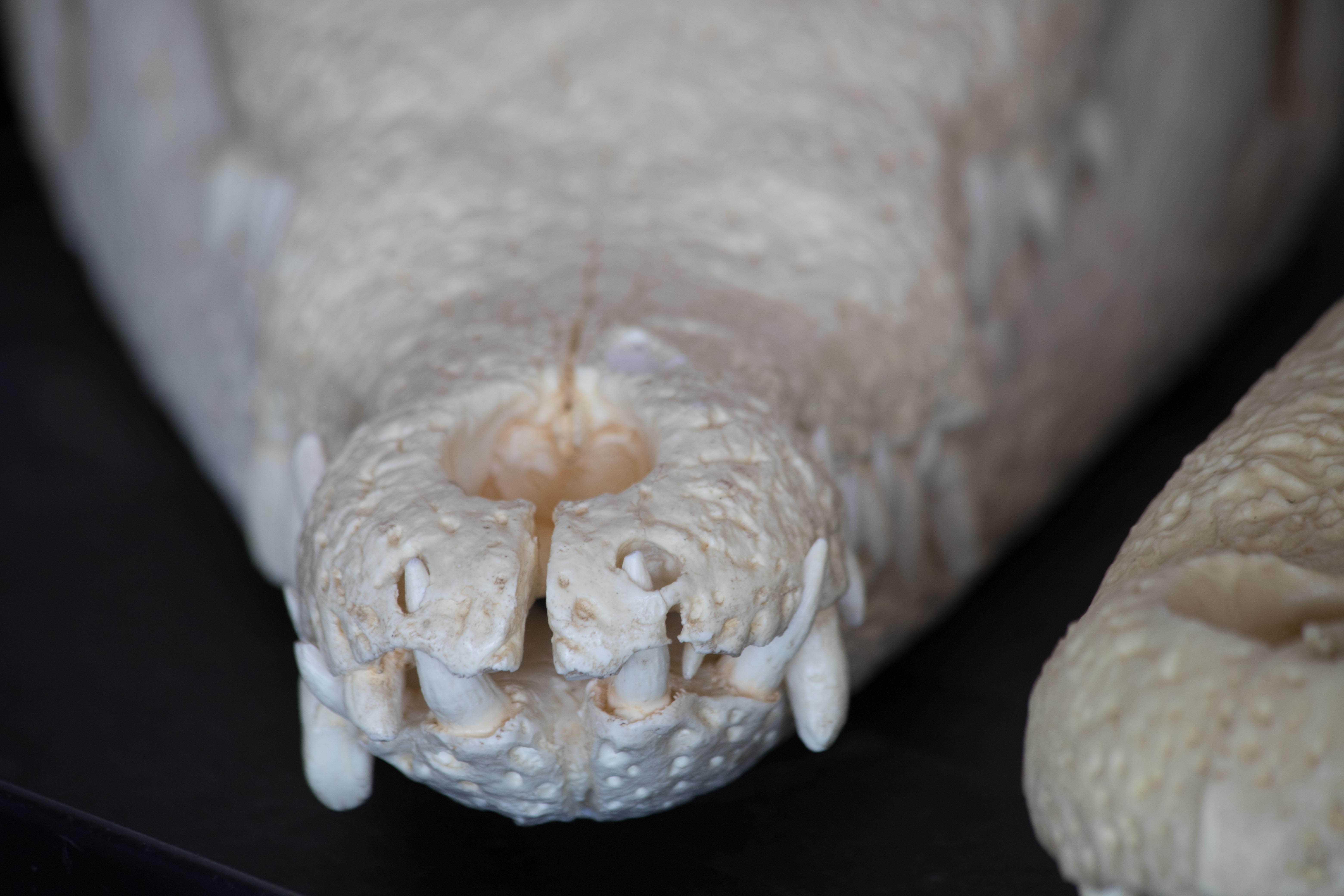 Eric took a picture of a Florida Gar in the water.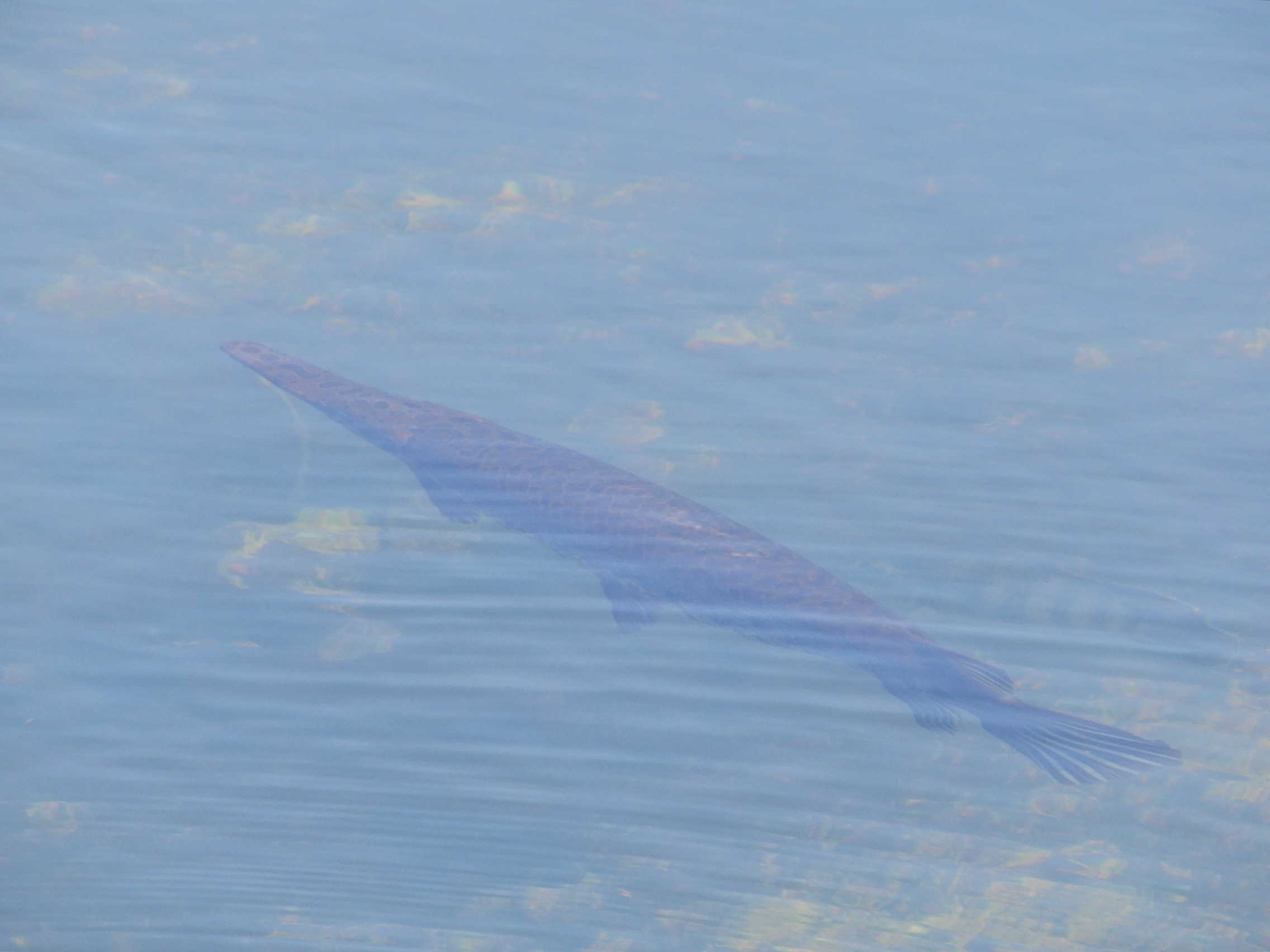 Red-bellied turtle.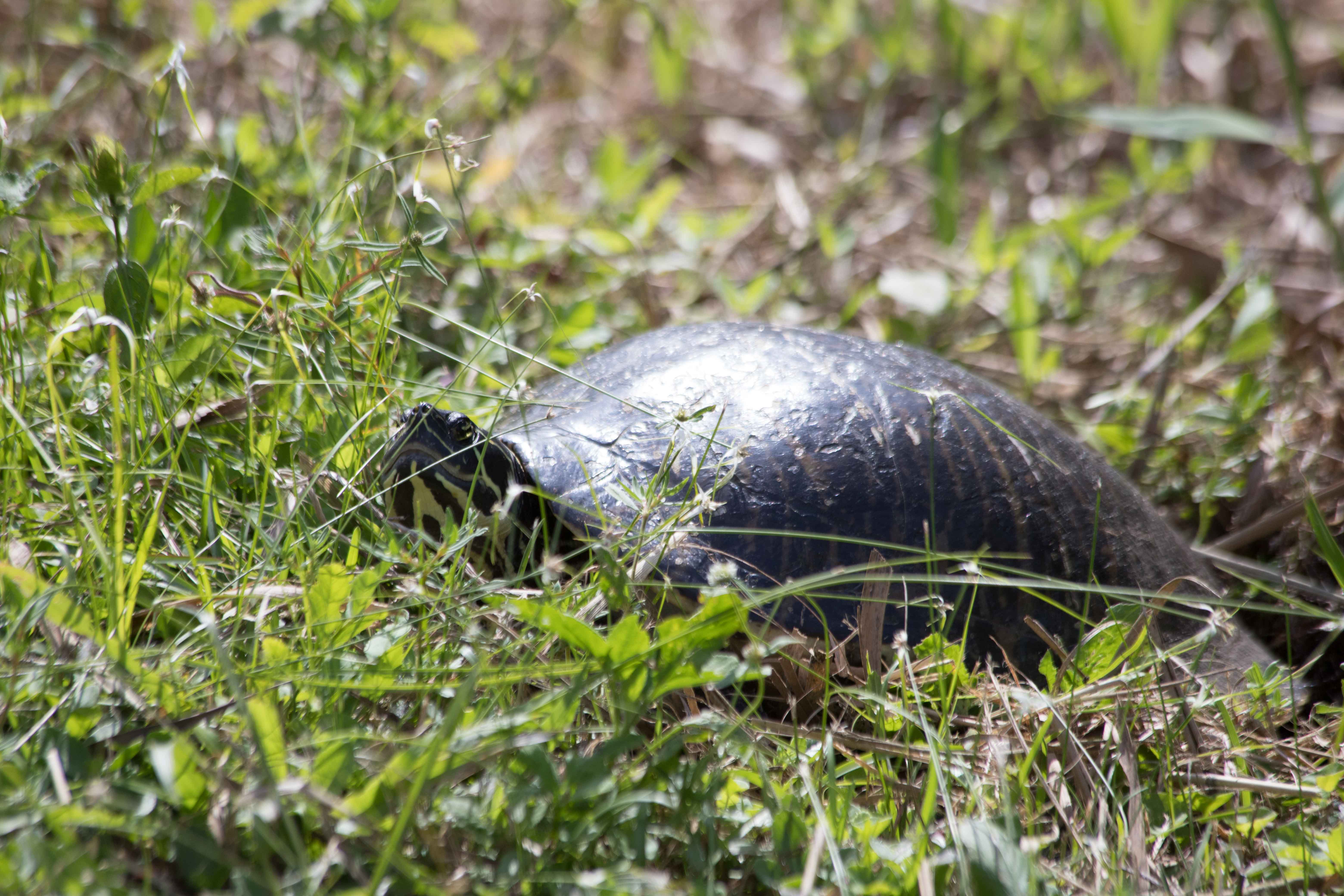 Eric saw a turtle in the water.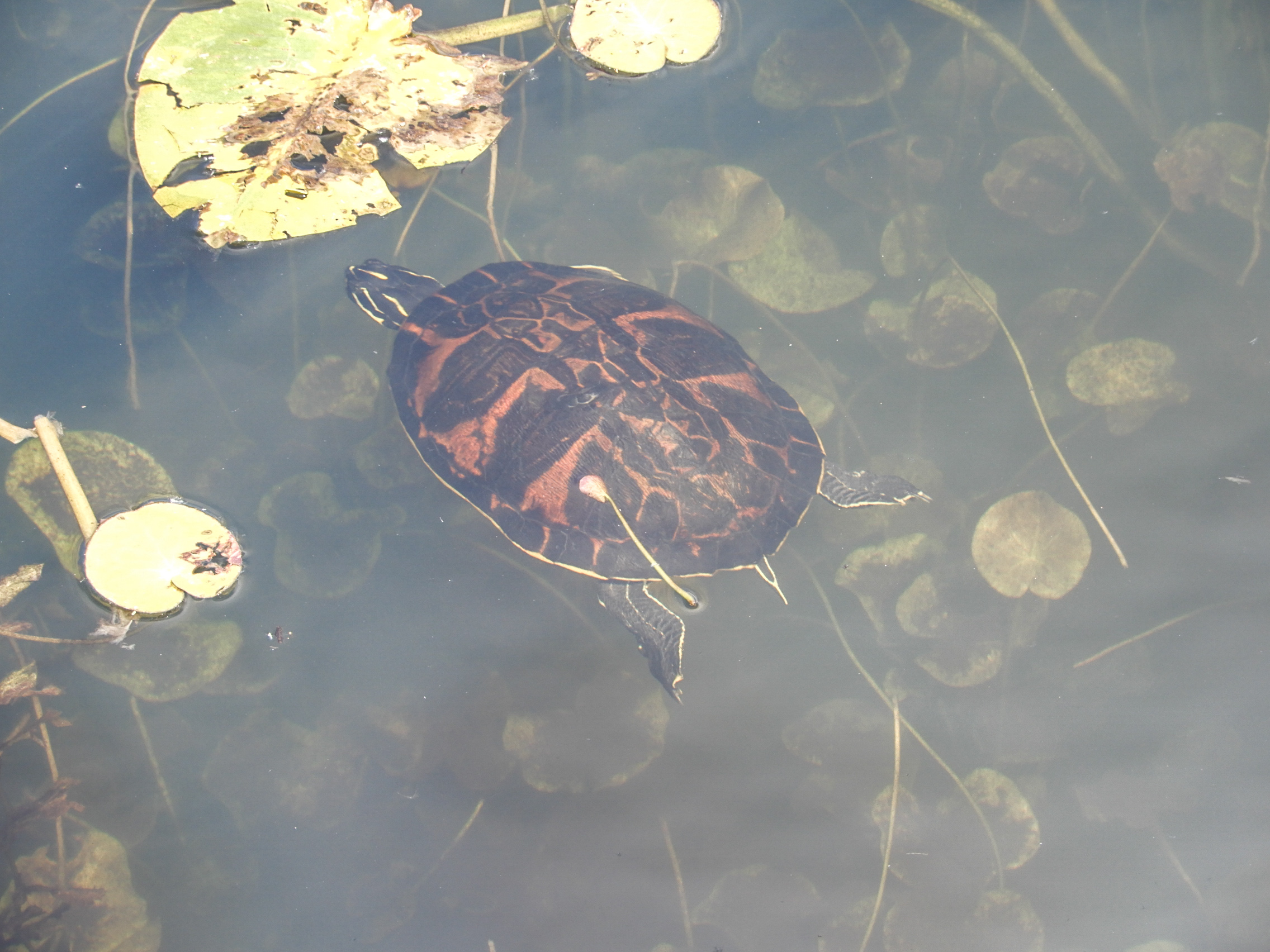 I was so happy that I got to see the Purple Gallinule, because I had missed it on the tram tour the previous day.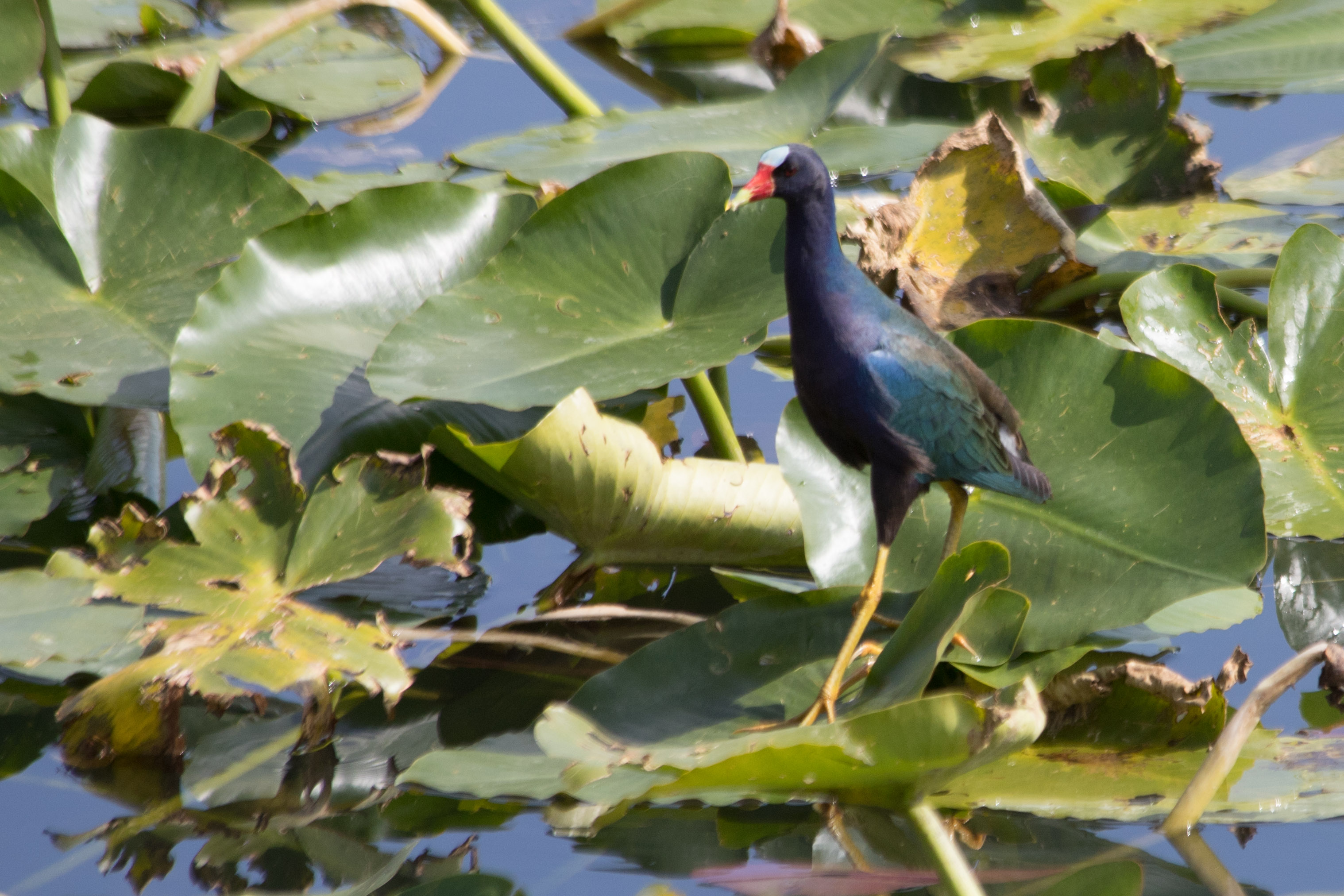 The Spatterdock flowers are an important food source for the Purple Gallinule.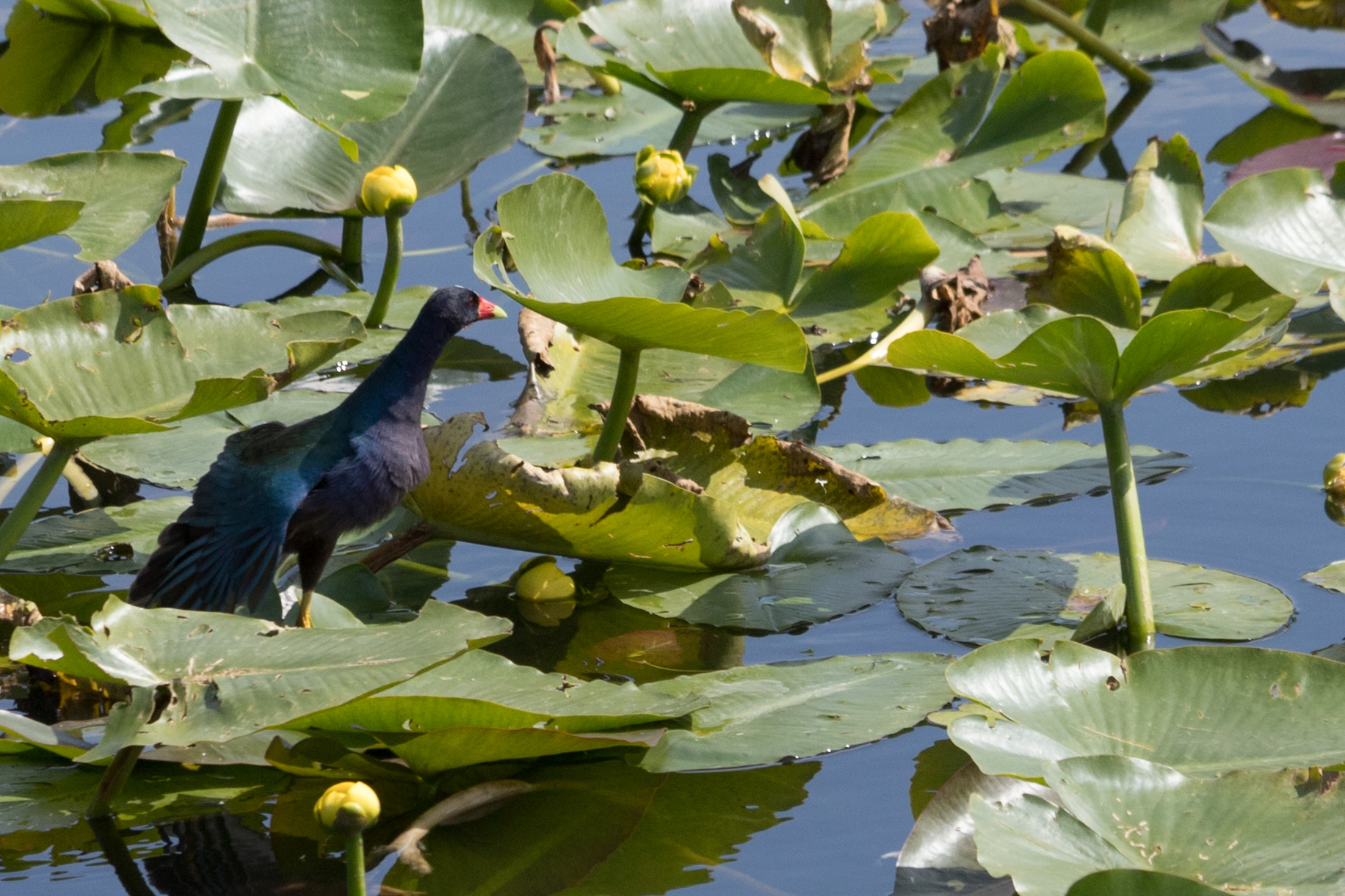 Eric took a picture of the Purple Gallinule stepping from one lily pad to another.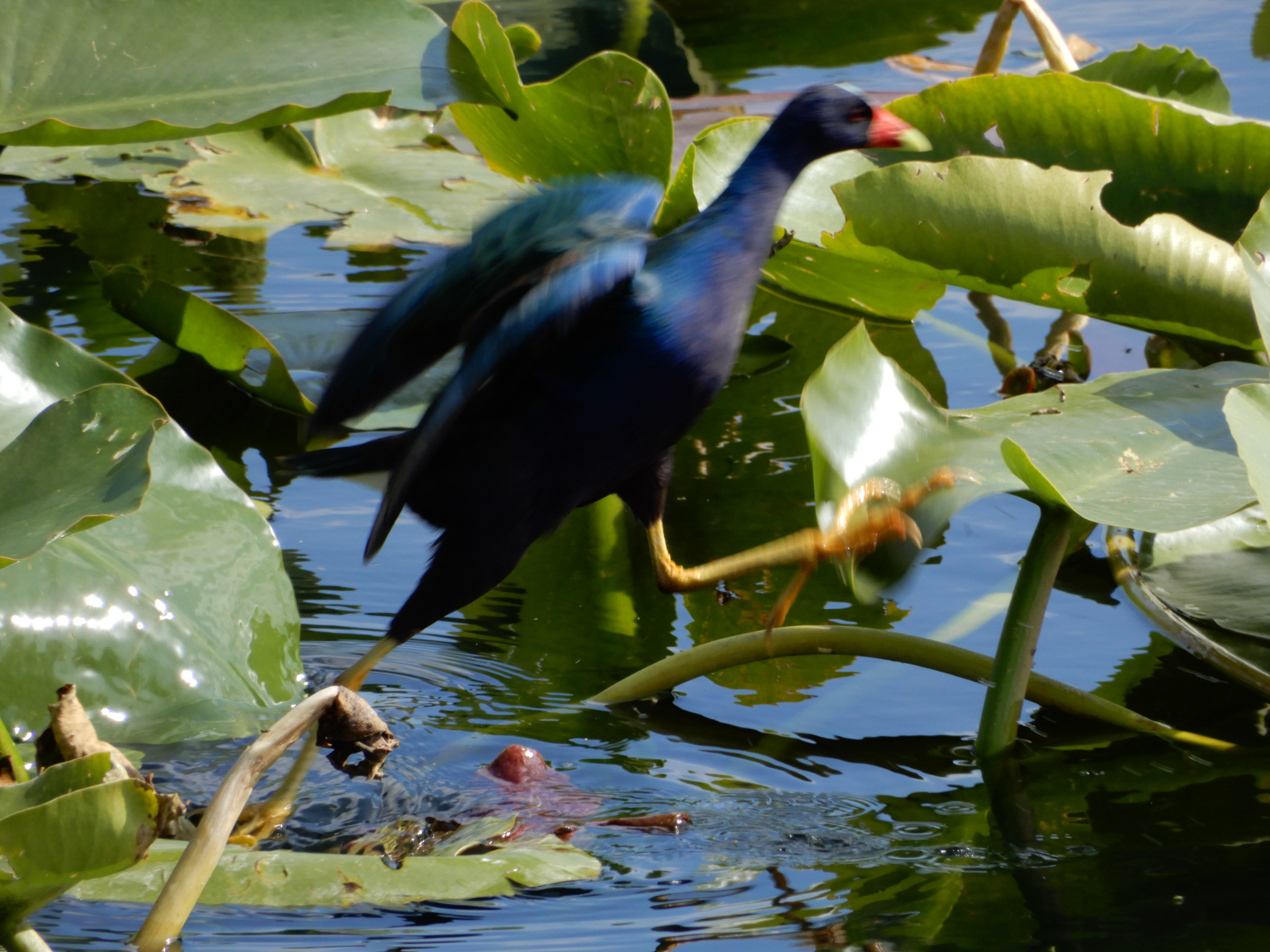 We saw many of the Double-crested Cormorants that we see at home all the time, but they were in their mating plumage, with the blue circles around their eyes. Eric took a picture of one checking him out.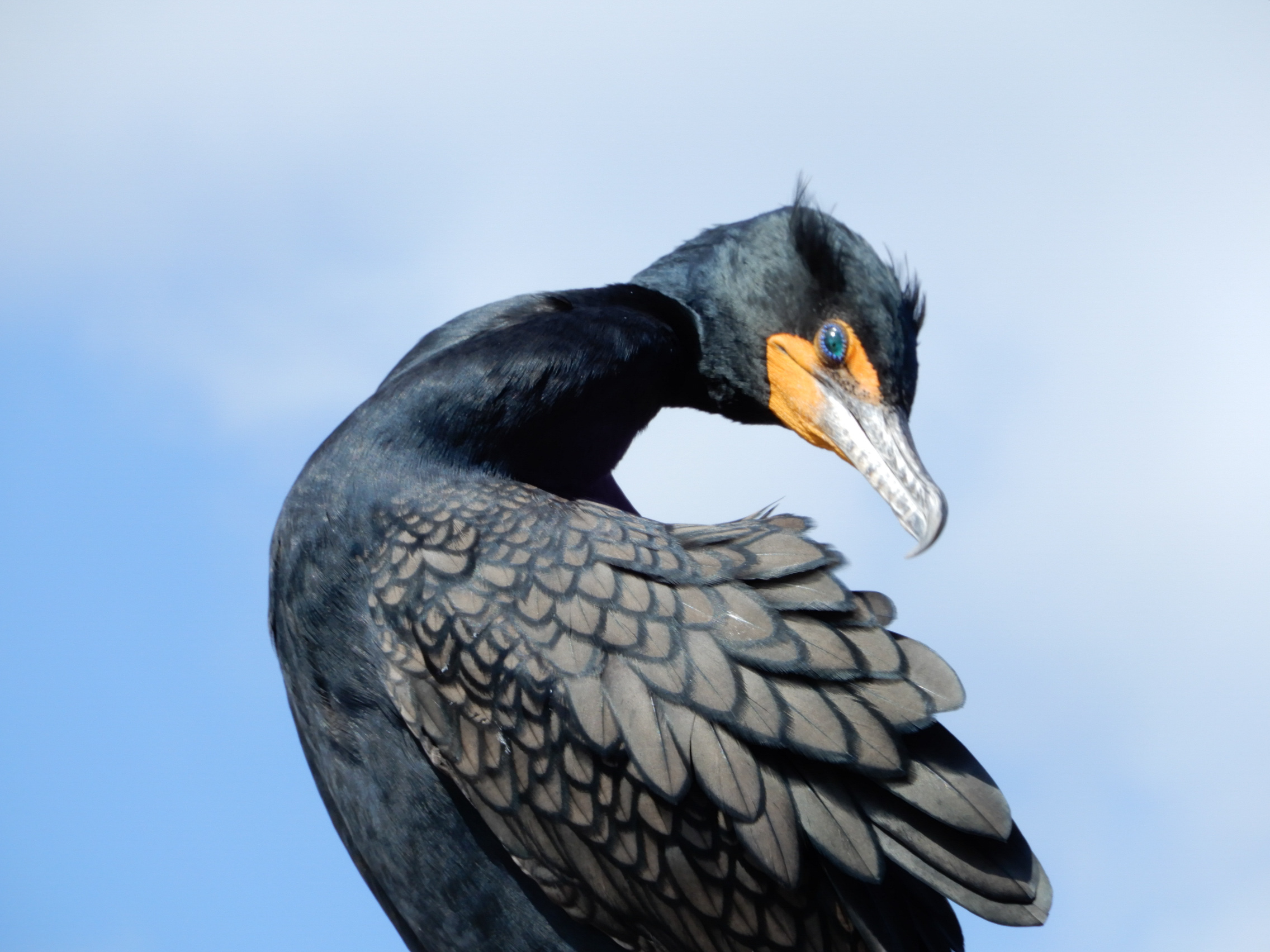 White morph of Great Blue Heron. He looks like a really big Great Egret.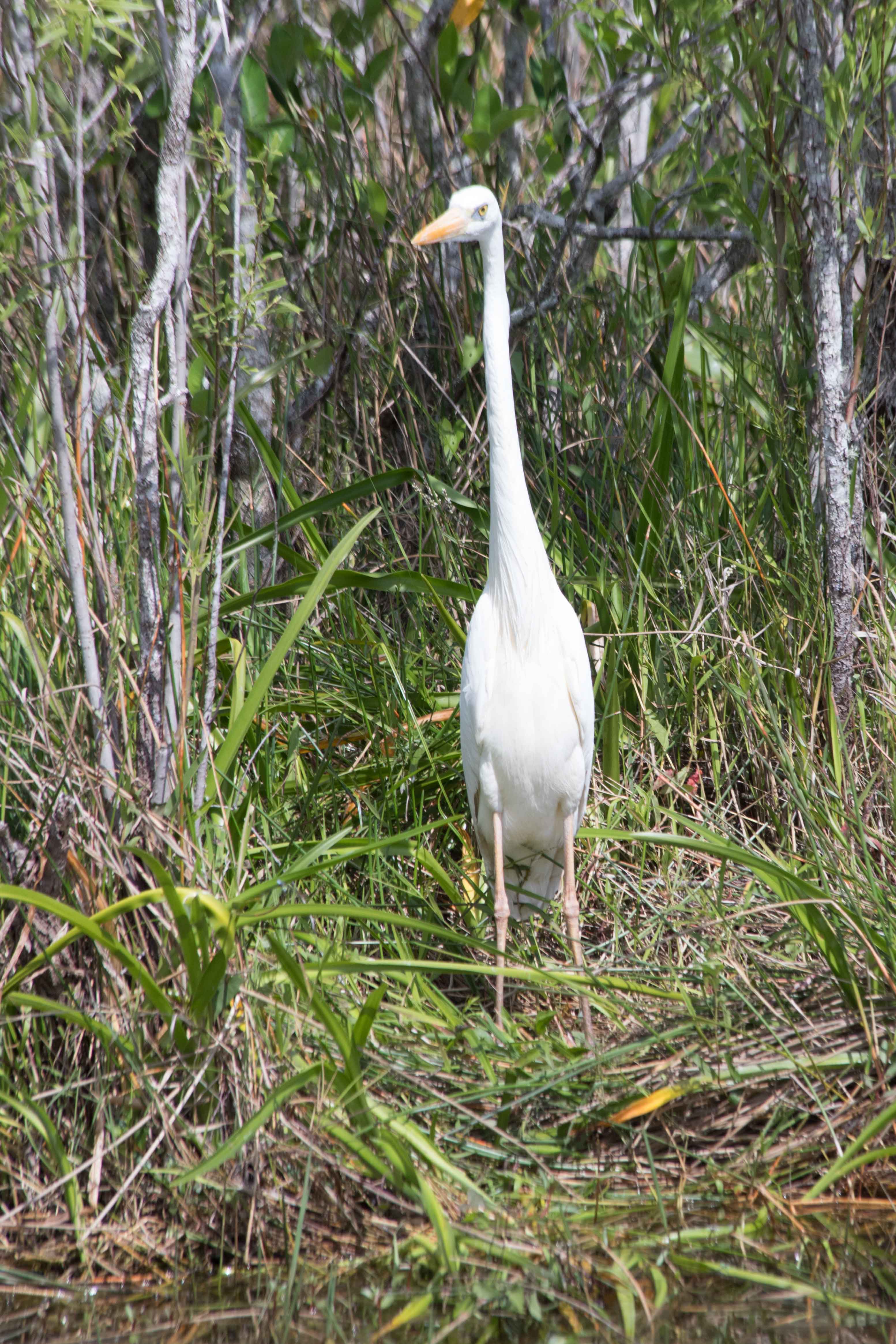 Ranger Denise thought this was a Scarlet Dragonfly.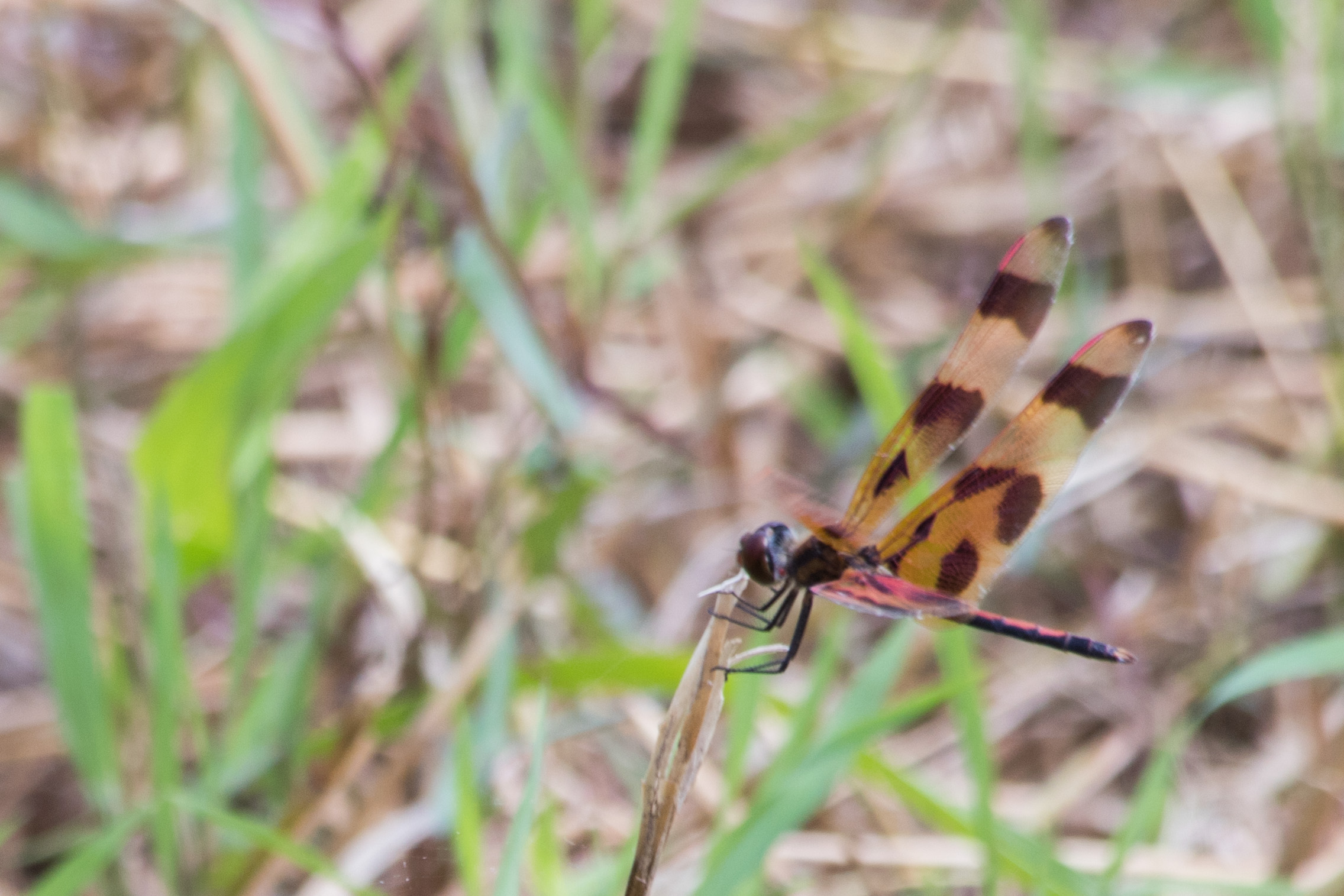 Spatterdock flowers.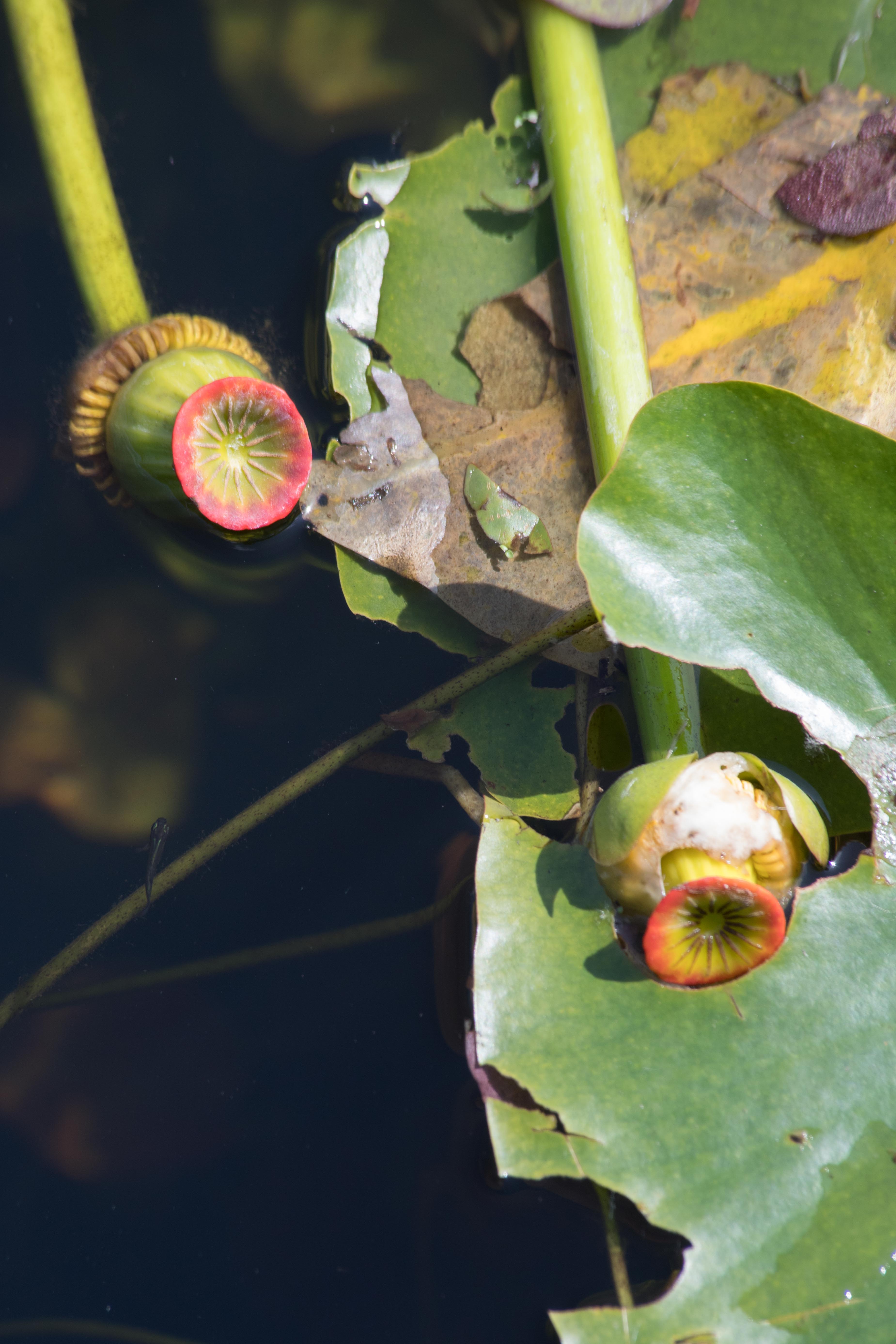 Just that walk with Ranger Denise was worth the $25 per car park admission!
We did a short hike along the other trail at Royal Palm, the Gumbo Limbo Trail, to find a cache and see this Gumbo Limbo tree.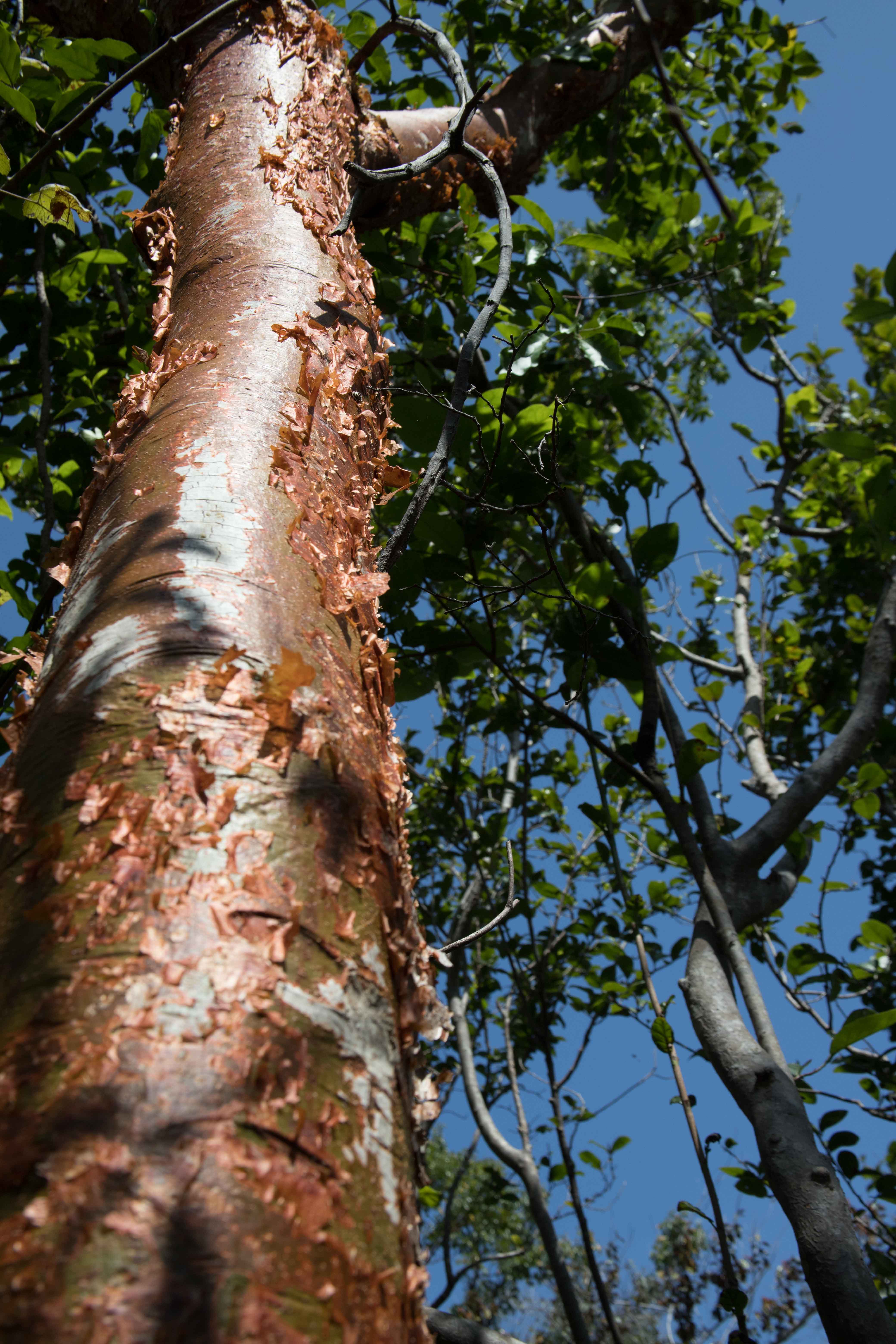 Detail of Gumbo Limbo bark.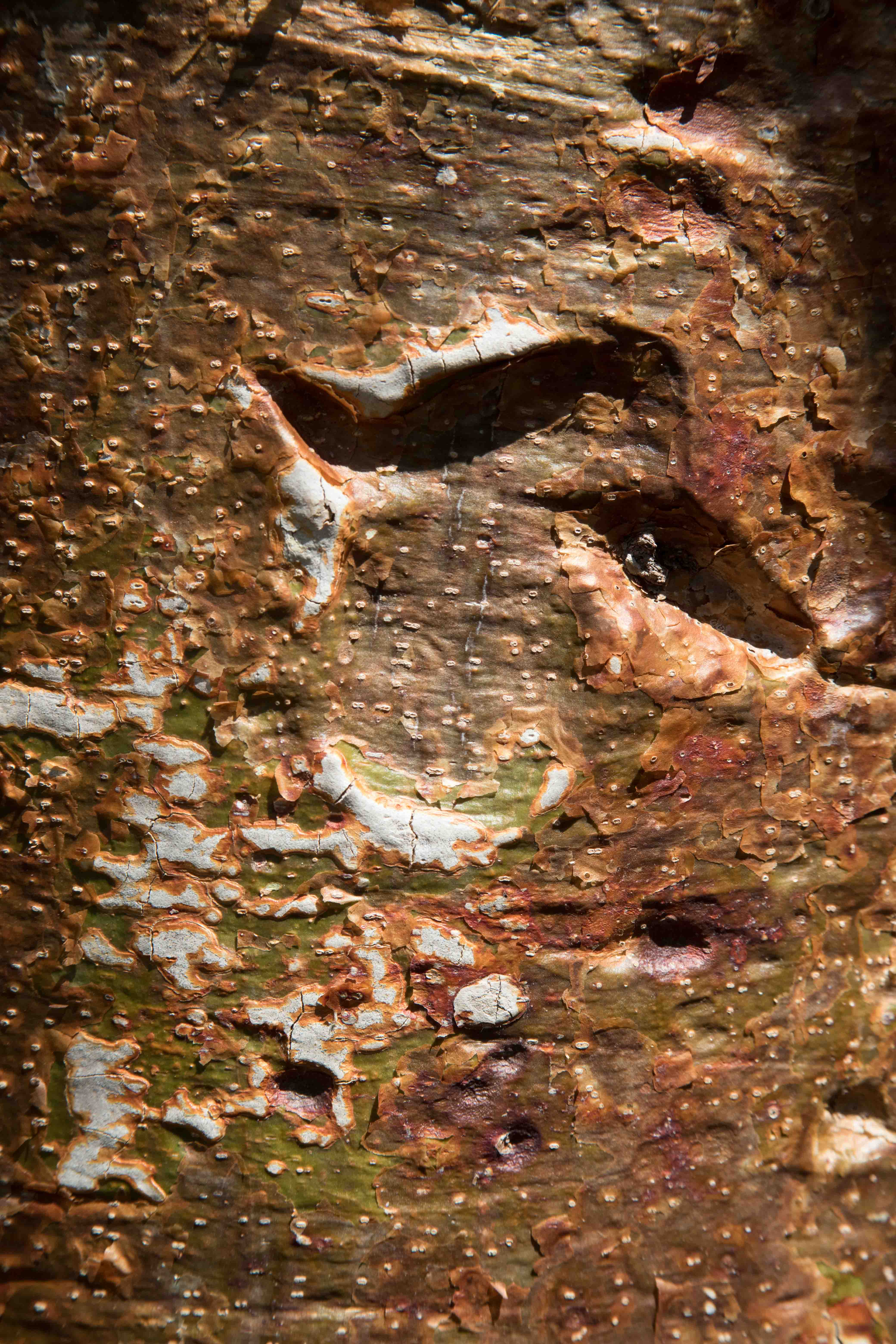 Usually, the US National Park Service does not allow physical geocaches in its parks, so Eric surprised me with this. Photo by Eric.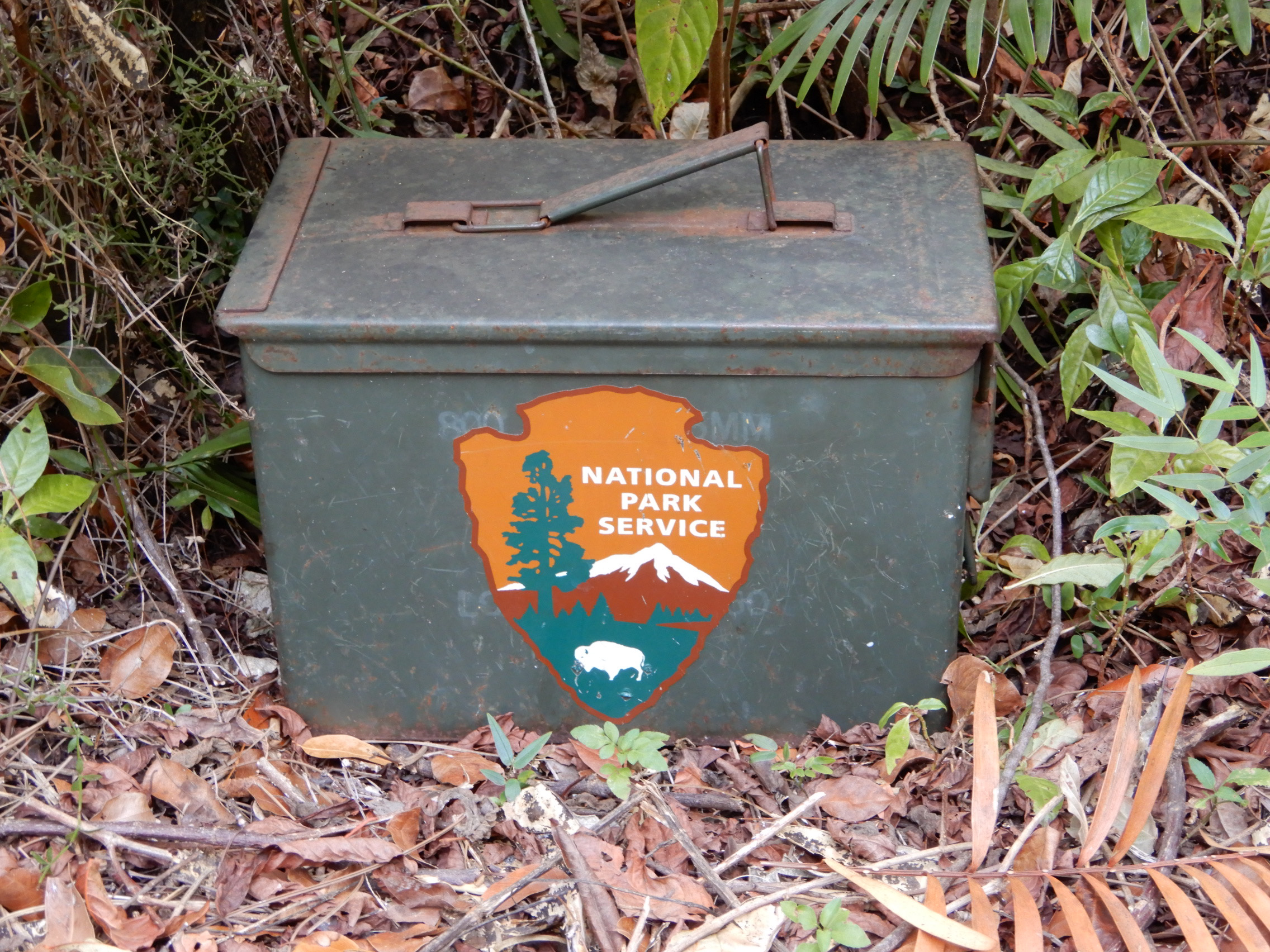 The Park Service lets people become "park employees for a day," and someone placed several caches on his day as a ranger. Photo by Eric.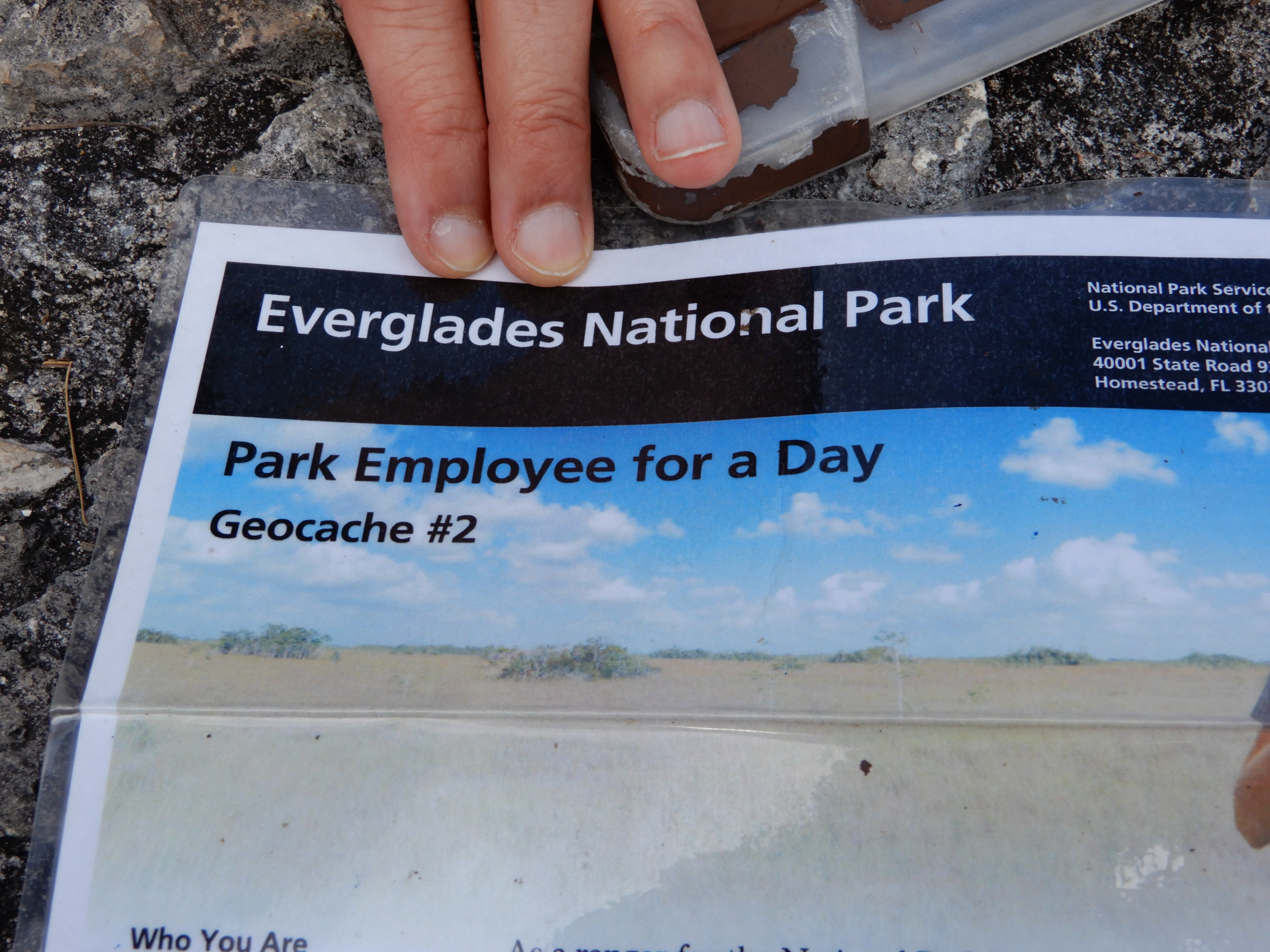 Flamingo
Eric drove us down to Flamingo, where boat tours were still canceled following Hurricane Irma.
Bands of sunshine through the clouds over murky Florida Bay. I doubt it looked like this before the hurricane.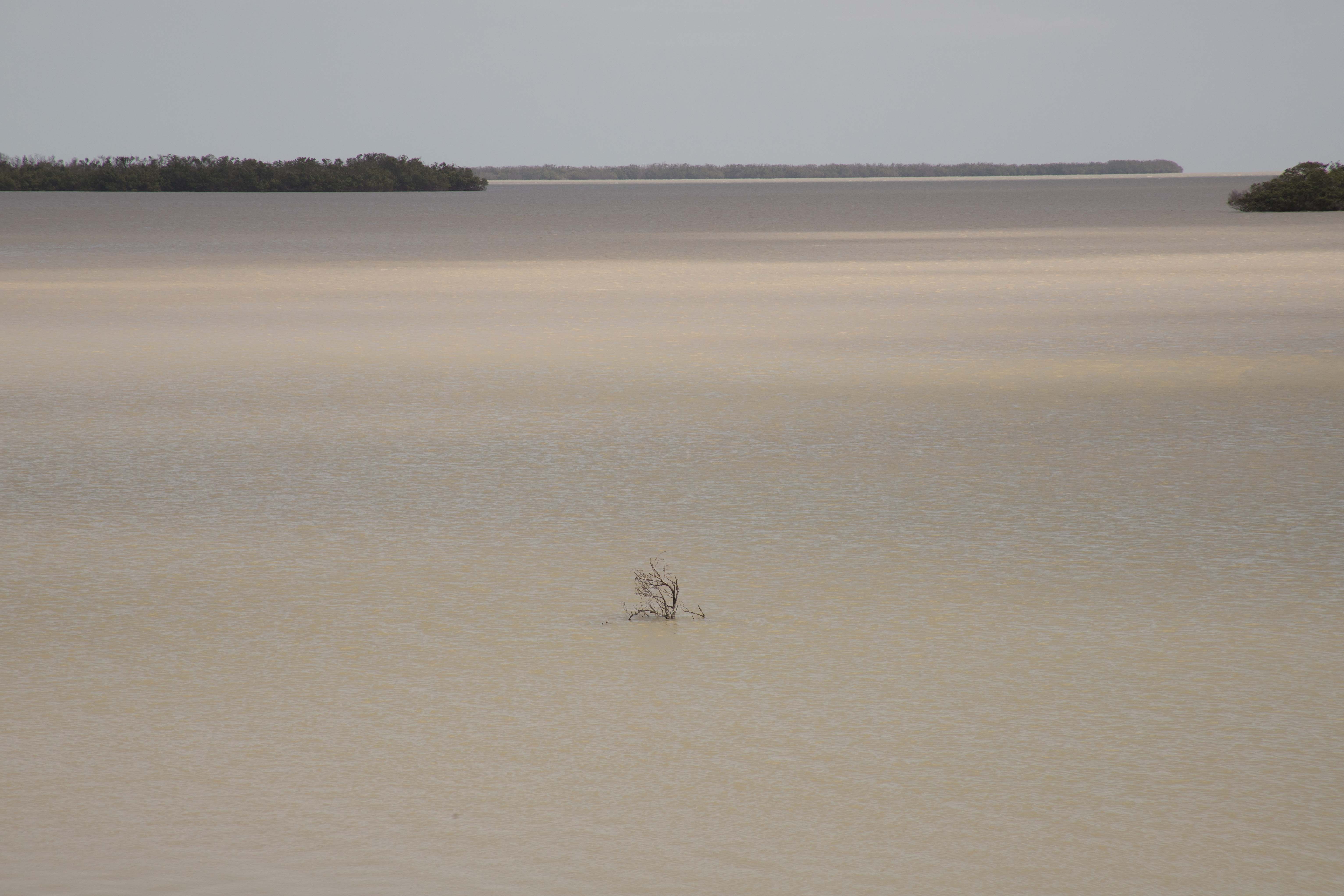 Eric photographed a lonely island out in the bay.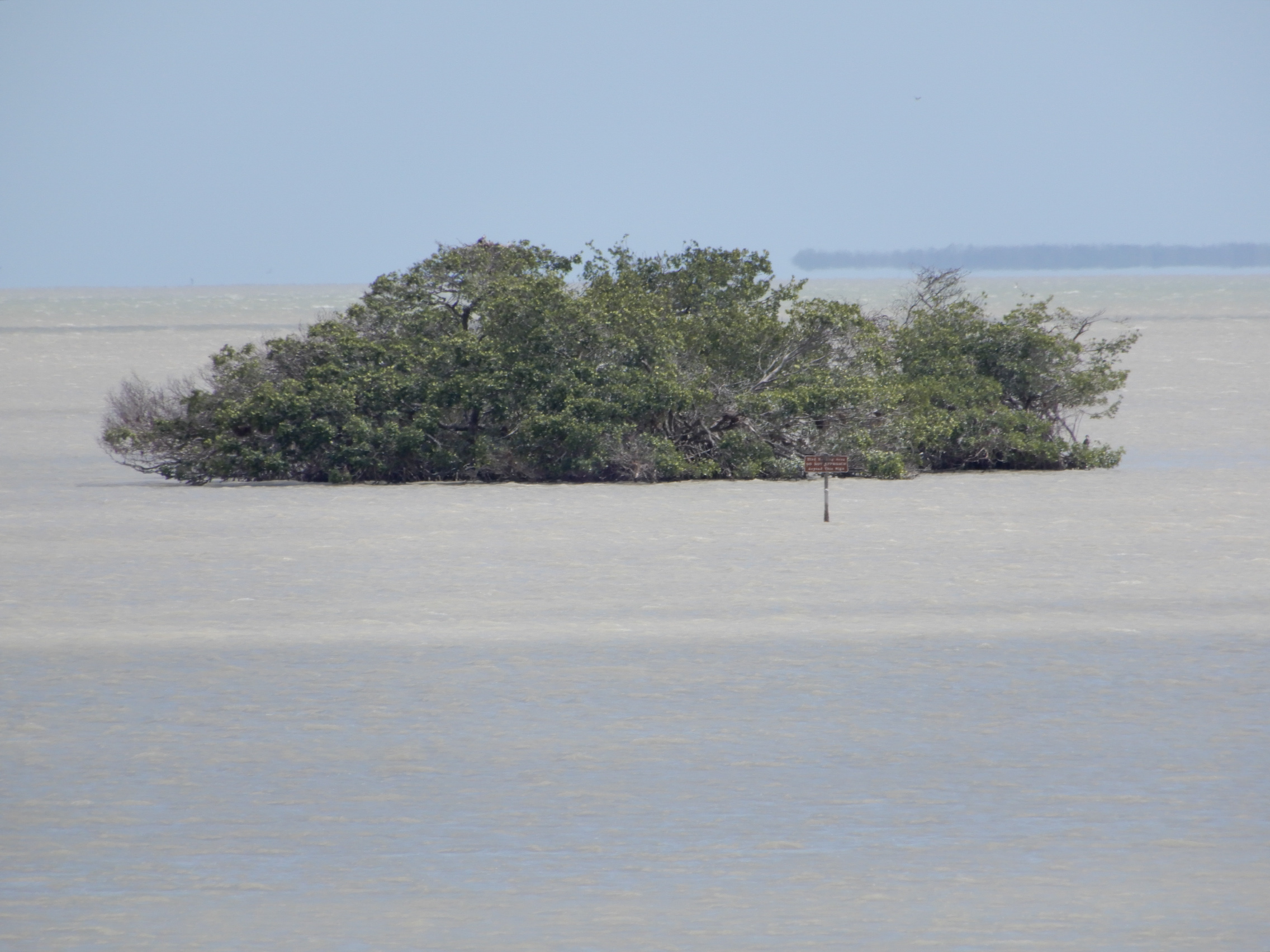 We had waited for lunch until nearly 14:00, because a knife-and-fork symbol on the map led me to believe there would be a restaurant at Flamingo. However, hurricane damage had closed half the facility.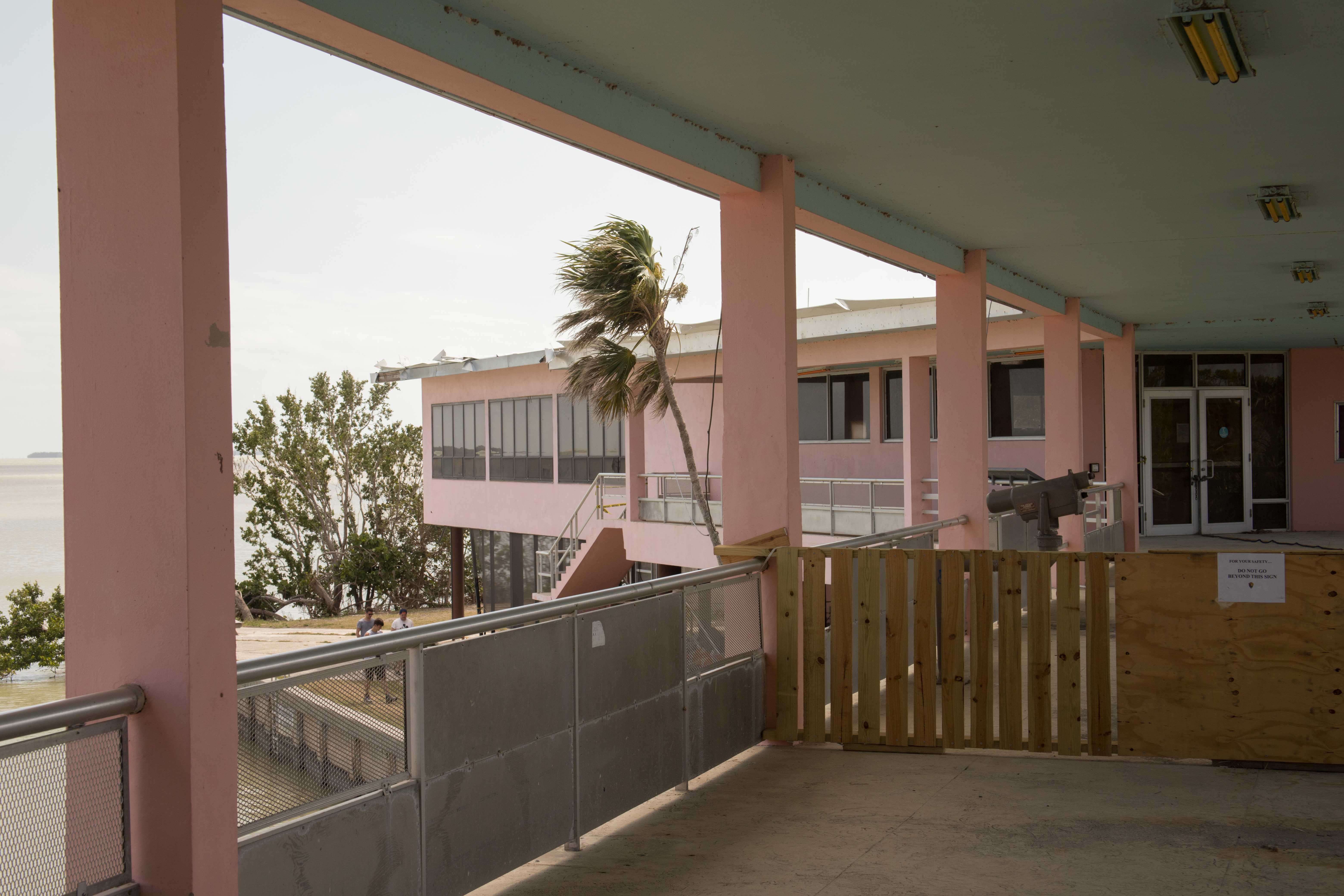 The ranger pointed out a tiny shack that sold snacks along with renting kayaks and canoes. There, we were able to acquire some pretzel chips and peanut butter crackers for an extraordinarily healthy lunch. We had intended to rent a canoe, as you paddle a canoe mostly with one arm and I figured I could use my right. However, they told us that it was too windy for canoes, even in the protected channel. If we wanted to paddle, it would have to be a kayak. I tested my wrist out on a kayak paddle, and it hurt even in the air. Eric did not think he could paddle the two of us the rather noticeable wind, so we abandoned our paddling plan.
The trip to Flamingo was not entirely wasted, though, because we saw manatees!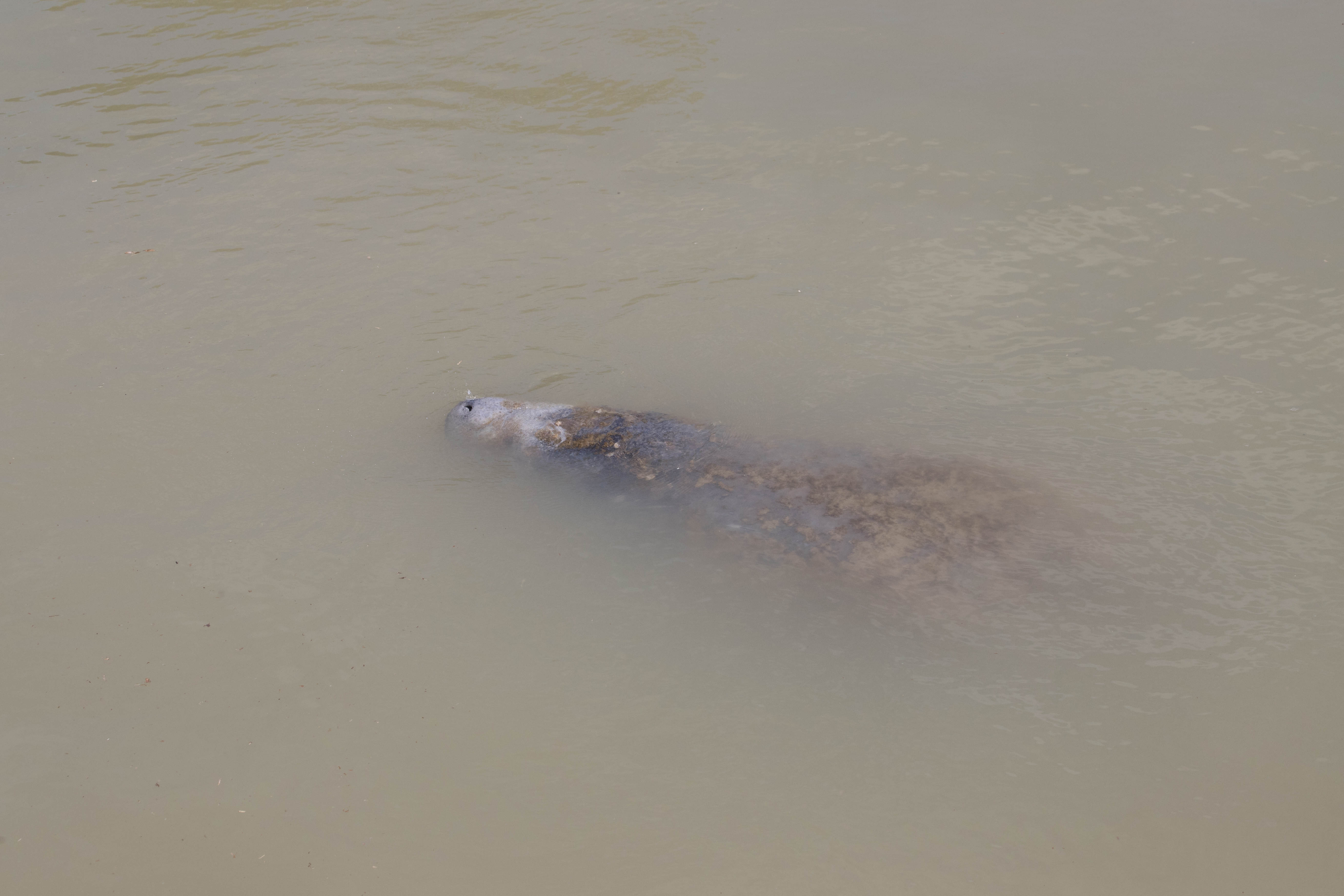 A manatee nose popping up for a breath.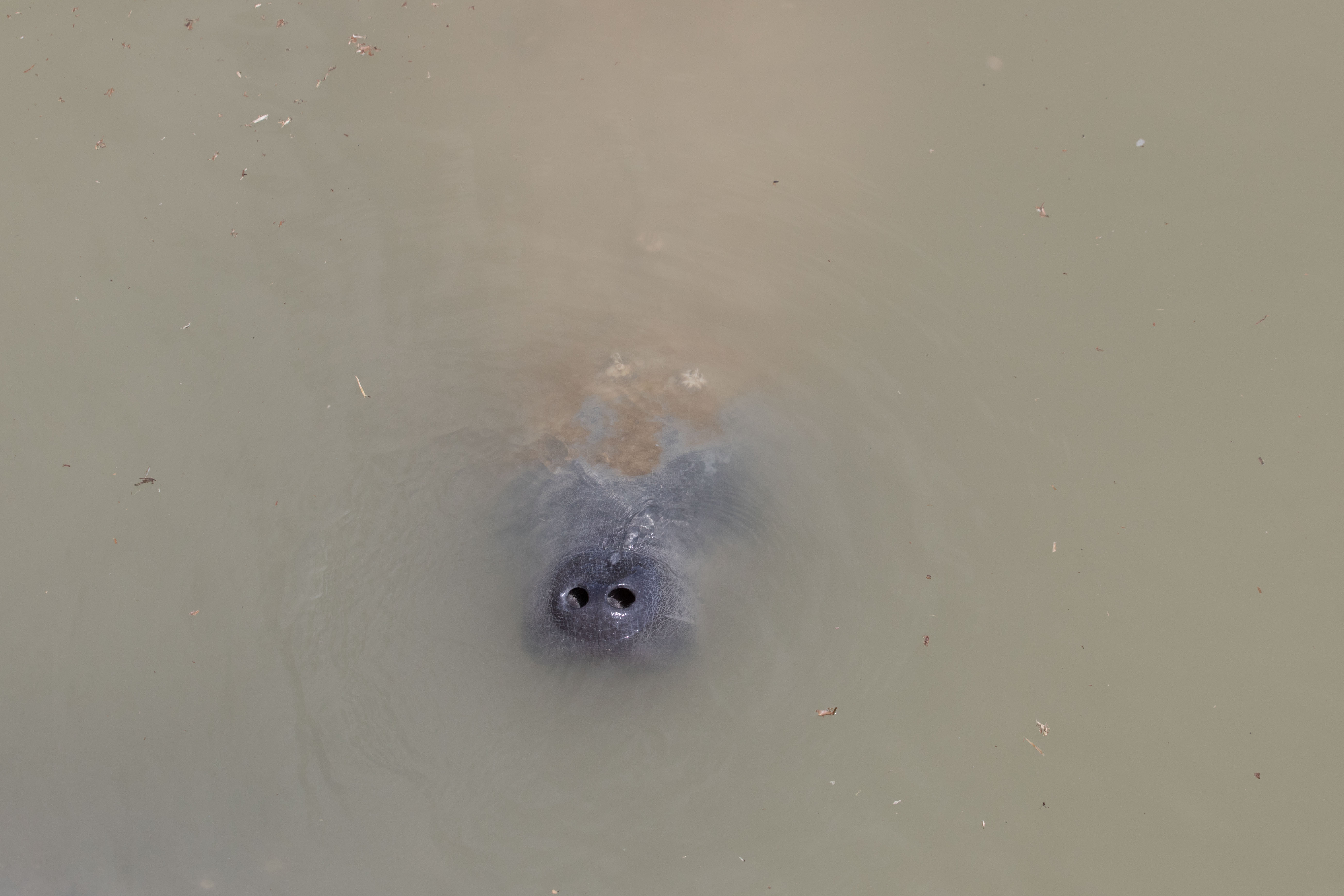 Eric took a picture of a manatee drinking fresh water from a drainage pipe.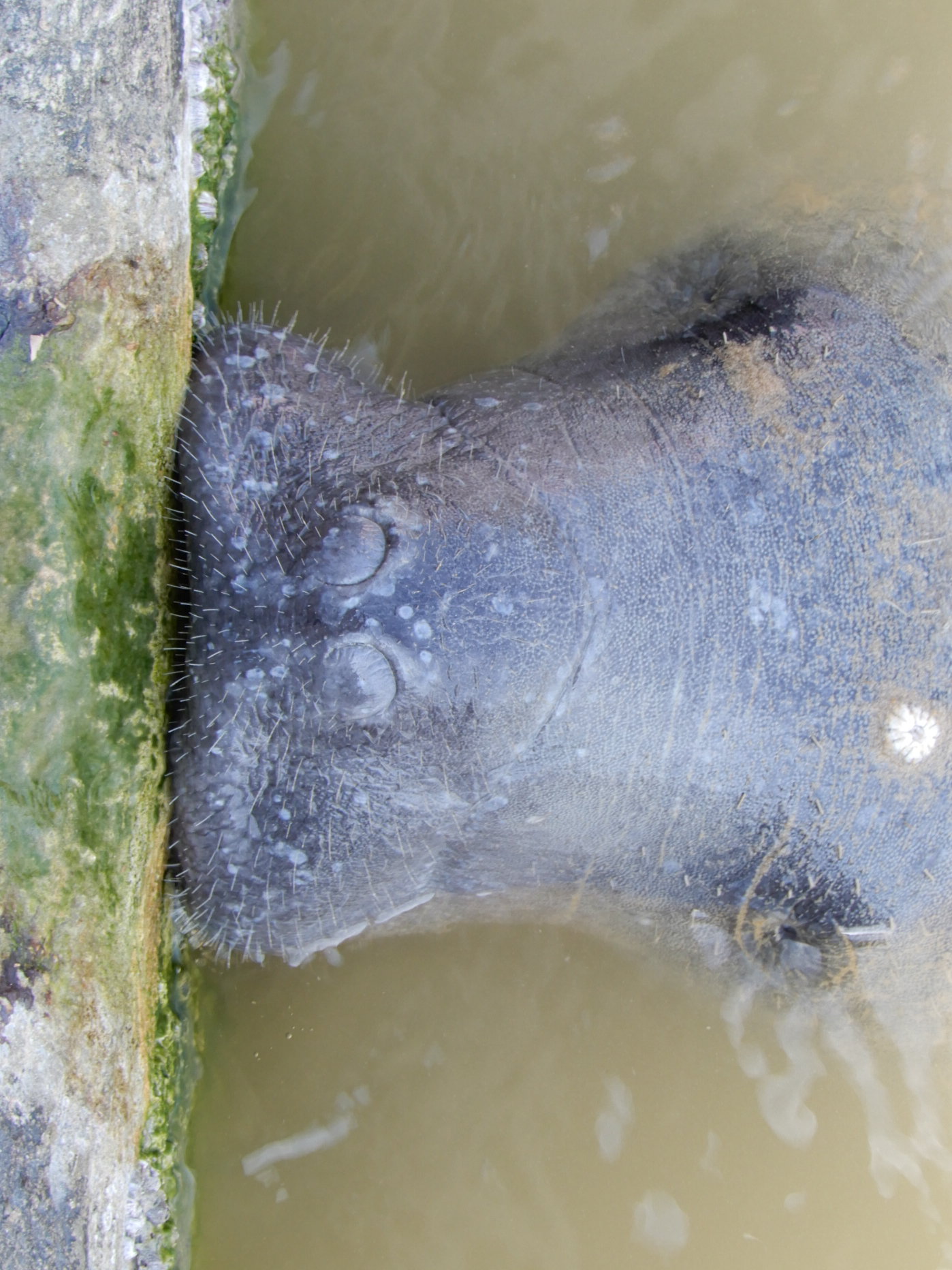 He captured their fierce competition for this valuable resource.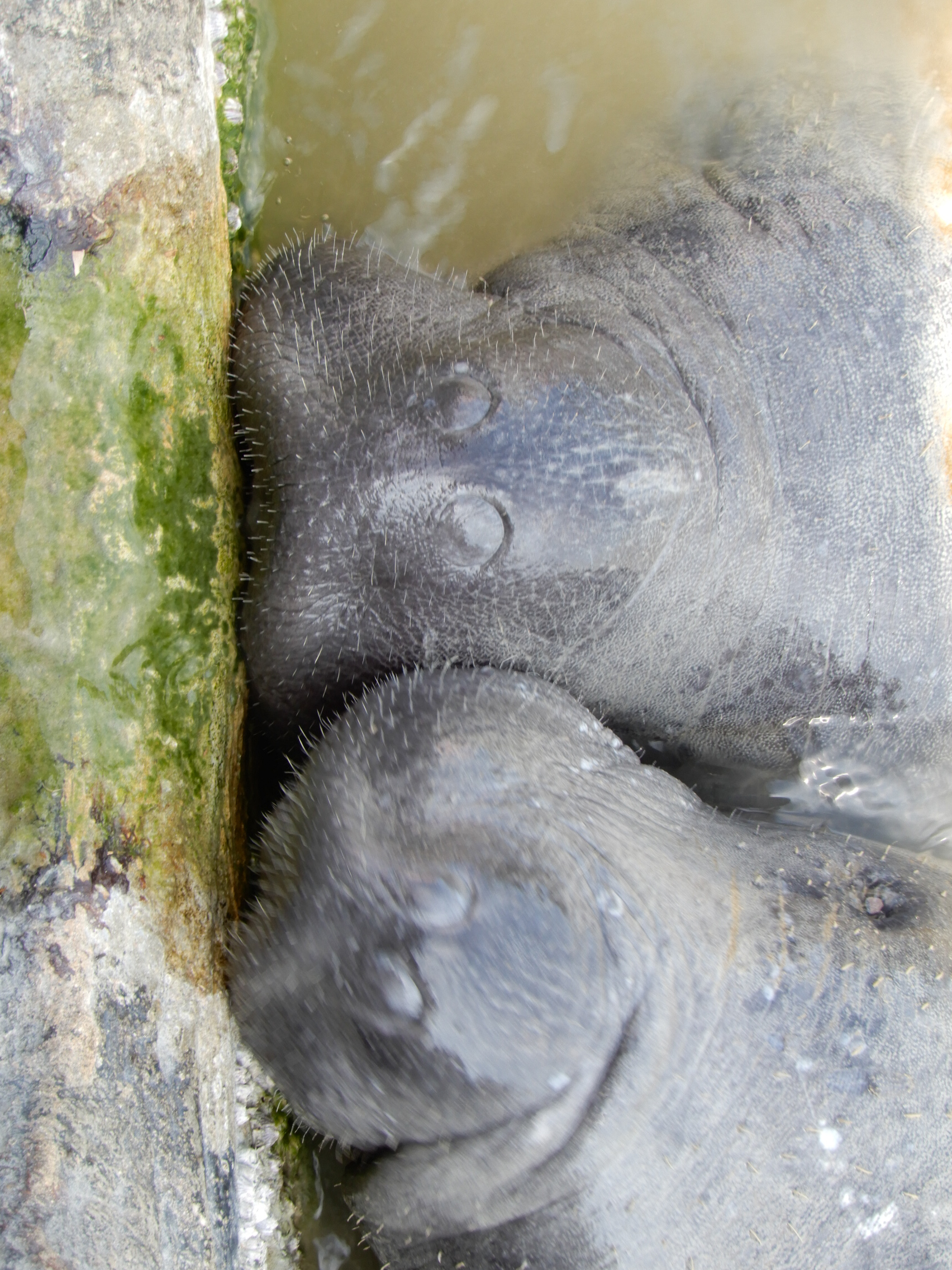 Down here in the salt water, we also saw a crocodile! We walked right past one at first, because we were very hungry, and we thought it was just another alligator. Photo by Eric.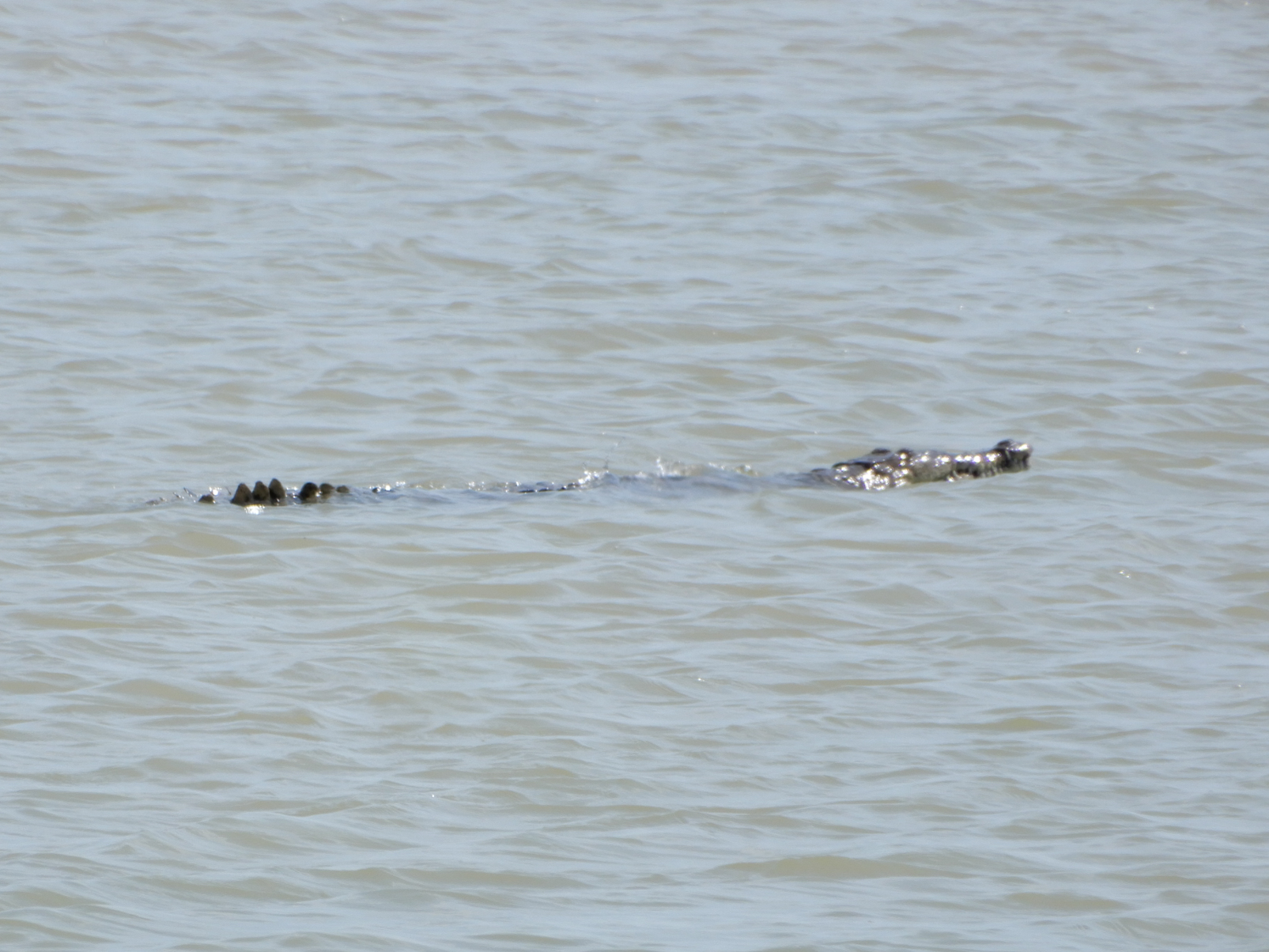 Ospreys had made a nest right on a pole right in the boat rental area. Eric got a picture of parent and chick.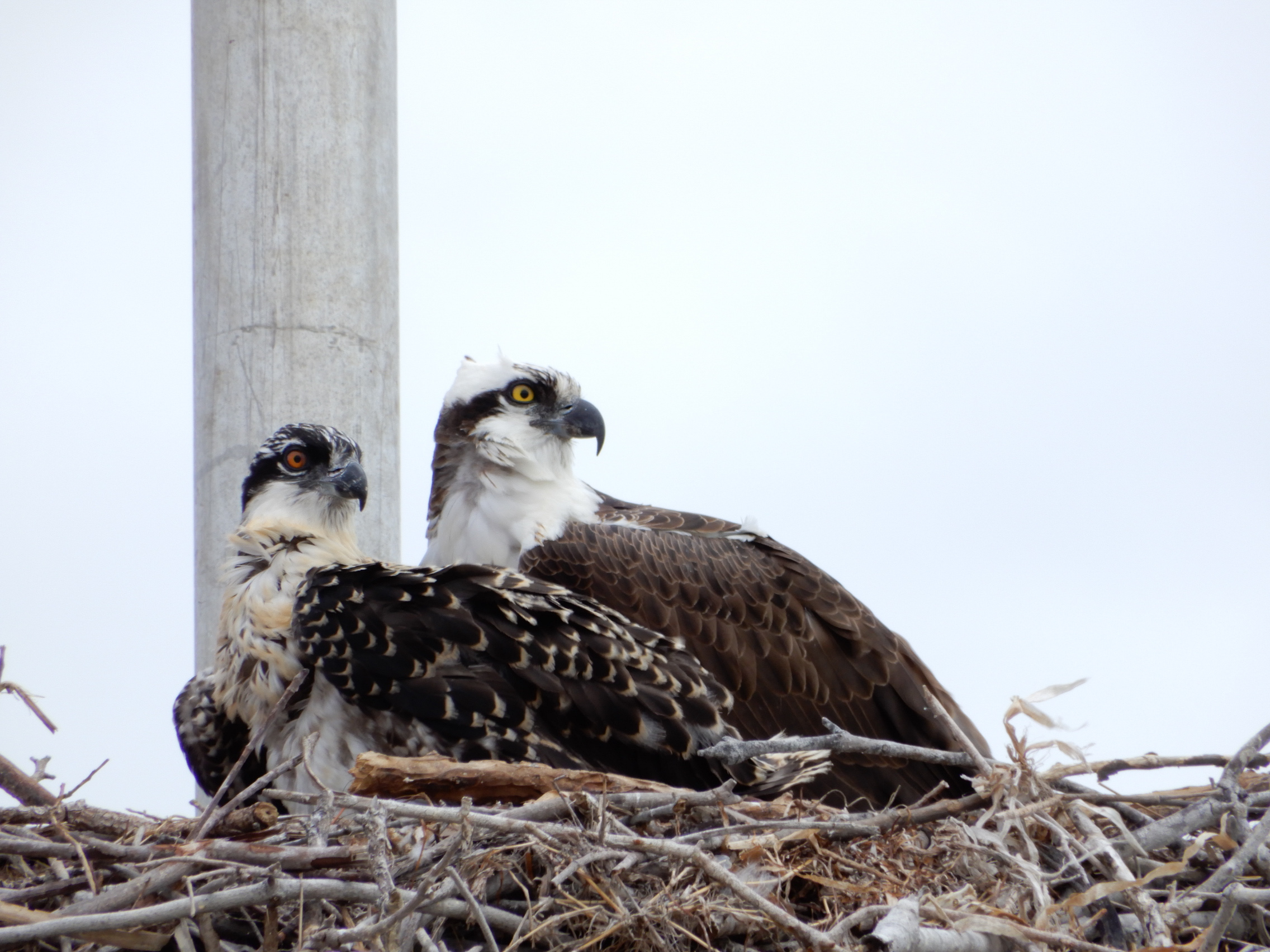 The osprey parent just screamed its head off at the crow perching above the nest. The crow obviously did not care at all. Photo by Eric.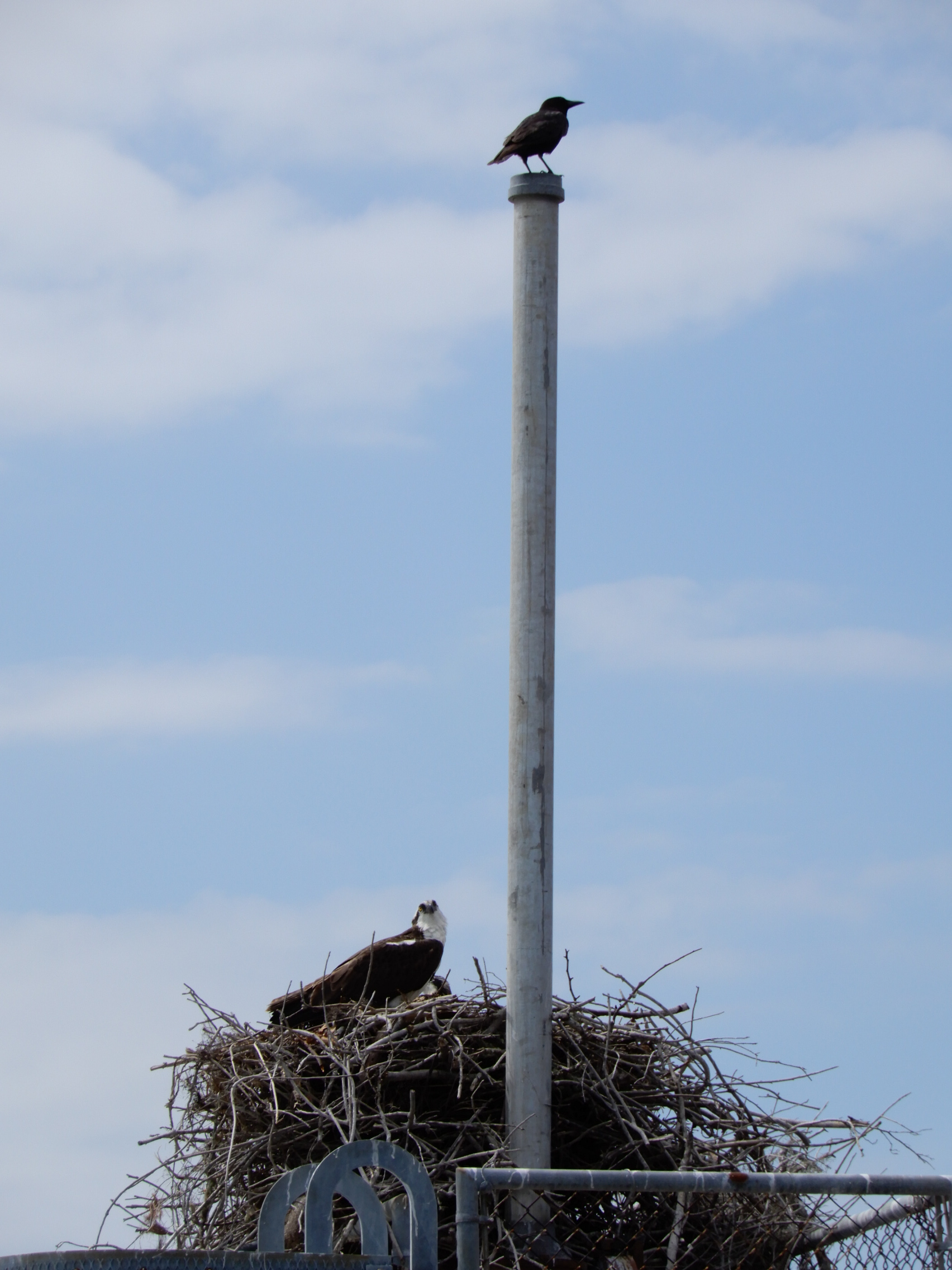 Laughing Gulls, with one laughing. Another new species for me.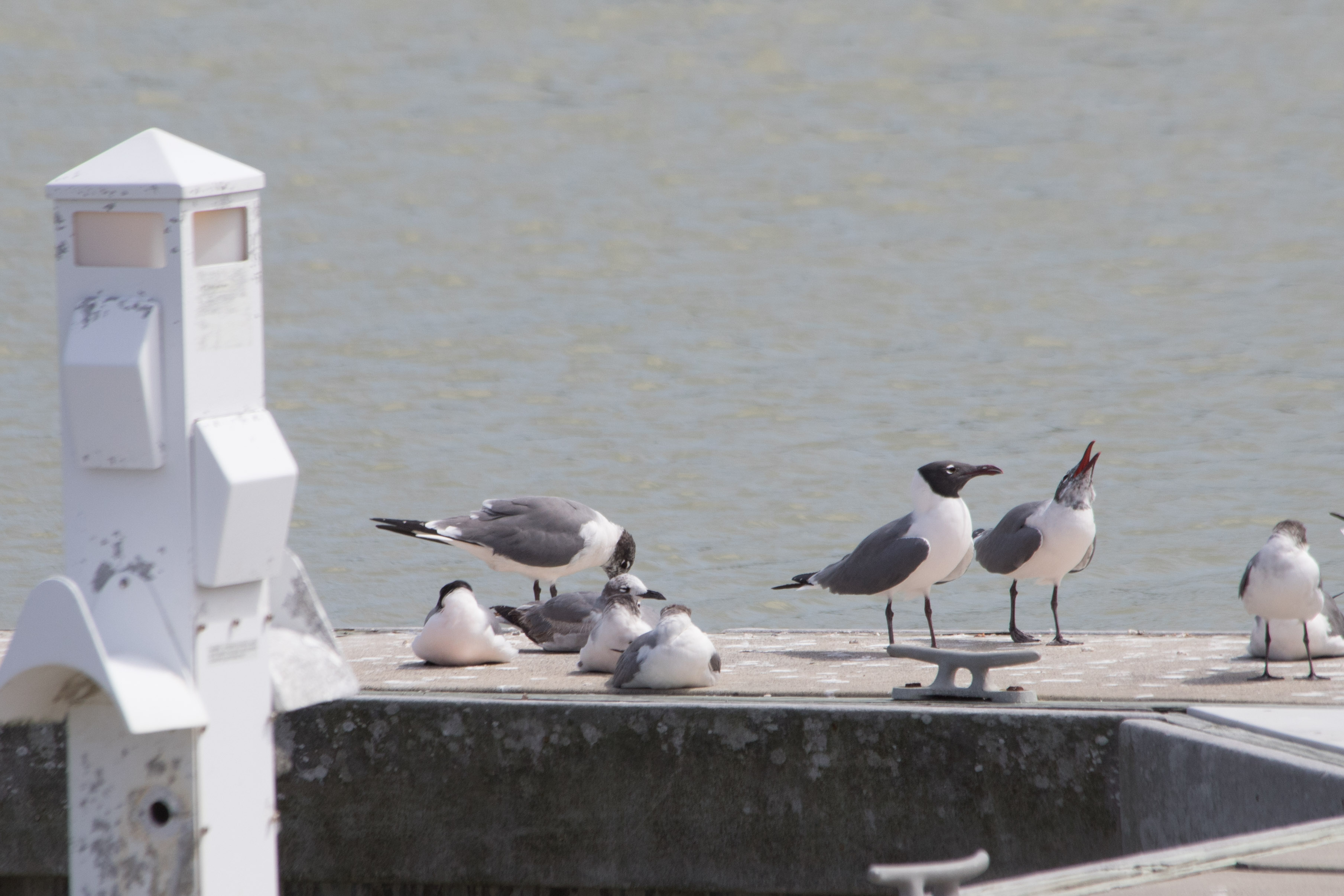 We walked the Guy Bradley Trail, searching for another "park employee for a day" cache that proved to have been destroyed in the hurricane. But we did see some nice wildlife.
Eric got another good shot of an osprey guarding a nest.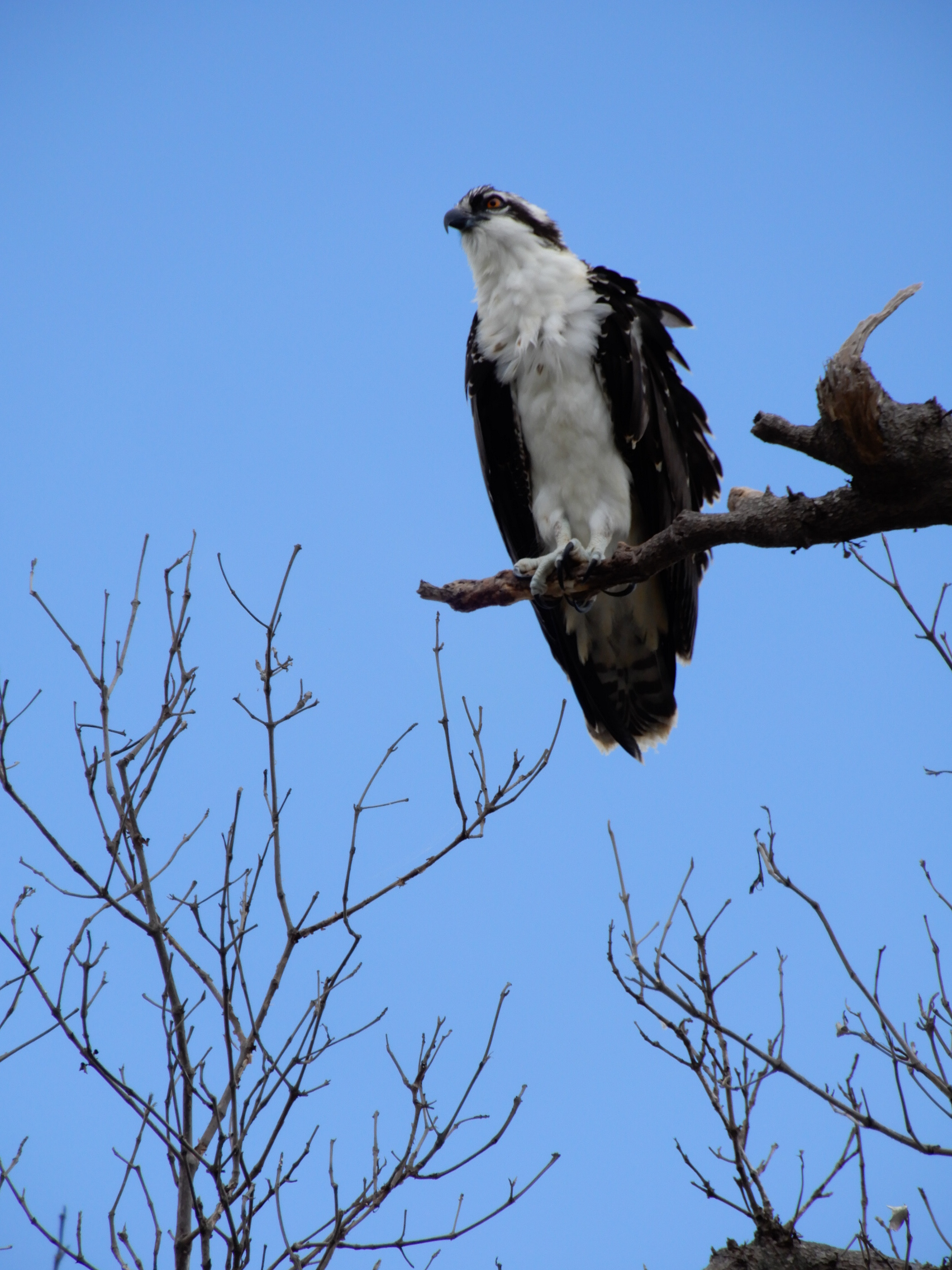 Another hiker pointed out this tiny spider, about half the size of a dime.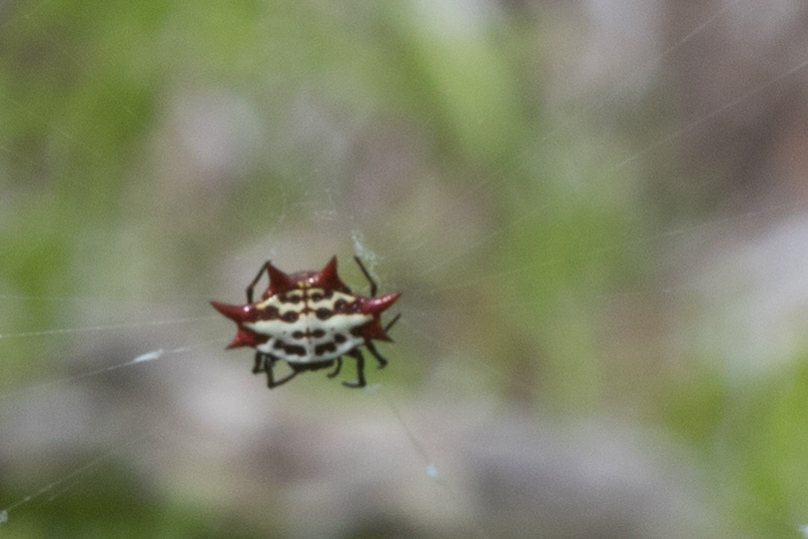 I found another insect pollenating a flower.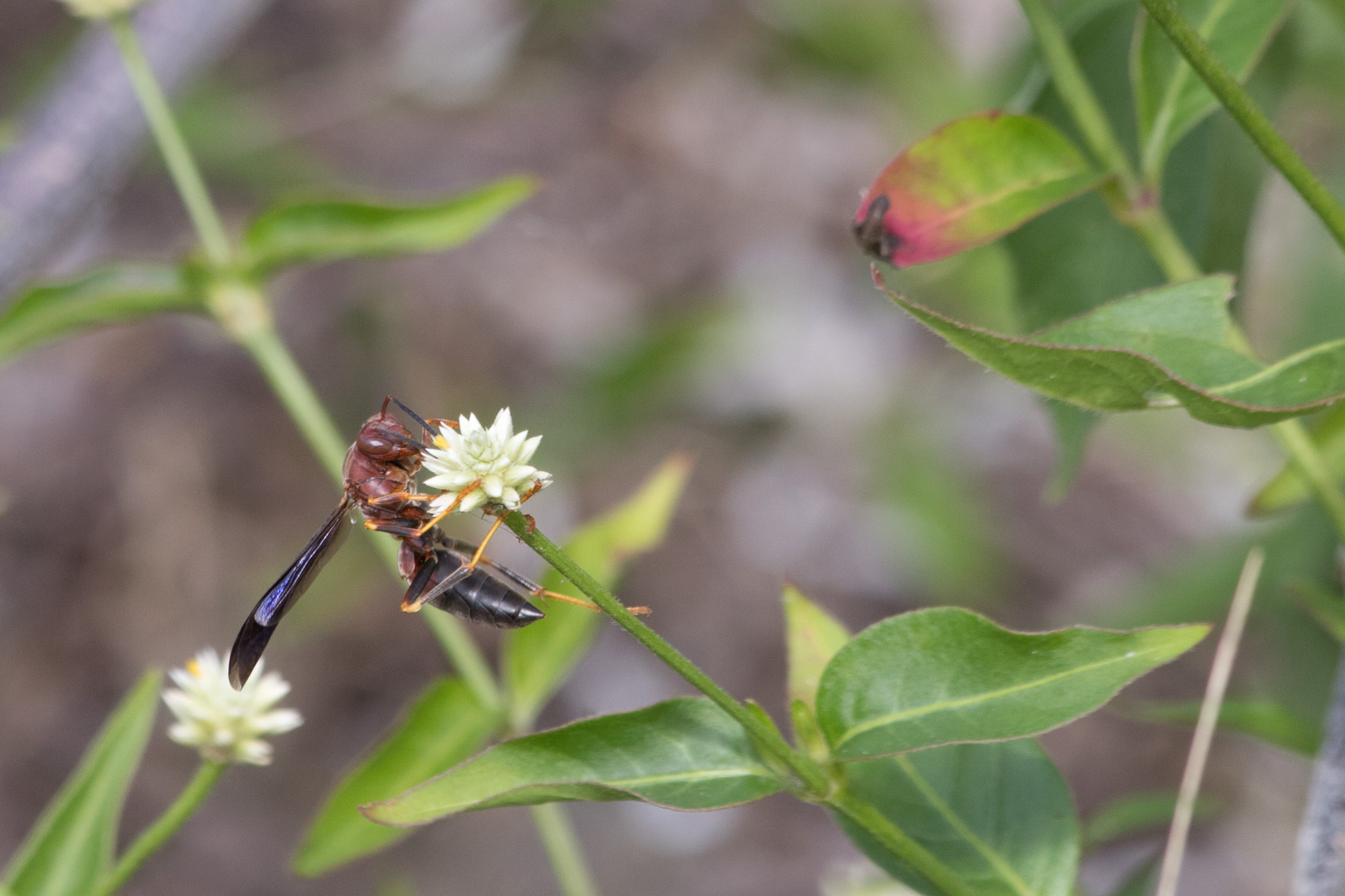 Dragonfly.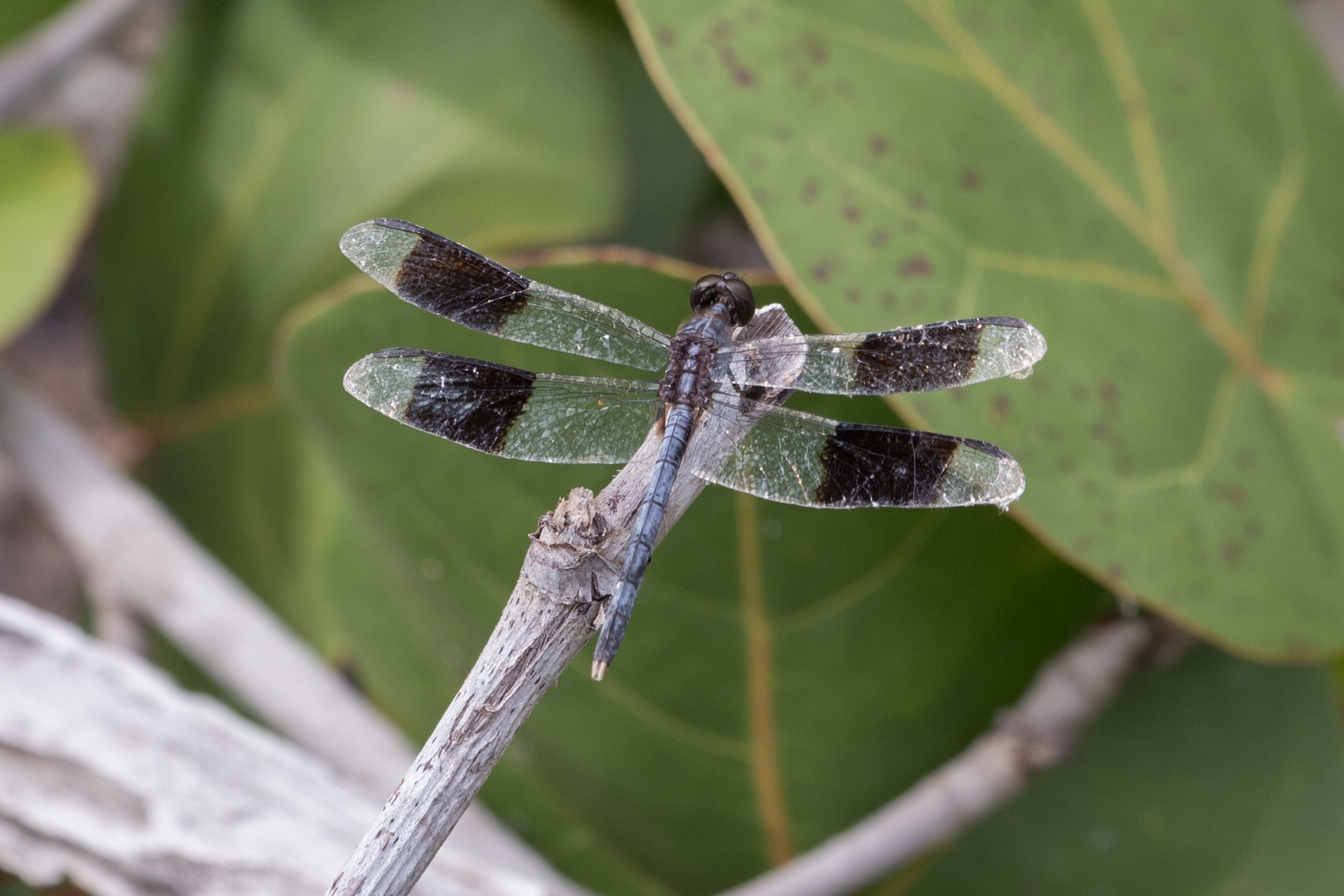 Gray moss hanging from tree branches.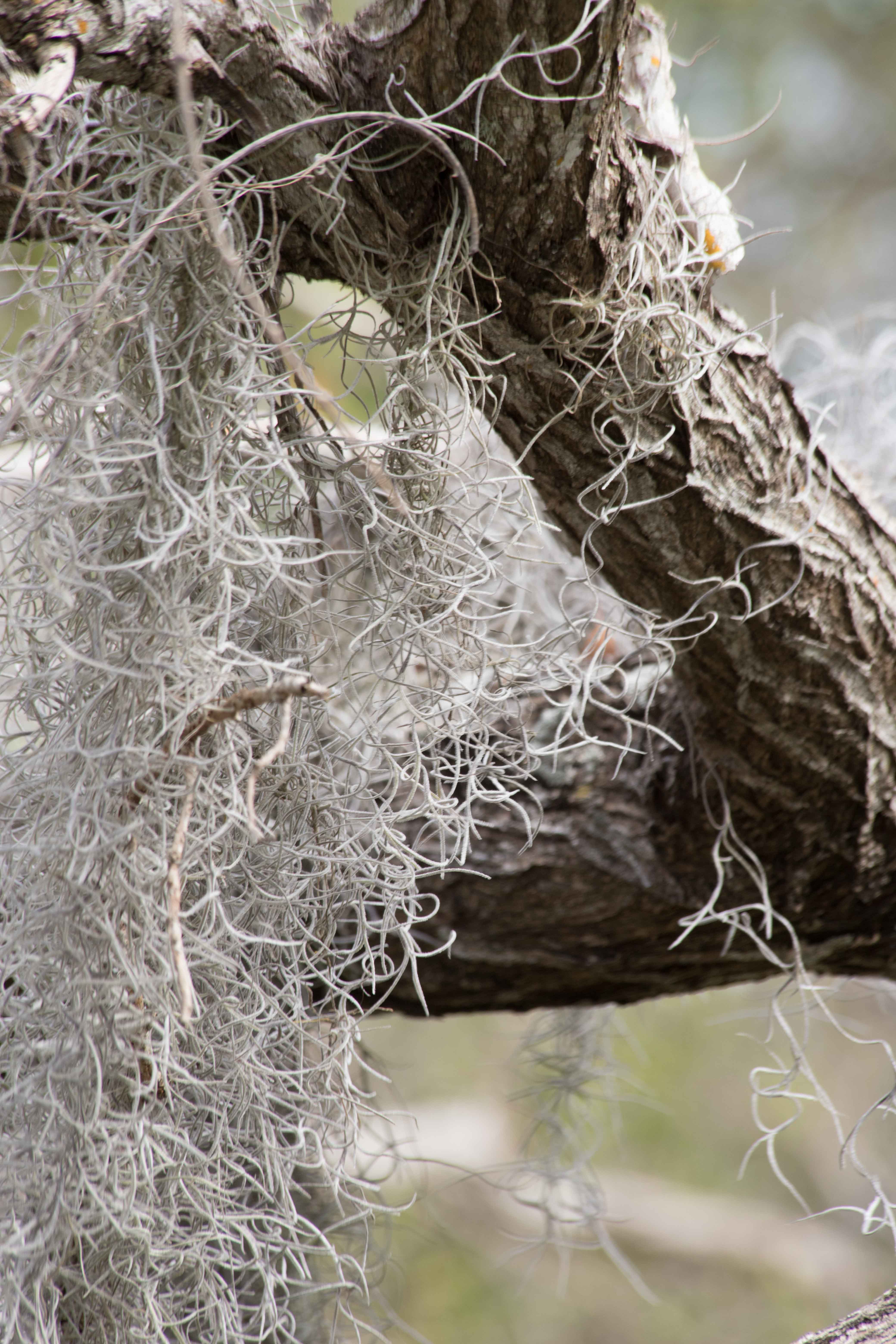 A dead branch sticking out in to the water.
The campground was open, but the area had obviously been damaged by the hurricane. Eric took my picture sitting on a downed tree.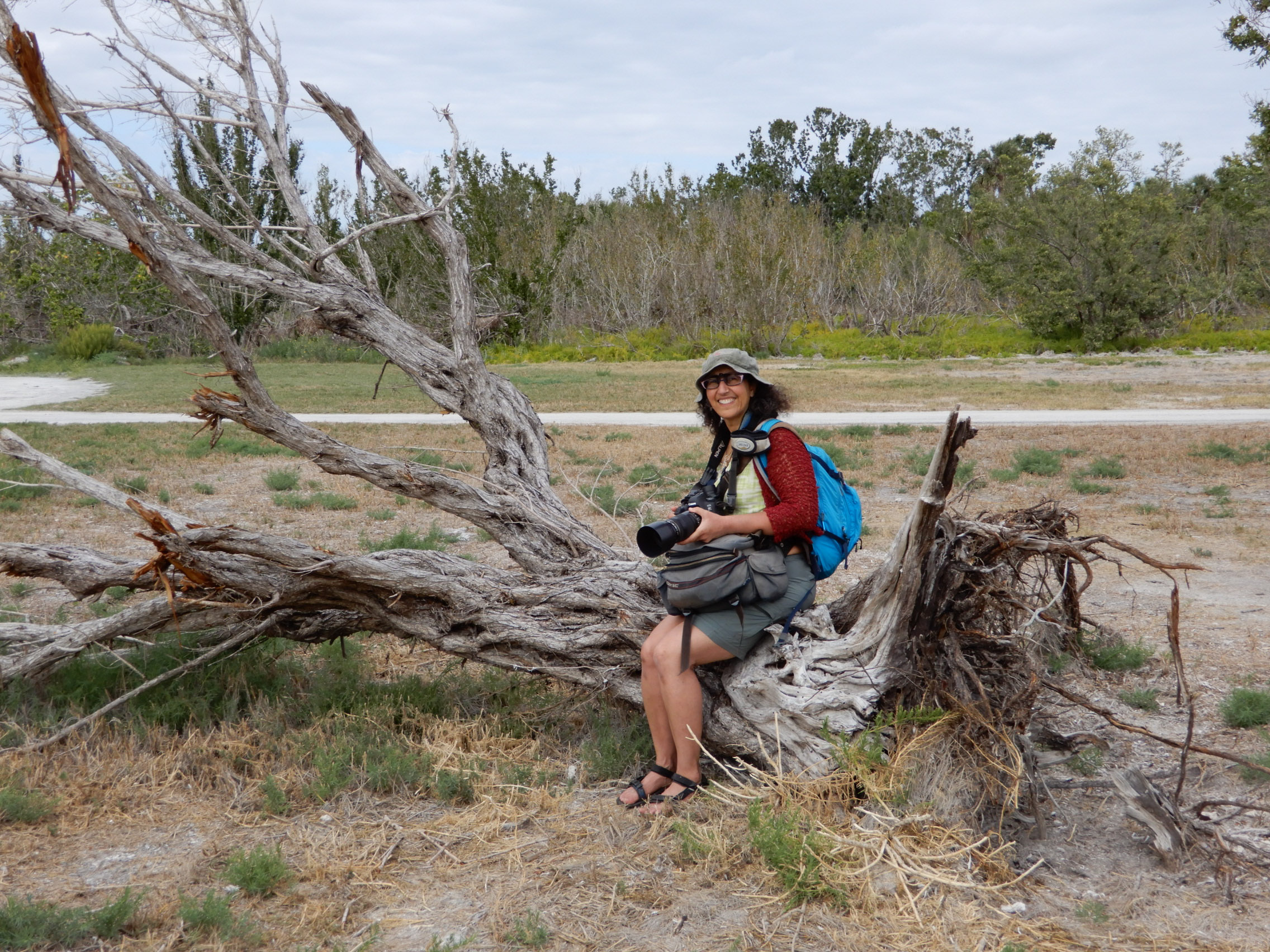 Eric also found that the environment was recovering from the damage, with new growth.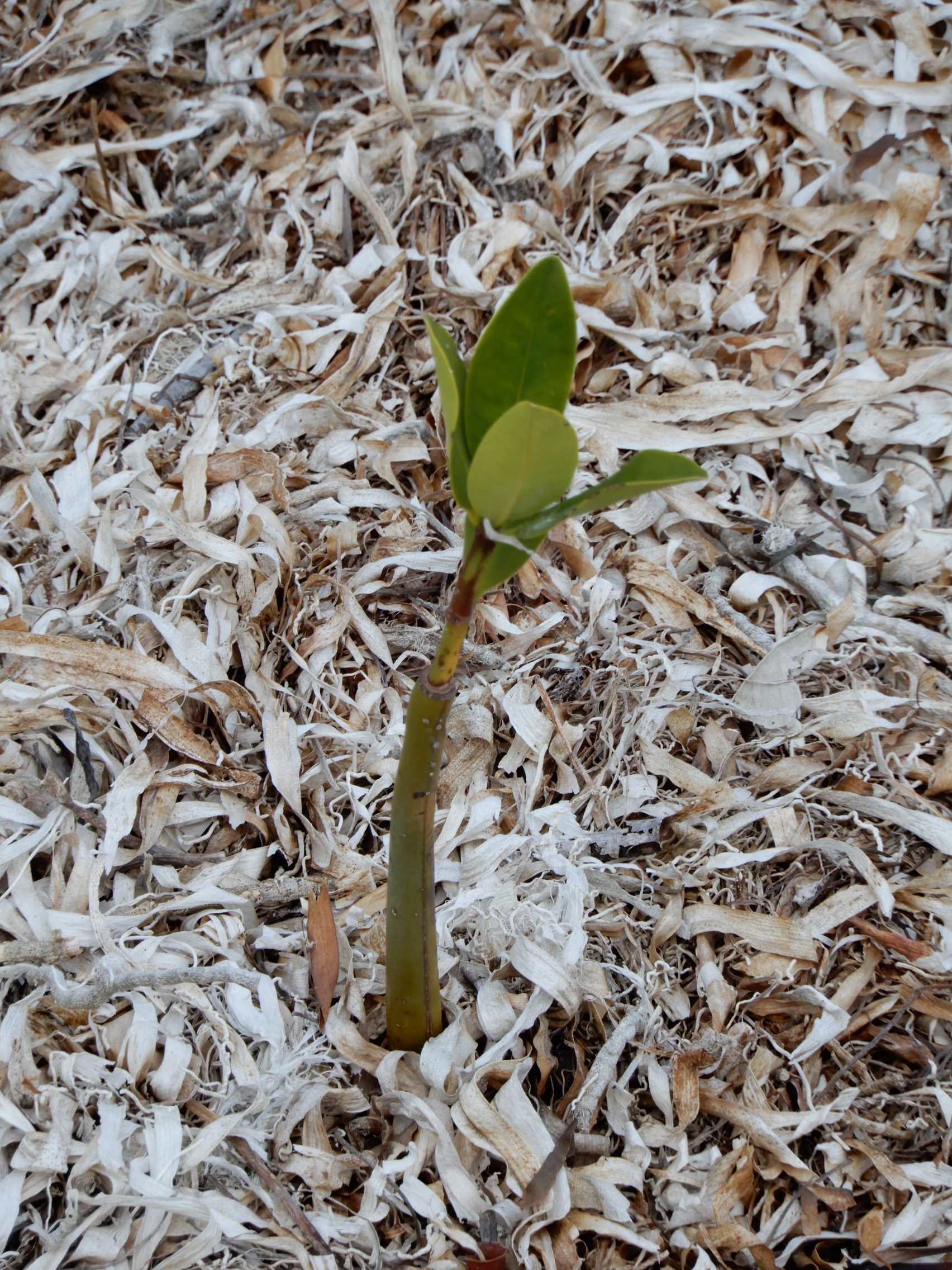 On the way back, we stopped briefly to see the Pa-Hay-Okee Overlook. Eric took a picture of relatively featureless sawgrass prairie.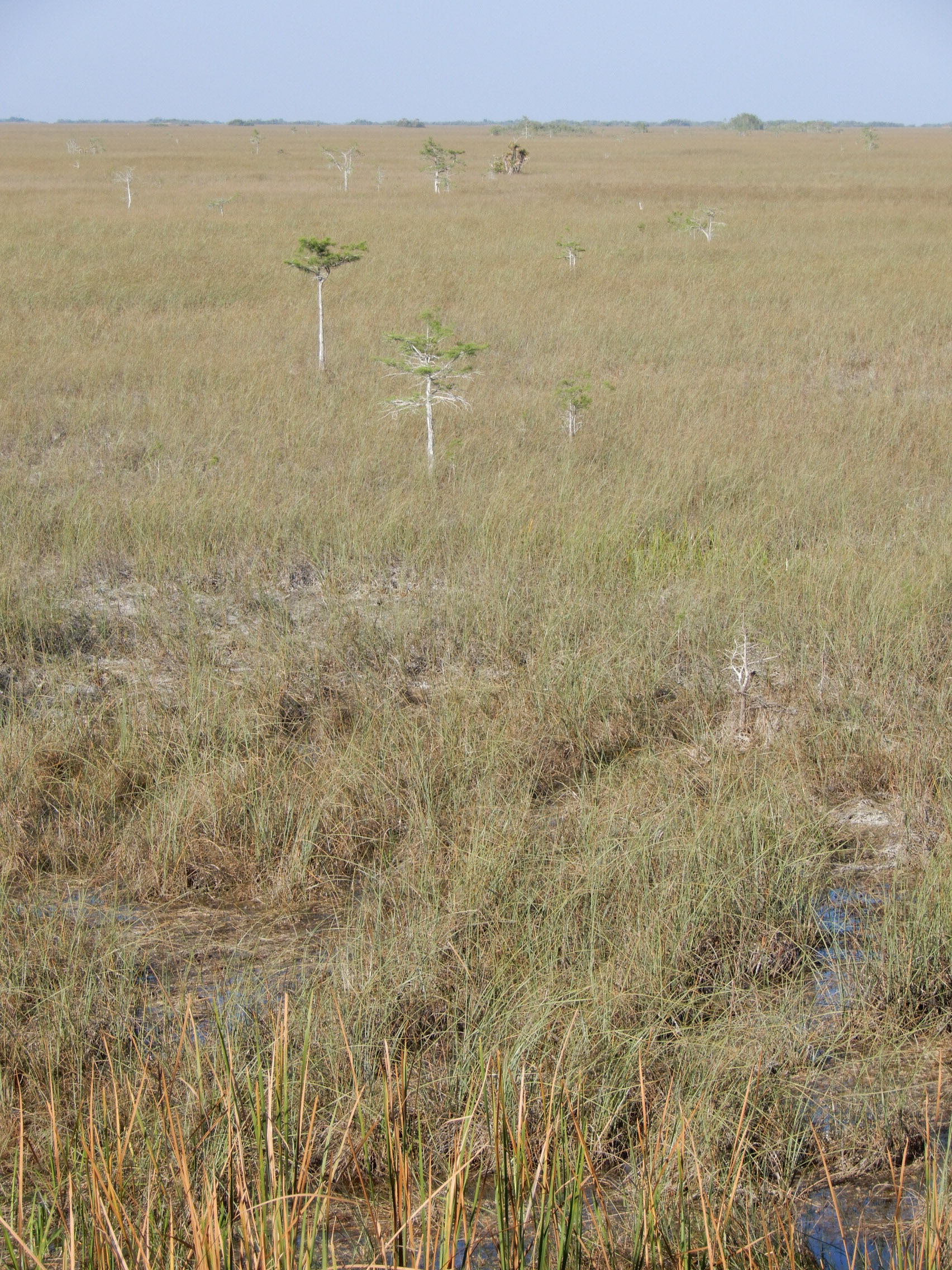 Eric was amused by this road sign. In California, we measure our passes in thousands of feet.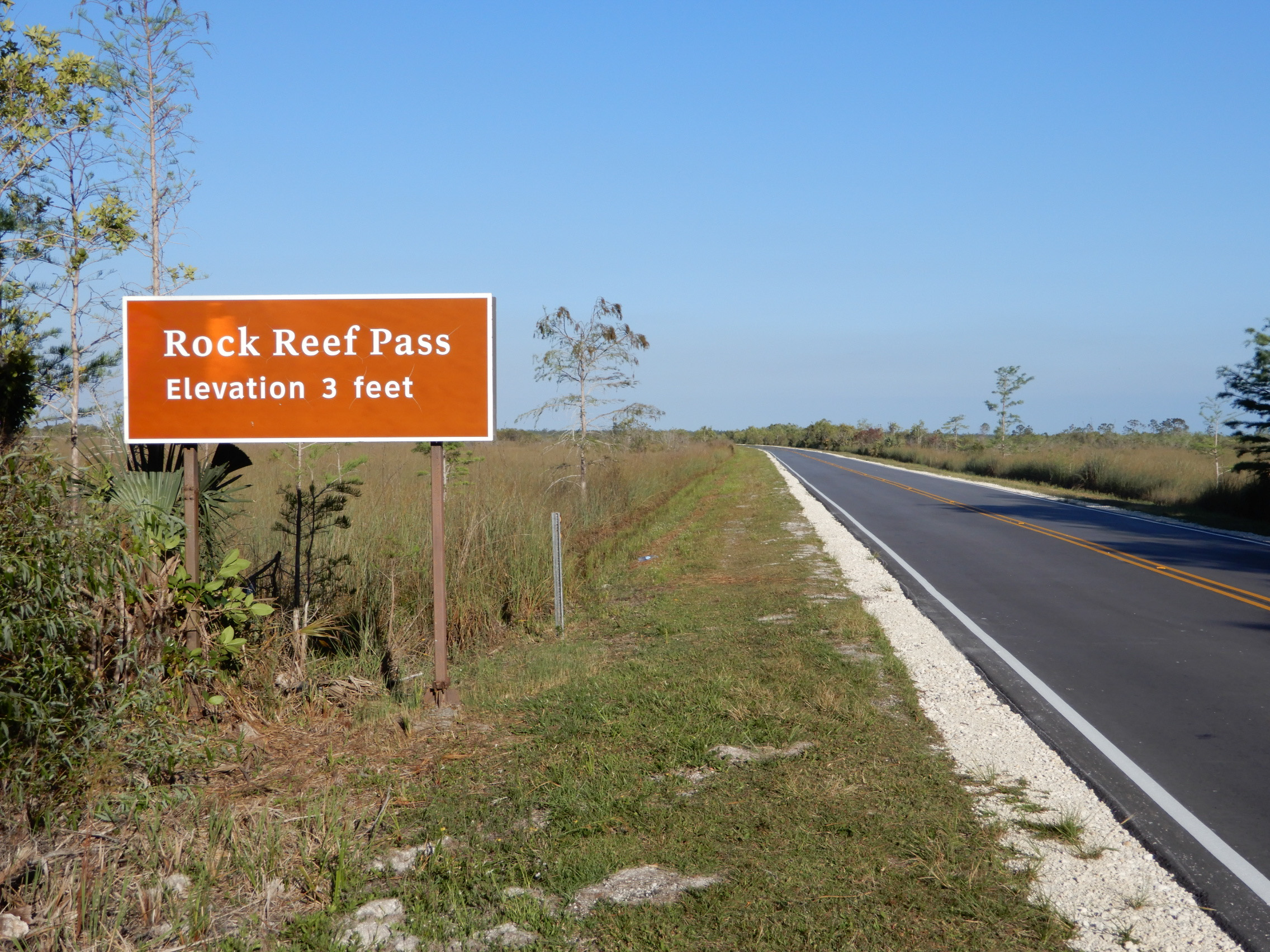 With still many pictures to sort, we grabbed some delicious take-out Thai for dinner and brought it back to our room in Homestead. It was much better than our lunch!
Protection of the vulnerable wildlife in the Everglades is a constant issue in south Florida, as sugar plantation owners and developers divert water from the famous river of grass. Even a ballot initiative that passed a few years ago has not made as much difference as the voters had hoped. The Tamiami "Trail," US 41 between Tampa and Miami, acts as a dam across the Everglades. However, construction workers are currently raising the highway to allow the water to flow beneath, and some minimal restoration of the historic Everglades has begun.
On to
Biscayne National Park
.
---