---
Riding All Around Lake Tahoe
Sunday 9 September, 2012
Camp Richardson to Emerald Bay
We went to sleep at about 22:30, with the goal of getting up around 5:45. We knew that the supported group of cyclists, the Tour de Tahoe, were starting out from South Lake Tahoe (about 16 km, or 10 mi, east of us) at 6:45, and then heading up the same hill we had to climb. We knew from past experience, when we rode along California Highway 1 with the AIDS ride, that a large group of bicyclists means safety in traffic, so we had hoped to get going soon enough to join the others. This made it rather silly for us to pitch our tent under the trees, where it would be shady after sunrise, rather than on the flattest part of the site. Although I had carefully placed the tent so that our heads would be above our feet, I felt all night as if I were falling toward my feet. My right knee, normally a chronic problem when cycling, was doing so well that I had only taken one ibuprofen during the day, and so I forgot to put on the neoprene knee brace before going to sleep. I was rewarded for this omission by being awakened with sharp knee pain in the middle of the night. An application of the knee brace quickly rectified this problem. Honestly, since I made a seat adjustment, the knee has been doing much, much better (although I did make a very slight further seat adjustment in the morning). The upshot of all of this was that, when the alarm went off at 5:45, and I looked up through the netting at the still-dark sky, I was just unable to get up. We got about 6:25.

In the showers, we each discovered that we had no soap. The only soap we had with us was back at the campsite with the dishes. We each did the best we could with soap from the sinks. Not the most satisfying shower ever. The awesome spider was also unsurprisingly but disappointingly dead.

Of course, by the time we got back from our shower, the other cyclists were already riding past us. Eric went up to the road to take a picture.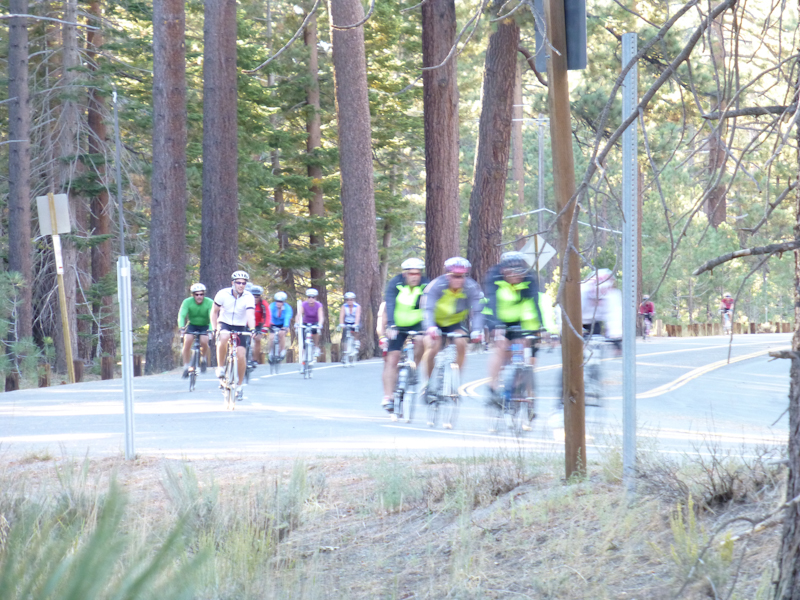 In spite of all of these problems, I was thrilled to be camping, waking up out among the trees. I found myself skipping back from bathroom, I was so excited. Someone was making bacon, which reminded me of camping with my family as a child. Dad used to cook bacon for us on a nice Coleman stove. What a beautiful place in the early morning light!
Eric and I heated up water on a backpacking stove and ate oatmeal for breakfast, then struck camp. Since my legs had been so tired the day before, Eric took a little bit of my weight, my binoculars and toiletries, not quite 2 kilos (4 lbs).
Across the way from us were some people with a van from Florida. They told us that, since business was poor, they were taking a two-month break to drive around the country. The had come along through the southern part of the country and were now heading north to the Olympics. Their goal was to hit all four corners of the continental US, visiting Maine before returning to Florida. They had been to Zion, Bryce and Death Valley, and showed me some pretty phone pictures. But when I asked them which place was their favorite, they said Gila, NM, with the native cliff dwellings. They especially liked the place because you could climb up and enter the cliff dwellings rather than just admiring them from afar.
We managed to get started five minutes sooner than we had on Saturday: 9:15. As good as I felt, I was still worried. We need to cover roughly the same distance as we had the day before, with some slow climbing still ahead of us, and we needed to drive three hours back to Berkeley in enough time to get enough to sleep to be able to work in the morning. The prior year, we had been delayed for hours by many flat tires, and I had had to sleep in the car while Eric drove home. I did not want to repeat that experience.
We headed out into a beautiful forest. Eric took a picture of one of the mountains.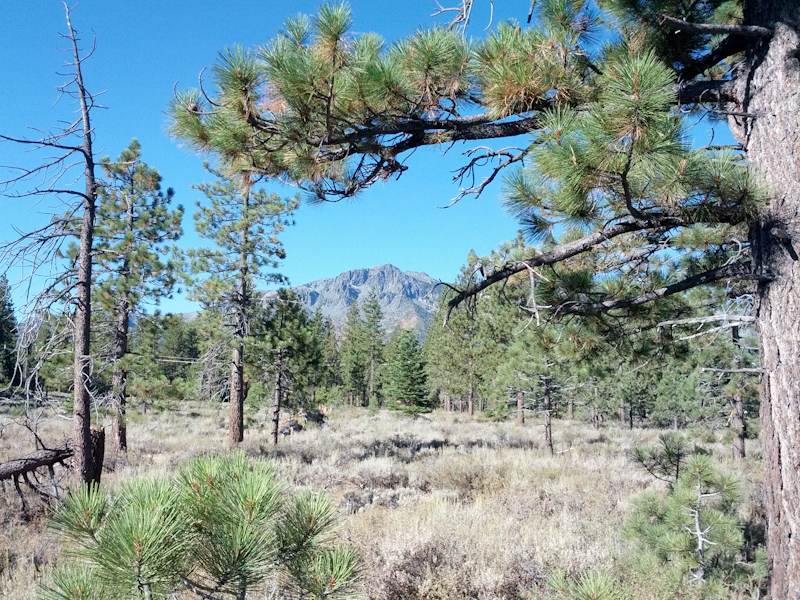 And I photographed this lovely stream.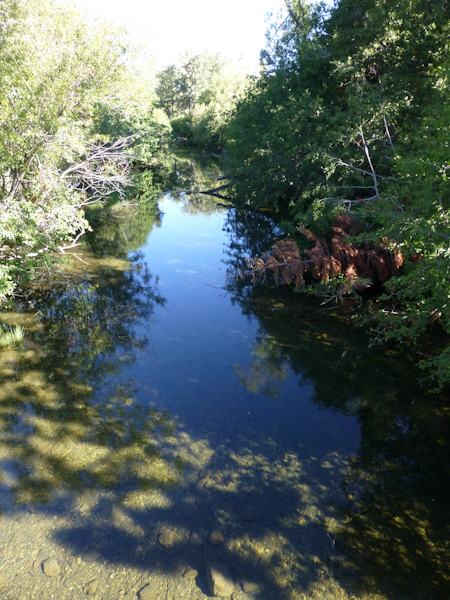 There were still a few straggling cyclists from the Tour de Tahoe passing us, but not enough to alter the traffic pattern. Unfortunately, we kept seeing debris by the side of the road in the form of GU containers and Clif Shots, and we had a feeling we knew where those came from. How could you so despoil a beautiful environment like this, and not care what it looked like for the cyclists behind you? We were disgusted.
We stopped to look for a geocache near this hollowed-out tree, but couldn't find it.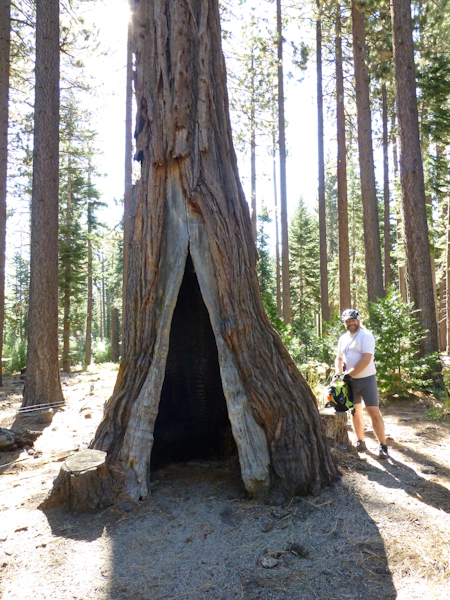 I was enthralled by this rock and tree root; it reminded me of a dinosaur clawing an orb. But Eric got a better picture.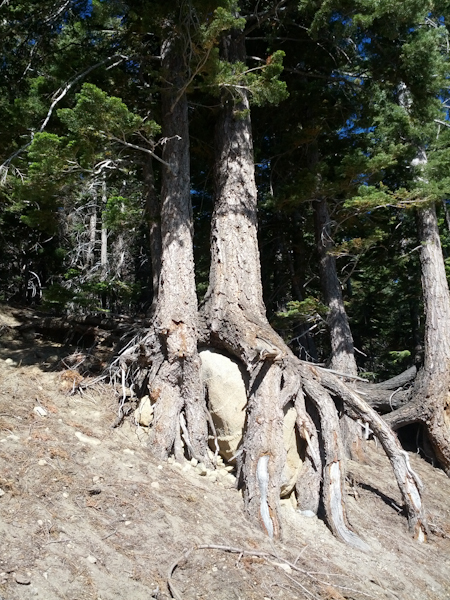 It didn't take too long before we came to the really steep part of the hill, and corresponding spectacular views.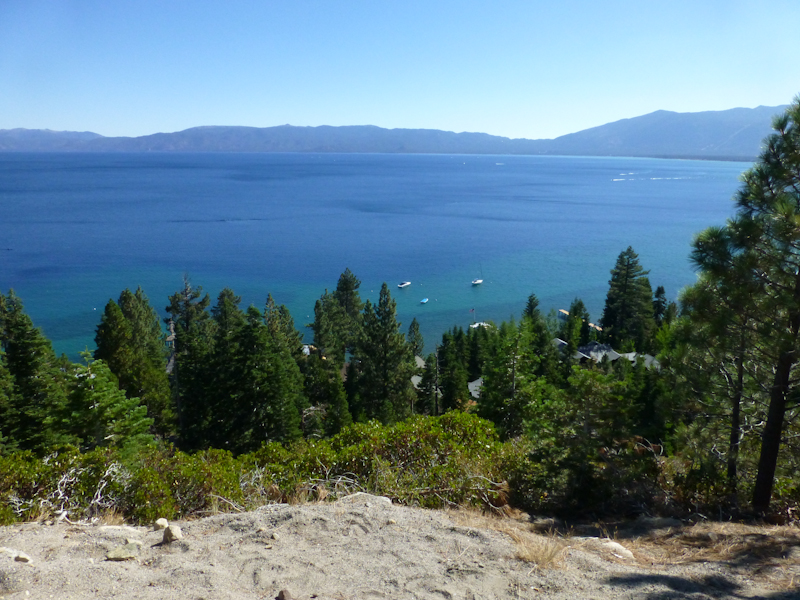 I took a picture of what I thought the other cyclist had described as death to the right (photo looks back).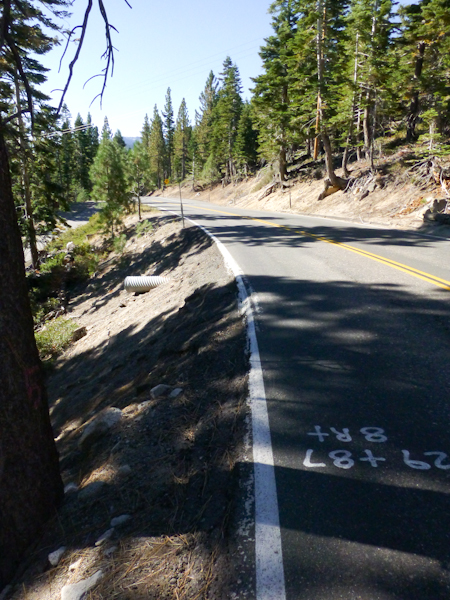 Soon, however, the road became much, much steeper. The climbing was hard, harder than the Nevada side had been the day before, and the road switchbacked violently.
Soon, we found out what our friend had really meant by "death."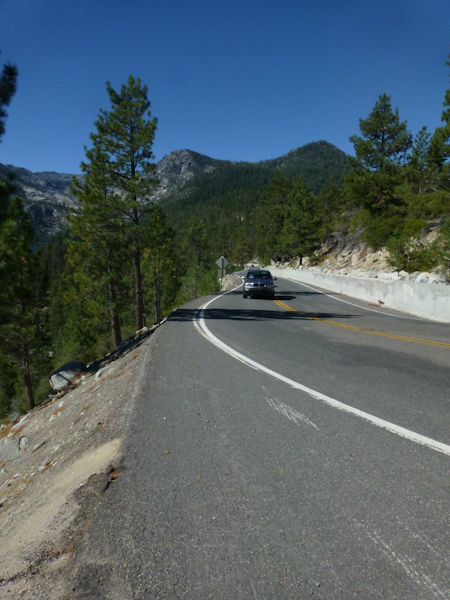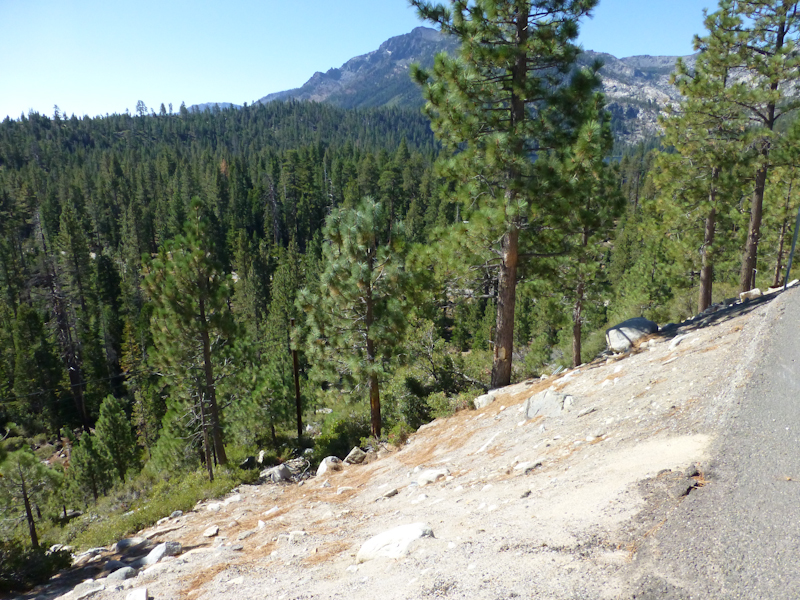 Eric took my picture by the side of the road, with the lake behind me. It was so pretty that we were smiling even through the long, arduous climb.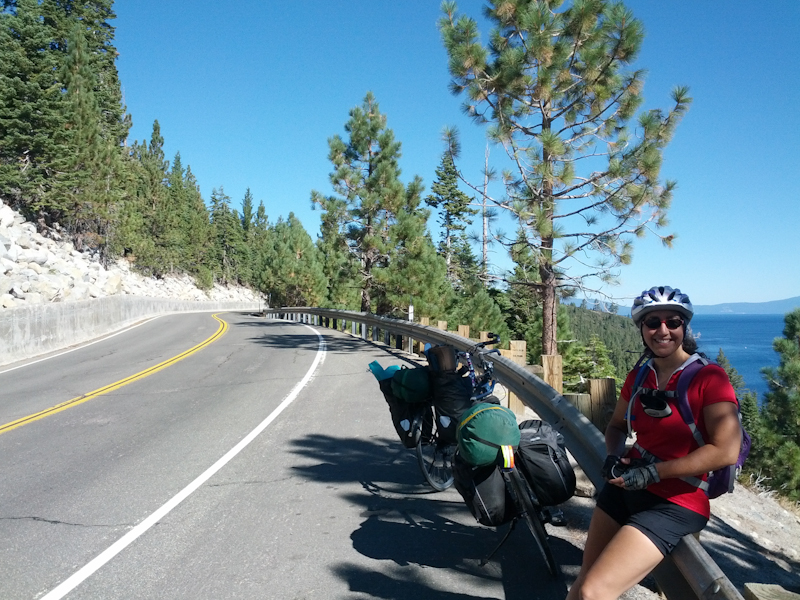 The steep curve as the road turned a switchback.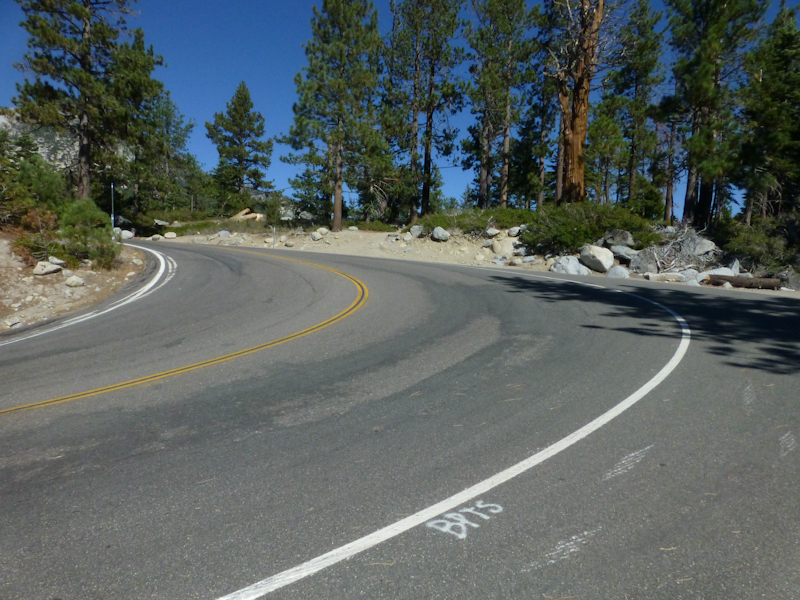 Part of the way up the hill, we found another campground, in Emerald Bay State Park. Like Camp Richardson, this campground did not have bicycle camping, so we would have had to have paid for a car spot. But, if we had found ourselves climbing that hill in descending darkness, we would have had a refuge. There were, however, no restaurants anywhere nearby, so Camp Richardson had definitely been a better choice.
And we definitely wanted to see these beautiful views of Emerald Bay in the daylight! Eric took this picture, with Fannette Island.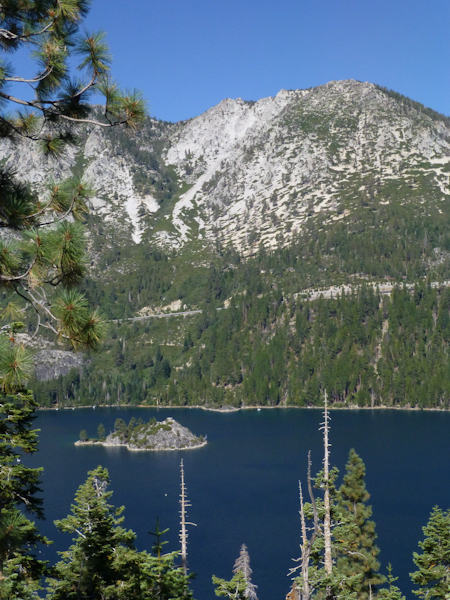 As we approached the summit, the road flattened a bit, and went over a spectacularly gorgeous saddle. From the same spot where Eric took that lovely picture of Emerald Bay, he took this picture of Cascade Lake on the other side of the saddle.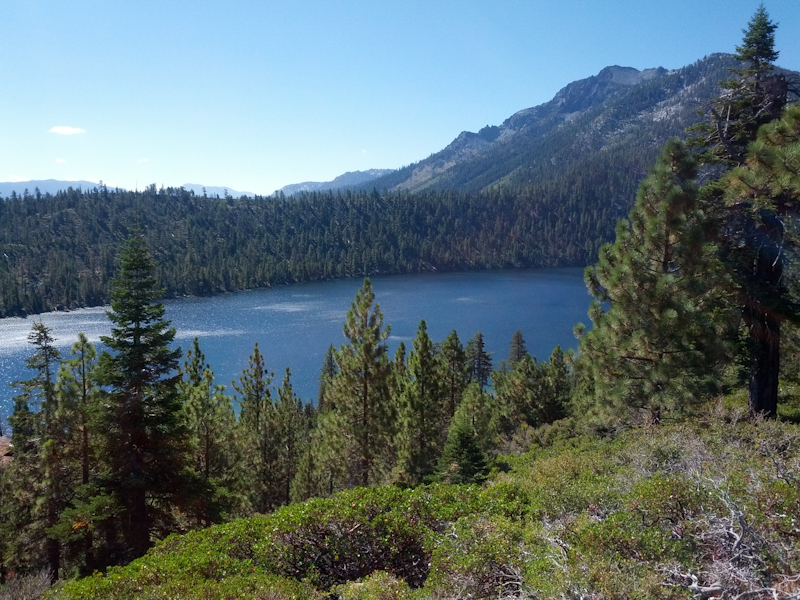 An interpretive sign at an overlook told us that the saddle was actually a glacial moraine! How cool! Roadside Geology of California tells us that both Emerald Bay and Cascade Lake were carved by glaciers. In light of these views and the fascinating geology, I had to change my mind and acknowledge that the California side of the lake was cooler after all. Sorry, Nevada!
A closer view of Fannette Island.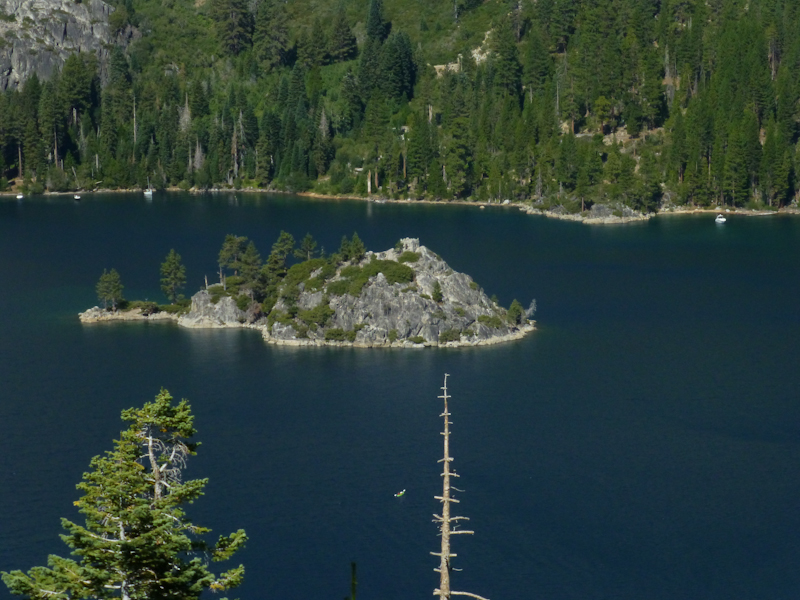 Emerald Bay from near the summit on the road. Despite the climbing, I think this was the best part of the ride.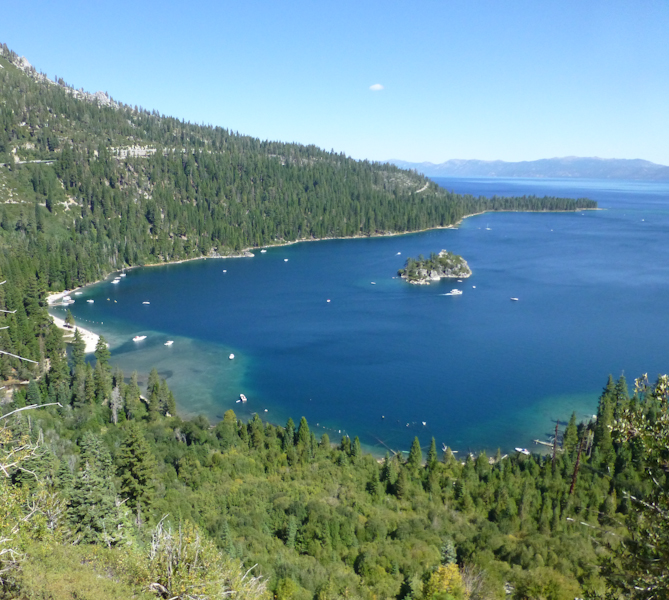 We had our picture taken at a scenic overlook.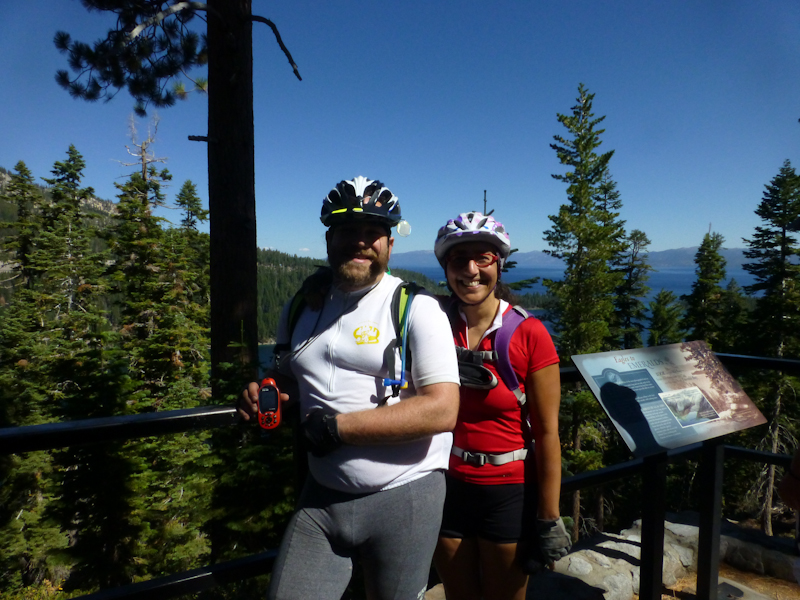 We ended up spending something like an hour at that overlook, because it was such a wonderful place. We found two geocaches, a virtual and and earth cache, and ate junk food from a trailer. We conversed with some people visiting from the Netherlands. When I apologized for not being able to speak a word of Dutch, they told me that "hello" is actually a Dutch word.
There was a steep descent down from the overlook, and we passed this lovely beach and marina.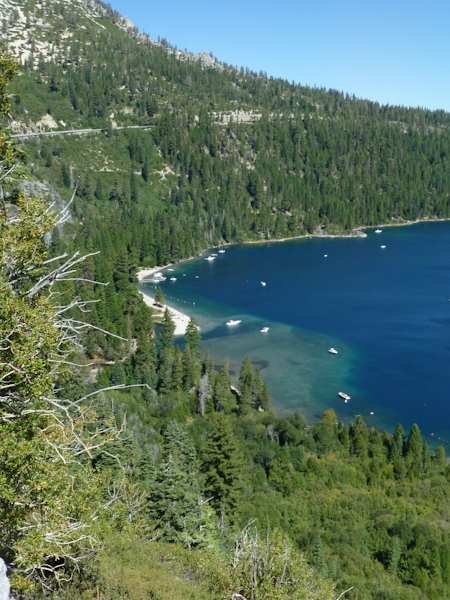 After the steep decline, the road again ascended, albeit more gradually, all along the north side of the Bay, about 5 km (3 mi). Eric took my picture by the road.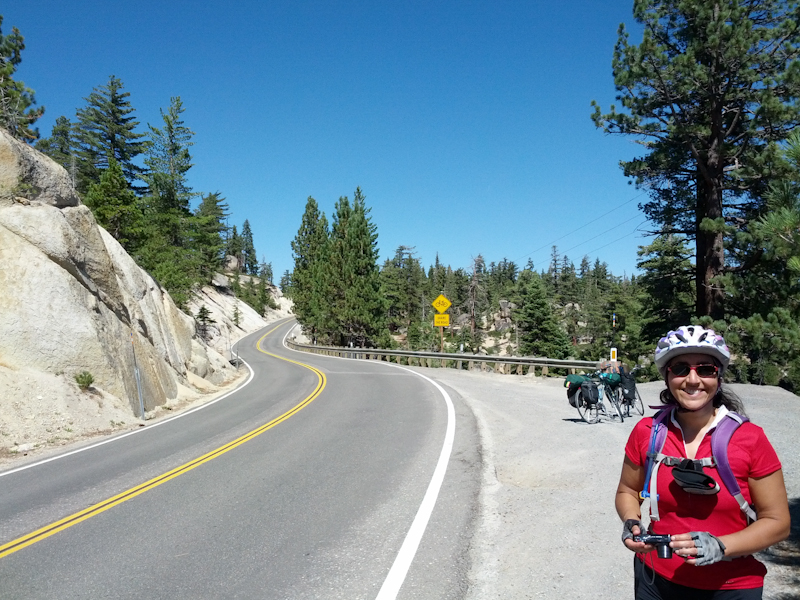 Once we got back to the main body of Lake Tahoe, we knew that we were mostly through climbing for the day and that our challenges would be lessened. We came to D.L. Bliss State Park, our intended destination for the previous night, 3:01 hours after we left Camp Richardson. Although we did linger at the overlook, it certainly seems like a good thing that we didn't try to make it to D.L.Bliss Saturday night.
Emerald Bay to Meeks Bay
The terrain changed dramatically as the road moved away from the edge of the lake.

Eric took this picture of a stream from a bridge.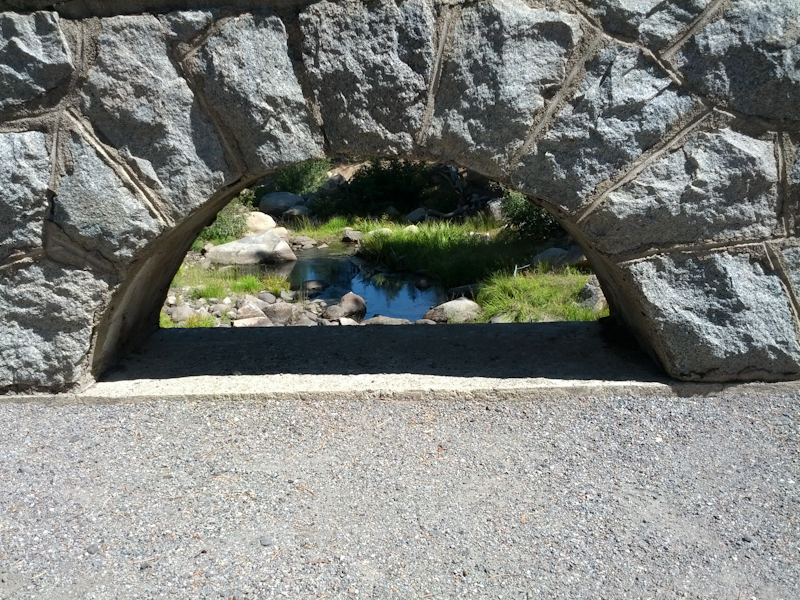 The straggling Tour de Tahoe cyclists had pretty much disappeared while we were climbing the hill up to Emerald Bay. Now, I saw a truck removing the extra port-a-potties that had been put out for them. While I had been happy to see that there were extra toilets, we actually found plentiful parks with bathrooms all around the lake.
We found a Doors-themed cache. I started hearing This End in my head rather than Good Stuff. Good Stuff had been quite a bit cheerier, so I sang it again to bring it back.
As the caches Eric had chosen became more sparse, we finally managed to get some vaguely reasonable distance in, covering something like 5 km (3 mi) in less than half an hour. This, of course, is still quite slow for bicycling, but I don't think it's terrible for loaded self-contained touring cyclists on uneven terrain. I started to think of our distance coverage as exhibiting a sort of punctuated equilibrium. We would cover some distance, then stop for a cache, then punctuate our equilibrium a little more, then stop for another cache, etc. It's certainly more fun (and easier on the behind) than riding straight through.
Along the way through mostly undeveloped terrain, Eric noticed a sign that said, "SNACKS" and "GRILL." Not wanting to repeat our error of Saturday in not having any lunch, he asked me if I wanted to stop. The actual building was a bit back from the road, so I said I would go check it out on foot. The people in the building closer to the road only had ice cream and snack bars, but they told me to go further back, closer to the lake, where I would find a snack bar with a grill.
I found myself in this beautiful setting! So, of course I had to go back and get Eric and bring him out here for some veggie burgers and mozzarella sticks. We ate at this lovely picnic table.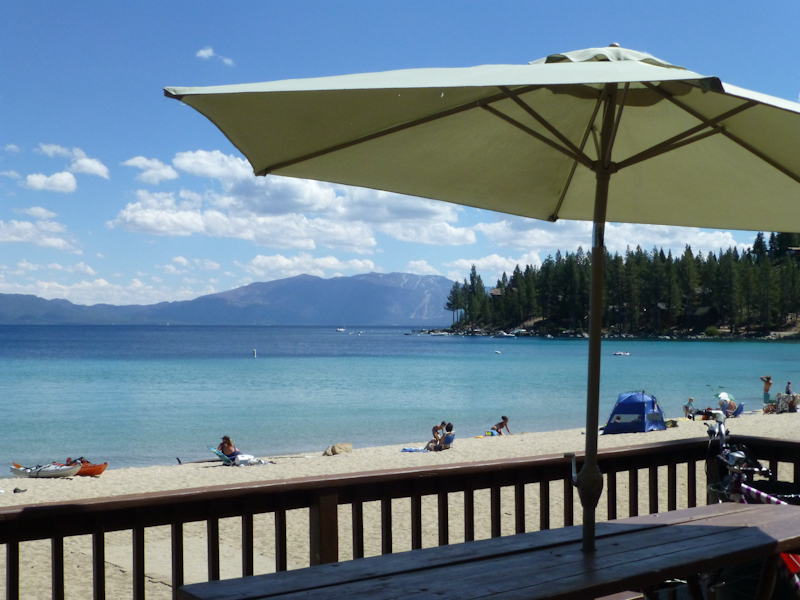 I wanted so badly to get into the water. It just looked so tempting. Had I known that there were much more beautiful beaches up ahead, I would have skipped swimming at the relatively lackluster beach in South Lake Tahoe and saved my swimming time for Meeks Bay. But the time required to retrieve my bathing suit from our luggage, put it on in a port-a-potty, and then change back into my cycling clothes just would have held us up too much.
Eric said I needed to content myself with dipping my feet in the water. Not the same experience at all, since the water doesn't lift you up and you don't get that exhilarating buoyant feeling. Photo by Eric.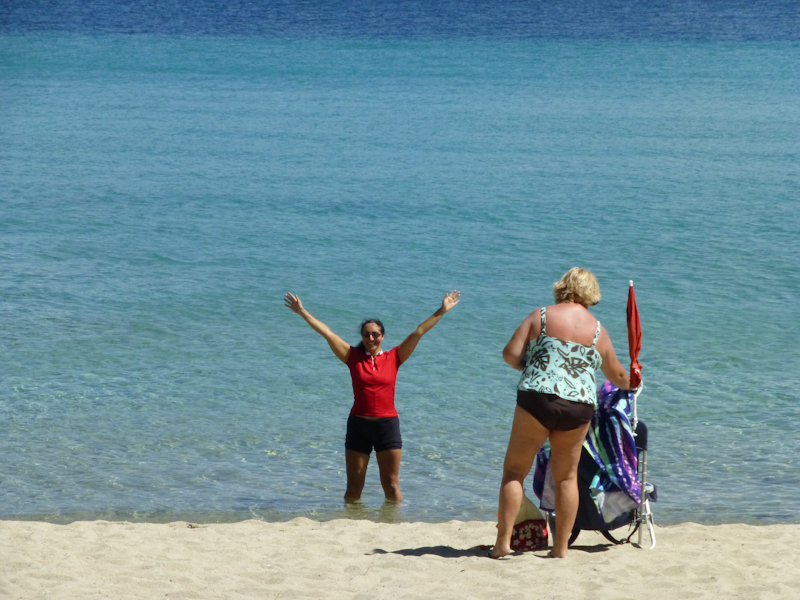 Eric also dipped his feet.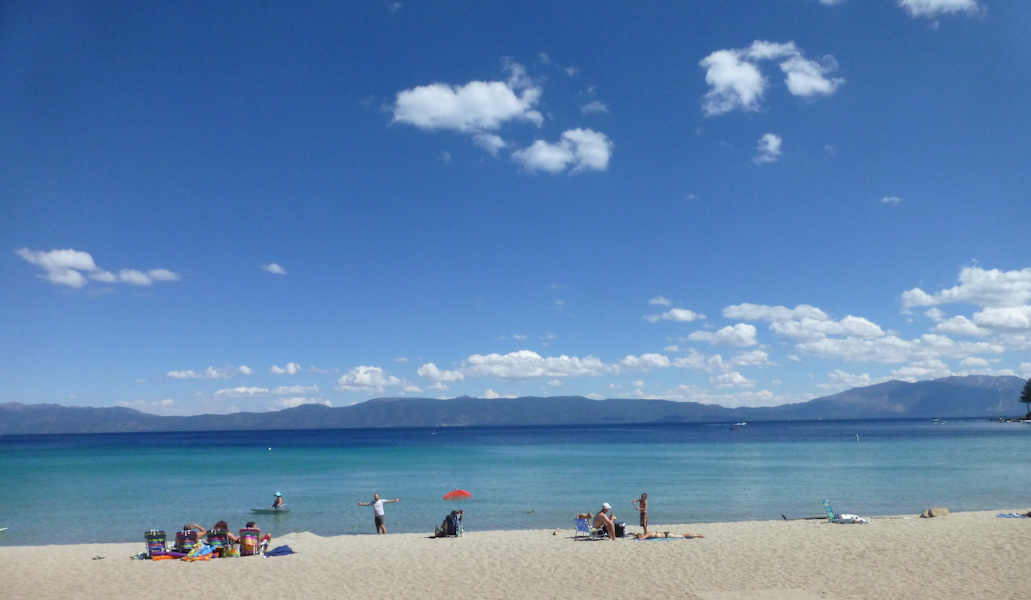 Now, we were at a private resort. We didn't have to pay to get in, because we didn't have a car to park, and, because we bought food, no one was eager to throw us off the beach. Ordinarily, I would think that a beautiful place like this should be publicly-owned, but I did observe that, aside from the notable lack of any convenient plumbing, it was better maintained than most public beaches. And a tent site was only $25.
Meeks Bay to Kings Beach
For most of the rest of the trip, we rode through protected public territory, either state parkland or national forest.

We stopped to look for a cache at Kaspian Beach, but couldn't find it.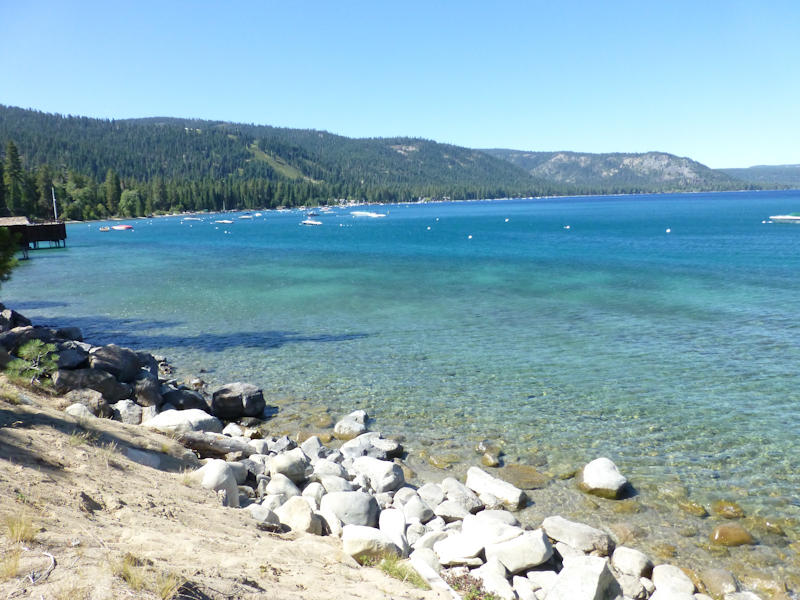 The spot had actual plumbed bathrooms, though, and running water--the first we'd seen since Camp Richardson. We were happy to refill our water bottles. My knee was doing very well, considering the stress it was under, but I decided to take one ibuprofen for it.
While we were there, a paddlewheel boat went by.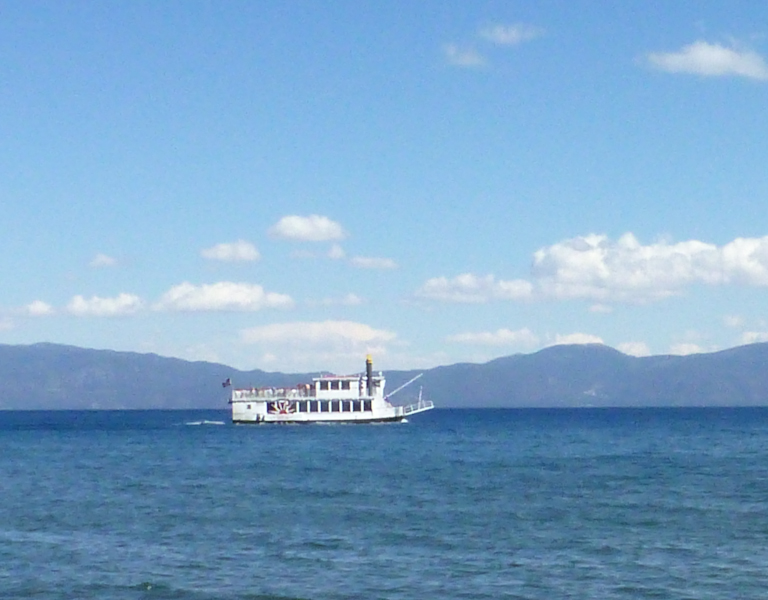 A bit further on, I spotted a sign for a bike-specific campground, operated by the US Forest Service. What a great idea! I have to assume they would also take you if you walked in with a backpack.
CA Highway 89 peeled off to the left to head up over Mt. Lassen, and we picked up CA Highway 28 to continue along the lakeshore. Highway 28 has actual bike paths along it, but my dental hygienist had told me they were of limited use, and she was right. She told me that the path kept moving from the right side to the left side of the road, which was true. Worse, every time the path required you to cross the road, there were signs saying that cyclists should dismount in order to do so. Ridiculous! Furthermore, especially when the path was on the left side of the road, there were stop signs at every tiny access road, approximately every 150 meters (.1 mi). Sometimes, there would be a stop sign because of someone's driveway! Although I was quite tired of the noise and annoyance of cars going past me, it was impossible to proceed on the path at any reasonable pace, and we returned to the road. I'm sure the state thought this would be a nice path for a casual cyclist tooling along not particularly intending to go anywhere, but it's entirely impractical for anyone between the ages of 12 and 70 and in any kind of decent shape. Not to get all preachy, but this is a perfect example of why we should not have laws requiring cyclists to use paths rather than roads where paths are available.
We took pictures looking up the road toward the lake, with our shadows before us.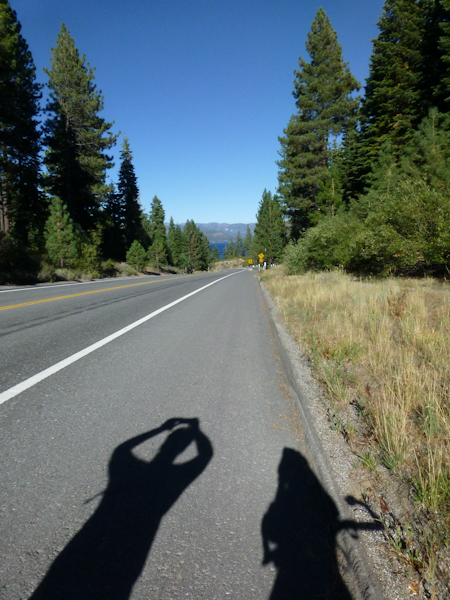 We found a guard rail cache at a beautiful overlook, where the wife of an air traffic controller from Maine took our picture. The cache commemorated the place where the hider's now-husband had asked her to be his "part-time girlfriend" (not that he had another girlfriend, but because most of the time he was stationed abroad).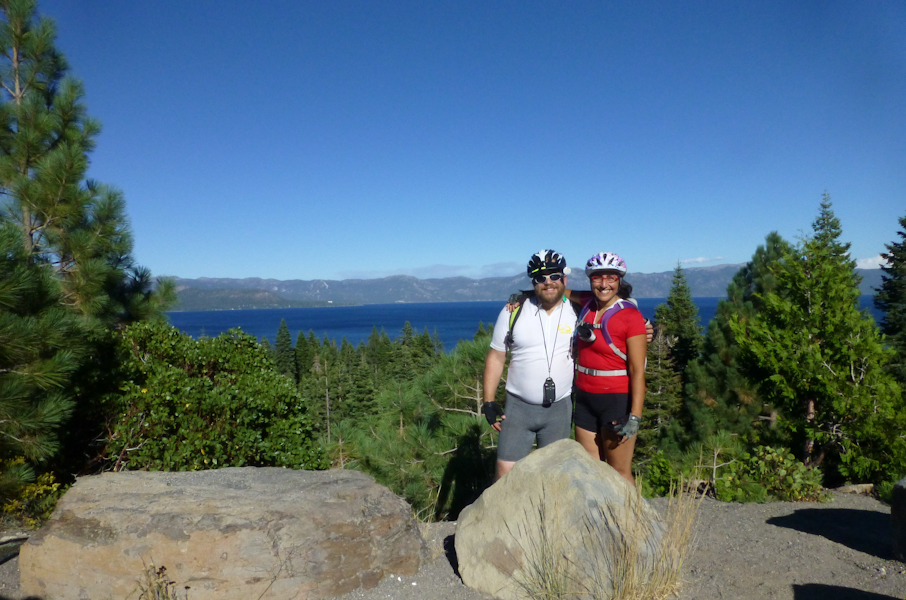 As we rounded the northwest "corner" of the lake, I suddenly felt entirely elated. Now that we were so close to Sydney, if something went wrong, one of us could ride on alone and drive back to pick the other one up. We had made it through 90% of our distance with nothing having gone wrong. And what we were doing was fantastic! Wow! What incredible fun! It made me realize how much I limit my ability to enjoy things by worrying about what could go wrong. After last year's disastrous trip, though, it was hard to blame myself. Now, however, I just felt awesome. How exciting it was to be out there, riding around the lake with my honey!
We found a couple of caches in a historic park at the northwestern corner of the lake. We weren't making fantastic time, but we were doing well enough.
We came to the beaches on the north side of the lake. Pretty, but nothing like gorgeous Meeks Bay.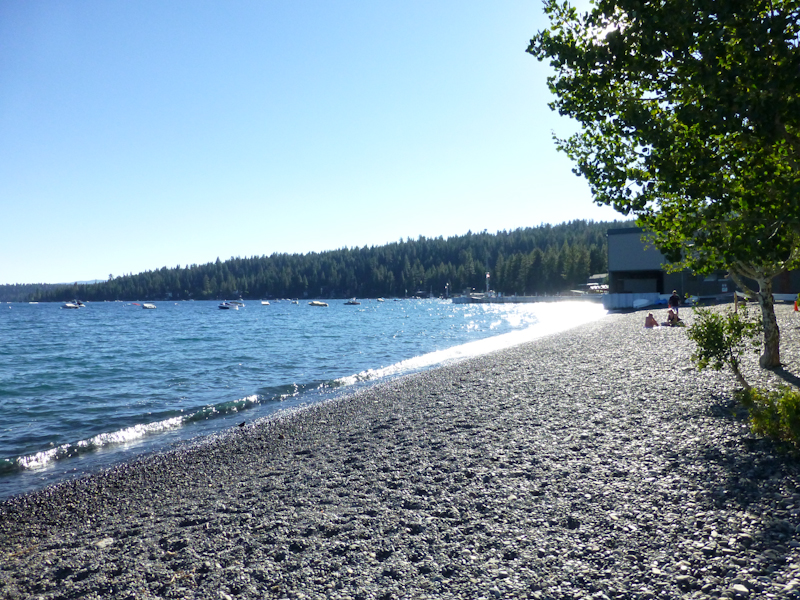 Eric's picture of the water, displaying Tahoe's famous blue.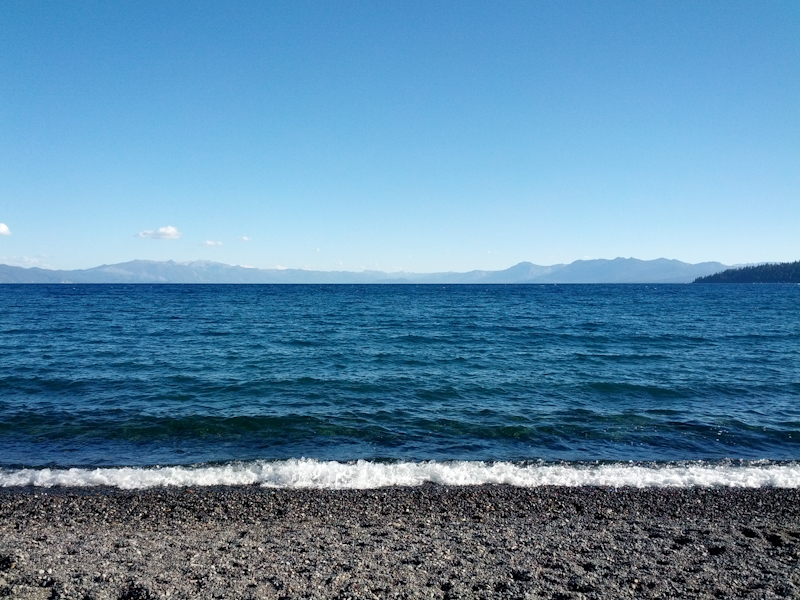 Here, we found our seventh and last cache for the day, making a total of 17 for the trip, or approximately one per hour.
Riding through Kings Beach, we passed the terrible Java Hut and climbed a hill that would have seemed noticeable if not for the terrain we had been climbing for the last two days. We sighted the "Welcome to Nevada" sign, and turned into the parking lot of the Tahoe Inn. We waved to the desk staff and rode up to Sydney, waiting for us and ready to take us back down the hill to the Zuckershack. Eric took a triumphant photo.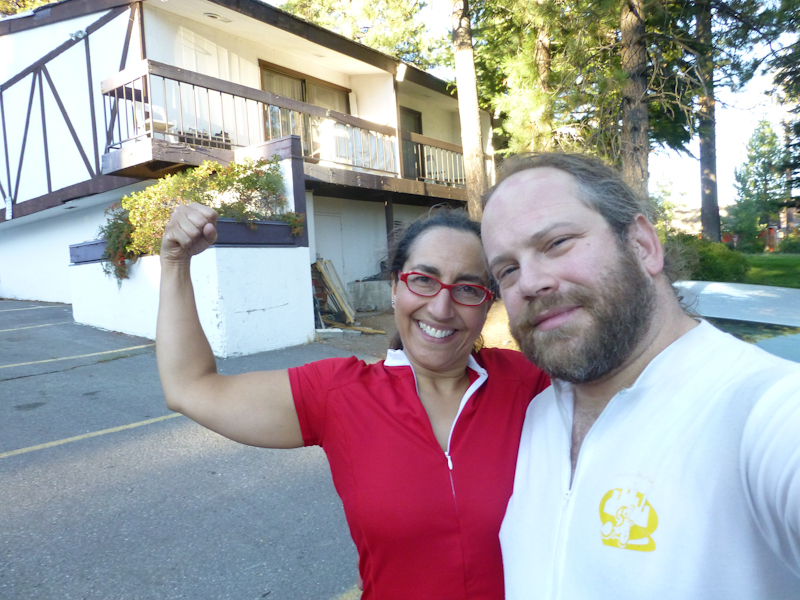 This ride was an amazingly rewarding experience. Unbelievable scenery, and enough challenge to be thrilling without insurmountable or overly-delaying obstacles. The weather could not have been more perfect. Although we were unable to carry out our original plan, we demonstrated the flexibility to change a plan that proved to be impractical. I was filled with pride, joy, and love for Eric.