---
Wrangell-St. Elias National Park
July 22-24, 2011
---
Wrangell-St. Elias National Park & Preserve doesn't get anywhere near as many visitors as Glacier Bay or Denali, even though it's the largest national park in the world and part of a World Heritage Site. It's a real, end-of-the-road, out-of-the-way kind of place, an old copper mining area. I probably would not have thought about visiting it if it weren't included in the Alaska Tour & Travel itinerary. Alaska Tour & Travel recommends going out there and taking a paddle float down the Copper River. It doesn't really sound worth the trouble of a 400-km (250-mi) drive, except that the drive is along the very scenic Glenn Highway. But Eric had a more adventurous idea than rafting in mind: hiking on a glacier. Equally exciting, getting to the glacier involves a scenic flight over the mountains.

An icefall (frozen waterfall) on the Root Glacier. Our guide told us this was the largest icefall in the world outside of Antarctica.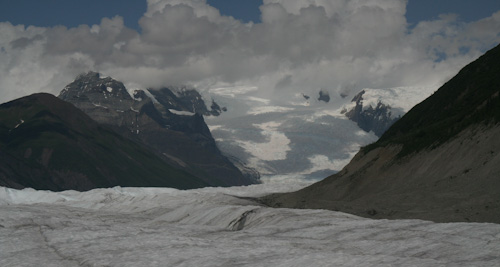 Distance driven so far: 804 km (500 mi)
Caches found so far: 5
On to Denali.
---