---
Iceland
7-13 August, 2014
---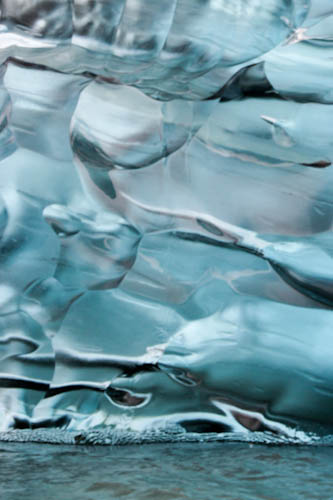 Eric and I have visited all sorts of exciting places, but Iceland is one of the most exciting. Iceland is a paradise for adventure travelers. In the entire world, certainly only the Big Island of Hawai'i is more geologically interesting. This is an amazing place for anyone who loves volcanoes.
What makes Iceland unique is its position on the Mid-Atlantic Ridge. This is exactly the place where Europe and North America are being pushed apart. Thus, it is full of geologic excitement of all sorts: volcanic, seismic, and geothermal. The geology of Iceland is rapidly in flux; only the Big Island of Hawai'i is changing more quickly.
Here are links to pages describing our amazing Icelandic adventures in more detail:
The Golden Circle, including &THORNingveller National Park
Waterfalls and puffins on the south side of Iceland
Glacier trek and climb in Skaftafell National Park
Jökulsárlón Glacial Lagoon, one of the most beautiful places we've ever seen
Snæfellsness National Park, with volcanoes and lava everywhere
North side of Snæfellsness Peninsula, with Viking sushi trip on Breiðafjörður Bay
Topological map of Iceland. Photo by Eric.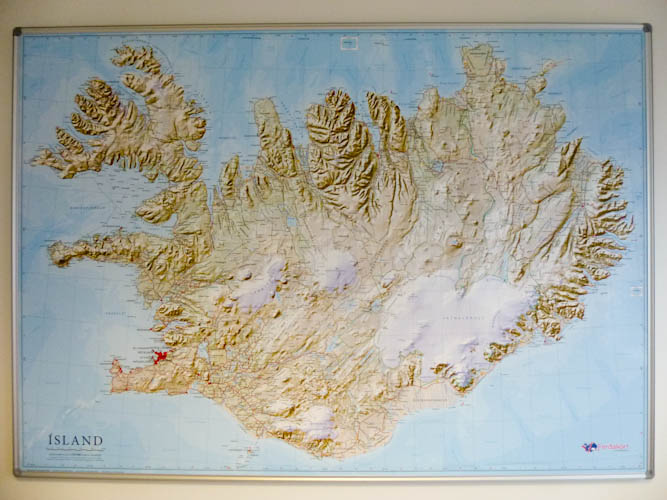 In one week in Iceland, we covered 1,776 km (1,104 mi) of fabulous geologic adventure, and saw all three Icelandic national parks.
We saw incredible waterfalls:
Gullfoss.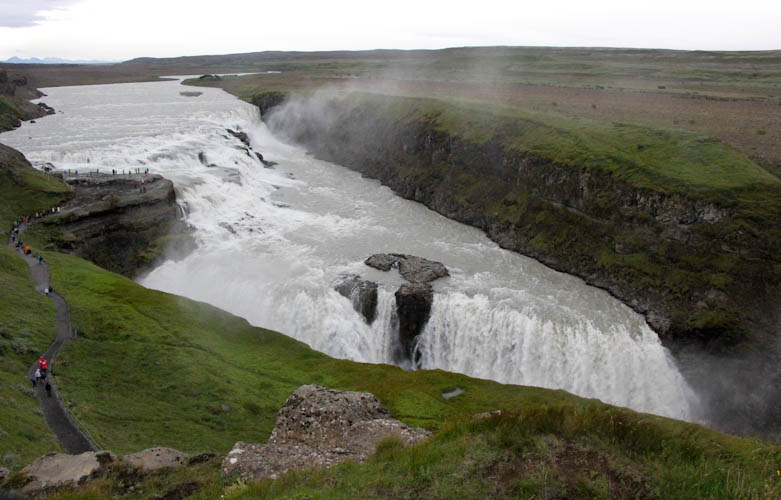 Seljalandsfoss.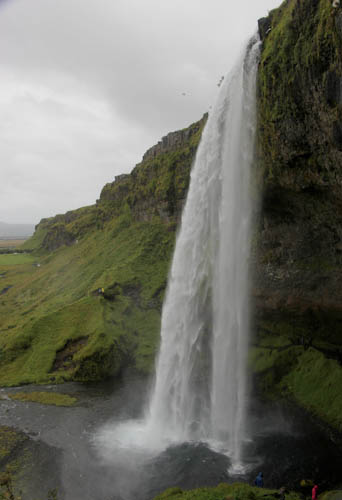 Skógafoss.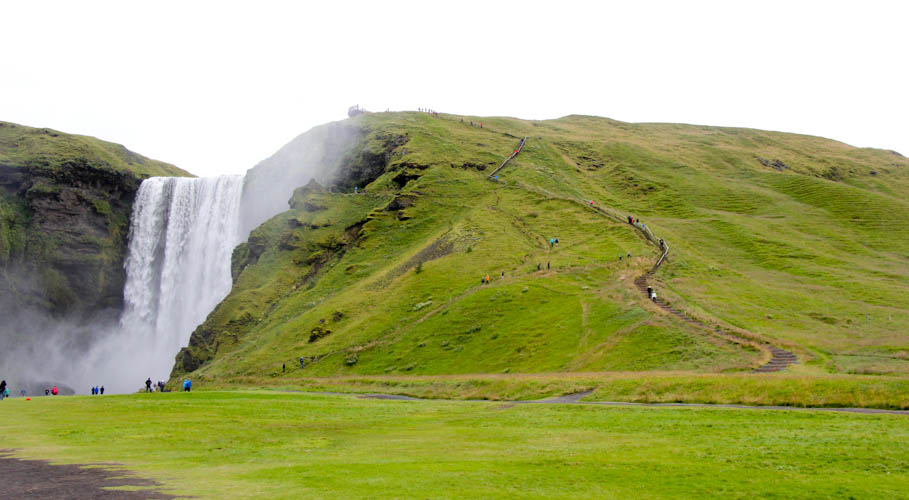 We saw adorable puffins: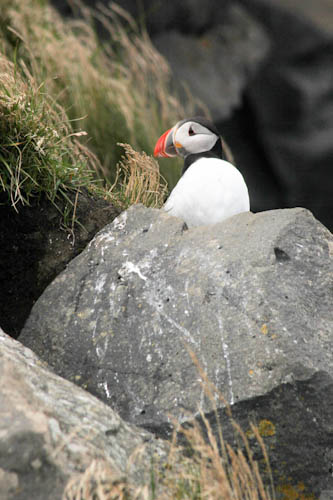 Eric's picture of two puffins.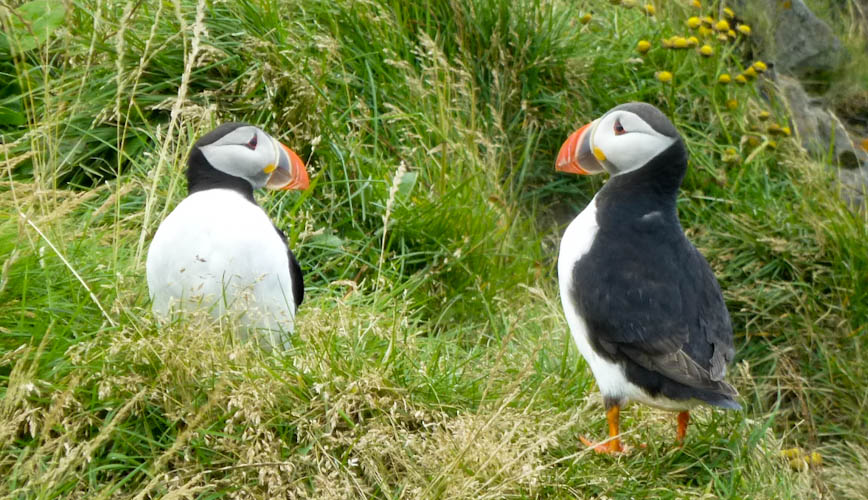 We saw lighthouses:
At the tip of the Snæfellsness Peninsula.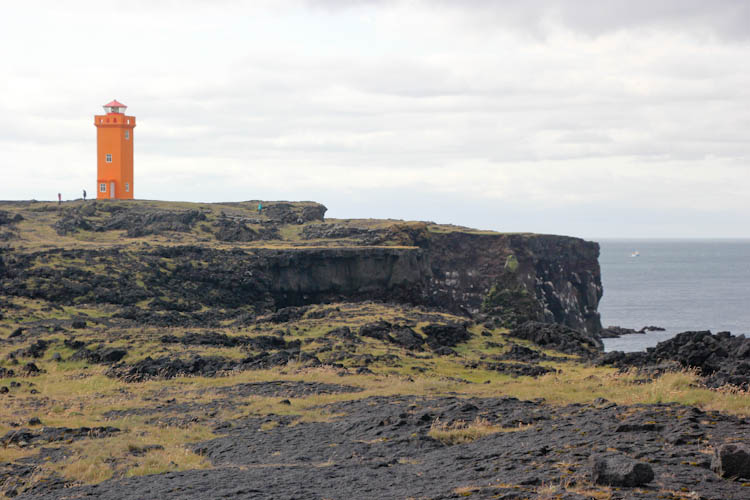 On top of the basalt island of Súgandisey on the north side of the Snæfellsness Peninsula.
We saw interesting Icelandic architecture:
Harpa, a brand-new concert hall and cultural center.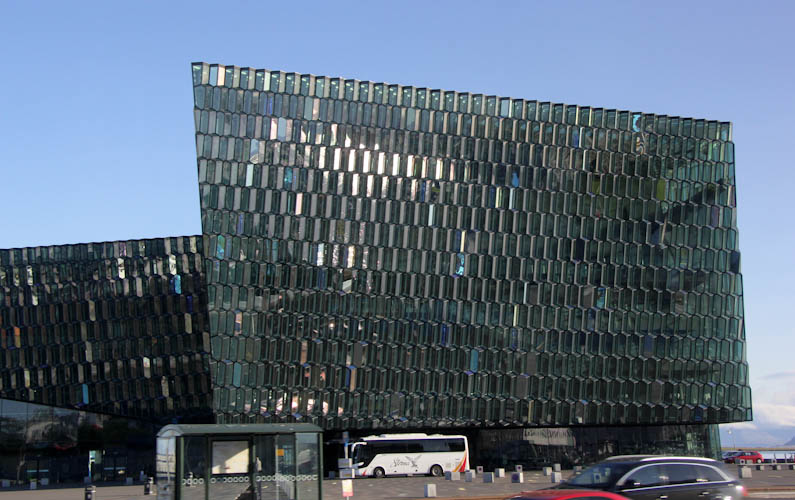 Hallgrímskirkja, a modern church.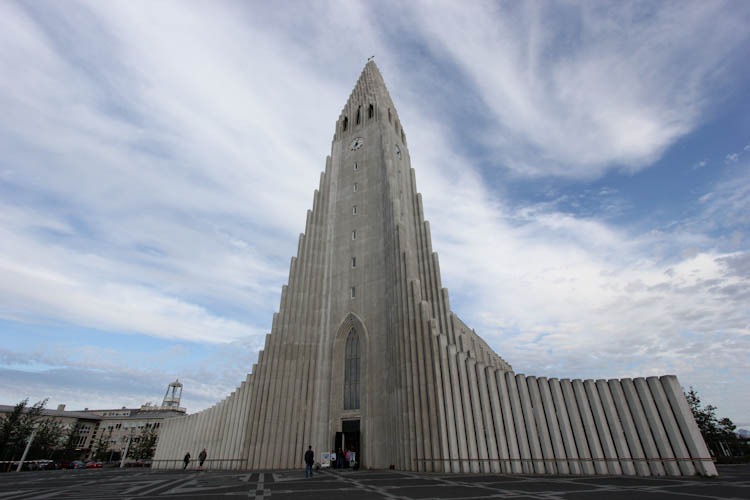 We soaked in the famous Blue Lagoon:
Photo by Eric.
We saw fascinating geologic formations:
Sea stack at Dyrhólaey.
Sea stack at Reynisdrangur.
Lava cave at Reynisdrangur.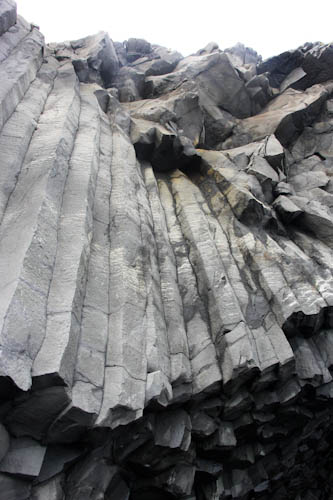 Columnar basalt at Reynisdrangur.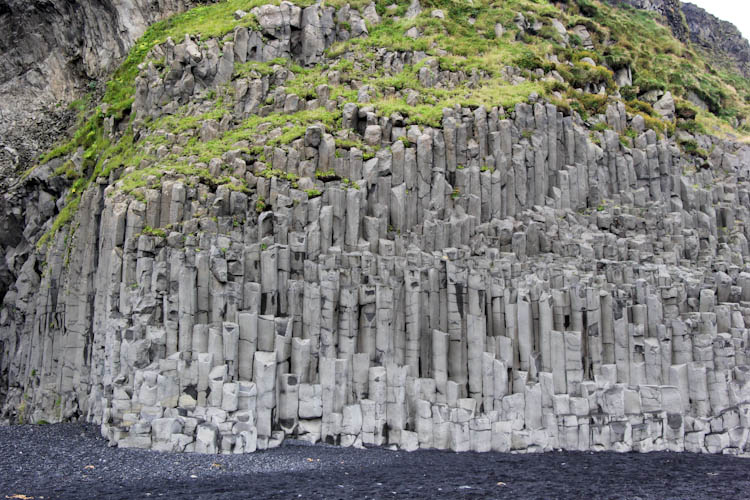 Columnar basalt island. Photo by Eric.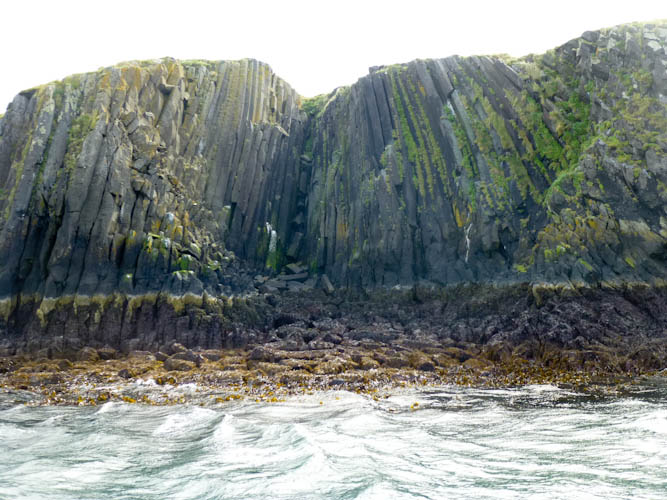 Kirkufell, north side of Snæfellsness Peninsula.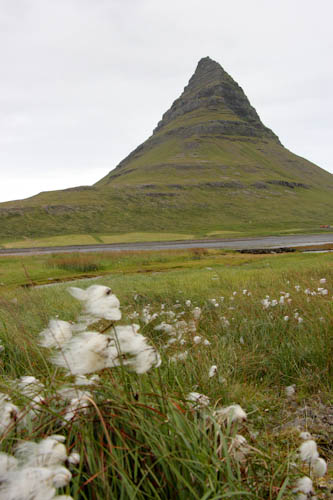 Peaks of Snæness in the mist.
We took a boat out on lovely Breiðafjöður Bay. Photo by Eric.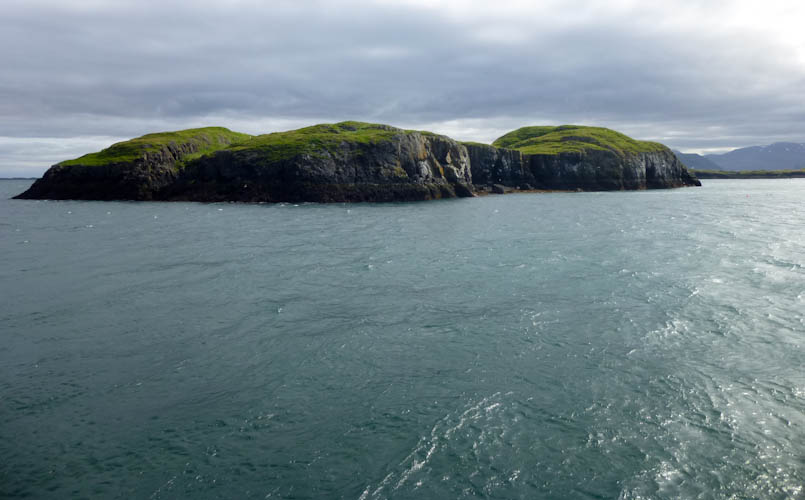 They fed us sashimi made from crustraceans fished out of the Bay.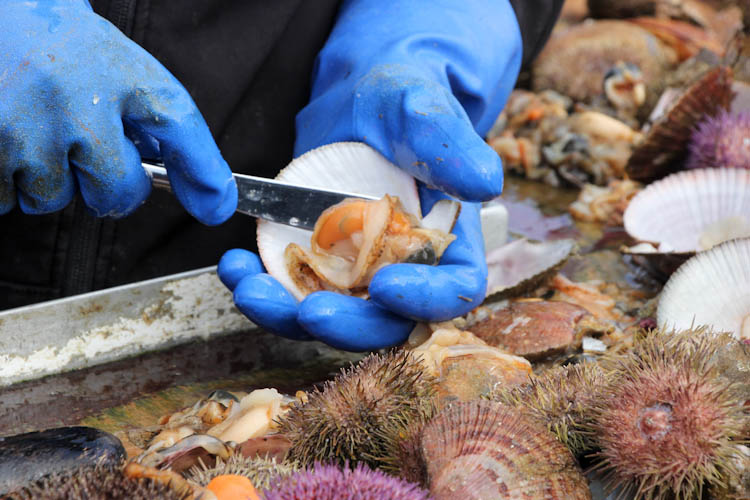 We saw Snæfell, the peak on which Jules Verne based his
Journey to the Centre of the Earth
.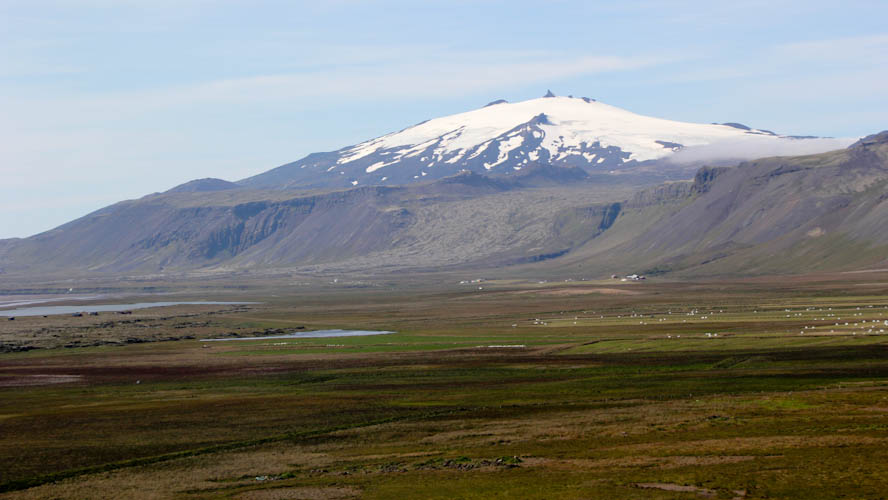 We hiked into the caves under the mountain, as featured in Verne's story.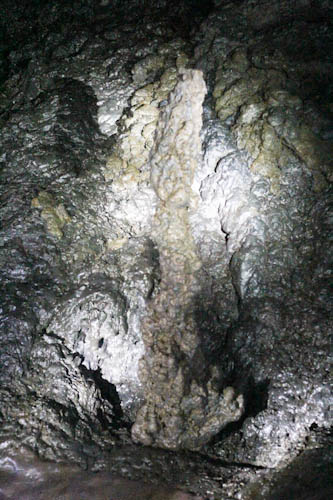 We rode a Zodiac raft through beautiful icebergs in a glacial lagoon.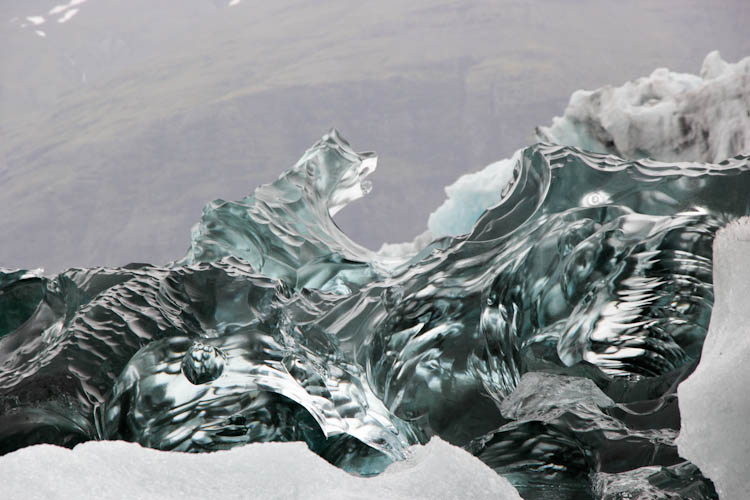 We did three amazing adventure tours:
We snorkeled in the Silfra Rift, the separation between the European and North American plates.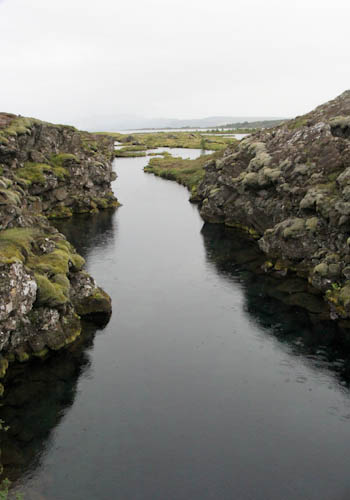 We hiked on a glacier.
We got to climb the glacier as well. Photo by Eric.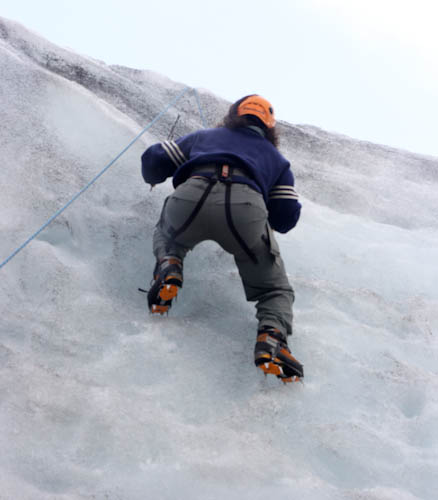 Best of all, we went
inside a volcano
.
Me hiking inside the volcano. Photo by Eric.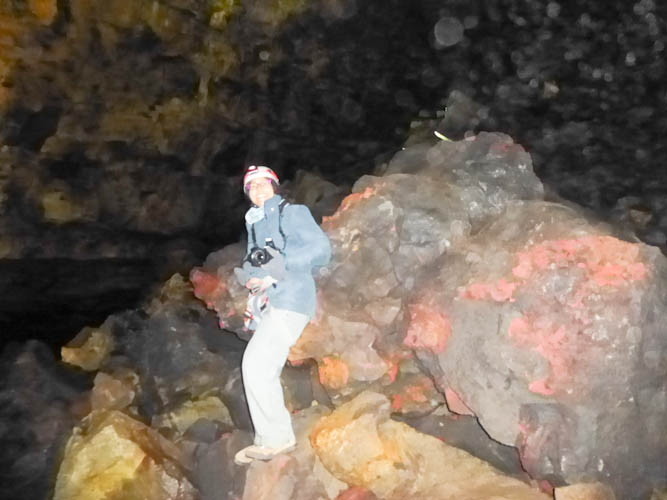 A few general impressions of Iceland:
We visited almost entirely touristy places, and most of the Icelanders with whom we interacted were in the tourist industry. It was unfortunate that we didn't have time to see more Icelandic culture and meet more people, but our focus was on geology and adventure travel. The impression I do have, however, is that Icelanders truly love their country, they love its art, its history and its sagas, and they love outdoor adventure. They are strong, hardy people who will brave the cold to explore a beautiful site. I definitely got a sense of the fear that tourist development was spoiling special places.
Icelandic flag. Photo by Eric.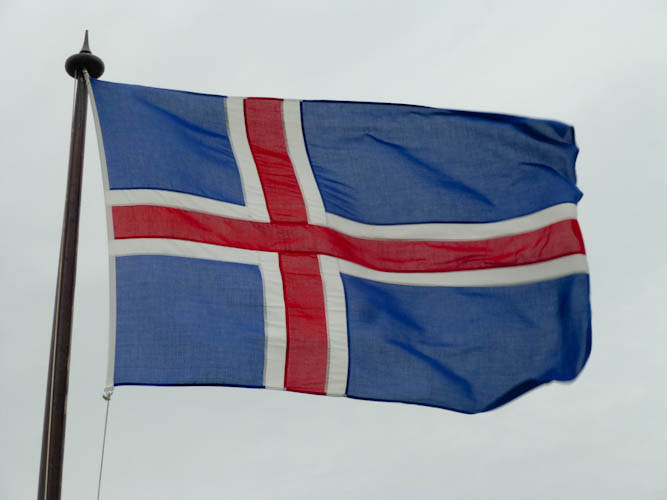 Obviously, a major factor that will affect any trip to Iceland is the weather. The weather is unpredictable and frequently awful. While I found Alaska fairly warm in July, Iceland was cold in August. You'll see me wearing a winter coat in most pictures, especially those from the first few days. Regular American cold-weather wear should work in summer, but I think in winter, I would want specialized Icelandic clothing. Be prepared for snow and ice in winter and rain in summer. Unless you have a month to spend, you'll just have to go out and do your thing in whatever weather you get. In rained so much our first several days in Iceland that I came up with a methodology for taking a picture in Iceland: (1) have lens tissue ready in hand, (2) frame picture and adjust exposure, (3) wipe lens with tissue, (4) reframe picture and press shutter as quickly as absolutely possible. Otherwise, all of my pictures were spoiled by raindrops. The wind in Iceland is completely insane. Be very careful opening car doors, because the wind can damage the hinges. We saw many people (probably foreigners) trying to do cycle touring in Iceland, but, quite frankly, they all had grim expressions on their faces and looked miserable in the rain, wind, and high-speed traffic on a narrow road.
I've discovered what an incredible privilege it is to speak English as your native language. Eric and I never had to be concerned that we wouldn't understand the language on any tour--everything was just in English by default. We could be on a tour with just the two of us and eight Russians, and the tour would be in English. We never had any trouble communicating with anyone. I appreciate that English is a particularly difficult language for non-native speakers to learn, because it is essentially a hybrid between old Nordic/Germanic languages and Latin/French. Our vocabulary is consequently rich, but that also means that there are more words to learn. The hybrid nature of our language makes our spelling and pronunciation confusingly inconsistent. Wouldn't it be a wonderful thing if we still used the Þ (thorn) for the th sound as in "Beth" and the Ð (eth) for the th sound as in "that?"
Icelanders speak English with a beautiful lilt, and I found myself imitating it. They speak with much greater consonant enunciation than Americans, and I found myself enunciating my consonants more as well. As soon as I got to London and found myself listening to more familiar accents, however, I went right back to my typical sloppy American speech.
Unquestionably, a trip to Iceland involves a rather considerable expense. Food is expensive, hotels are expensive, and rental cars and fuel are especially expensive. I'm quite thankful that we had the money to visit Iceland this year. I would like to commend our travel agent, Lárus at Nordic Visitor, who made most of the arrangements. While it seemed expensive during the planning stages, once I saw what we actually got for our money, it seemed like a bargain. I had been warned that navigation in Iceland could be difficult, but Lárus and his colleagues at Nordic Visitor provided us with three very helpful aids: (1) an Icelandic GPS, (2) a large map of the country clearly marked to show our route, our tour sites, and our hotels, and (3) a fantastic Iceland road guide, over 600 pages long, with detailed maps showing all of the roads at a scale of about 1 km/cm. Each pages showed about 30 km (20 mi) of road and had descriptions of sites along that part of the road. The book told us about every little farm, every little church, every little waterfall, etc., and had lots of pretty pictures. I was able to follow our route carefully and direct Eric with great ease. That road guide along was worth a lot just by itself. I was thrilled to have it and enjoyed using it. It made navigation a pleasure rather than the headache it usually is.
Citroën Picasso arranged for by Nordic Visitor.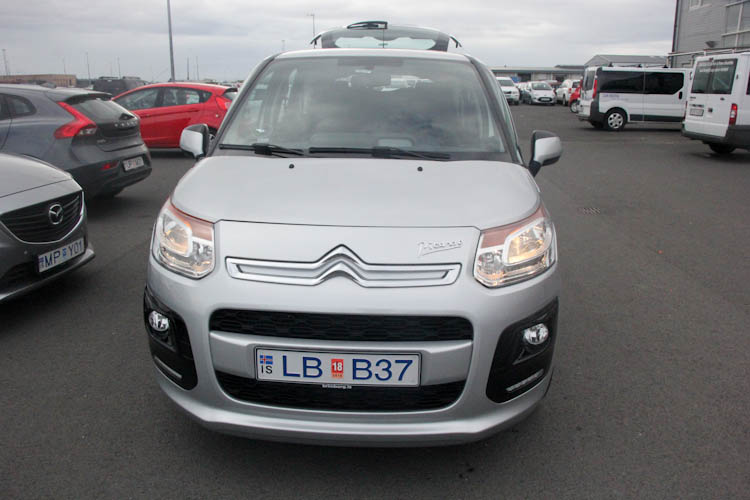 Our air and insurance arrangements were made by Laura Forrest (ready_2_go@comcast.net). I don't think Laura has a web site, but she got us a direct flight home from Paris to San Francisco for about half the price I could find on the internet for such a wonderful thing. She is fabulous and responsive and it is entirely worth paying her commission. I'm looking forward to working more with Laura in the future and sending business her way.
Iceland is a fantastically beautiful country. It should particularly be on the must-see list for anyone with an interest in geology, because its geology is especially unique. We were sad that time did not permit us to drive the entire Ring Road and see the northern side of the country, and we can only hope that time and money will someday provide the means for that visit. We did see a great deal in the time we had, and it was a very happy adventure that left me smiling frequently. Iceland was everything we had hoped for and more, and it filled us with joy. I am pleased to share our adventures with you here.
---